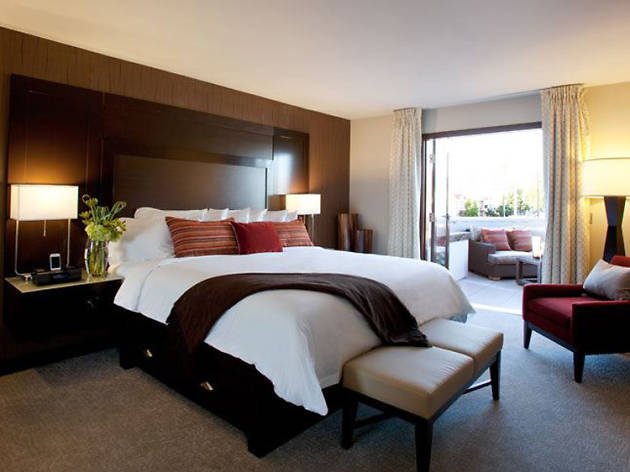 Time Out says
Location is a big factor at this cultured West 3rd Street stopover, where a modest spa, gym, and an all-day Mediterranean restaurant are the main offerings. There's style to spare in the 91 rooms and four specialty suites, and the charming saltwater pool is a good excuse to pack a swimsuit.
Throw in a few extra palm trees and some sharp-angled mid-century houses, and you might just believe you've landed in Palm Springs when you show up at The Orlando, a breezy, cosmopolitan boutique hotel with a festive spirit. Stylish rooms, in chocolate and peach tones, are full of West Hollywood pizzazz, but the economy of space shows there's function behind the form: compact storage drawers pull out under the bed, and there are cozy loveseats with slick coffee tables that help balance the arrangement. (Fresh flowers next to the bed don't hurt, either.) A set of specialty suites—including the Entertainment Suite, whose elaborate bedroom and furnished patio is like a tony penthouse in Upper Manhattan—proves the Orlando has swagger. Meanwhile, iPhone docking stations, 42-inch flat-screen TVs, 24-hour room service, and other amenities come standard in all the rooms. A brand new Mediterranean-themed restaurant run by sbe (SLS Hotels, The Bazaar by José Andrés) debuted in fall 2017, though the hotel's cherry on top is the heated saltwater pool, a small but sweet oasis that gets plenty of sunlight.
Location: The Orlando Hotel sits along West 3rd Street, which is packed to the gills with fun restaurants, eye-catching boutiques and (since this is L.A.) plenty of fitness studios. Sandwiched between two major shopping centers (the Beverly and the Grove), guests don't have to wander far to be entertained.
Nearby:
The Grove: On a lazy Saturday morning, this upscale open-air shopping center, which is a mile east of the hotel, is the place to be. Despite all the big-name brands occupying retails space, the gourmet-minded Original Farmers Market (open every day) is this landmark's crowning feature.
Joan's On Third: You can't do better than having this iconic—and über-trendy—café-deli practically next door to your hotel. It's a great place to stock up on supplies for an impromptu picnic, but also a lovely spot for a sit-down breakfast or lunch.
Little Next Door: Adjacent to The Little Door (literally, next to it) and 6 blocks from the hotel, this brasserie-meets-bakery-meets-wine-bar offers a menu for any mood. Even the light lunch options will make your head spin: we're talking escargots, quiche, salads, sandwiches, and of course, French omelets.
LACMA: A 25-minute walk east of the hotel, L.A.'s premier venue for cutting-edge contemporary art makes for a fun day trip.
Good for: The Orlando's knack for urban-chic design and its proximity to West Hollywood make this a top choice for LGBT travelers, not to mention weekend travelers whose sole aim is to soak up rays by the compact but lovely pool. With sleek, modern amenities and an on-site spa, planning a romantic getaway here is more than doable.
Amenities: pool, room service, free Wi-Fi, minibar, restaurant, gym, concierge, spa
Time Out tip: If the all-day Mediterranean restaurant doesn't fit with your diet—or you simply can't afford the time to sit down and have a proper meal—exit the lobby and walk around the corner to the hotel's juice bar. The takeout window offers a variety of cold-pressed juices, healthy snacks, and other small bites, so you can be good to your tummy while on the go.
Details
Users say