As the Broad has worked its way through solo exhibitions of some of its collection's biggest stars—from a Cindy Sherman retrospective to a blockbuster Yayoi Kusama show to a gallery focus on Jean-Michel Basquiat—it was only a matter of time before one particularly popular artist in the museum was on deck.
Sure enough, Takashi Murakami will be the center of the Broad's specially ticketed spring exhibition, alongside a concurrent exhibition that explores the symbolism of the American flag. Both will be on display in the museum's first-floor galleries from May 21 to September 25, 2022.
All of the Murakami pieces in the Broad's collection will be on view in "Takashi Murakami: Stepping on the Tail of a Rainbow." Known for his cartoonish smiling flowers and colorful pop-meets-mythology murals, you'll be able to see 18 works from the contemporary Japanese artist, including the whimsical DOB in the Strange Forest (Blue DOB) sculpture and the 82-foot-wide In the Land of the Dead, Stepping on the Tail of a Rainbow—which were both on view together when the museum first opened, as seen above—as well as the scroll-inspired 100 Arhats.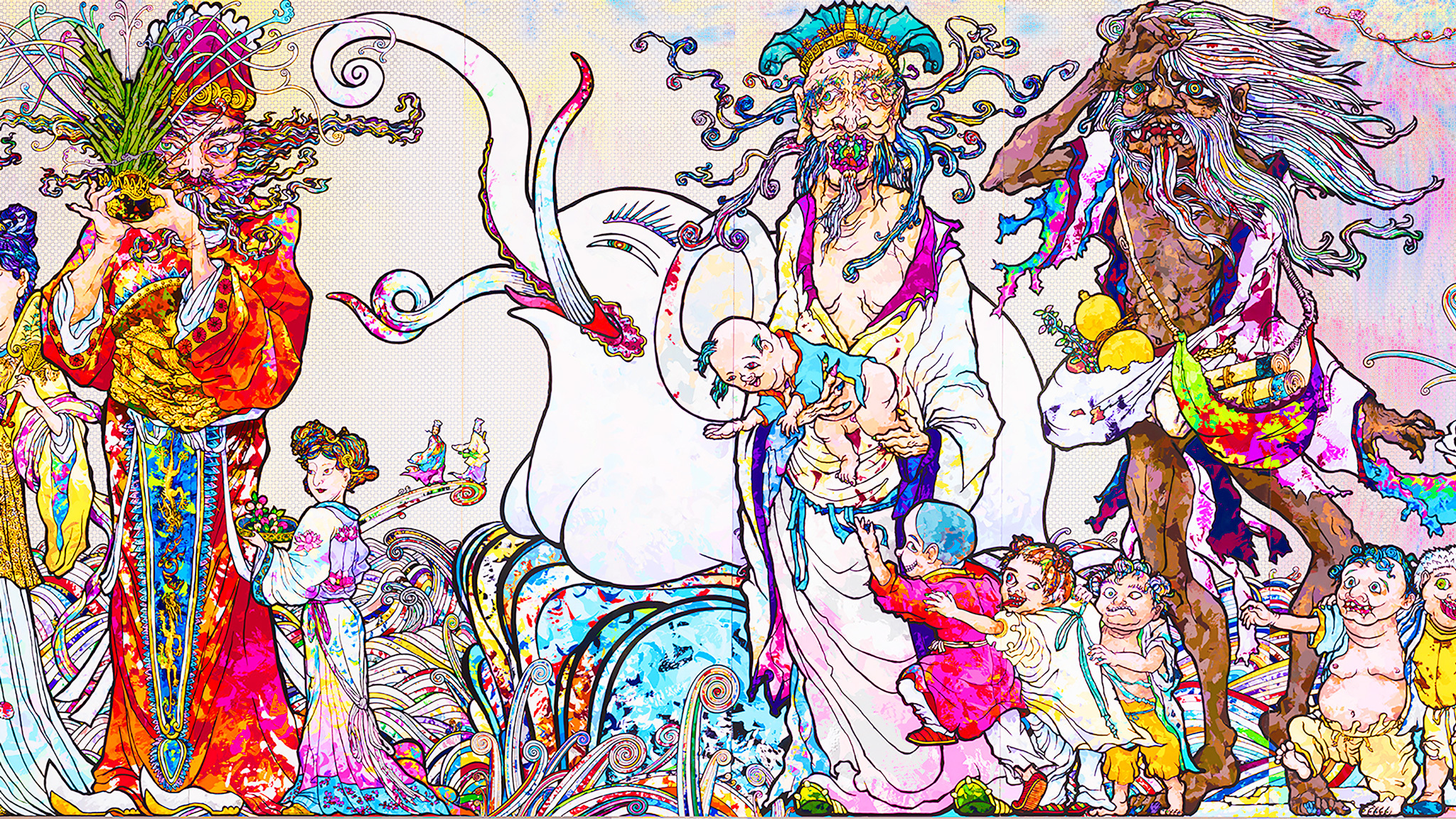 In addition, the Broad has worked with Murakami and his studio, Kaikai Kiki Co., Ltd., to create immersive environments that the museum says it will reveal more about closer to opening.
The other major spring show, "This Is Not America's Flag," will feature pieces from 20 artists who've both championed and challenged the symbolism of the stars and stripes. Born out of the summer of 2020's grassroots movements for racial justice, the exhibition includes Jasper Johns's Flag and David Hammons's African-American Flag, as well as works from Laura Aguilar, Nicole Eisenman, Jeffrey Gibson, Hank Willis Thomas and Alfredo Jaar (whose A Logo for America inspired the exhibition's name).
"Artworks in these exhibitions speak to recovery, resistance and even beauty in the face of deep social and environmental upheaval," said the Broad founding director Joanne Heyler in a statement. "Our dual pandemics of racism and COVID-19 lay bare many myths embedded in modern American identity. 'This Is Not America's Flag' contemplates the state of national symbolism, shines light on U.S. history and present, and questions perceptions, asking vital questions about what we stand for as individuals and as a society. Takashi Murakami's work likewise reflects within its complex iconography a response to times of crisis and uncertainty, whether connected to postwar Japan or the Fukushima nuclear disaster."
Timed tickets for both exhibitions, which also include access to the otherwise free third-floor galleries, go on sale Friday, April 15 at 10am and cost $18 for adults and $12 for students, and are free for children 17 and under. The museum notes that it'll also announce some free days at a later time. And if you find yourself particularly won over by the Murakami exhibition, you'll find an accompanying catalogue in the gift shop ($45).
Oh, and just in case you're wondering about the status of Kusama's Infinity Mirrored Room: After its January reopening was postponed, the museum is now aiming for March. So when tickets go on sale for the two spring exhibitions, you should be able to secure a Kusama reservation, as well.