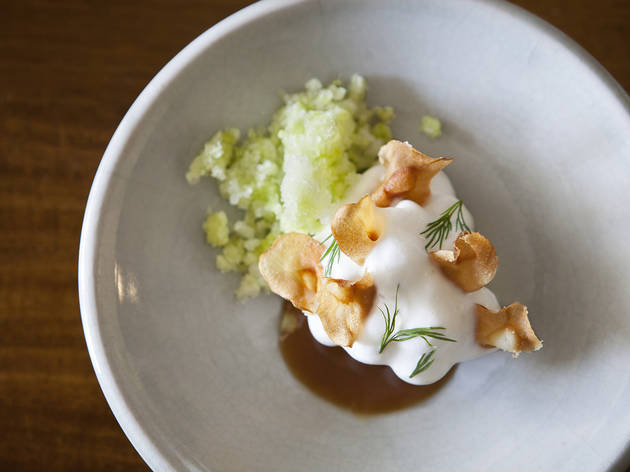 Ari Taymor's celebrated Alma is closing this weekend
Posted: Friday December 29 2017, 12:52pm
Those who still haven't found New Year's Eve dining plans might want to head to the Sunset Strip, as Sunday sadly—and surprisingly—marks the last day of service for Alma at the Standard.
The James Beard Award-nominated Ari Taymor and Alma, his artful tasting-menu restaurant, racked up accolades during its DTLA tenure, including Bon Appétit's "Best New Restaurant in America" award in 2013. After the restaurant shuttered in 2015, it returned to its roots as a pop-up before landing a permanent home in the Standard Hollywood. Now, after two years as the chic hotel chain's restaurant—which flipped from modern, detail-oriented dinner service to a sort of new-school diner that served up overnight pancakes, grilled cheese sandwiches and other craveable late-night fare—Alma is closing its doors with little notice.
"I'm proud of the work that myself and Alma accomplished with the Standard over the course of our tenure," Taymor says in a statement. "We will continue to support the tremendous hotel, staff and partners who helped us along the way. I feel fortunate to have had such an incredible opportunity and look forward to seeing what the future holds for both parties."
"The Standard is grateful to Alma and chef Ari Taymor for a wonderful two-year run," the hotel chain says in its own statement. "What started as a temporary pop-up ended up being a fruitful, prolonged partnership for both parties. We wish him and Alma all of the best in their next endeavor."
Through the weekend, Taymor and the Alma team will still be overseeing the restaurant, pool menu and room-service operations. Those looking to enjoy Alma before its departure can reserve a table online or simply stop by for breakfast, lunch or dinner. On Sunday, its final day of service, the brunch menu will be offered from 11am to 3pm, as will a special "anti-NYE party" dinner service, from 5:30 to midnight with an à la carte menu, caviar specials and champagne flights. Following that, the restaurant will not launch into its regular overnight offerings.
Details are still forthcoming as to what will replace Alma, but representatives for the Standard cite an early 2018 announcement. As to what comes next from Taymor, one of the city's undeniable talents, we must wait and see.
Share the story