We've been keeping tabs on five different exhibits touring the globe right now that turn the paintings of Vincent van Gogh into wall-and-floor–sized projections, and finally one has arrived in Southern California.
"Beyond Van Gogh" opens today at the Anaheim Convention Center, and it's currently selling timed tickets through September 5. The show skews more toward made-for-social-media visual spectacle than traditional art exhibition, so we'll largely leave our art critic hat off and instead think about it as the former. With that in mind, it's worth noting right up front that an off-peak adult ticket will cost you $37, while weekends and holidays soar to $47—a pretty steep selfie tax for any event, regardless of its level of polish.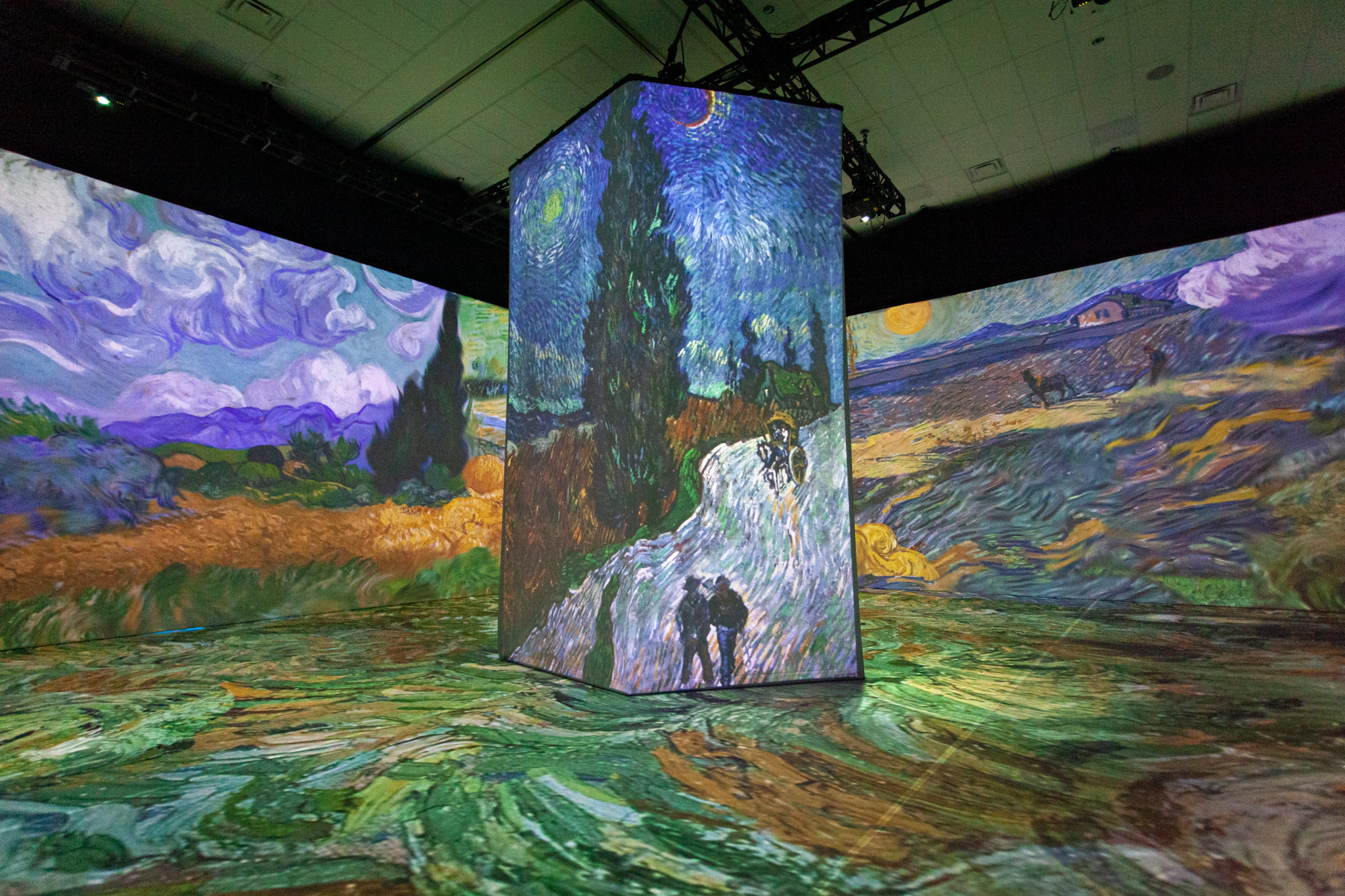 Not to be confused with "Immersive Van Gogh," which opens in Hollywood later this month, this one from Montreal's Normal Studio already has one social media advantage over its forthcoming competitor: Unlike L.A. County, Orange County hasn't reimposed an indoor mask mandate, so fully vaccinated folks are free to snap selfies sans masks at the Anaheim event.
We checked out the show during a sparsely populated media preview, so we really can't speak to crowd levels and congestion once it's open to the public. But the central part of "Beyond Van Gogh" should be the same regardless: Across a roughly half-hour loop set to a swelling classical score, you'll watch about 300 paintings projected onto the floor, walls and a trio of portrait-shaped columns (the convention center ceiling is still visible but not too obtrusive).
Some paintings appear as part of a mostly static medley, while others blanket the space with light animated touches: portraits blink, flower petals flutter, and, in Starry Night Over the Rhône, the night sky twinkles and the water shimmers. In terms of attention-grabbing spectacle, the visuals are the most interesting when they take the most artistic liberties, like a kaleidoscopic assembly of floral still lifes or a swirling build-up to The Starry Night.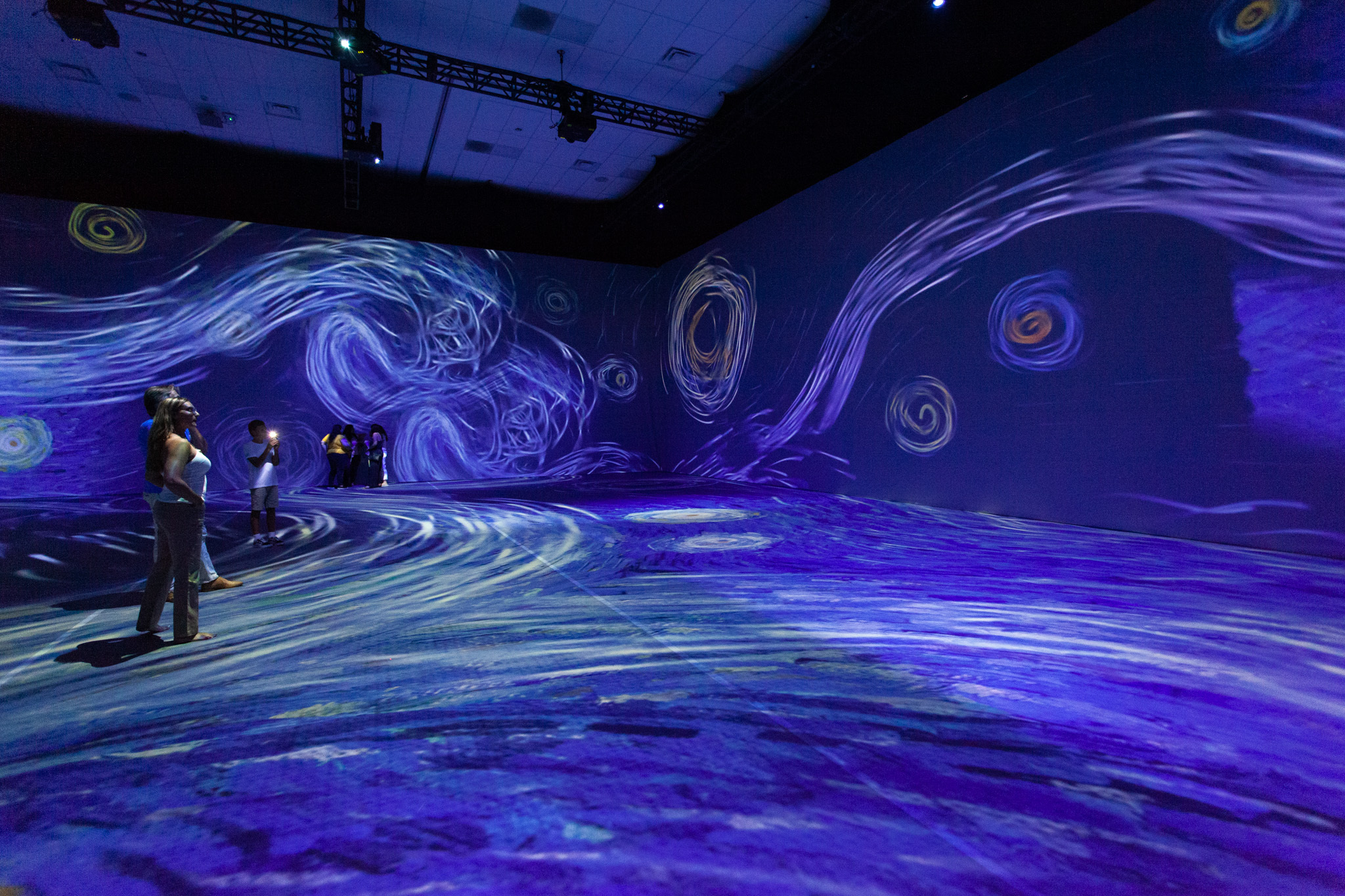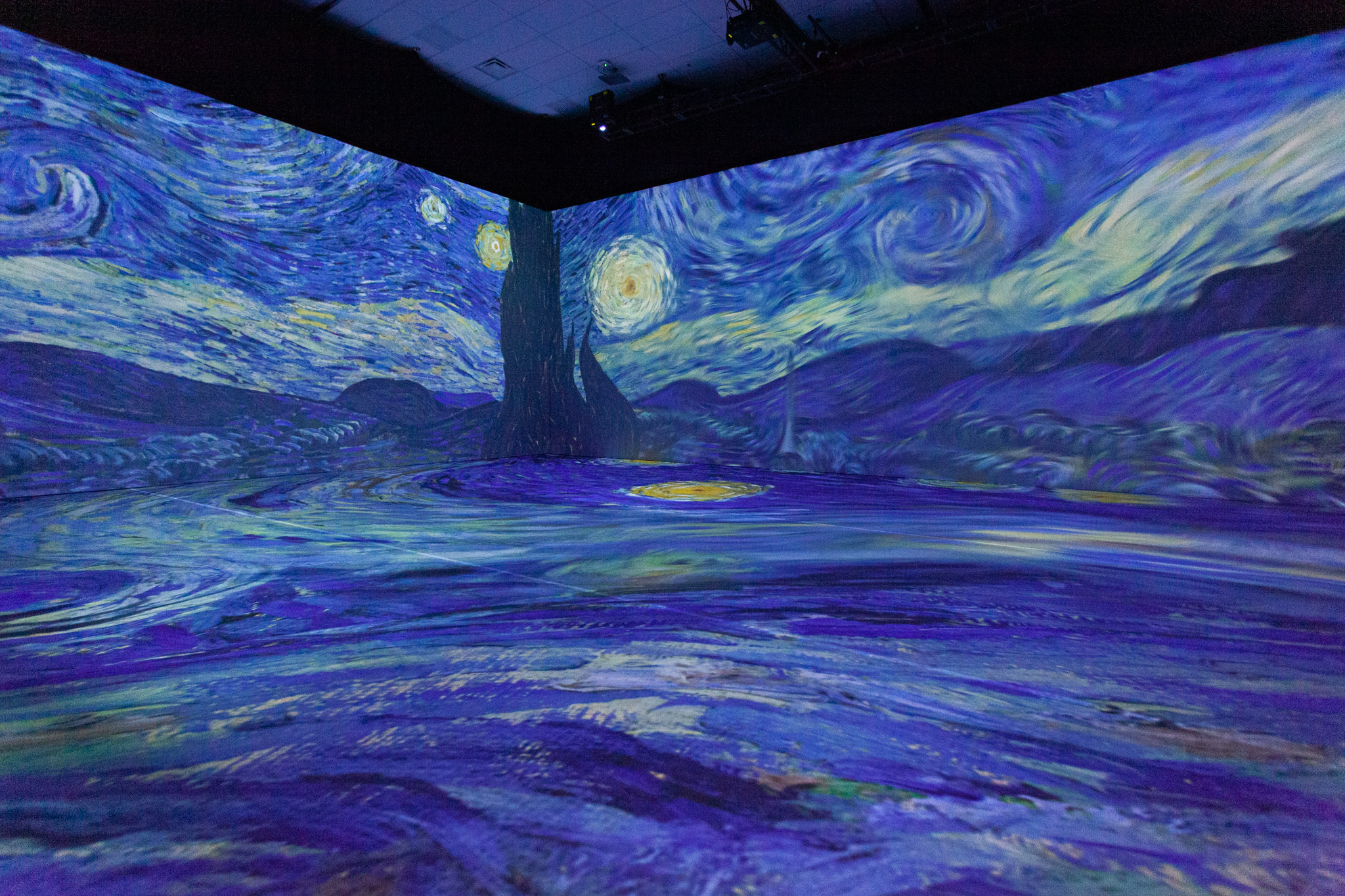 "There's a fine line of what to animate, what to keep as is, what artwork to choose," says Fanny Curtat, the art historian consultant on the show. For example, you don't want to incur motion sickness from too much simulated movement, so the animations are mostly subtle with brief bursts of activity, and the floor largely remains stable.
The show is broken up both chronologically and thematically, with quotes from the prolific letter writer that bookend each section. But most of the biographical heavy lifting is limited to a sprawling display outside the entrance that lays out the themes that run through the post-impressionist's paintings. Blow past those wall texts and you're likely to just walk away with a hunch that Van Gogh must've really, really liked nature.
If you're wondering how all of those Van Gogh shows can coexist, allow us to veer very briefly into copyright laws. Though the rules vary by country, an artist's works typically enter into the public domain 70 years after their death. At that point, anybody can decide to use reproductions of those works however they please. Since Van Gogh died so young (in 1890 at the age of 37), his paintings have been in the public domain for decades at this point, and high-resolution images of his most famous ones are easy to track down.
So why the explosion in these sorts of shows now? The easy answer is Emily in Paris: The Netflix series prominently featured a similar French exhibition in one of its episodes, and the parade of social distancing-friendly, easy-to-tour emulators soon followed last fall. But the momentum behind room-filling photogenic projection shows has been building for a few years now (see: the many knockoffs of Tokyo's TeamLab that've popped up around L.A.)
Though digital projection technology continues to push forward, it's far from perfect: "Beyond Van Gogh" asks you to admire Van Gogh's brushstrokes, so long as you can ignore the screen-door effect as you come real close to those pixels. Now here's where we'll smugly point out that an actual Van Gogh painting hanging in a museum has none of those technological drawbacks. But Curtat hopes that maybe this exhibition will inspire visitors to seek those out, as "there's nothing like the aura of his paintings." (We're particularly lucky in L.A. to have a few Van Gogh paintings on display in museums.)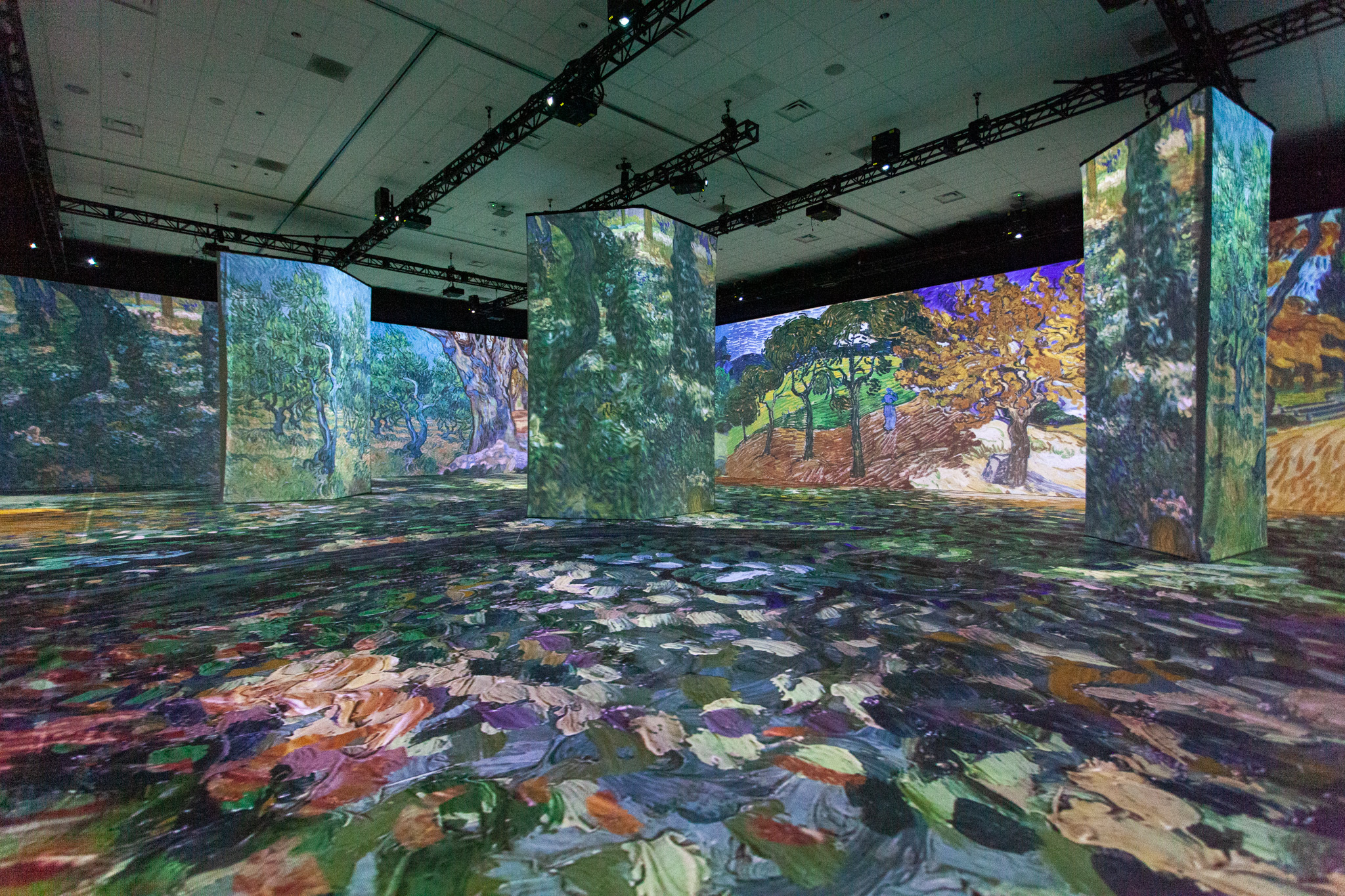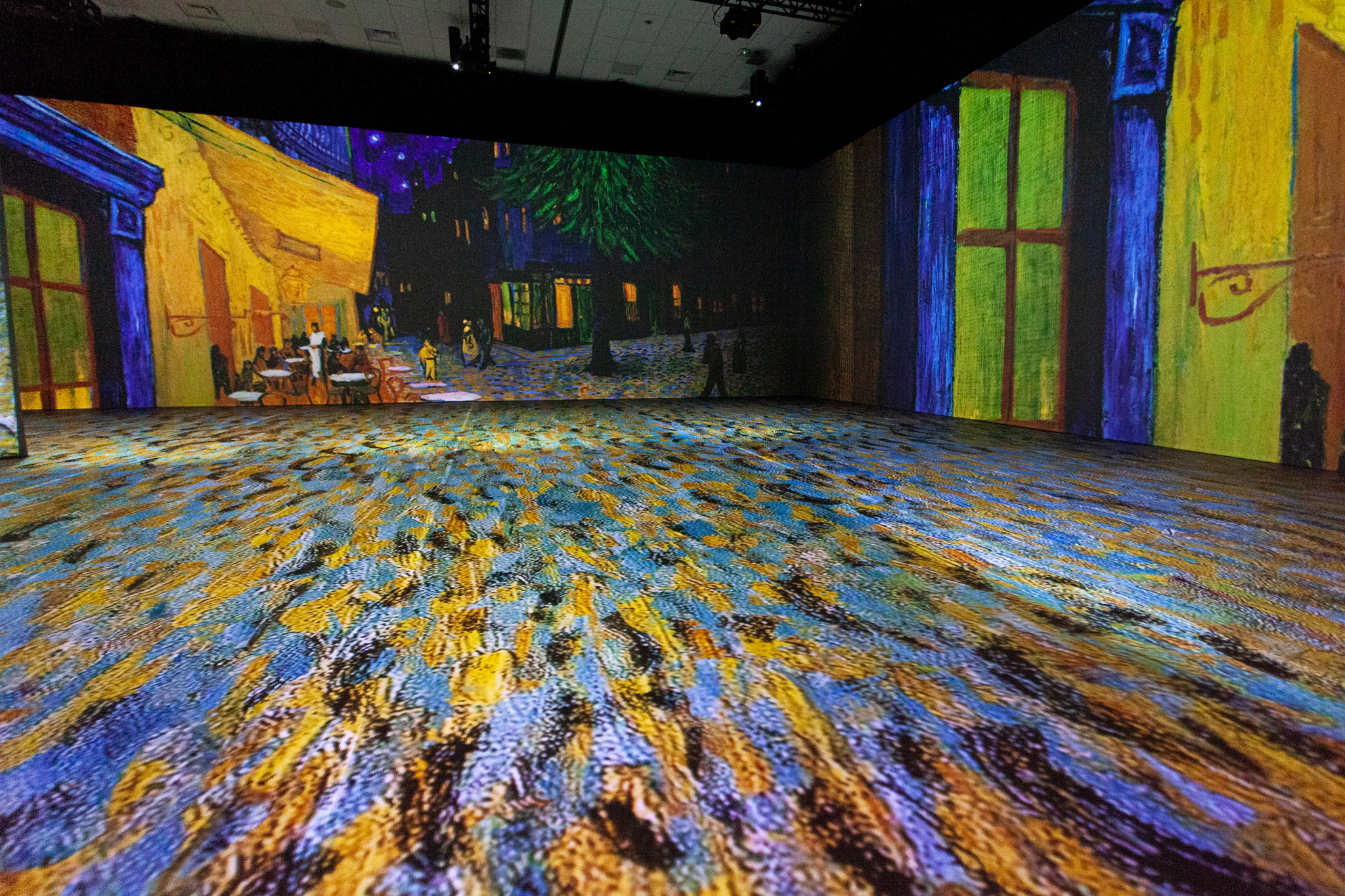 "Beyond Van Gogh" won't bring you any deeper into the romanticized mind of a tragic genius than a book or museum will—but it'll certainly grab more attention on your social feed than those two. It's competently put together but it probably won't make you weep over its beauty. So whether or not you attend really comes down to how much you're willing to spend on padding out your phone's camera roll. The $30 going rate for the made-for-Instagram rooms that started to pop up in L.A. around 2017 was already pretty steep, but the $37 to $47 price for "Beyond Van Gogh" is flat-out eye-popping in comparison (or perhaps ear-cutting).