UPDATE (4/6/22): Ye is out, the Weeknd is in. After an eventful few months in his personal life, TMZ reported earlier this week that the rapper formerly known as Kanye West was dropping out of his headlining slot at Coachella.
Now, promoter Goldenvoice has confirmed the news and announced that Swedish House Mafia and the Weeknd will fill his spot atop the Sunday lineup. Swedish House Mafia had already been announced for the sold-out 2022 fest, but their odd "returning to the desert" billing floating at the bottom of the original lineup poster has now been boosted to a proper Sunday headlining position, paired with the Weeknd, who fills in after recently headlining the fest in 2018. A social media post from Coachella frames the two as "the party and the after-party."
The new lineup poster and our original story from January 12 appear below.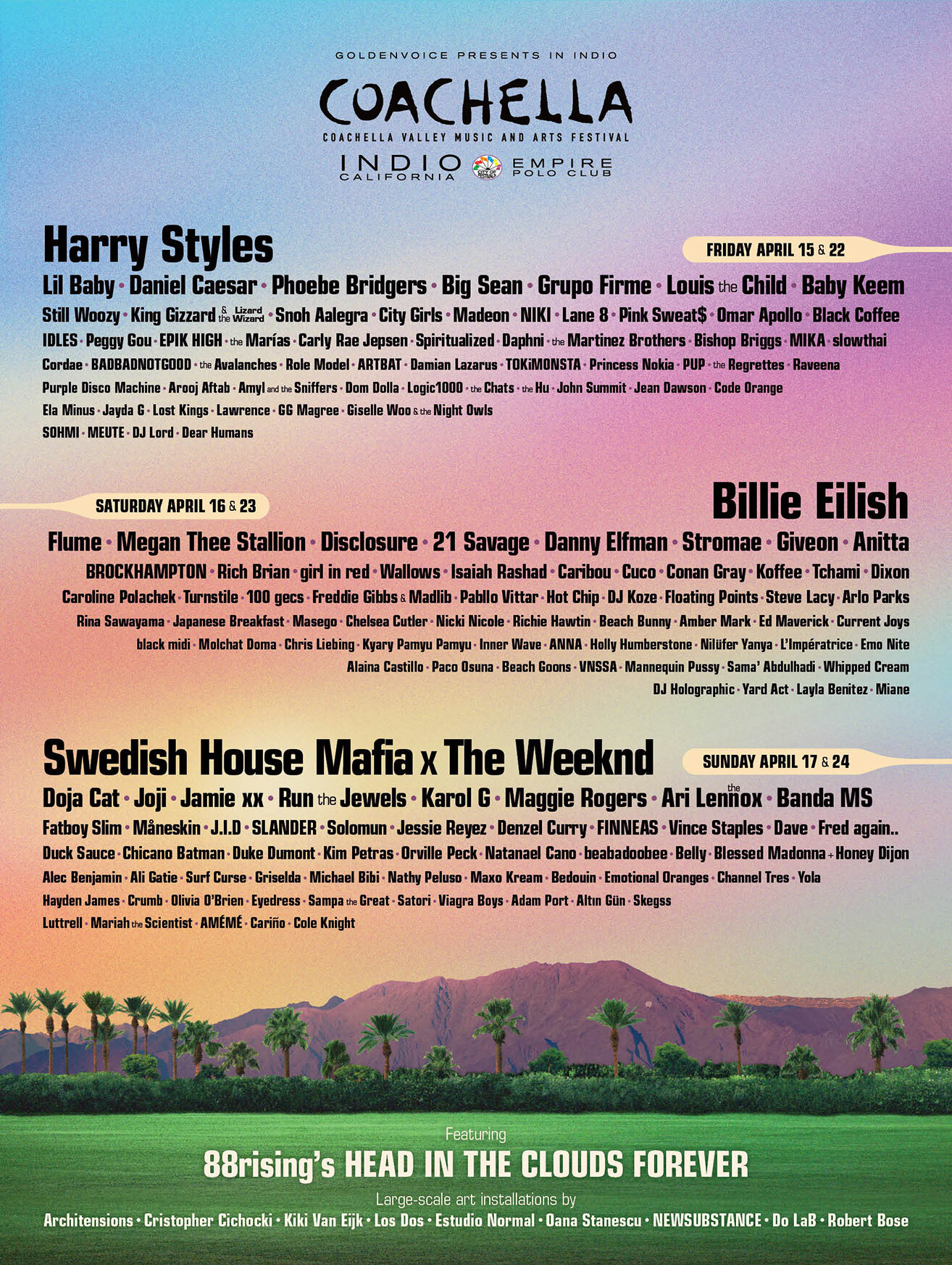 --
ORIGINAL STORY: Third time's a charm, right? After having to scrap both its 2020 and 2021 editions due to the pandemic, Coachella's 2022 return is now right around the corner—and the desert music fest has finally released a full lineup for it.
Harry Styles, Billie Eilish and Ye (that's the artist formerly known as Kanye West, in case you stopped caring over these past few years) will headline this year's fest, which will once again bring identical lineups to two weekends in Indio, April 15 to 17 and April 22 to 24, 2022. Swedish House Mafia is also featured on the poster just as prominently as the other headliners (as is 88rising), though it's not exactly clear which night they'll be playing.
When Coachella last announced a lineup in 2020, Frank Ocean, Rage Against the Machine and Travis Scott were the headliners. But Ocean has been pushed back to 2023, Rage was initially expect to return but has since fallen off the bill, and Scott has likely been dropped following the death of 10 concertgoers at his Houston fest, Astroworld.
Tickets for the first weekend of this year's long-awaited Coachella are already very much sold out, as 2020 tickets are being honored alongside a remaining batch that went on sale in 2021. There will, however, be a presale for the second weekend starting Friday, January 14 at 10am for a whopping $549, as well as a wait list for the first weekend.
If you're a Coachella curmudgeon balking at the pop-heavy headliners, you may find a bit more to love in the rest of the lineup: Some other large-text acts on the bill include Phoebe Bridgers, Flume, Megan Thee Stallion, Lil Baby, Disclosure, 21 Savage, Doja Cat, Joji, Jamie xx and Run the Jewels. Lower down the lineup, you'll find gems like Danny Elfman, Carly Rae Jepsen, Spiritualized, the Avalanches, Fatboy Slim, Orville Peck and local fave dance party Emo Nite.
It's been a long journey to staging Coachella again—and we should note that, given the unpredictability of the past two years, nothing is ever really certain. In 2020, Coachella was first pushed back to the fall and then canceled altogether. It was called off for 2021, too, and instead set return dates for 2022. A few months later, it made the call to require all attendees to be vaccinated, but then walked that back to allow a negative Covid-19 test result as an alternative, in line with California's recommendations for outdoor mega events.