Most restaurants and bars have maybe four types of lighting fixtures that repeat throughout the space. Level 8 has 476.
The Houston Brothers' latest nightlife destination cranks up the variety of imaginative environments from a duo already known for elaborately-themed venues. As its name suggests, Level 8 sports eight food-and-drink concepts that have taken over the entire eighth floor of Downtown L.A.'s new Moxy and AC Hotels. You'll find a melting pot of globetrotting motifs—1970s Brazil, early-20th-century Japan, a 19th-century Spanish cathedral—among the three sit-down restaurants, cocktail lounge, pool bar, taco truck, raw bar and wrestling ring-equipped club.
And there are plenty of hidden entrances (four of them) tucked inside, a hallmark of the guys whose bars have you walk into a fridge (Good Times at Davey Wayne's) or underneath a bed (No Vacancy).
Level 8 has been gradually opening venue-by-venue since late August, but you can expect all of them to be in service starting September 15. We showed up in the middle of that rollout so that twin brothers Mark and Jonnie could take us through all of the details of what's already open, as well as what's still to come.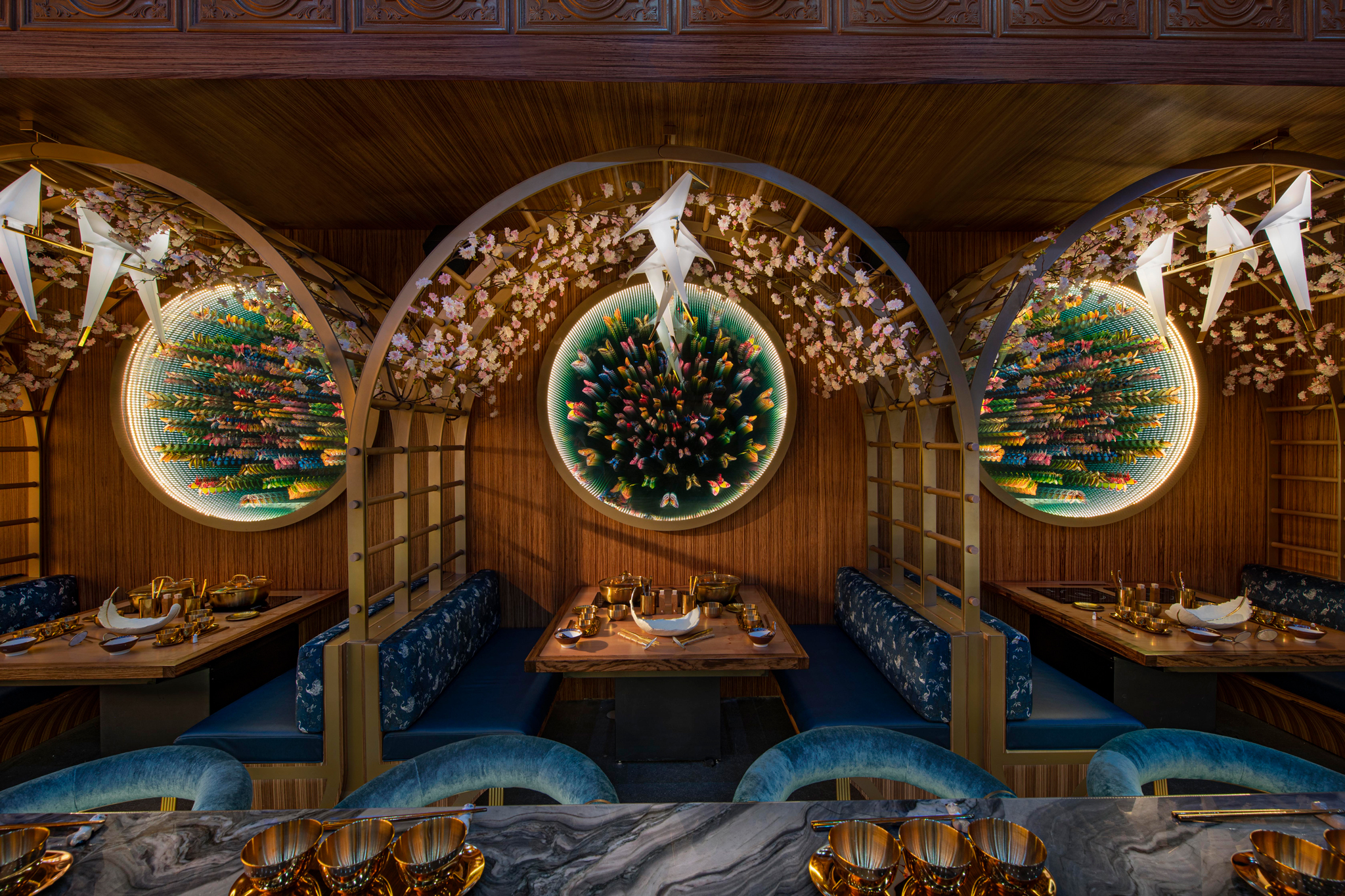 And boy are there details to behold across the 30,000 square feet of nightlife spaces, from the textured, hand-painted wallpapers to the beautiful assortment of stone countertops to the intricate metalwork of the bathroom sinks imported from India. The duo has spent five years on the project and found inspiration and pieces of furniture from their travels around the world. "Mark and I are very method in creating an atmosphere and vibe," Jonnie explains. "We put ourselves in people's shoes: What's the experience? How do we want to transport you? I think that's where a lot of our design direction goes towards."
It's unlikely you'll visit every venue at Level 8 in a single night. Each restaurant takes its own separate reservations, and we could easily see the bars filling up on a busy weekend night or when there's something going on across the street at the L.A. Convention Center. But it's pretty likely you'll see at least two or three venues given the way they're bunched together in groups. If you really want to maximize your time, we'll defer to Jonnie's ideal itinerary: Start at sunset at Mother of Pearl, have a cocktail at Mr. Wanderlust while you wait for your table at Lucky Mizu or Maison Kasai, then venture to the club at Sinners y Santos and have a late-night taco at Brown Sheep if you're still hungry afterwards.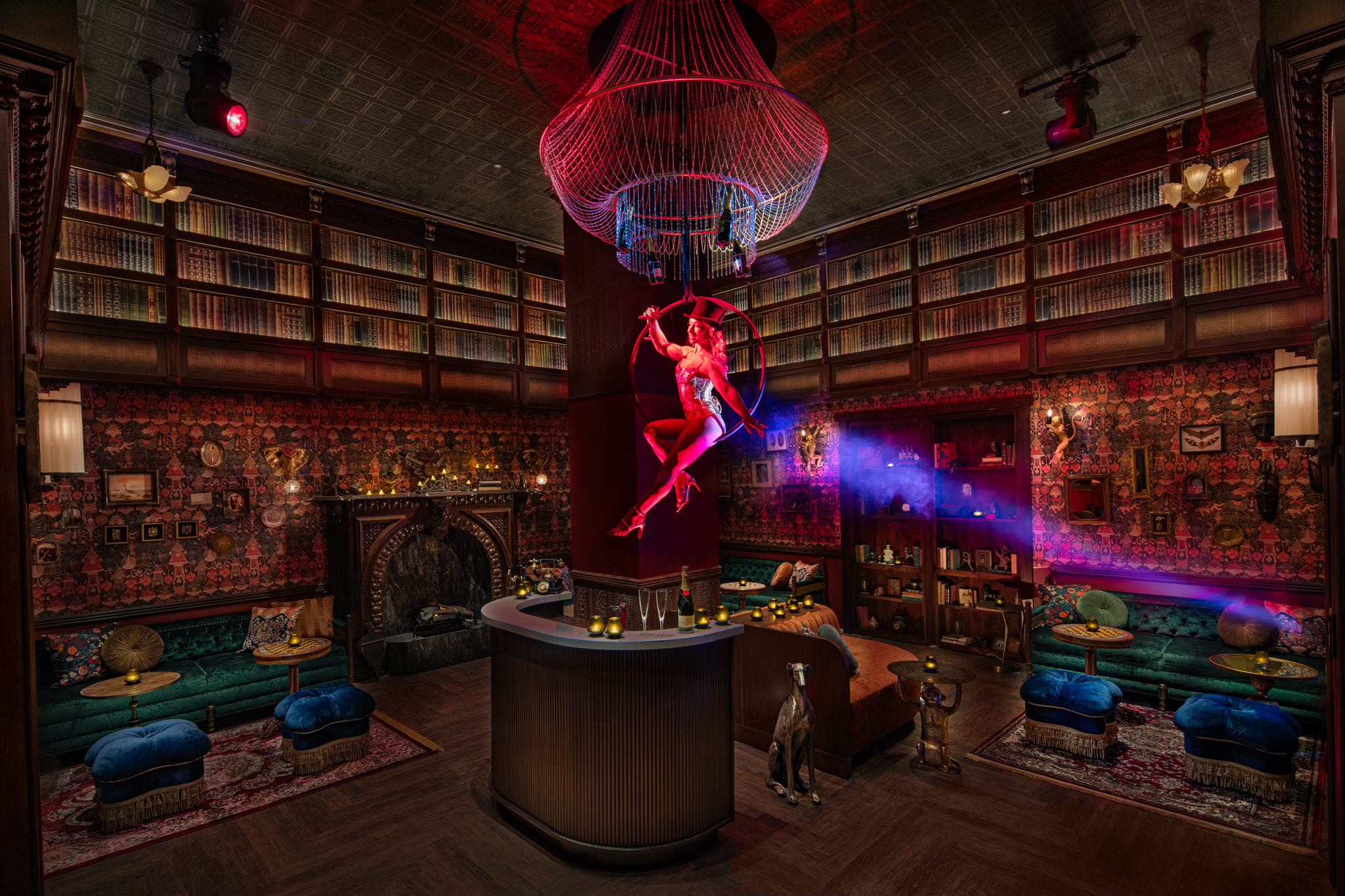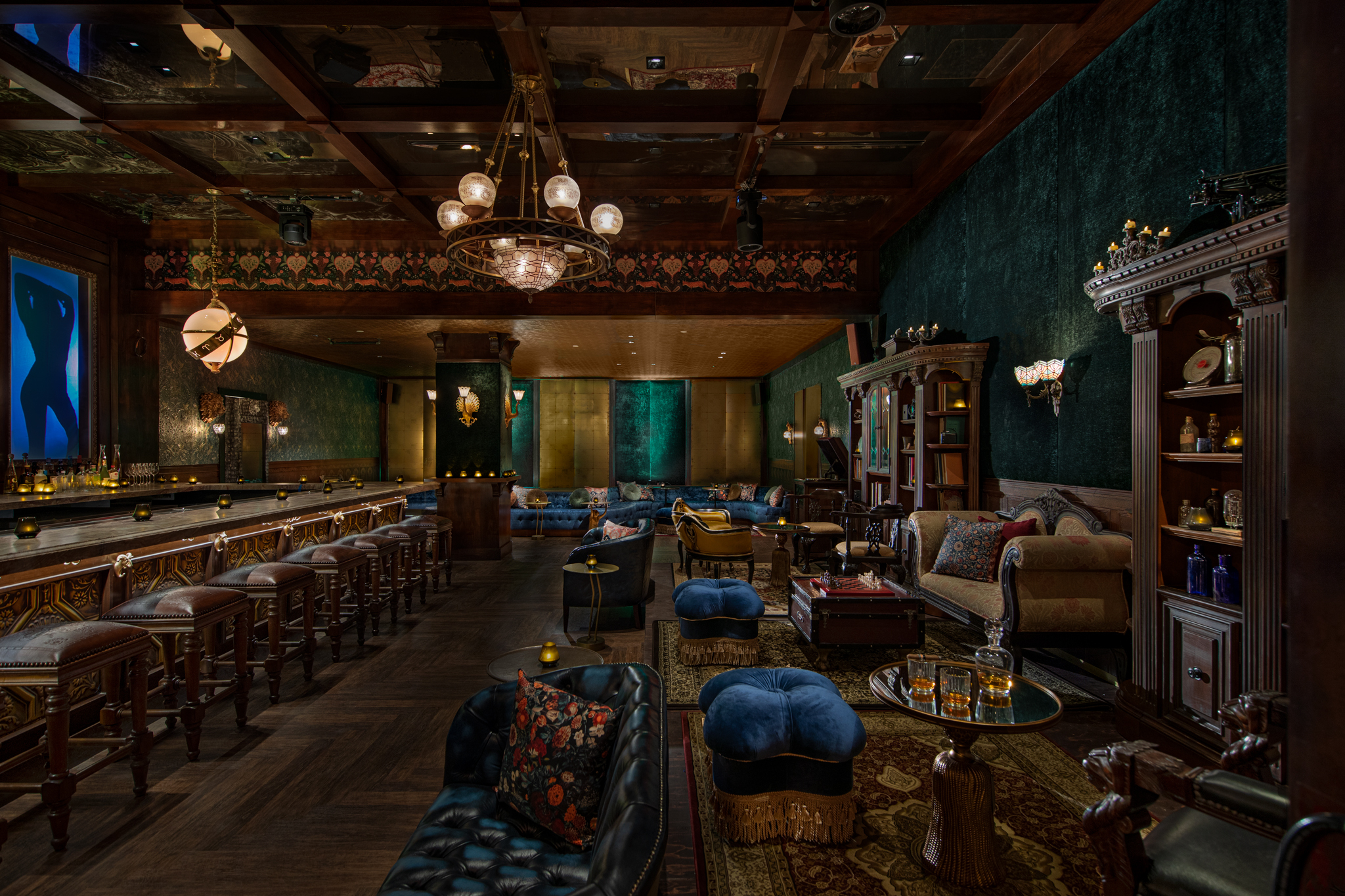 There's a good chance you'll start your evening greeted by an aerialist dangling from a sparkly chandelier in the library-like entryway of Mr. Wanderlust. Like some sort of Victorian explorer's study, the plush, dark lounge's global grab bag of curios feels unmistakably Houston, but taken up a few notches: Peekaboo windows with dancers' silhouettes flank a wide column behind the bar that rotates to reveal a piano behind it. It's also the most hidden entrance-packed space in Level 8, with camouflaged doors that are themed to and lead to its adjoining pair of fire-and-water restaurants, Maison Kasai and Lucky Mizu.
"It's not like Benihana or Mori," Jonnie says of Maison Kasai, Level 8's French-Japanese teppanyaki restaurant. "You're not going to get a shrimp thrown in your mouth—even though we all love that." Instead, chef Josh Gil is firing up a playful but elevated take on the cuisine (like Wagyu dumplings and lobster) across the 10 flat metal grills that fill the Japanese Art Deco dining room.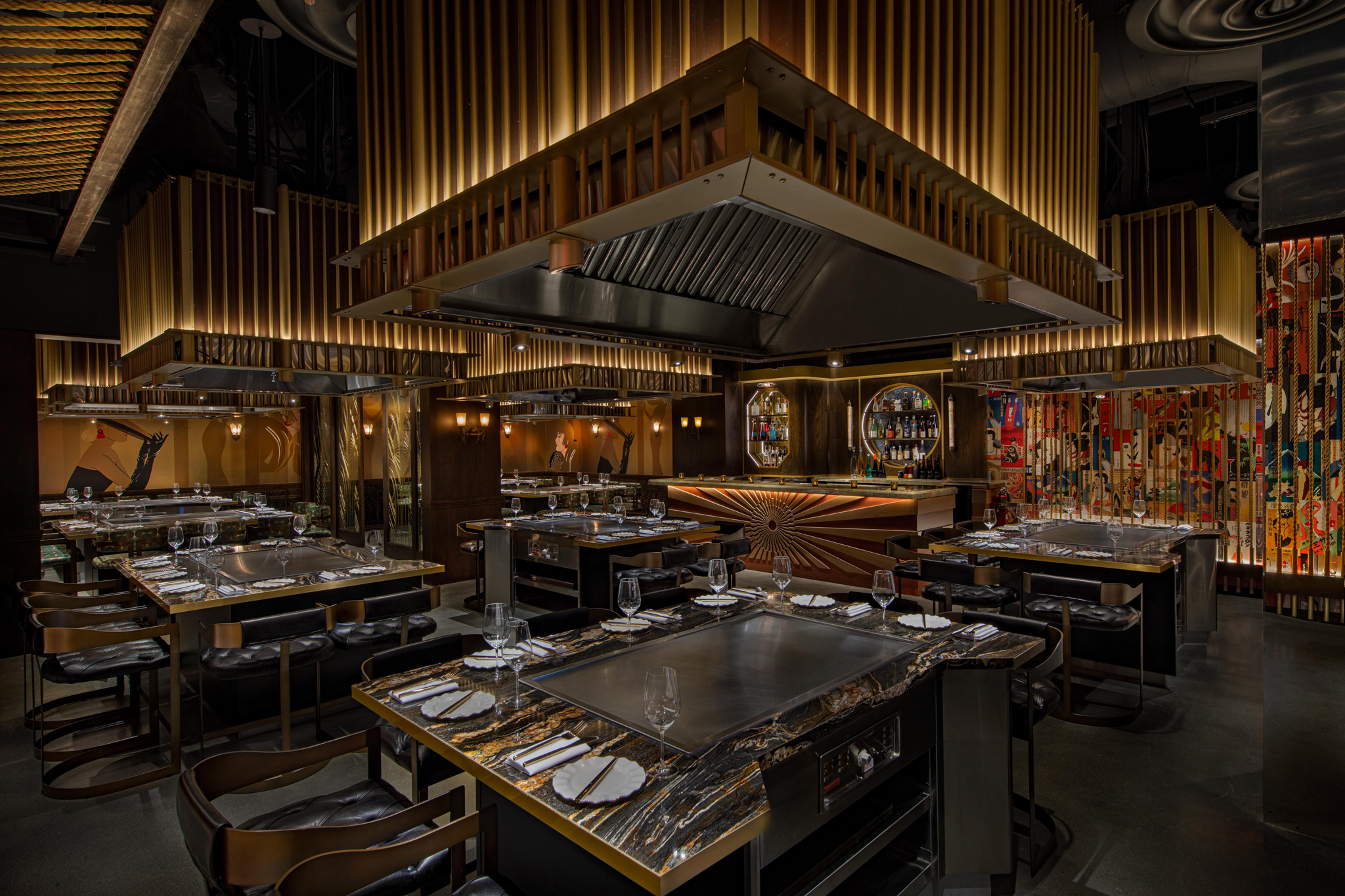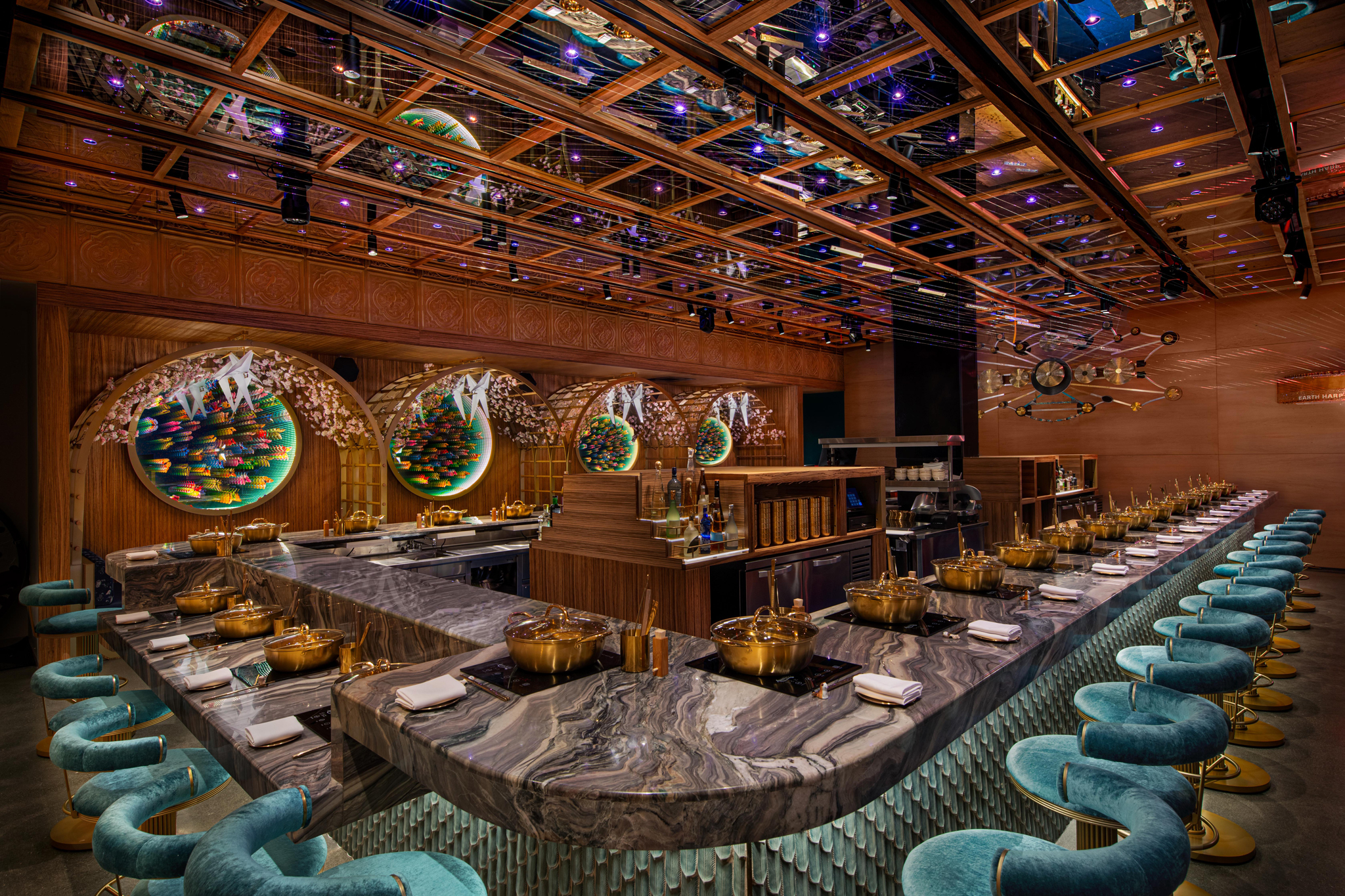 Whereas Maison Kasai saves its showmanship for the flambéing on the grill, Lucky Mizu supplements its hot pot setups with some literally off-the-wall entertainment. A 40-foot-long Earth Harp spans the space above the central bar at chef Hisae Stuck's shabu-shabu restaurant. In addition to that overhead entertainment, you'll also find a wall-mounted drum kit and room for a guitarist (and somewhat more passively, the butterfly-trimmed infinity mirrors at each booth are bound to attract plenty of posing).
Qué Bárbaro's entrance is considerably more straightforward, but that's certainly not the case aesthetically. Chef Ray Garcia's South American live fire grill looks like a wood-and-upholstery reconstruction of a jungle, with fantastic butterfly and parrot chandeliers that adorn either side of the entrance. Expect samba dancers to circulate throughout the room while on the adjoining pool bar patio you may spot capoeira dancers and a fire show.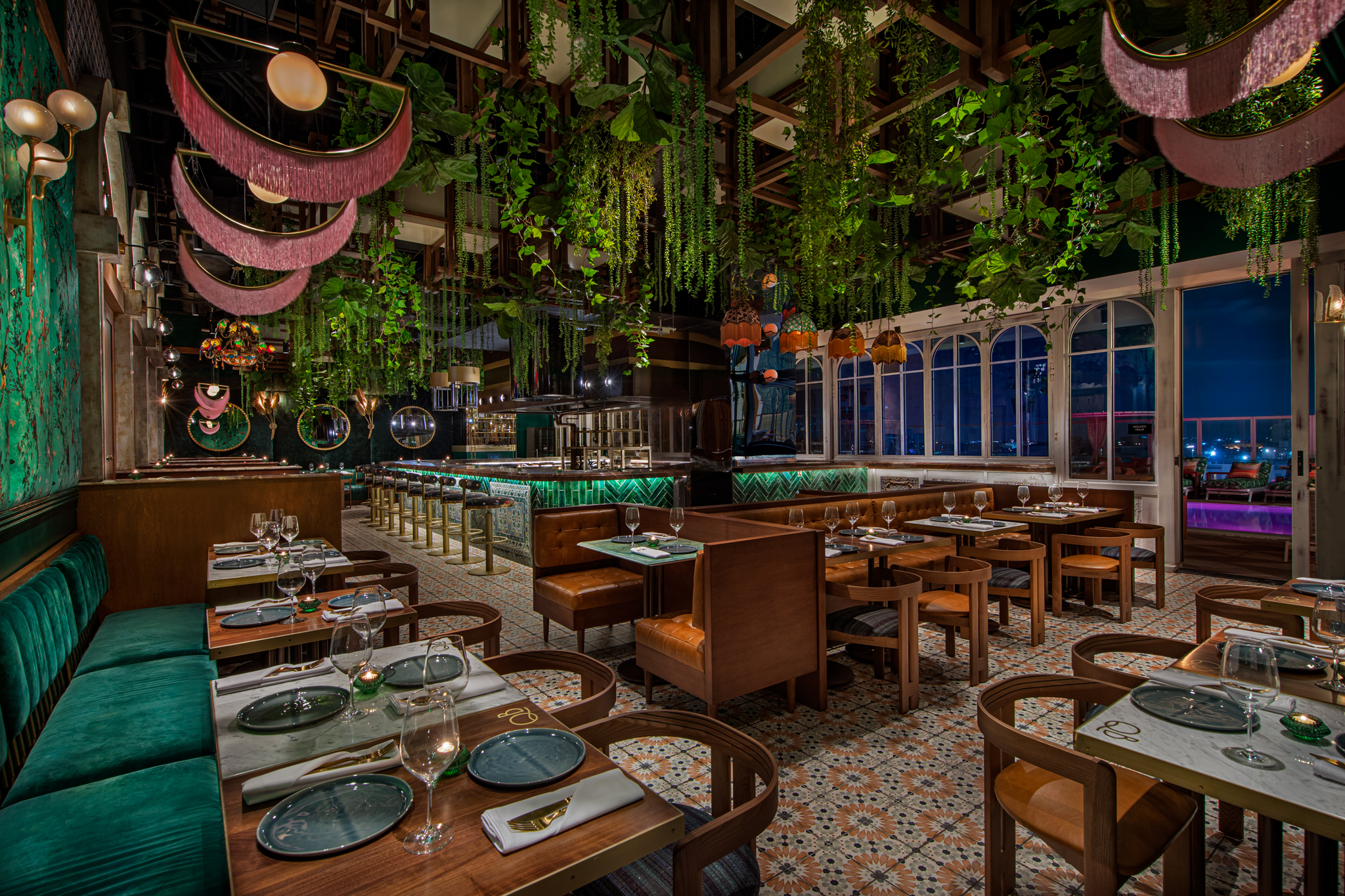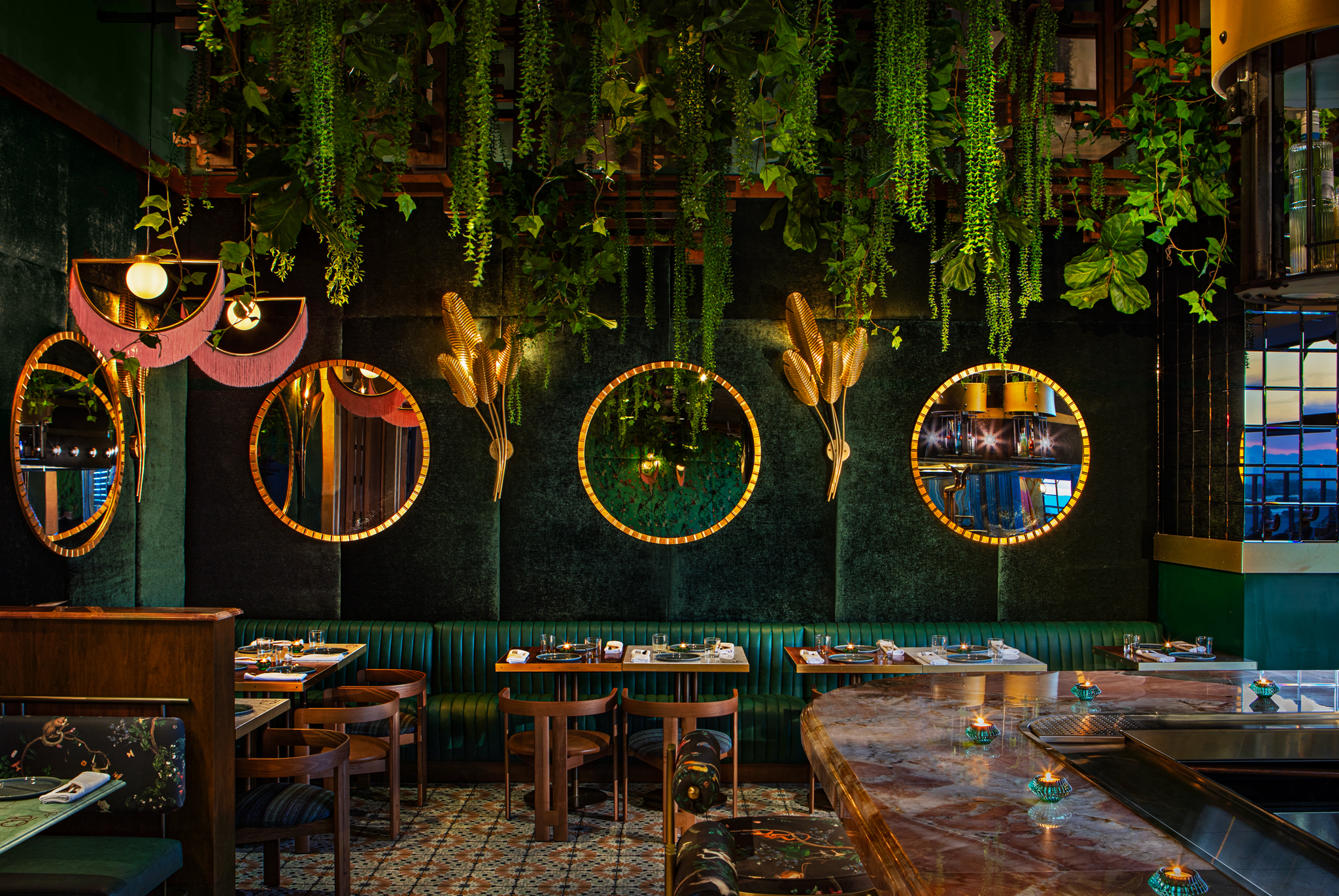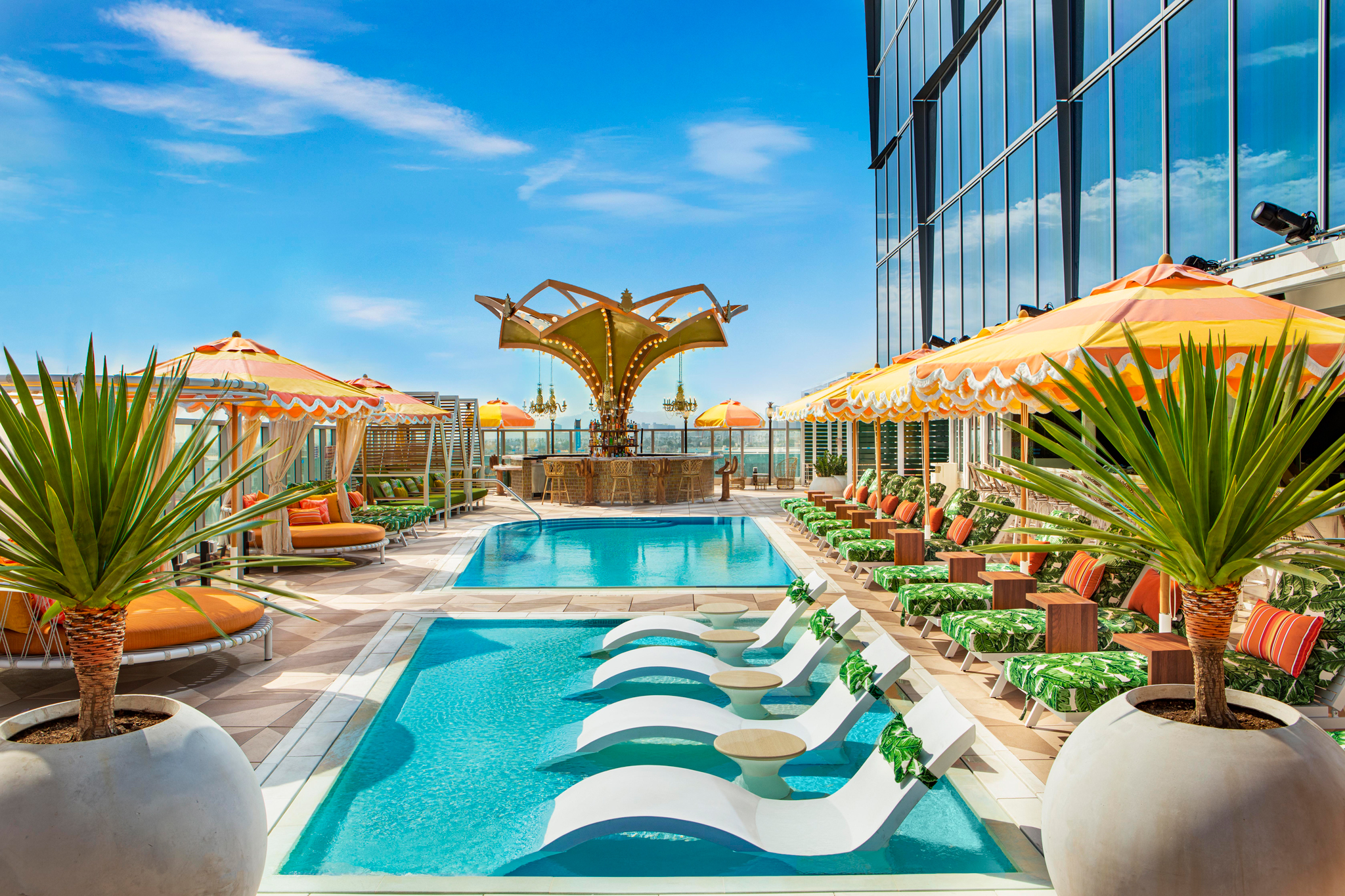 One wall of the restaurant opens up into Golden Hour, a rooftop pool bar where the DJ spins in an oversized disco ball and the bar encircles a rotating carousel that looks like the top of a pineapple. The Houston Brothers channeled 1970s Brazil for the day beds and decor, which line both wading and swimming pools. You may spot hotel guests here simply looking to go for a dip, but even during our daytime visit to the then-about-to-open pool, the vibes definitely leaned closer to a party atmosphere.
The remainder of Level 8—and the part that's yet to open—is laid out along a slender terrace on the building's northwest side that houses Garcia's taco truck, the Brown Sheep, and Gil's Champagne and raw bar, Mother of Pearl. Whereas Golden Hour's southwest-facing vantage point means you're largely looking at the L.A. Convention Center, the skyline views are perfectly framed along this vaguely French and Spanish corridor, where wrought iron details see the glassy, contemporary architecture of the high-rise largely fade into the background.
It's also here that you'll find the entrance to Sinners y Santos, the clubbiest of Level 8's offerings. The forthcoming late-night spot was still very much under construction during our preview, but it was already pretty impressive to behold: What looks like a 19th-century cathedral has been squeezed into the hotel with a gothic-inspired ceiling that seemingly takes advantage of every inch of the 22-foot ceilings.
You'll enter through a confessional where you can spill your sins and pose for photos before approaching an altar covered in skulls. Once inside, candles, stained glass and a pipe organ are outfitted on one side, while the distressed walls of the other half surround a square bar topped with a wrestling ring. Every hour, a 12-minute lucha libre match will play out while a four-piece mariachi band performs inside the space.
Taken all together, it's fair to say that Level 8 is considerably more ambitious than the Hooters that resided in this very spot only a few years ago—and generally more interesting than the saturation of sports bars in the area. It's the sort of project that should cater to out-of-towners, L.A. Live visitors and locals alike. "We've been wanting to do something Downtown for years but we were waiting for the right project," Jonnie says. "And we definitely want to take care of the locals, that's our main goal."
"We really want to immerse you in it," Mark adds. "That's what we strive to create when you walk through these doors: Your worries get left at the door and now you're immersed in this fun experience."
Level 8 is located at 1254 South Figueroa Street, at the Moxy and AC Hotels. Look for the main entrance in the valet circle (which is in an alleyway off Pico between Figueroa and Flower).