In truth, a daytime visit to Jar feels like sacrilege. Billed as a modern chophouse, the restaurant along Beverly Boulevard comes into its own under cover of night, when accent lighting and retro design flourishes imbue the dining room with the kind of cinematic elegance that's led to on-screen appearances over the years, including La La Land and I Love You, Man.
Most evenings, you'll find the 21-year-old restaurant in full swing: a mostly older clientele will drop in, the host greeting many by name, the bartender mixing drinks at the gleaming bar made of Italian zinc. A newer sidewalk dining area, added during the pandemic, presides over dates conducted under string lights. As cozy and timeless as a pure cashmere sweater, and just as upscale, the restaurant thrives under special occasion circumstances, but Jar's familiar faces, including chef-owner Suzanne Tracht, have kept plenty of Angelenos coming back on a more casual basis.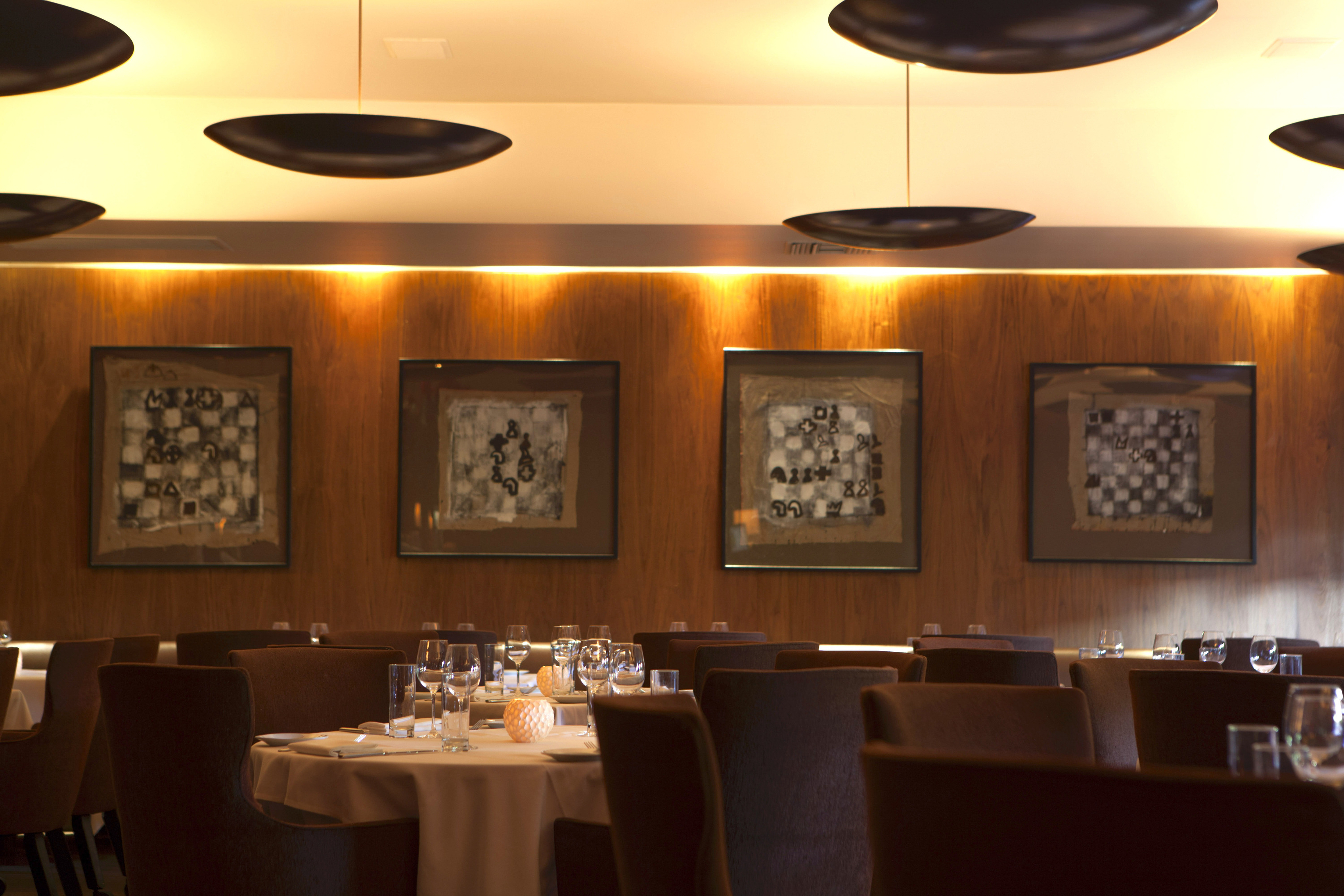 During the day, however, with the window shades up, Jar's midcentury-meets-postmodern interiors seem a little dated. Those same visual elements read as a distilled showcase of restaurant design trends from the early aughts, when the new-school steakhouse—which opened just days before 9/11—was one of the hottest restaurants in town. We might have preordained ideas of what a classic dining institution in Los Angeles entails, but twenty-odd years past into the "new" millennium, a few places like Jar gently invite diners to reconsider what falls within the genre.
These days, the passé but charming interiors are part and parcel of the Beverly Grove eatery best known for its pot roast, char siu pork chop and elegant, slightly staid ambience. With a younger, more diverse generation of L.A. chefs in the spotlight, decades-old restaurants like Jar, and the chefs like Tracht that lead them, approach old-school territory—a label diners might more readily apply to Philippe's or even Spago.
At Jar, dyed-in-the-wool consistency and hospitality take precedence over novelty and expansion—a rare move in a dining scene in which many of Tracht's industry peers, including A.O.C.'s Suzanne Goin and Mélisse's Josiah Citrin, have built mini-empires and personal brands. Though the end result has generally been uneven, these more prominent chefs have gained greater citywide and even national recognition, while Tracht has stuck to her guns at Jar.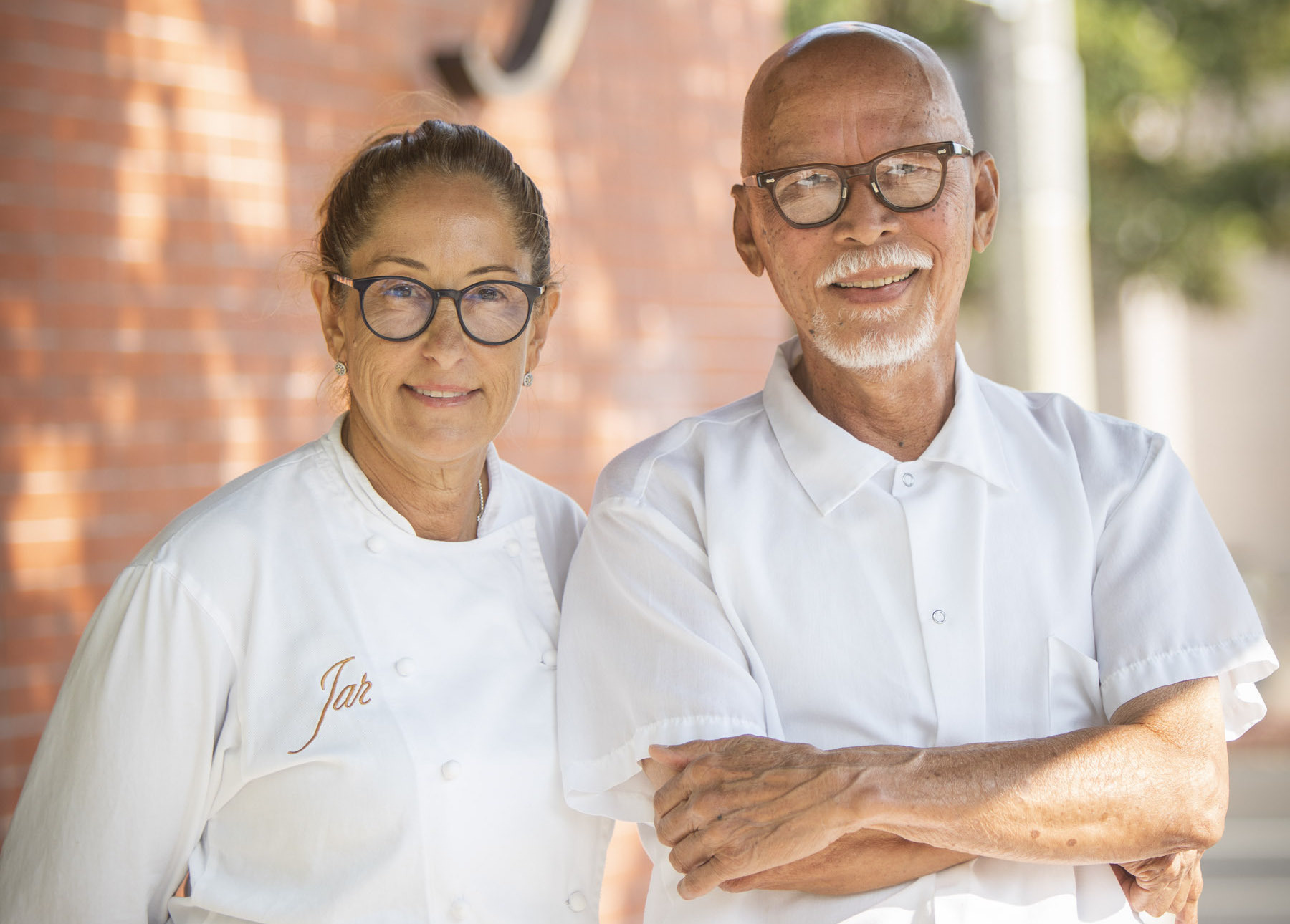 "We wanted an institution, and we both felt that way," Tracht, now 59, says, looking back on her initial hopes in opening Jar. The "we" refers to herself and the restaurant's semi-retired 76-year-old chef de cuisine, Preech Narkthong, who sits beside Tracht inside Jar as we chat on a sunny afternoon. The pair bicker and finish each other's sentences like an old married couple—though they don't sleep together, Tracht adds, in a smirking tone. Together, they've kept Jar running as Tracht has raised two children to adulthood, with Narkthong now a proud grandfather of two.
Introduced through a mutual colleague, the duo first worked together at Jozu, Tracht's first restaurant, which offered Asian-inspired Californian cuisine (a red-hot specialty in the late '90s). You can still taste its culinary imprint at Jar, where lemongrass chicken and duck fried rice betray the faintest traces of Asian influence. There's also the crowd favorite char siu pork chop, a cherry-red hunk of meat, cooked low and slow, that has kept plenty of regulars from straying from the go-to order for years.
Unlike some other veteran L.A. chef-owners, who've become celebrities in their own right, Tracht has generally refrained from expansion; a 2007 namesake hotel eatery in Long Beach lasted just a few short years. "Sometimes the best deal is the one that you didn't get," she says, somewhat cryptically. "You can't run a restaurant if you're not there." In Tracht's eyes, the patrons she already has at Jar are more important than expanding her foothold to, say, the Valley or the Westside—or God forbid, as Narkthong chimes in, becoming a TV chef. (It's worth noting Tracht once competed in Bravo's Top Chef Masters.)
"The most important thing is: Are you gonna be able to take care of all of those people?" Narkthong says of opening more restaurants, ending with an emphatic "No."
Above all, they're both perfectionists. Their favorite thing to do, according to Tracht, is to make sure whatever comes out of the kitchen comes out flawless, every single time. "We like the heat of the moment—we crave that," she says, nodding towards her chef de cuisine, who she still calls on a regular basis to toss around ideas for specials. "That's what the kitchen is about."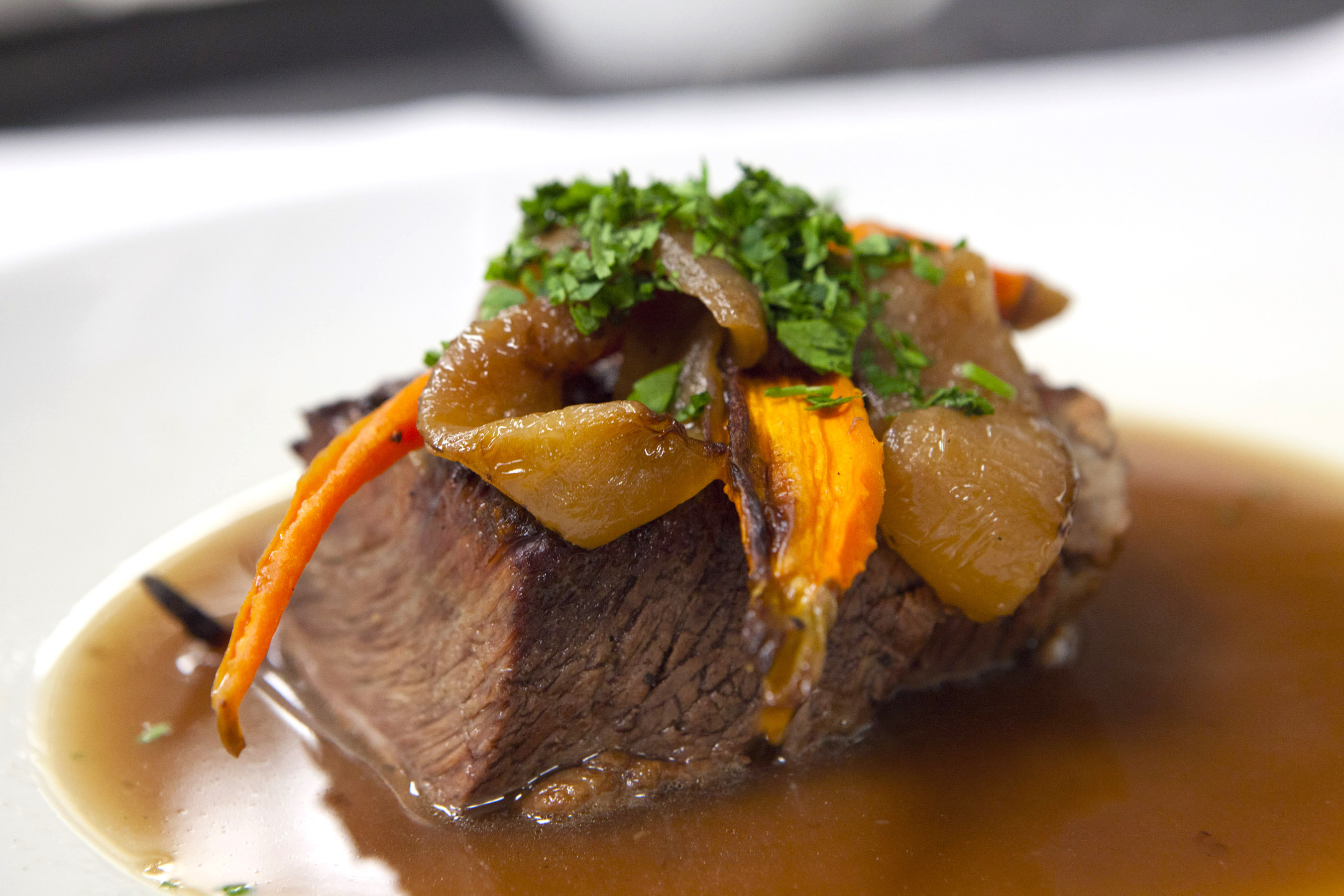 The potential mundanity in cooking the same dishes year in, year out seems lost on Tracht, who points to the more fluid portions of Jar's menu (soups, sides and salads) and ever-changing seasonality of ingredients when asked what keeps her motivated. Classically trained, with a three-year stint at now-closed Campanile under the late Mark Peel and celebrity chef Nancy Silverton, Tracht takes what she has learned—getting the best produce from local farmers, for instance—and puts it into practice on a daily basis at Jar. It's as simple as that.

Over the years, the critical acclaim and buzzy aura around Jar has mostly died down, but the steakhouse's base of longtime patrons has kept the restaurant in business, and helped it survive the pandemic. Case in point: In the years when the late Jonathan Gold exerted outsized influence on the city's dining scene, Jar consistently ranked on the legendary food critic's L.A. Weekly Essential 99 and L.A. Times 101 Best lists, but even Gold, in 2014, said it was "almost a little odd" to see Tracht on the line, her ideas of good cooking constrained to Jar signatures.
"She should be winning national awards, but she is content with making a great wedge salad and the best pot roast in town," he wrote of Tracht that year. "But she's not slumming." In 2018, after Gold's July passing, the restaurant was dropped from the Times's 101 Best by the newly appointed Bill Addison and Patricia Escárcega, the latter's then co-critic.
Despite the slight, Tracht says she didn't lose any sleep—or business—at the time. "We know who we are, and we have values," she says. "They dropped us so they could include something else. We've been there already." Jar might no longer be au courant, but Tracht and Narkthong don't seem to mind; they both got into cooking because they loved it, she adds—not necessarily for the media recognition or TV show appearances.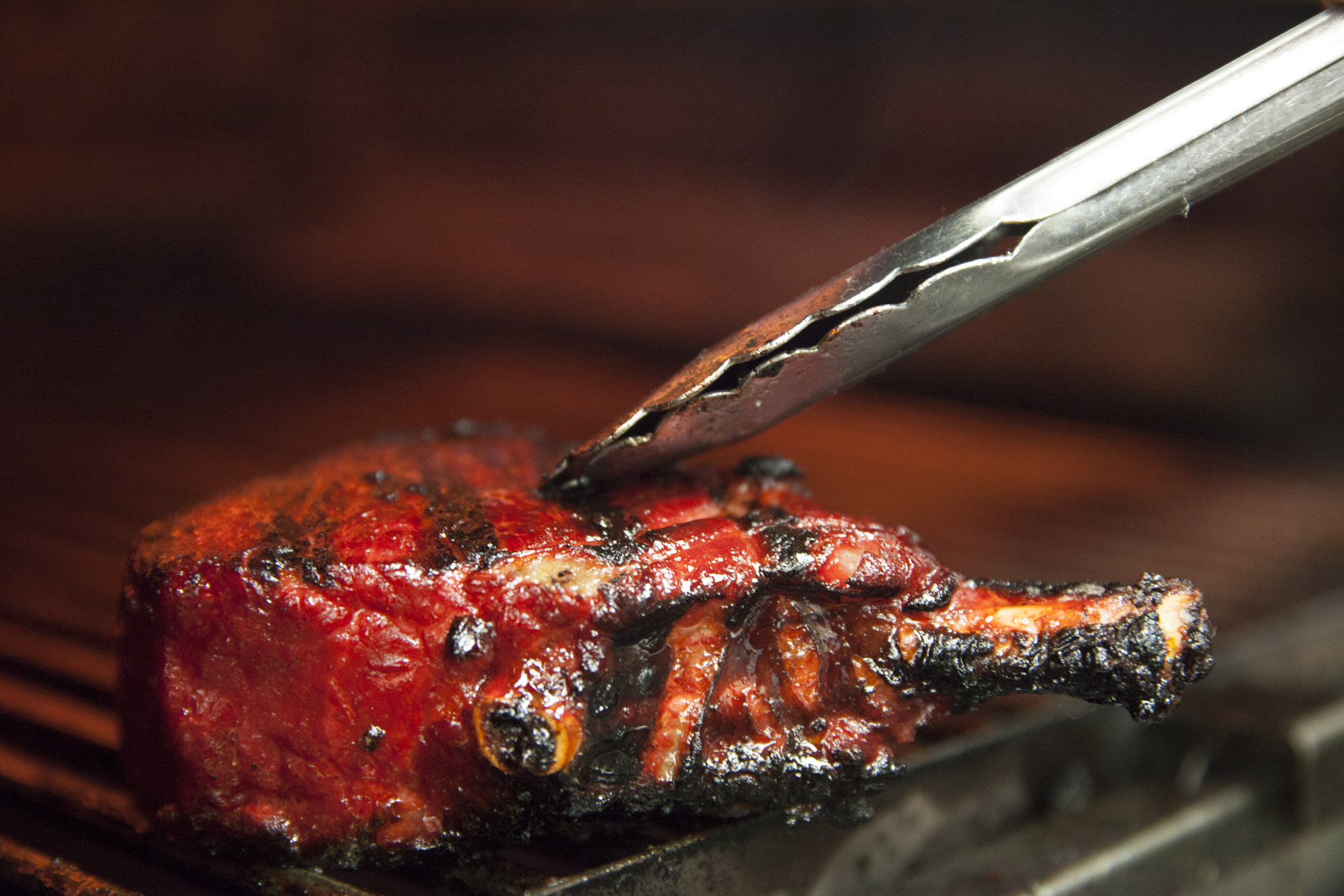 These days, Tracht's workhorse-like dedication to excellent (though no longer game-changing) cooking has earned Jar a reputation for reliably delicious food and excellent hospitality—two things few and far in between at a time when pop-ups with ever-changing menus dominate L.A.'s dining conversation and kitchen efficiency often takes a backseat. The chef-owner also credits Jar's solid team of staff, many of whom have worked there for over 15 years.
By most standards, Jar has already become what Tracht always wanted it to be: an L.A. dining institution, a place in the city that people can depend on for a stiff drink, a great meal and warm sense of hospitality. Her restaurant exemplifies the fact you don't necessarily have to build a whole empire to win Los Angeles over—you just have to be great at what you already do.
"When I come out here and I see my customers, and they thank me for getting them through Covid, that's my gratification and it always has been," Tracht says. Success, from her point of view, is being happy and satisfied in what you do, being able to take time out for yourself, and having a supportive team of employees. "You're only as good as you surround yourself with. To me, that's success."