Only a couple of weeks after the opening of the system-reshaping Regional Connector, Metro will roll out a new fare structure for its bus and rail lines that the Los Angeles transit agency touts as "the more you ride, the more you will save."
Under the new plan, base fares will remain at $1.75 and transfers are still free for two hours. The big change, though, comes from how the cost of multiple rides stacks up: Metro's single and multi-day passes are being eliminated in favor of a fare-capping structure that means you'll never need to pay more than $5 a day or $18 a week as long as you use a TAP card.
In addition, the J (formerly Silver) Line and express buses will no longer have a 75-cent upcharge. The new fare structure will go into effect starting July 1.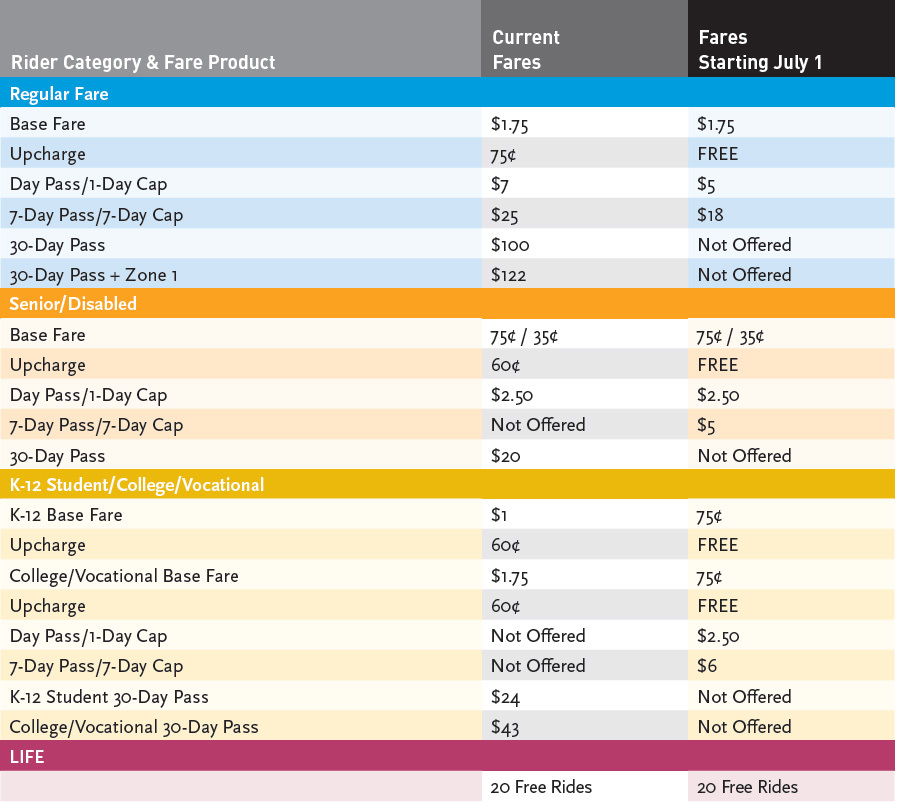 Until this point, you've needed to specifically purchase a day pass ($7, though it's currently half price—but more on that in a minute) if you wanted to nab unlimited rides in a 24-hour period. With fare-capping, though, once you've spent $5, all rides for the rest of the day are free. The same applies on a weekly basis, albeit with an $18 cap (there's no monthly cap). For students and seniors, these caps are even lower, as you can see in the table above.
The new pricing is cheaper than Metro's existing fare structure, but some riders may end up paying slightly more than they do at this current moment due to a temporary price cut that's yet to be lifted. Since January 2022, Metro has been offering its 1, 7 and 30-day passes at a 50% discount. Though initially a short-term bit of pandemic relief, the program was extended and is still in effect. That means a weekly pass, which on paper costs $25, is currently only $12.50—and that's notably cheaper than the upcoming $18 weekly cap.
Regardless of the technicalities, when the new fare-capping plan was first proposed last fall, it initially called for increasing base fares to $2 and eliminating free transfers, so July's pricing should be much more appealing to riders—though not all riders. You'll need to use a reloadable TAP card to take advantage of the fare-capping, but a recent Metro report notes that 43% of the system's bus boardings are paid using cash, about double the national average (L.A.'s trains are all cashless). Metro notes that the vast majority of these riders are unbanked, and so the agency has been in the midst of a "Cash to TAP" awareness campaign.
If you're in need of a TAP card, which costs $2 at a station vending machine and select retail spots, may we suggest being on the lookout for this Keith Haring-inspired one, which celebrates the upcoming subway stop directly behind the Broad (which is currently hosting a Haring retrospective). The limited edition cards are expected to roll out in July.