Five of Metro's seven rail lines roll into Downtown Los Angeles. But hopping between them can sometimes involve multiple transfers that have you darting between platforms and across stations. That all changes come June with the opening of the Regional Connector.
The Regional Connector isn't a new line, rather it's a 1.9-mile stretch of subway that will more seamlessly tie together DTLA's rail service thanks to three new underground stations: Little Tokyo/Arts District, Historic Broadway and Grand Avenue Arts/Bunker Hill. Moreover, it'll take three shorter routes and streamline them into two longer ones: You'll now be able to ride from East L.A. to Santa Monica on a single train, as well as from Azusa to Long Beach, which Metro says will be the longest light-rail line in the world.
We had a chance to visit the three new stations ahead of their opening on June 16—the whole Metro system, including rail, buses and bike share will be free that weekend to celebrate. Below, you'll find our photos of some of the massive art installations gracing each station (and a new pedestrian bridge that directly links to the Broad), as well as a quick primer on how these three new stops will reshape nearly the entire system.
Here's how the Regional Connector will redraw the A and E Lines
In the works for more than a decade now—and initially slated to open in 2020—the Regional Connector essentially creates a pair of east-to-west and north-to-south mega lines that link up with each other Downtown. The E (Expo) Line that currently runs from Santa Monica to DTLA will now be joined with the section of the L (Gold) Line that runs from Little Tokyo to East L.A. to form a new E Line. Expect it to take about one hour and nine minutes from end to end.
Meanwhile, the already-lengthy stretch of the L (Gold) Line from Azusa to Little Tokyo will connect to the A (Blue) Line from 7th Street/Metro Center to Long Beach to form a nearly 50-mile-long A Line that takes about one hour and 58 minutes to travel the entire length. Both this and the E Line will service the three new subway stations; switching from one line to the other is as simple as waiting for a train to arrive on the same platform.
Metro says the completion of the Regional Connector could save some riders up to 20 minutes. (On the other hand, trains will only run every 20 minutes during off-peak hours, and every 12 minutes during peak times.) It's easy to imagine those time savings if you take, for example, one of the most frustratingly convoluted rides under the old system: If you want to travel from Northeast L.A. to a Lakers game, you need to take the L to Union Station and walk down the stairs from the above-ground platform, motor halfway across the station and down multiple escalators to transfer to the B or D Lines; take that three stops to 7th Street and switch platforms to change to an A or E Line train; then take that just a single stop to Pico. But with the Regional Connector? That becomes a single-seat ride on the new A.
Little Tokyo/Arts District
Though there was previously an above-ground station on the east side of Alameda Street, the Regional Connector has diagonally repositioned this below-ground one into a plaza just across from the Japanese American National Museum and Chado Tea Room. Though the station moved only a couple of hundred feet, it feels considerably more folded into the surrounding neighborhood; the (until all of the trees grow in, somewhat sparse) plaza looks right down 1st Street toward the Japanese Village Plaza and the heart of Little Tokyo, while still being only about two blocks from the dense cluster of restaurants and bars along Traction Avenue in the Arts District.
It's a relatively shallow underground station, so as you make your way past Clare Rojas's colorful Harmony installation on the glass walls and down the escalators, you'll still have natural light filtering in at 45 feet below the surface. At the platform level, Audrey Chan's Will Power Allegory has covered the walls with 14 panels that pay tribute to the area's past and present populations.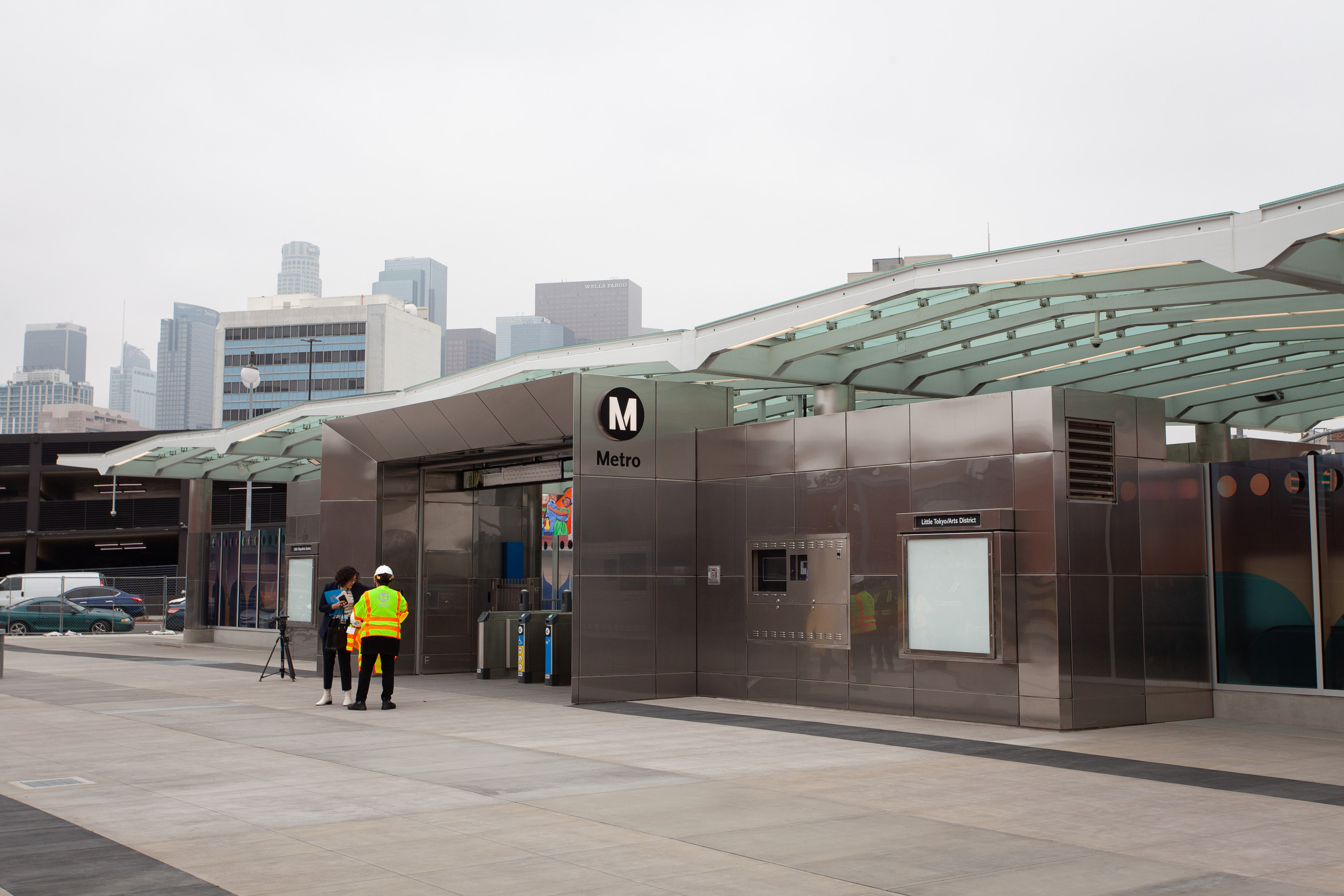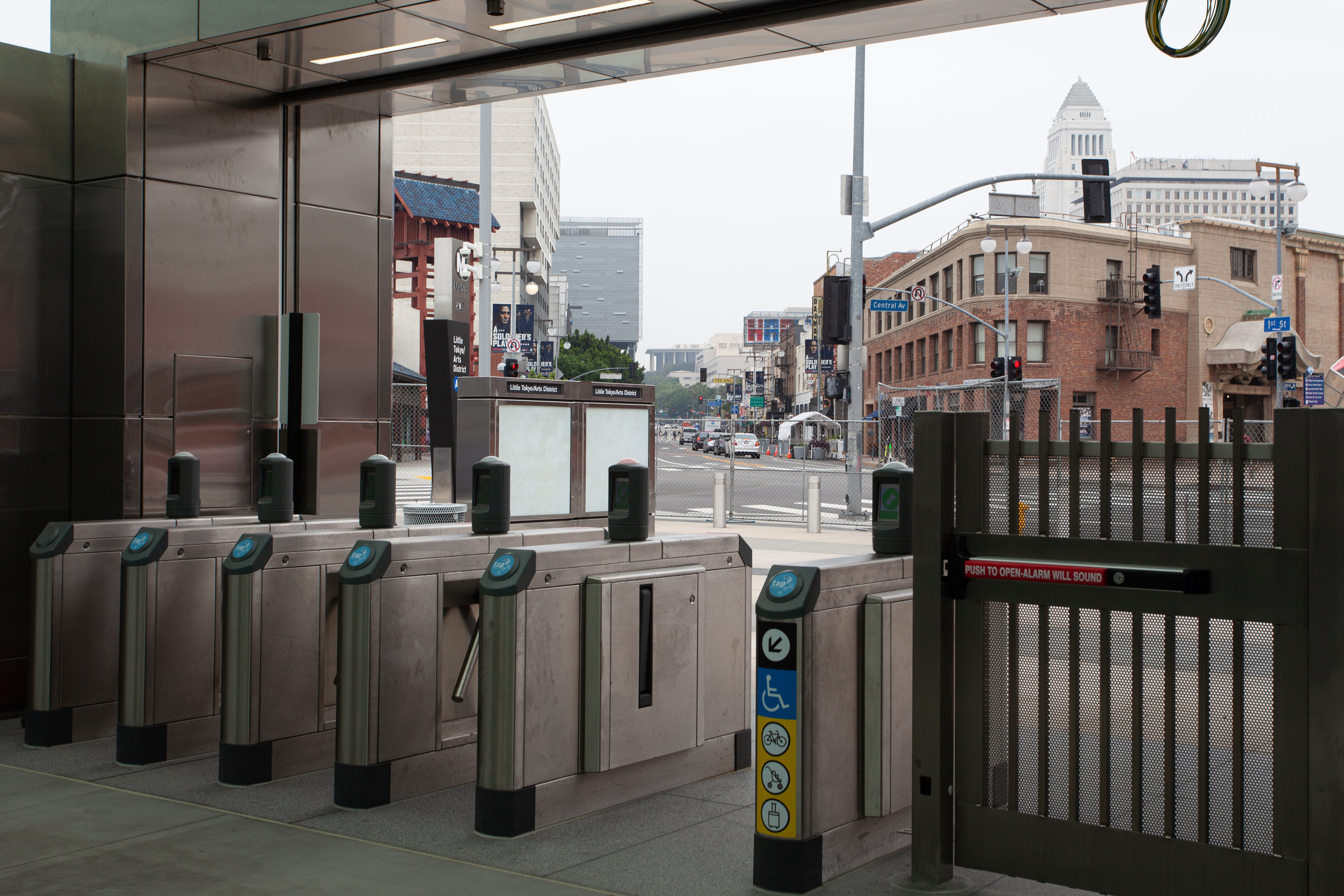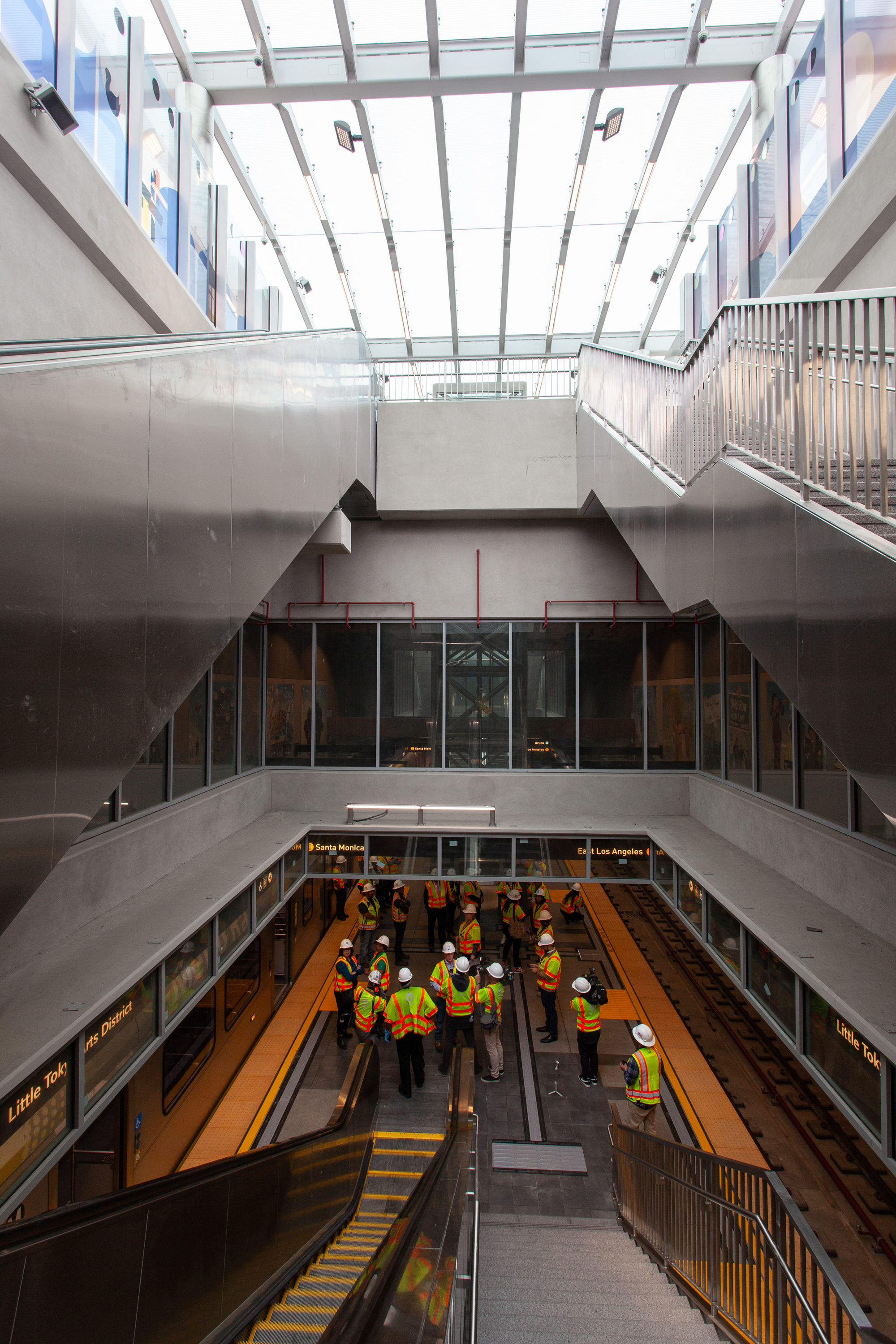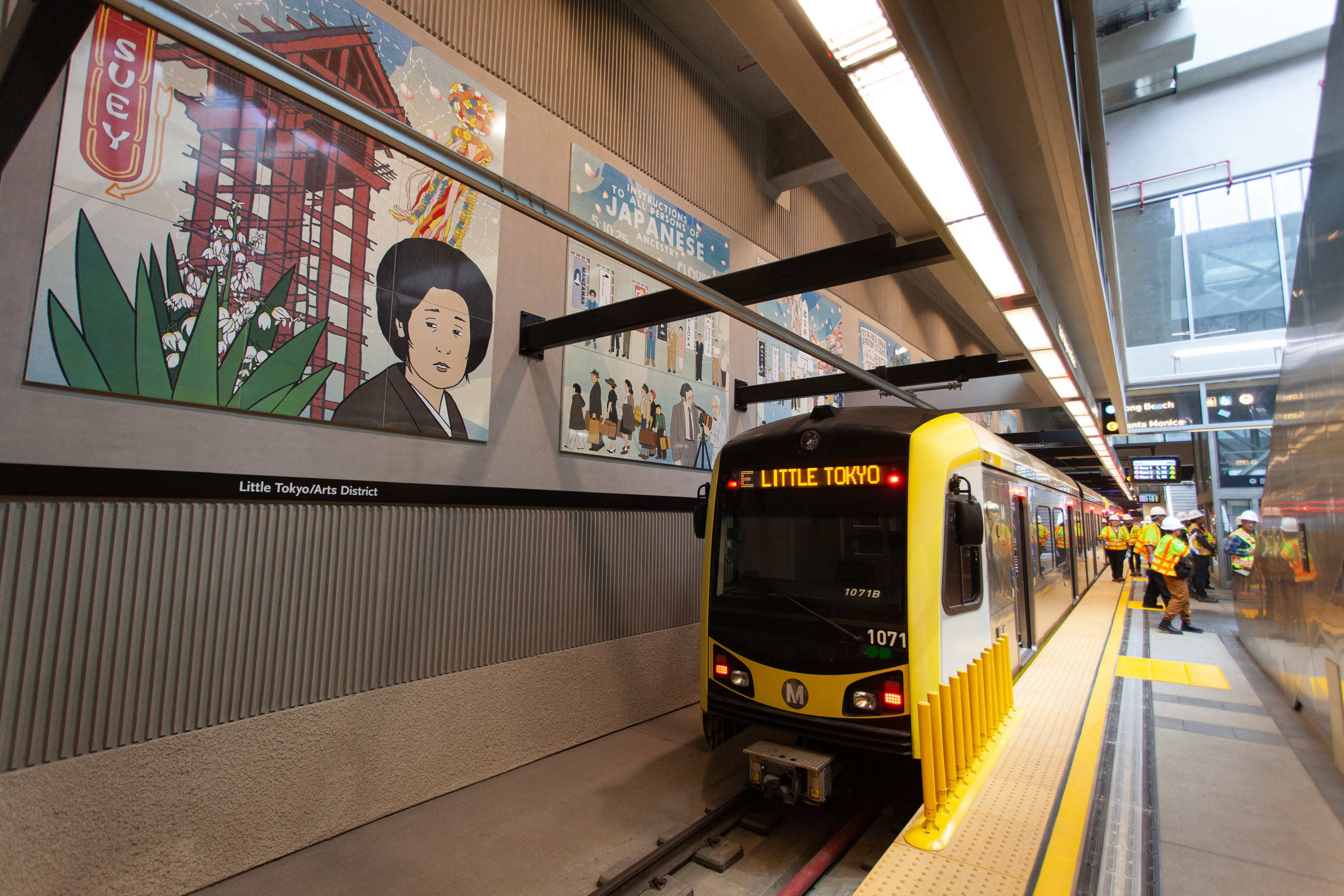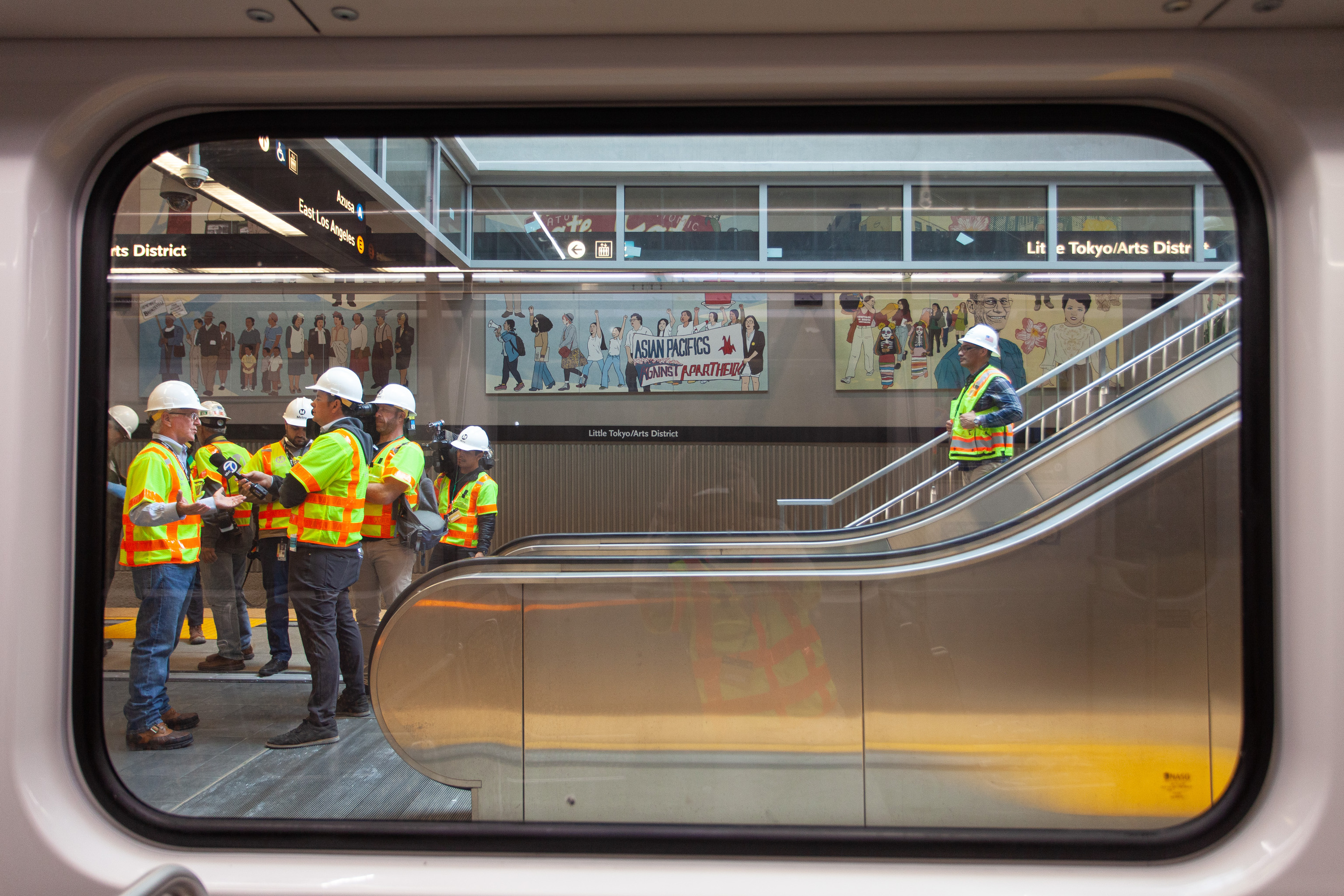 Historic Broadway Station
We didn't have a chance to disembark at street level here, but you'll find this brand-new station at the corner of Broadway and 2nd Street, about a block up from Grand Central Market and the Bradbury Building. On the platform, Clarence Williams's Migrations features black-and-white photos focus on the migrations of Black Americans. Up on the concourse, Mark Steven Greenfield's Red Car Requiem is bursting with color; the abstracted 148-foot-long glass mosaic pays tribute to the Red Cars that once criss-crossed L.A.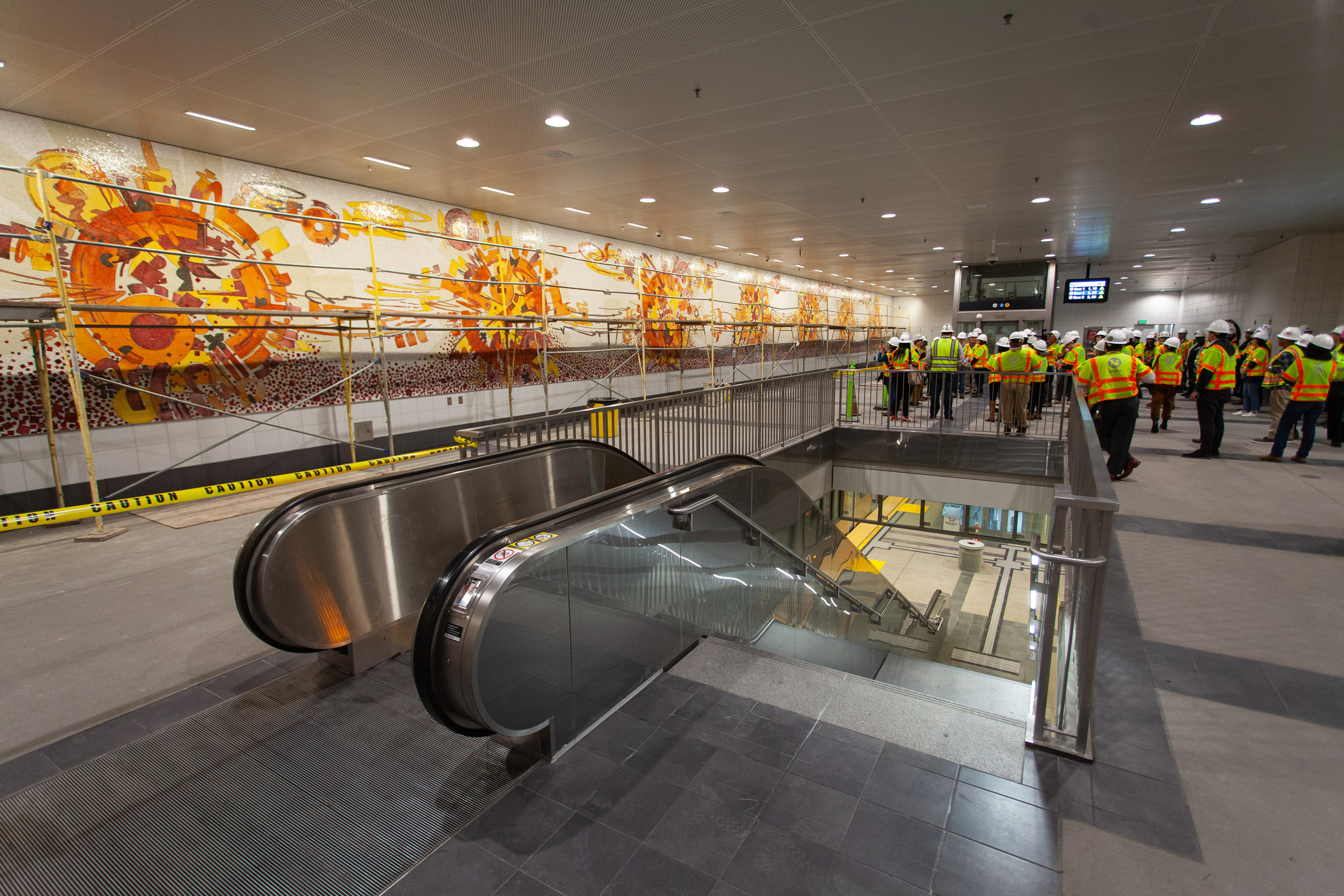 Grand Avenue Arts/Bunker Hill Station
Before the Regional Connector, taking the Metro to any of the art museums and music halls atop Bunker Hill would've meant a steep uphill climb from the Grand Park station. But this new stop—a relatively radically designed one—completely changes that.
You'll now find a station along Hope Street, directly behind the Broad; in fact, a pedestrian bridge just past the turnstiles will take you directly to Otium and the olive tree-dotted plaza outside of the museum. One level down, a separate station entrance sits across from REDCAT and just a slight uphill walk from the main entrance to the Walt Disney Concert Hall (Metro says its tests have shown no detectable train sounds or vibrations from within the concert hall).
At about 110 feet below ground, this is the deepest station in Metro's entire rail system. Given its depth and footprint, you won't find any escalators here; instead, a half-dozen high-speed elevators will ferry you from the street to the concourse (don't worry, of course there are stairs, too). As you descend, you'll trace all 61 feet of Pearl C. Hsiung's towering High Prismatic, a colorful, geyser-like mural that pays tribute to the natural and cultural forces that shaped Bunker Hill.