UPDATE: After being initially informed otherwise, the pastrami kit will only be offered online and not in store; this post has been edited to reflect this. To order, simply access the Uber Eats app and select any of Belcampo's four L.A. locations, then click on the "Katz's Deli x Belcampo" option. A box containing vacuum-sealed pastrami, four slices of bread and a jar of mustard will come right to your door, along with a ready-to-eat burger.
We've got no shortage of pastrami in Los Angeles—seriously, NYC delis could take a number from Langer's—but if you'll have what she's having, you can only get the When Harry Met Sally-famous pastrami from one place: Katz's Delicatessen. Fortunately, this weekend Angelenos don't have to book a flight to enjoy New York's most famed sliced meats—they just need to open a delivery app.
The 131-year old deli known for its piled-high, 30-day–cured pastrami and fake-orgasm–inducing sandwiches is headed to Belcampo Meat Co. starting this Thursday, which means you won't have to wait in the deli's usual wrap-around-the-corner line in the Lower East Side: You can order the Katz's pop-up via Uber Eats. (Look how easy they're making it for you.)
Sadly you won't find the institution's full menu—which includes knishes, pickle plates, tongue sandwiches, blinztes and the requisite matzo ball soup—because it's only popping up with take-home sandwich kits that include the deli's signature pastrami, slices of rye and, of course, the necessary jar of Katz's house-made deli mustard. (That sandwich kit will also come with a Belcampo burger, because really, they're making it easy and wonderful for you.)
You can snag these to-go DIY sandwiches with burger for $27 per box, and only from this Thursday to Sunday. Simply heat the pastrami (but don't toast the bread) when you get home, and you're good to go. What's more, all four Belcampo locations will offer the Uber Eats pickup—which is great news if you're anywhere near DTLA, Santa Monica, Hollywood or West Hollywood.
If you can't enjoy the pop-up this weekend, you can always order Katz's famed pastrami to get shipped right to your door year-round (including the option of an "I'll Have What She's Having" package, complete with tote bag and T-shirt)—but at around $32 per pound of pastrami, plus shipping costs, it can add up quickly. Our advice? Hit up Uber Eats this weekend (or, you know, just head to Westlake and visit Langer's).
For a behind-the-scenes glimpse inside New York's best deli, check out the time that Bon Appetit magazine worked a shift there for 24 hours. Hilarity ensues, naturally: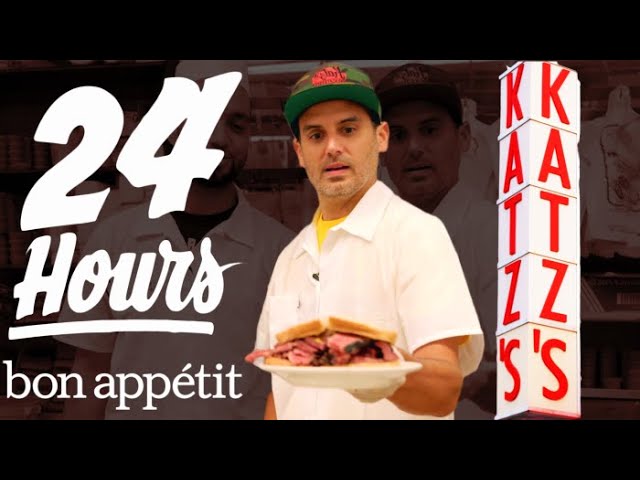 Find Katz's Delicatessen take-home pastrami sandwich kits via Uber Eats this Thursday through Sunday.