Table at Third & Fairfax is a weekly dining column in 2023 where Food and Drink editor Patricia Kelly Yeo will eat her way through the Original Farmers Market. Each column will drop on Thursday for a week-by-week recap of her journey through the classic L.A. tourist attraction. Last week, Kelly visited Moishe's.
For the second time in my life, I'm nursing a hangover at the Marmalade Cafe (est. 2002) after a night of heavy drinking. It's the Friday before Labor Day, and I'm starting to regret the two strong cocktails I had at Charcoal Sunset, my last stop before the publication of September's best new restaurants list. Meeting up with a pair of friends, my partner and I make our way through the thick long weekend crowds to the mostly empty restaurant, which sits just across the street from the Grove. We're here for this column (as I'm taking the next week off), but I can't stomach the thought of a gut-busting sandwich from Phil's or a plate of heavy cream and noodles from Pasta Corner, which is how we end up here.
Among the four of us, we order the crispy ginger chicken chicken pot stickers ($14.99), a bowl of wild mushroom soup ($10.75), seared blackened ahi and Napa slaw ($20.99), a smoked salmon Benedict ($19.75) and a short stack of the seven grain and almond granola pancakes ($12.75). The service is brisk, the air conditioning runs full blast and I can almost feel the uncomfortable sense of nausea start to disappear as I sip on an iced tea. Within 10 minutes, we're munching on the potstickers, which arrive on a sad bed of Napa cabbage and carrots. Golden and crunchy, they're exactly what I need at this particular moment of desperation, especially when dipped in the ginger ponzu sauce.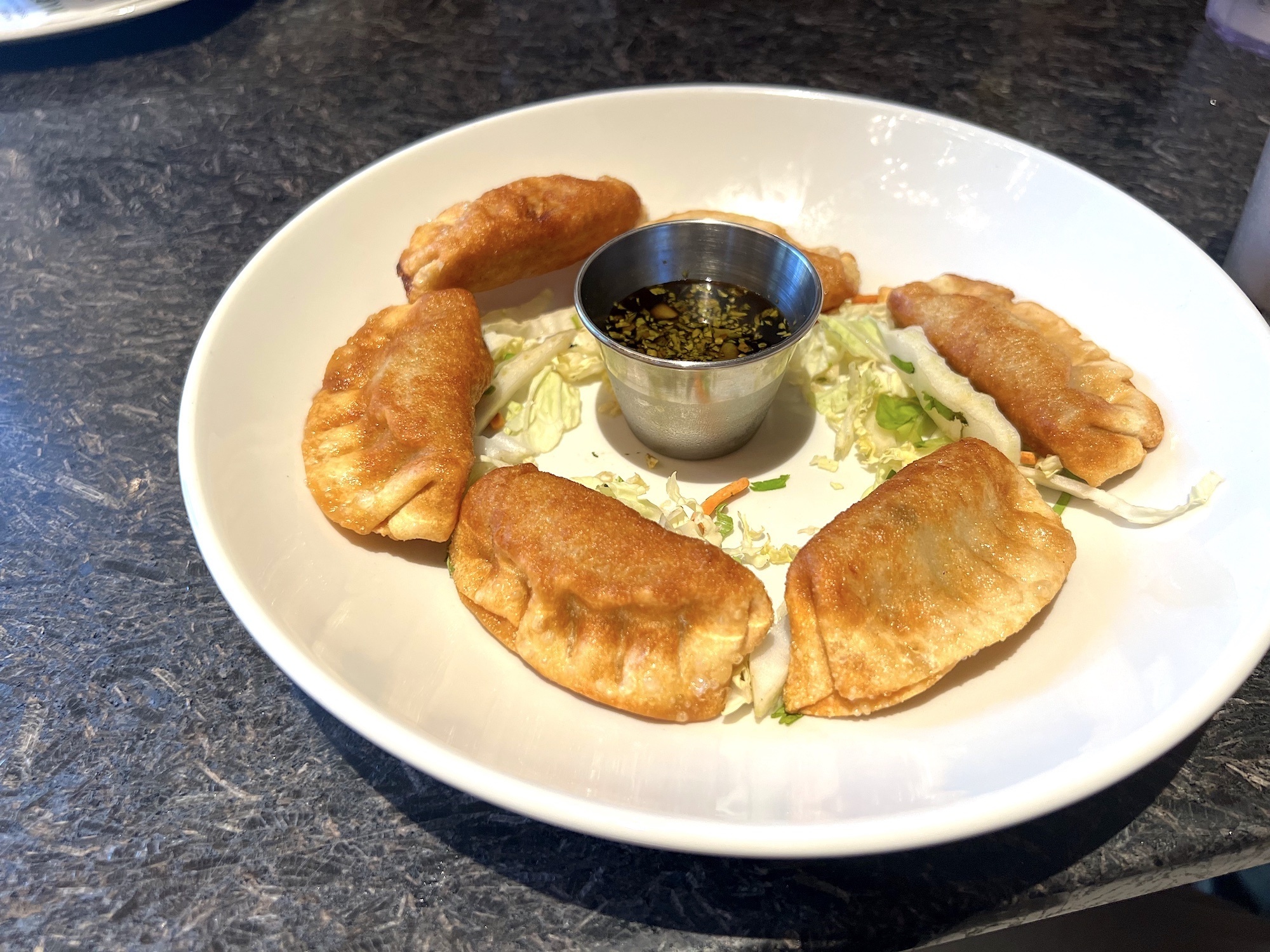 There are truly great meals in L.A., and this obviously isn't one of them, but I'm beginning to understand the middle-of-the-road appeal of Marmalade Cafe. The food is delightfully unchallenging, and nothing truly jumps out at me, but when my temples are throbbing and I'm still reeling from a night of overindulgence, a huge pile of Napa cabbage and romaine lettuce with three previously frozen pieces of ahi tuna on top will do just fine for lunch. I bypass the pickled ginger slices and fake green wasabi (why?) and dip the fish into the sesame ginger vinaigrette, cracking off pieces of the large crispy fried wonton as I go.
I sample a few bites from the pancakes and the smoked salmon Benedict, which comes with a side of dry-tasting breakfast potatoes. Again, neither dish pops out at me in terms of flavor, but they're rough approximations of what people expect from brunch fare, and they aren't executed poorly, per se. The bill comes out to around $40 per person, which is a little higher than you'd expect, though we did also order two caffeinated drinks.
I don't think I'll ever visit Marmalade Cafe on purpose, but I could definitely see myself ending up there again after a night of debauchery. For the purposes of getting over a hangover, when the prospect of a greasy fried chicken sandwich from All Day Baby in Silver Lake or buttery pastries from République induces nausea rather than delight, this efficient chain at the Farmers Market will definitely do the trick.
Meals from Table at Third & Fairfax fall into three categories: Skip It, Worth Trying and Must Have.
Vendor: Marmalade Cafe
Order: Crispy ginger chicken chicken potstickers, a bowl of wild mushroom soup, seared blackened ahi and Napa slaw, a smoked salmon Benedict and a short stack of the seven grain and almond granola pancakes
Verdict: Skip It. Unless you're hungover, that is.