Table at Third & Fairfax is a weekly dining column in 2023 where Food and Drink editor Patricia Kelly Yeo will eat her way through the Original Farmers Market. Each column will drop on Thursday for a week-by-week recap of her journey through the classic L.A. tourist attraction. Last week, Kelly visited Thicc Burger.
It's probably just Stockholm syndrome, but I've managed to develop some level of appreciation for pizza after trying (and retrying, in some cases) 33 different options across Los Angeles in the last year. I like pizza, but I don't really crave it, and I certainly wouldn't go out of the way on my own to try dozens of different versions of it. Most days of the week, what I end up consuming is dictated by what other people like to eat, and if the ever-increasing number of pizzerias are any indication, Angelenos love nothing more than wood-fired dough, cheese and tomato sauce of various thickness. This past Monday evening, I actually found myself looking forward to meeting my friend for a few slices of pizza at Friends and Family Pizza Co. (est. 2023), where we tried four slices: potato-taleggio ($7), pesto-roasted tomato ($7), fresh mozzarella and basil ($7) and rapini-sausage ($7).
Since my visit in late March, I've managed to try a few similar joints across town, including El Sereno's Secret Pizza, which I thought was solid but nothing particularly remarkable. I can honestly say now that I think FFPC is better. It's true that Secret Pizza's triangles don't fold—a standard that New Yorkers swear by—but I wasn't particularly captivated by my cheese pizza, especially when Pizza Wagon of Brooklyn (Sherman Oaks) and Danny Boy's Famous Original (Downtown, with a second location coming to Westwood) exist in the world.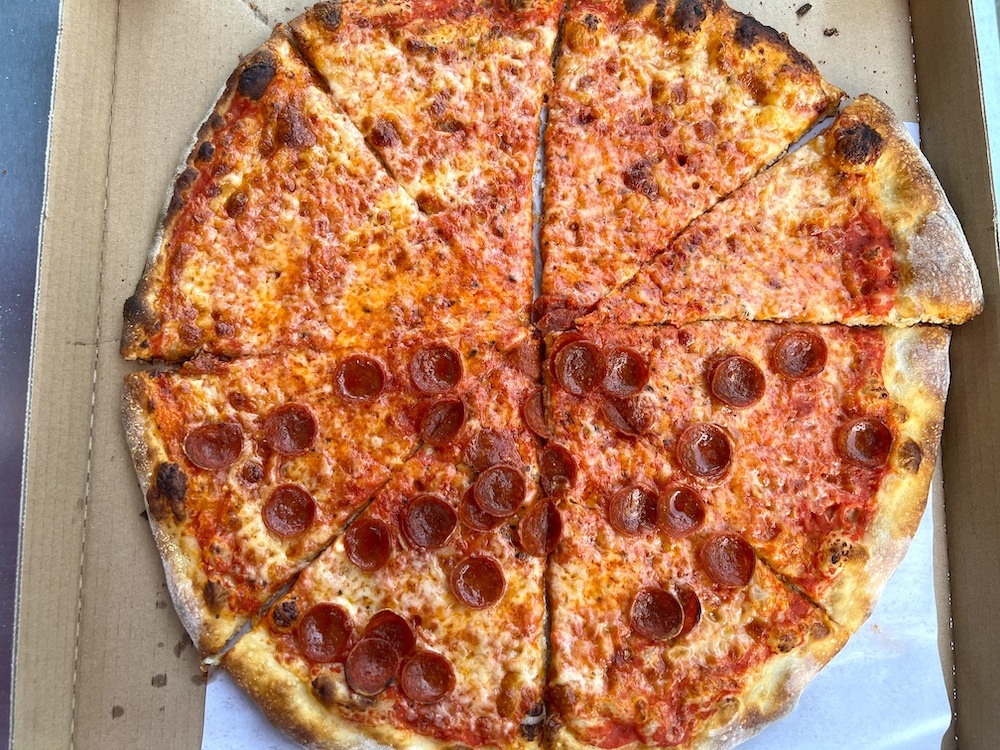 To keep things fair, I usually try not to go all Dave Portnoy whenever I'm on the pizza beat, but if your slice doesn't hold my attention beyond a few bites, I don't bother to finish my slice, let alone the pie. In Secret Pizza's case, 80 percent of my pie eventually got tossed into my compost bin, uneaten, whereas I've basically finished every slice I've had from FFPC.
When I visit on Monday, Tony Hernandez himself is behind the counter, looking a little tired (it was a little an hour before close). I've stopped by over the last few months in search of Friends and Family's key lime pie, but alas, the menu is now down to just a few salads (which I decide to skip) and pizza. Hernandez's pizza is so good that I don't want to waste my appetite on vegetables when I could be crunching into his crispy, thin slices topped with gourmet ingredients. My friend complains the slices are greasy (it's true, you can see the oil oozing from the cheese), but it's nothing a few blots with a napkin won't fix, and the potato-taleggio, even after sitting in the case all day, is still as deliciously funky and comforting as the day I first tried it. It's moments like these that I wish I wasn't out basically every night, just so I might have a chance to actually enjoy FFPC off the clock.
The pesto-roasted tomato is subtler overall than the potato-taleggio. The drizzled pesto makes each slice look like a work of art, and I find myself hunting for the sweet cherry tomatoes scattered throughout the slice. The mozzarella and basil is the most basic; Hernandez layers the fresh mozzarella over the usual shredded mozzarella, so it tastes like a cheese pizza had a baby with a traditional margarita pizza. Since my friend is vegetarian, we kept most of the slices meat-free, and surprisingly I like the rapini-sausage the least. It has its merits, of course, but the broccoli rabe and sausage are no match for the aromatic pesto-roasted tomato or the funky potato-taleggio.
My opinion of Friends and Family Pizza Co. remains unchanged: This is an amazing pizza option that's worth going to the Original Farmers Market for. In fact, my friend on Monday night (who lives in Koreatown) has visited and enjoyed it, and was more than willing to join me for a harried dinner as we watched the vendors close up shop. Afterwards, we stopped into the Kibitz Room down the street for cheap drinks and what ended up being a few terrible (and in one case, slightly racist) comedy sets, but that's a story for another time.
Meals from Table at Third & Fairfax fall into three categories: Skip It, Worth Trying and Must Have.
Vendor: Friends & Family Pizza Co.
Order: Potato-taleggio, pesto-roasted tomato, fresh mozzarella and basil ,and rapini-sausage ($7).
Verdict: Must Have. I've now visited the famed Secret Pizza. This place is better.