Table at Third & Fairfax is a weekly dining column in 2023 where Food and Drink editor Patricia Kelly Yeo will eat her way through the Original Farmers Market. Each column will drop on Thursday for a week-by-week recap of her journey through the classic L.A. tourist attraction. Last week, Kelly visited Marmalade Cafe.
I've never eaten at Hawkins House of Burgers, but I can see the resemblance in the thick, 4-ounce burger patties at Thicc Burger (est. 2023), the newest tenant at the Original Farmers Market and the winner of the New Original contest earlier this year. From the moment I take my first bite, it's clear that chef-owner Jean "Jay" Wolfe has crafted a winning combination with a housemade "thicc" sauce, caramelized onions, American cheese, lettuce, tomato slices and pickles. In truth, at least visually, I can tell it's quite similar to the famous Watts burger stand, which Wolfe drew direct inspiration from when they first opened Thicc Burgers as a pop-up back in 2020.
The new eatery, which has taken over the Rick's Produce stall, also offers a few breakfast items (Thicc Burger opens at 9am), a turkey burger and a portobello mushroom option for vegetarians. Six days after the restaurant's grand opening on September 7, I order an OG Thicc Burger combo, which includes a side of garlic fries and a drink ($20.50). I also decide to grab the Jive Turkey ($14), the restaurant's turkey option. It's only after I order that I realize that Thicc Burger also offers shakes, so I head back to the counter to throw in a root beer float ($7).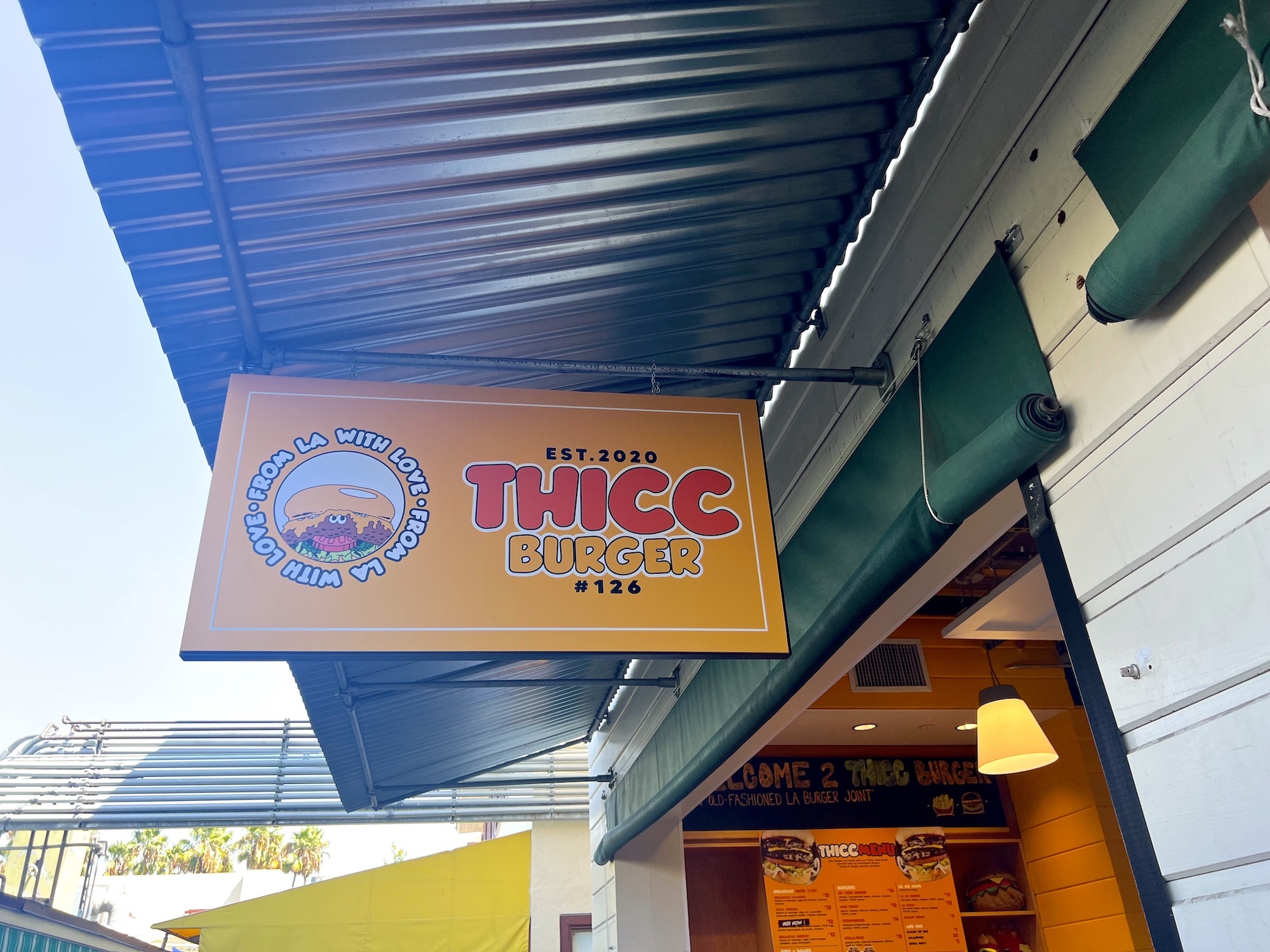 Over the last nine months, I've slowly been eating my way through several burgers around town that have been hyped up by other members of the food media. Most of them have turned out to be merely fine; a few have been truly awful, and others, like the burgers at Moo's Craft Barbecue (Lincoln Heights), Dudley Market (Venice) and the Lonely Oyster (Echo Park), manage to stand out in a sea of solid, but mostly unremarkable, burgers. By the time I sit down and dig into my meal at Thicc Burger, I finally feel ready to assess whether this Farmers Market newcomer is worth anyone's time and money.
Wolfe sources a few ingredients right from the Farmers Market: Beef from Huntington Meats and pickles from Kaylin + Kaylin. Unlike dime-a-dozen L.A. smashburgers, the patty on the OG Thicc has a nice heft, the kind you just want to sink your teeth into. Surprisingly, I like the Jive Turkey even more: The leaner white meat provides a pleasing contrast to the decadent mix of Monterey Jack and housemade sauce. The root beer float is tasty, full of so much creamy vanilla ice cream I struggle to suck any liquid through the straw. Before long, I've finished half of both burgers, and it takes all my willpower not to finish more. (After 36 trips to the Farmers Market, I've learned my lesson about how a heavy lunch will affect my ability to function after 3pm.)
The garlic fries, however, are a total flop. Made with steak-cut fries, each fry is limp and chewy, almost, with just a hint of garlic flavor. Thicc Burger wasn't open when I completed my ranked survey of the market's French fry options, but it would almost certainly fall near the bottom if I had to assess how it compares to other vendors like Phil's and Market Chicken.
Terrible fries aside, I would put the burgers on the Thicc Burger on the shortlist for the market's top five best food options. It's also definitely in the running for Time Out L.A.'s citywide burger guide, though I still need to make a few more stops before I can definitively shake up our rankings a bit.
Meals from Table at Third & Fairfax fall into three categories: Skip It, Worth Trying and Must Have.
Vendor: Thicc Burger
Order: OG Thicc burger, Jive Turkey burger, garlic fries, a root beer float.
Verdict: Must Have. If you skip the fries, these delicious burgers are one of the best things you can get at the Farmers Market.