Table at Third & Fairfax is a weekly dining column in 2023 where Food and Drink editor Patricia Kelly Yeo will eat her way through the Original Farmers Market. Each column will drop on Thursday for a week-by-week recap of her journey through the classic L.A. tourist attraction. Last week, Kelly visited Du-par's again.
At long last, it's time for the free chips and salsa at El Granjero Cantina (est. 2021), the full-service Mexican restaurant on the outskirts of the market. From the wall of colorful backlit "TACO" signs to the large, cheery-looking patio overlooking Marmalade Café, Zara and the beginning of the Grove, it's clear this newer addition to the Original Farmers Market doesn't traffic in ideas of authenticity. Instead, the expansive menu aims to please just about anyone with plenty of healthful bowls alongside the usual mix of antojitos, tacos, burritos and sizzling fajita platters.
For the last eight months, I've mostly bypassed the restaurant, my eyes occasionally lingering on the bright flowers painted outside. During the day, when most of my visits happen, the restaurant usually isn't that busy. On the Monday evening I visit, I'm surprised to find a decent chunk of the dining room and patio areas occupied. After I meet up with a friend, we decide to order a whole smorgasbord of items: Hot Cheetos covered in nacho cheese ($7), carne asada fries ($24.95), a plato mixto with a carnitas taco, tomatillo chicken taco and a chicken enchilada ($26.95) and, off the specials menu, a sweet corn tamale ($7.95) plus two margaritas.
Before all that, we dig into the complimentary chips and what appears to be a salsa molcajete roja. The chips are excellent, but for such a dark, smoky-looking salsa, the sauce lacks nuance and depth. It takes a frustratingly long time to receive water glasses or silverware, so our hands get slightly sticky picking up the cheesy Hot Cheetos, the first dish to arrive from our order. Within half an hour, all of our dishes arrive at the table.
Since my last Mexican meal at the Farmers Market, I've managed to finally visit El Cholo for the first time. At their Santa Monica location on a Monday evening, the service was friendly and fast, and the food was altogether delicious and comforting. I'm thinking of my meal there and past dinners at Casa Vega, El Compadre and El Coyote (all old-school Mexican icons) when I taste the stringy, overcooked carne asada topping the fries. It's disappointing, especially for a dish that a Time Out reader specifically shouted out via Instagram comment.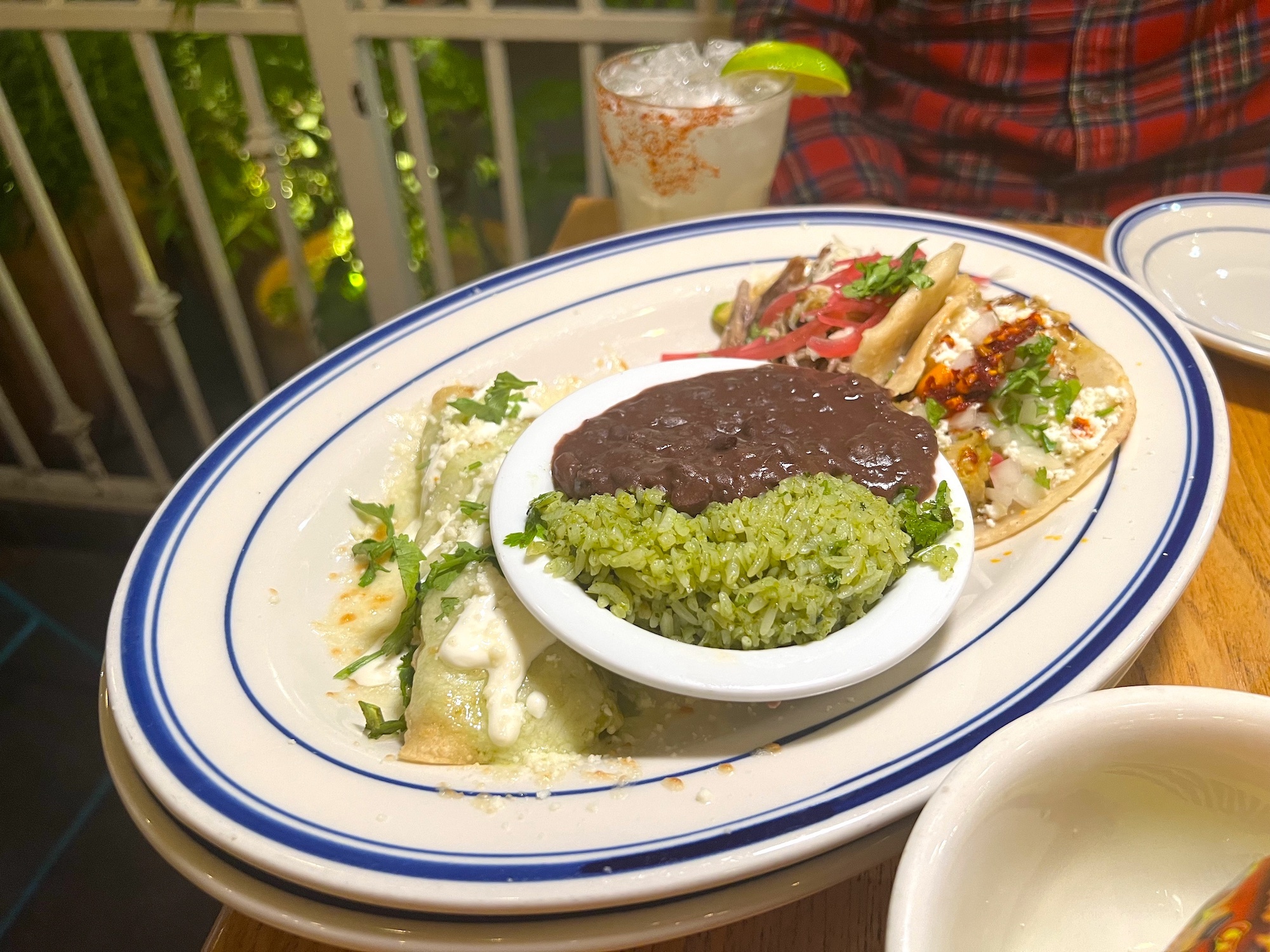 None of the three major components of the plato mixto stand out either. The pork is largely flavorless, the tomatillo chicken is just fine and the chicken enchilada lacks structural integrity. The best part of the plate is the refried black beans and cilantro lime rice. We almost forget the sweet corn tamale, which ends up being the best thing we order. Delicate and light, the tamale almost doesn't need the side of sour cream accompanying it.
Though I'm looking forward to the prospect of churros, our server informs us that they're no longer available that day, so my friend and I grab the check and part ways, promising to schedule a double date soon for the original El Cholo. "There's no better place in L.A. to people-watch," El Granjero Cantina's website says. I can attest to the fact it's a decent place to people-watch, but if you're craving delicious Mexican American cuisine, look anywhere but here.
Meals from Table at Third & Fairfax fall into three categories: Skip It, Worth Trying and Must Have.
Vendor: El Granjero Cantina
Order: Cheesy Hot Cheetos, carne asada fries, plato mixto (carnitas taco, tomatillo chicken taco and chicken enchilada), sweet corn tamale, classic margarita, seasonal fruit margarita
Verdict: Skip It. Unless you're looking for a margarita, you'll find better food inside the older parts of the market itself.