Table at Third & Fairfax is a weekly dining column where Food and Drink editor Patricia Kelly Yeo will eat her way through the Original Farmers Market in 2023. Each column will drop on Thursday for a week-by-week recap of her journey through the classic L.A. tourist attraction. Last week, Kelly tried Market Chicken Rotisserie and the French Crepes.
After mildly spraining my ankle on the uneven sidewalk outside the Arts District's 715 Sushi on Tuesday night, I'm trying to stay seated for as long as possible during my weekly visit to the Original Farmers Market. Once again, strolling in on a Wednesday afternoon (I promise to vary the time and day of upcoming columns), I decide in advance to grab a table at Monsieur Marcel (est. 1993), a gourmet market, bistro and seafood counter owned by husband-and-wife duo Stéphane and Katy Strouk. The pair also run longtime nearby seafood specialist Roxy and Jo's, which always has one diner or another munching on baskets of fried fish and chips.
With tiny French flags overhead, wicker patio chairs and glass-covered white tablecloths, the Monsieur Marcel dining area feels a bit more refined than the rest of the market. Since taking over the next-door seafood stall from the Tusquellas family in 2018, who still run Bob's Coffee and Doughnuts, Monsieur Marcel has been able to expand the dining area to cover a significant area of the furthest corner of the East Patio. After perusing the menu with my partner, who I've brought along today, we decide on the French-style charcuterie plate ($32), a tuna Niçoise salad ($21) and one of the daily specials, a steak tartare ($30) with a side of shoestring fries. I also order an iced tea ($5), which tasted faintly of cherry and vanilla in a pleasant way. (It turns out, as we find out later on, it's made with an herbal rooibos blend, which accounts for the unusual flavor notes.)
Both of us help ourselves to the free basket of pale sliced bread and butter, which is fresh, soft and tasty. All around us, tiny signs point to the various ways Monsieur Marcel tries to keep things interesting: live music on Monday and Wednesday evenings, Swiss raclette on Thursday nights from 4:30 to 7:30pm and a decent weekday happy hour (3–6pm) that includes $8 wines and $10 to $11 small bites. Next to us, a pair of senior citizens dig into shrimp cocktail and a tiny boat of green beans, while the two men a table over tuck into two identical plates of the steak tartare.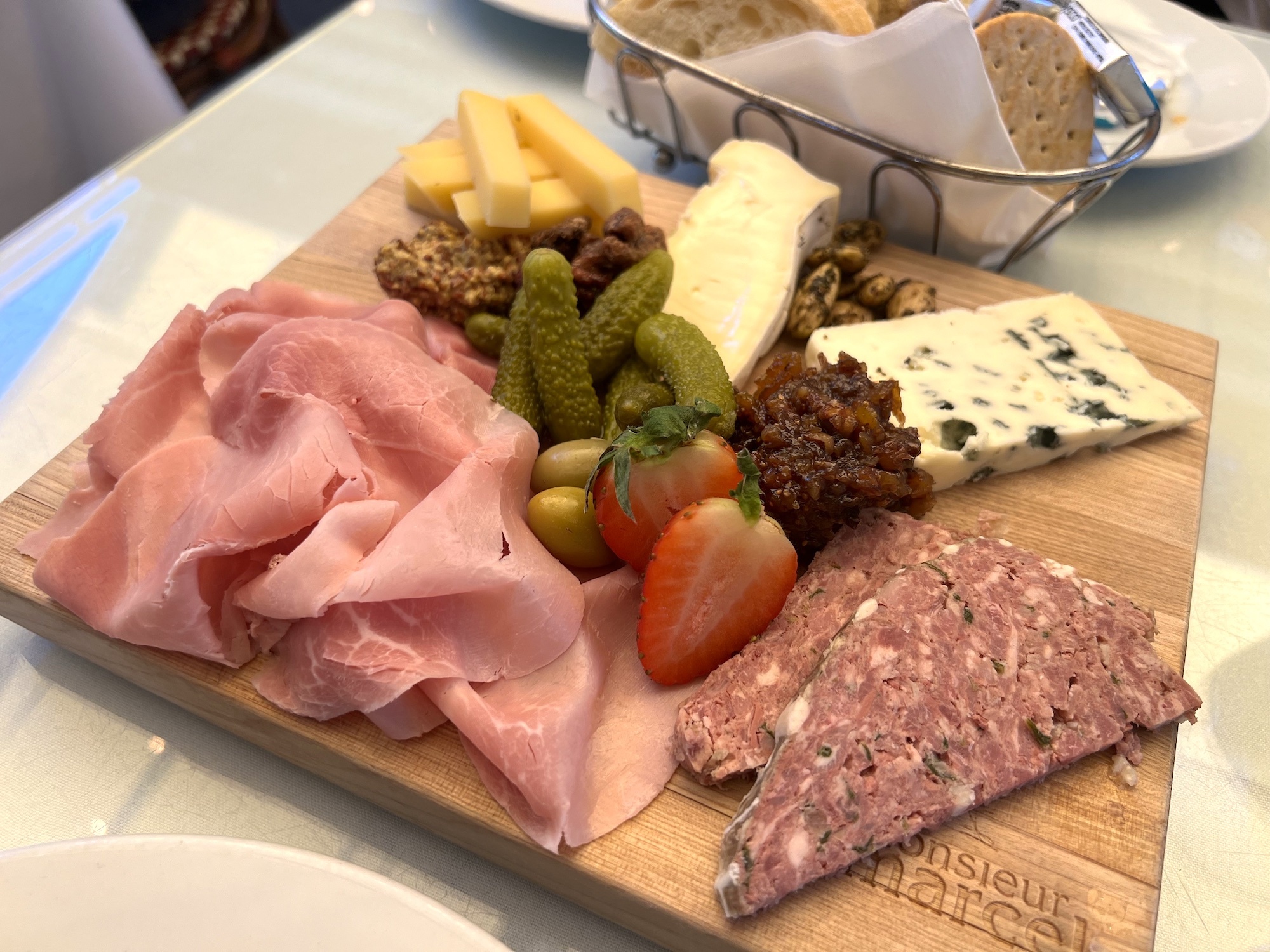 Once the French-style charcuterie plate hits our table, I know we've slightly over-ordered. The overflowing board includes creamy white Brie, green-veined Roquefort and a hard, light yellow Beaufort, plus jambon de Paris and two slices of pork pate. The accoutrements (almonds, walnuts, tiny gherkins, strawberries, olives and housemade chutney) pair well with the cheese, once the server drops a second basket of bread and crackers. Though $32 for a charcuterie board is certainly in line with other nice restaurants, the plate is definitely filling enough for two as a light snack, and a surprisingly excellent find on my otherwise middling culinary tour of the Farmers Market.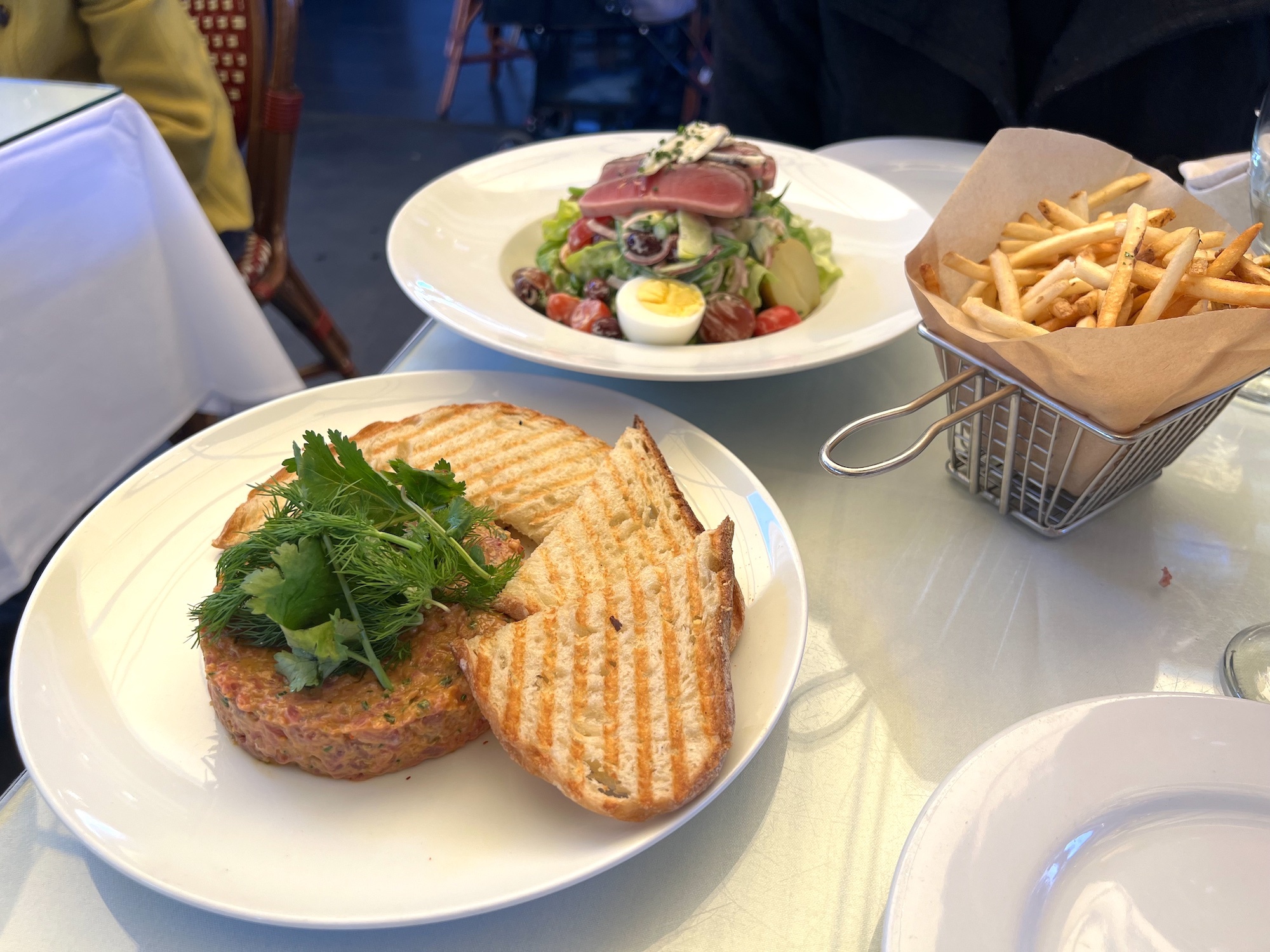 About 15 minutes later, we're served the Niçoise salad and the steak tartare with fries, both of which are excellent versions of the French staples. The lightly dressed salad, despite the presence of anchovies and olives, isn't overpowered by the briny nature of both ingredients, and the slices of medium-rare ahi tuna (you can opt for high-quality canned tuna, if you prefer) add up to a flavorful light meal. The steak tartare runs on the milder side, with none of the mustard-y tang preparations often have, and the fries—so thin it's hard to pick them up with your fingers—are crispy and perfectly salted. By this point, I'm close to stuffed, so we opt out of dessert and ask for the check.
Including tax and tip, the fairly large lunch comes out to just shy of $115 for two—a price that most people wouldn't consider cheap, particularly at the market. Then again, for the quality of the food, and compared to most French restaurants in Los Angeles (most of which are quite expensive), 50-odd bucks per head isn't terrible for a nicer lunch. Though Monsieur Marcel lacks the more sophisticated ambience of other brick-and-mortar bistros, the fare here is more than decent for the location. Before long, I find myself making plans to try Monsieur Marcel again—this time for a proper three-course dinner in the near future.
Meals from Table at Third & Fairfax fall into three categories: Skip It, Worth Trying and Must Have.
Vendor: Monsieur Marcel Bistro
Order: French charcuterie plate, Niçoise salad and a steak tartare
Verdict: Must Have. Monsieur Marcel is an excellent destination for simple, unfussy French cuisine—with slightly more everyday prices than most bistros in L.A.