Sure, Melrose Avenue is already home to one iconic pink wall, but the famed street just got another—and this one's far more delicious. On Saturday morning, Christina Tosi's world-renowned Milk Bar bakery finally touches down in Los Angeles, and her first West Coast outpost lands in style: Roughly 4,000 square feet in Fairfax, decked out with hot-pink neon signage, plenty of greenery and an enormous pink wall emblazoned with a picture of Tosi's famous layered birthday cake. You can't miss it, nor should you. We've waited years for this.
L.A.'s cake truffle, layer cake, cereal milk soft-serve and Crack Pie dreams come true at 11am this weekend, when the two-time James Beard Award winner opens the doors to her 15th Milk Bar location, the largest one yet. It's a lot to take in, all gleaming steel and crisp white-and-pink décor, not to mention all of the shop's concepts.
There's a retail side, where you can purchase Tosi's signature cakes, pies, cookies and merch like enamel pins, totes and cookbooks.
Snack on
Milk Bar classics, as well as L.A.-exclusive items like the
Pineapple Fo' Sho Whip (Tosi's take on
the Dole Whip), which has
remixed versions that turn the treat into a pineapple upside down cake "
MilkQuake" (a thicker, frozen, spoonable dessert) ​or a coconut-pineapple shake.

There are savory items for sale, too, including stuffed breads called "bombs"—pastrami and rye, pepperoni and cheese, and chorizo and egg, to name a few—plus elote cornbread bites. Thirsty? A full espresso bar awaits, and involves specialty lattes made with Milk Bar's signature cereal milk. And for those who know what they want, that cutesy pink wall also includes a walk-up window for orders placed in advance.
Of course throngs of curious and sweet-toothed Angelenos will be spending time indoors—especially for Tosi's cooking classes.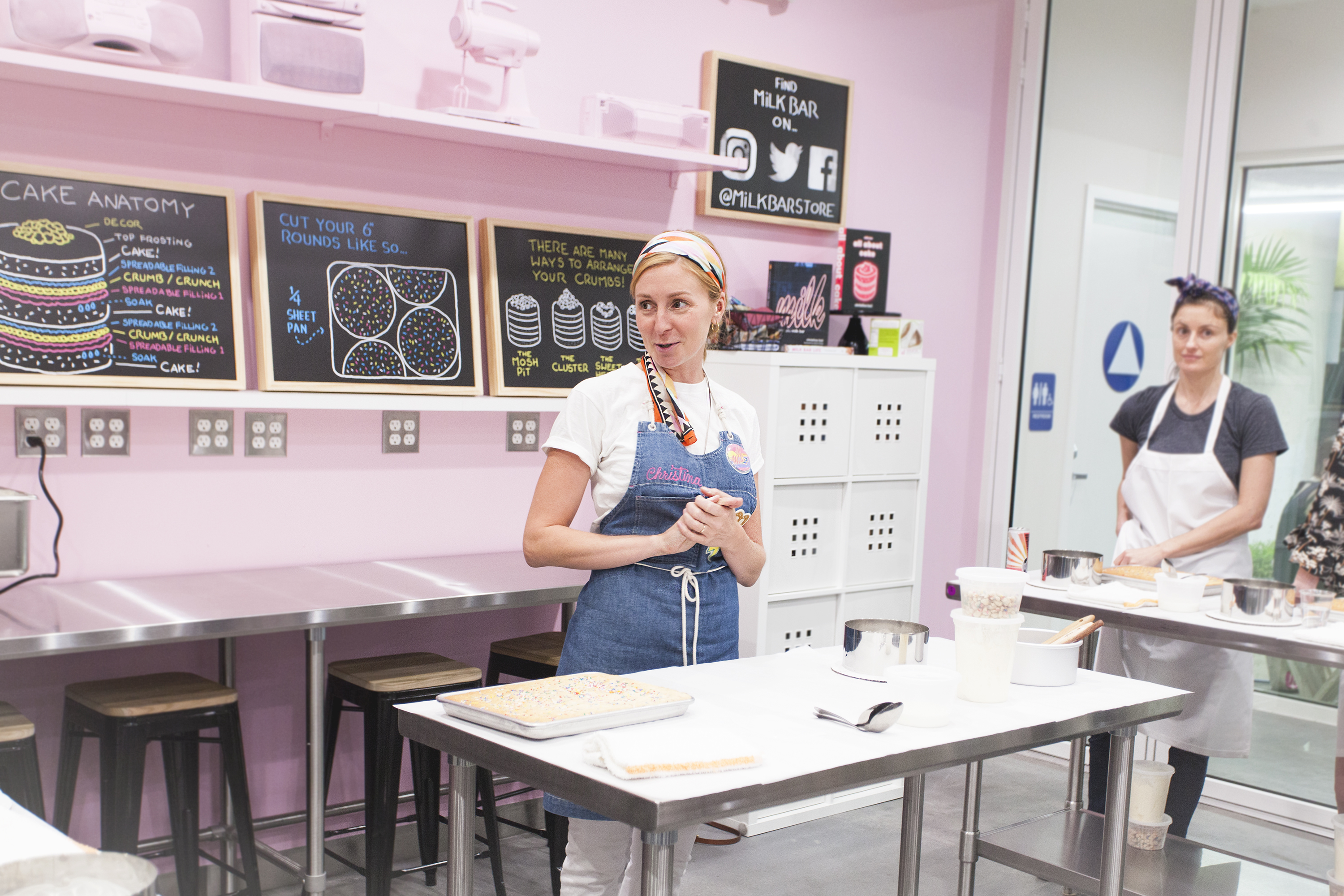 Tosi leads a birthday-cake cooking class in the new space.
Tosi and her team will offer hands-on courses that teach students how to build the bakery's famous layer cakes, roll their cult-classic truffles and assemble other Milk Bar originals like Crack Pie. As we move towards the holidays, look out for classes on more autumnal flavors, like pumpkin dulce de leche cake. (Here is the full schedule.)
Most exciting of all might just be Milk Bar L.A.'s experimental "lab." When a pink light near the kitchen goes off—or when a forthcoming neon sign out front lights up—Tosi's crew will whip up new, whimsical desserts for customers to taste. If you're not in the area, you can call 1-833-MILKLAB or follow @milkbarlab on Instagram to see if there's an item coming out of the kitchen that day, and when to expect it.
Take a peek below, then drop by to sample some sweets—including Saturday's launch, complete with crafts, tastings and $1 cereal milk soft serve—for yourself.
Milk Bar launches on Saturday, September 22, at 11am at 7150 Melrose Ave. Find it open from 11am to midnight on Sunday, Tuesday and Wednesday, and from 11am to 2am Thursday to Saturday.