Things to do in Los Angeles: Neighborhood guide to Fairfax Village
Check out our guide of the best things to do in Los Angeles' Fairfax Village from the top places to eat and drink to shop and play.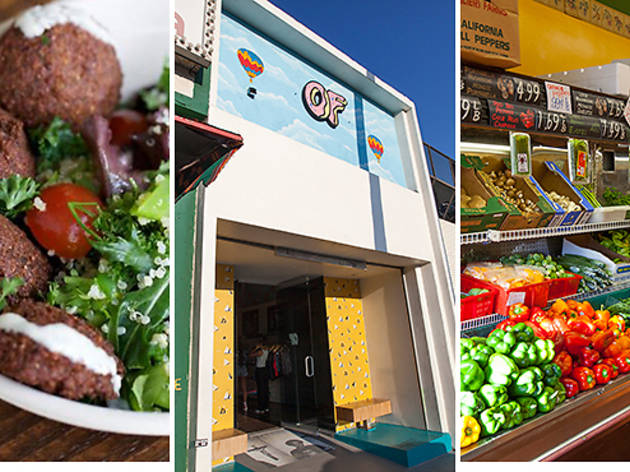 Fairfax Village is the only place in LA where street meets Judaica, where old mom-and-pop ventures are interspersed between multiplying urban boutiques and where Orthodox men share the sidewalk with skateboarders. In this historically Jewish neighborhood, the thriving and walkable four-block stretch of Fairfax Ave between Melrose and Beverly has no shortage of things to do: From cult Los Angeles movie screenings and top quality thrift shopping to mind-blowing burgers and authentic Israeli food, our LA city guide will show you where to eat, shop and play.
RECOMMENDED: More Los Angeles neighborhood guides
Shop
You can't talk about Fairfax Village shopping these days without mentioning the skating and streetwear culture that has become so prominent in the neighborhood. Cult NYC skate brand Supreme set up its second shop and LA outpost along Fairfax Ave, anchoring the area's skating scene. There's a huge skate bowl behind the cash register in the store, where local skaters hang out after store hours. If it all sounds a bit exclusive, it is: These and many of the similar street-style shops along Fairfax can make anyone walking in feel out of place if they're not carrying a skateboard. Supreme's '90s aesthetic and simple box logo are in such high demand that people regularly camp outside before new shipment days, often to resell the goods online at jacked-up prices.

Celeb-favorite the Hundreds followed Supreme's lead, opening their flagship shop around the corner. This tiny store often draws the largest crowds of loitering skaters and hangers-on outside, and shows off its local pride with a line of "Fairfax" shirts and hats. A newer shop that has taken on a life of its own is OF, or Odd Future. Owned by the rap-fashion-photography collective of the same name, these young skaters (and former Supreme groupies) sell their own men's and women's clothing and accessories at this flagship shop. Surrounded by walls plastered with images of donuts and cat heads, the store has become a major tourist draw in its own right: Superfans hang around hoping to catch a glimpse of the notoriously loud-mouthed co-founder, Tyler the Creator. The local figurehead's portrait even hangs among the photos of iconic film scenes inside next-door's the Golden State.

If you're in the mood for some leisurely treasure hunting, look no further than Melrose Trading Post (Sun 9am-5pm, $3 entry) at Fairfax High School. Known locally as the Fairfax Flea Market, this Sunday fixture has become a LA staple for used clothes, expertly reworked vintage, handmade jewelry straight out of Etsy, furniture and more.
Sunday isn't the only day when Fairfax Village is a thrifting gold mine. On any given day, you're sure to find some amazing finds of top brands and designer labels in great shape that won't break the bank at Goodwill. Just off of Fairfax on Beverly Blvd, the store is among the biggest in LA, so bring your patience to sift through the dozens of organized racks of shirts ($5), pants ($6.50) and dresses ($8). Walk up Fairfax to Council Thrift Shop where the deals are there if you're willing to dig deep. While Fairfax's thrift stores sell their fair share of used books, score new books—along with an excellent curation of international zines, comics, rare films, vinyls, cassette tapes and art and photography books—that you won't find anywhere else at Family. Owned by David Kramer and Cinefamily co-founder, Sammy Harkham, this tiny store is easy to miss but worth stopping into and getting lost in the colorful volumes and mini gallery in the back.
Eat & Drink
Home to some of LA's hottest eateries, Fairfax Village is rapidly becoming one of the city's best unpretentious dining destinations. A good spot to start sampling the street's grub is at the Golden State, the intimate burger joint in the running for best burgers in LA. Their the Burger ($12) uses locally sourced ingredients and is so mouth-watering, you'll daydream about it weeks later. We recommend pairing it with crispy sweet potato wedges ($4) dipped in curry ketchup and washing it down with a beer float ($8), made with Scoops' brown bread ice cream. If fine dining is more up your alley, cross the street to a signless black facade at Animal, one of the most talked-about restaurants in the city and the place that put Fairfax Village on the foodie map. Their adventurous menu lists decidedly stoner-ish high-end delicacies like oxtail poutine ($15) and bacon chocolate crunch bar with salt & pepper ice cream ($8). Look out for chefs Jon Shook and Vinny Dotolo's next inventive eatery expected to open across the street around late 2014. (And Plan Check, Sawtelle's buzzy gastropub, will be the newest neighbor when its second outpost opens on Fairfax in November 2013.)

Craving a quick snack? Pop into Eilat Bakery for fresh-baked traditional Israeli pastries, a dwindling reminder of the days when Jewish bakeries used to dominate the street. Go savory with flaky Bulgarian cheese-filled bourekas ($10.95 a pound) or satisfy a sweet tooth with doughy rolled-up chocolate rugelach ($10.95 a pound). Across the street, Diamond Bakery has been serving up fresh-out-of-the-oven twisted chocolate babka ($7 round, $6 loaf), biscotti-like mandelbrodt and their famous corn rye bread since the '60s. For a more familiar Jewish treat, head down to Bagel Broker, a godsend for homesick NYC transplants. This affordable, father-son joint makes bagels as close to true New York-style boiled rounds as you're gonna get in LA. But don't just take our word for it—the line here stretches far out the door every morning with a crowd craving their AM bagel fix.

As old Jewish eateries fade away and cutting edge gastropubs take their place, Canter's Deli remains the beating heart of the neighborhood. Owned by the Canter family for over 80 years and located at what was once a Yiddish theatre (hence the old-school marquee sign outside), anything goes at this legendary, 24-hour institution. Start your day with a hearty breakfast or end a debauched night with a stick-to-your-ribs meal from the extensive menu. Order Jewish deli staples such as the famous Fairfax Sandwich ($14.50), piled high with corned beef and pastrami. Further up the street, Pita Bar & Grill is more proof that there is still a home for authentic Jewish, or in this case, Israeli food on Fairfax. Try the chicken breast ($13.25) or shish kebab ($14) plates, served with plenty of fluffy pita, chopped Israeli salad and creamy hummus. And don't miss the shawarma that regularly runs out by evening or fresh-made drinks such as watermelon agua fresca ($2.25), almond rosetta ($2.50) and mint lemonade ($2.25).
Truly unique to the neighborhood, several independently owned groceries are scattered along Fairfax as a relic from its Jewish heyday. Sami-Makolet, a.k.a. Sami's Grocery, has sold imported Israeli food since 1981. Curious customers can try classic Israeli snacks such as peanut butter-flavored Bamba puffs and Bissli chips in various flavors—try finding falafel or taco-flavored at your local 7-Eleven—or the decadent, non-dairy Hashachar chocolate spread that rivals Nutella when added to toasted pita or fresh challah. Or just head straight to the fridge where you'll find countless varieties (supremely spicy or olive tapenade, anyone?) of Sabra hummus. Another popular grocery shop is the friendly Three Amigos Produce, which sells fresh vegetables, fruit and eggs for half of supermarket prices.
Play
Complement a meal—you can even bring your food and drink inside—with a screening at Cinefamily's historic Silent Movie Theater. This laid-back nonprofit theater features innovative daily programming—from '80s PSA compilations and obscure indie screenings to backyard potlucks and the hilarious Doug Benson Movie Interruption—keep an army of fans coming back time and again. If you're looking for a live performance, head right across the street to the Greenway Court Theatre. This 99-seater puts on a diverse range of theatrical productions, most notably Da Poetry Lounge (Tue 9pm-midnight), the longest running spoken word open mic event in the city. Line up early, dish out the $5, and prepare for a night of gifted wordplay that will make you laugh and cry.

A new fashionable destination along Fairfax is Candy Paint, a mani salon that caters directly to the nail art craze. Nestled inside the flagship boutique of celeb-favorite jewelry designer Melody Ehsani, this nail bar's expert artists can execute any manicure (prices start at $45) with "candy" (3D nails, ombre, intricate designs) and "toppings" (Swarovski crystals, bows, studs). Imported Japanese nail art magazines and complimentary green tea confirm that this salon is the real deal.

If you've got booze on the mind, Fairfax Village has you covered from gastropubs to dives. From the folks behind Mercantile and Delancey, Rosewood Tavern has the atmosphere of an ages-old Scottish tavern complete with reclaimed-wood, communal tables and dim lighting. Grab an after-work drink from the impressive list of whiskeys and 28 craft beers on tap. A stone's throw away is the Dime, an intimate, low-key dive bar that transforms around 11pm when the speakers start blaring '90s hip-hop. The place gets so crowded it's hard to even reach the bar, but the vibe is carefree with lots of dancing. The most unique option is attached to a Jewish deli. The famed Canter's boasts its own dive bar, Kibitz Room, a dark little hidden gem that was once the regular hangout of a pre-fame Guns N' Roses. Still as rock and roll as ever, Kibitz Room offers strong, cheap drinks, nightly live performances and a mixed bag of rocking old timers and tipsy hipsters letting loose on the dance floor.
Why I Love Fairfax Village
The street's business owners share their Fairfax Village favorites
James Starr, co-owner of the Golden State
I love Fairfax for its eclectic mix of old and new. Kosher butchers intermingled with skate shops. Diamond Bakery is great for a cheap cookie and Animal is amazing for a special dinner. There aren't many areas of LA as walkable and neighborhood-y as Fairfax. The business owners are very supportive of one another and we have the best customers in the world, most of whom live within a few blocks of the restaurant.
Eric Thatcher, Talent booker and bartender at Kibitz Room
With the whole advent of skater culture, Fairfax is full of young people now and I get to hear what they're into these days. I wish more old people listened to these younger people. Whatever they're doing, they're doing it right. There's no racial divide and they all get along pretty well. I've seen a lot of funny scenes here with people drinking, but these skaters have none of that. They're good kids.
Hadrian Belove, Executive director at Cinefamily
I've been going to the Hart and the Hunter a lot lately. They've really got that gourmet comfort food thing down. And I like Rosewood Tavern for a drink–the Dime is too loud for me. Kibitz Room is amazing. I've been in there and seen Willie Chambers do a 15-minute version of "Time Has Come Today," and no one in the bar knew who he was. It's that kind of place.
More noteworthy eats around Fairfax Village