Like crawling through the thicket of branches that leads to Totoro's tree, you'll enter the Academy Museum of Motion Pictures' Hayao Miyazaki retrospective through a green tunnel with warm, dappled light filtering in.
Once on the other side, for fans of the beloved Japanese animation director, it's like entering into a meet-up of old friends: Clips from his Studio Ghibli films play behind character sketches and animation cels of Satsuki, Mei and Totoro; Kiki and Jiji; and Ashitaka and San. Seeing them all together, it's an almost overwhelming reminder of the wonder of these Miyazaki-created worlds, and at every step the exhibition celebrates the artistry behind the endearing characters and beautifully-inked environments that makes these films so magical.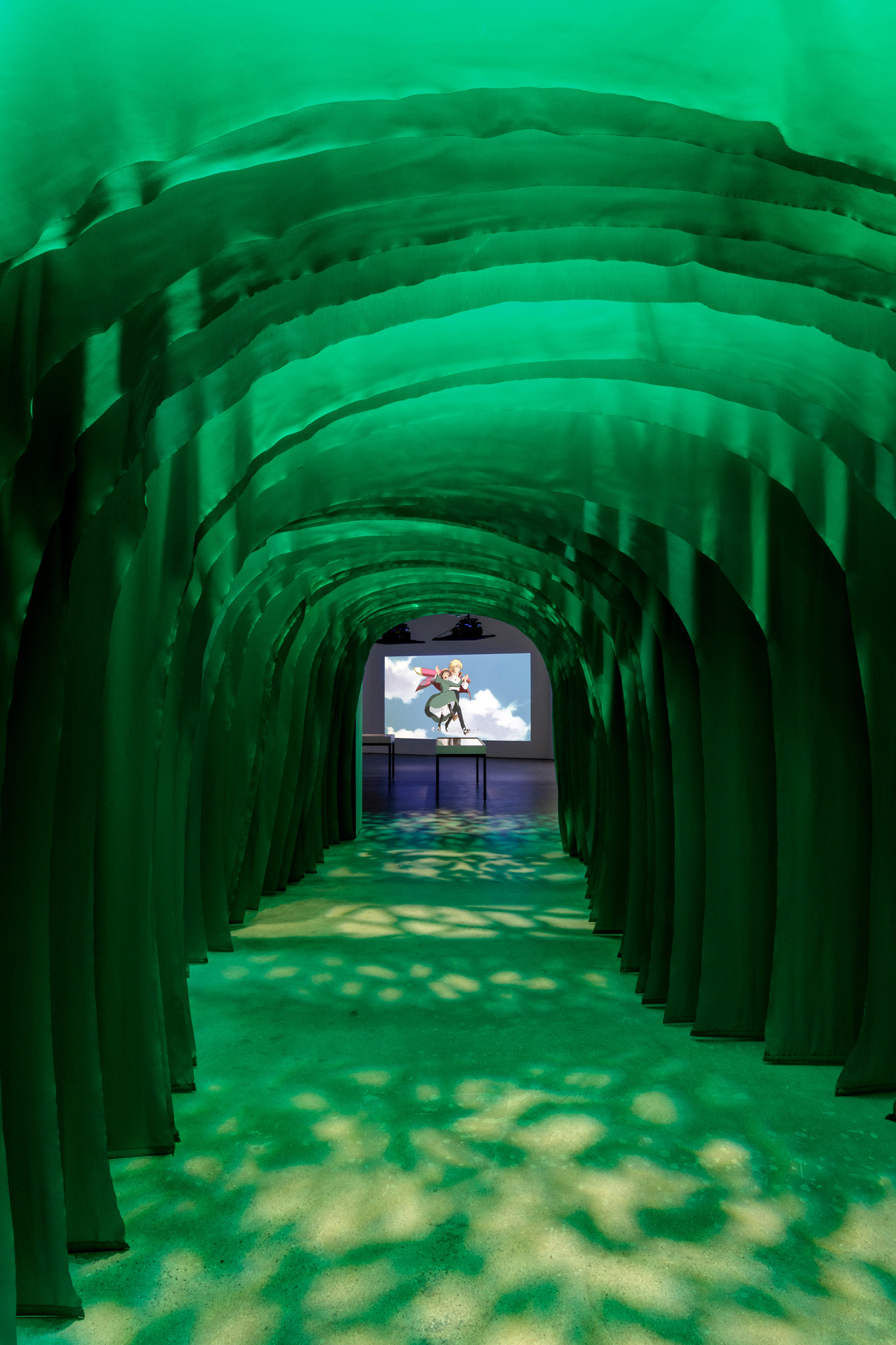 "Hayao Miyazaki," which opens with the Academy Museum's debut on September 30, features over 300 storyboards, concept images and backgrounds, many of them on display outside of Studio Ghibli's Tokyo headquarters for the first time. It pulls from the director's 11 feature films, with a particularly strong tilt toward My Neighbor Totoro, Princess Mononoke and Spirited Away as well as his lush, enchanted forest settings. To be clear, it's a Miyazaki exhibition and not necessarily a Ghibli one, so you'll find pieces from every Miyazaki-directed film, but not ones from the animation studio's late cofounder, Isao Takahata (so you won't have to worry about sobbing in front of any Grave of the Fireflies scenes).
After that initial room, the second gallery covers Miyzaki's early in-betweener and layout work at Toei Animation, as well as the synthesis of both the film and manga versions of Nausicaä of the Valley of the Wind. There's a pair of Oscars, a desk from Studio Ghibli and some stuffed goats that he places in his window every December in a nod to his work on Heidi, Girl of the Alps. But otherwise, aside from a few quotes here and there, the mythology of the man and the context and inspirations for his films take a backseat to his animated output. Letting that work speak for itself isn't really a complaint, though, when those images are as instantly magnetizing as Miyazaki's.
The bulk of the exhibition lays things out thematically: Overwhelmingly blue paintings from Ponyo's submerged scenes cover a wall next one with the earthy hue's of Miyazaki's nostalgic abodes (there's a particularly adorable scale model of the Japanese-meets-Western house from My Neighbor Totoro). Others tackle the director's enduring fascination with planes (mechanically-minded drawings from Porco Rosso and The Wind Rises) and the sooty collision between industry and nature (including a physical cross section of the coal mine from Castle in the Sky). You can get lost in Alpine landscapes and the skittering stronghold from Howl's Moving Castle and admire the stunning architectural details of images of the bathhouse from Spirited Away. And you can soak in all of it while lying down on a Kiki-style reclining patch of turf dubbed Sky View, an installation from Yôichi Nishikawa with a circle of puffy clouds floating above from local animation studio Titmouse.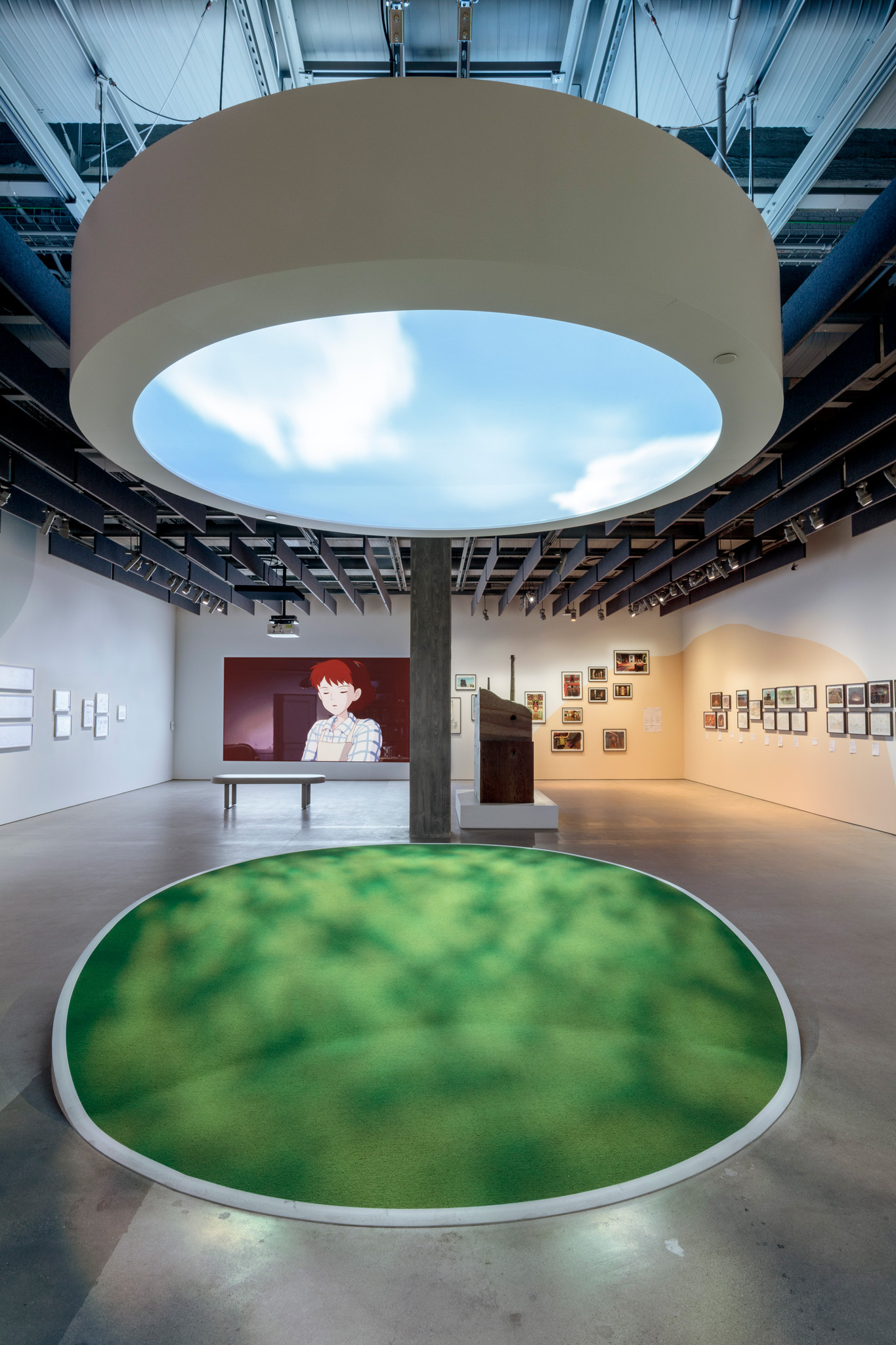 If there's a room to lose yourself in, though, it's the final one, dedicated to Miyazaki's spellbinding forest settings and their mythological muses. Every image here feels alive, bathed in light, shadow and both the boundless mysteries and hope of nature. It's also home to what would surely be the show's selfie spot, if not for the no-photo policy inside: a green, glowing tree of string and fiber optics that recalls the majestically-tall camphor tree from My Neighbor Totoro with a flank of floating, head-turning Kodama from Princess Mononoke.
But we found the more subtle installation that follows to be the most emotionally arresting. A painting of the strange clock tower from Spirited Away hangs next to a tunnel that mimics that film's red gate, the passageway between the Human World and the Spirit Realm. Like that structure's train station-like interior, paintings of rainbow shafts of light filtered through stained glass windows line the sides, with the sound of footsteps echoing overhead. At the very end, a stone spirit statue guards the door. Like the film's protagonist Chihiro, we're left to pass back into the world of the ordinary with purpose and a lingering bit of Miyazaki's magic in tow.
"Hayao Miyazaki" opens at the Academy Museum of Motion Pictures on September 30. Admission is included with timed tickets to the museum ($25). You'll also find film screenings (both dubbed and subtitled) from October 5 to November 27, as well as all sorts of Studio Ghibli merch in the museum store (including an exhibition catalog stuffed with all of the artwork from the exhibition).