We don't mean to talk a big game, but we're pretty sure that if we came face to face with our own Tethered—Jordan Peele's dark, underground, mirror-image versions of ourselves—we'd win. We don't want to test the theory, though, which is why today's news has us flustered: The writer-director's cerebral horror film, Us, is coming to life this fall and we're going to need some scissors, a motorboat, a metal bat and some handcuffs of our own—you know, for safety reasons.
Universal Studio's annual scare fest Halloween Horror Nights just announced an Us maze, adding to a stellar 2019 lineup that already includes haunts inspired by Ghostbusters, Creepshow and Killer Clowns from Outer Space. But while it's one thing to battle Gozer the Gozerian, it's entirely another thing to battle your own worst enemy: you.
You'll begin in 1986 at the Santa Cruz boardwalk, à la a young Adelaide Wilson, probably making your way through the fun house where Wilson first met her own Tethered—and then you'll descend into the subterranean tunnels where doppelgängers and walls of white rabbits await. According to the announcement, the maze will "place guests at the heart of this living nightmare where they quickly realize they are their own worst enemy." (Tell us something we don't already know.)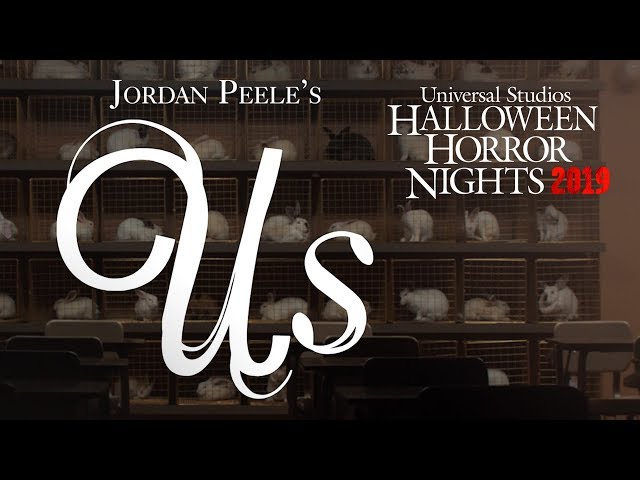 What's more, horror auteur Jordan Peele is completely supportive of the project, which is in the more-than-capable hands of the event's executive producer, John Murdy. "It's very exciting to know that fans of Us will get to experience firsthand the terror of being stalked and tormented by 'The Tethered,'" Peele says in a news release. "It's been a lifelong ambition of mine to create a monster that would scare people on Halloween, so having 'The Tethered' join such esteemed company is a dream come true."
It's as if Peele and the team at Halloween Horror Nights decided to take a page from Jeremiah 11:11—behold, they will bring evil upon us, which we shall not be able to escape. But we're willing to try.
Halloween Horror Nights kicks off on Friday the 13th in September, and runs through Sunday, November 3; tickets are now on sale.