Nothing says "I love you" like picking someone up from LAX on a weekend evening. The airport's car-clogged loop ranks high on the list of Los Angeles traffic nightmares—though it'll hopefully be an avoidable one with the arrival of a new automated train system.
LAX's Automated People Mover (or APM) won't open until sometime in 2023, but on Tuesday we got our first glimpse at one of its vehicles. Officials debuted the first batch of the 44 train cars that'll ferry passengers for free along an elevated 2.25-mile line that connects the airport terminals with a new parking garage and a forthcoming rental car area and Metro stop.
Each Innovia 300 APM car features 12 seats and has enough space to hold 50 passengers with luggage (they'll run four cars to a train, so that means they'll accommodate 200 people per boarding). During peak operation periods, from 9am to 11pm, the driverless, rubber-wheeled cars will arrive every two minutes. If you total up all of those numbers, Los Angeles World Airports estimates the APM will carry 85 million passengers per year.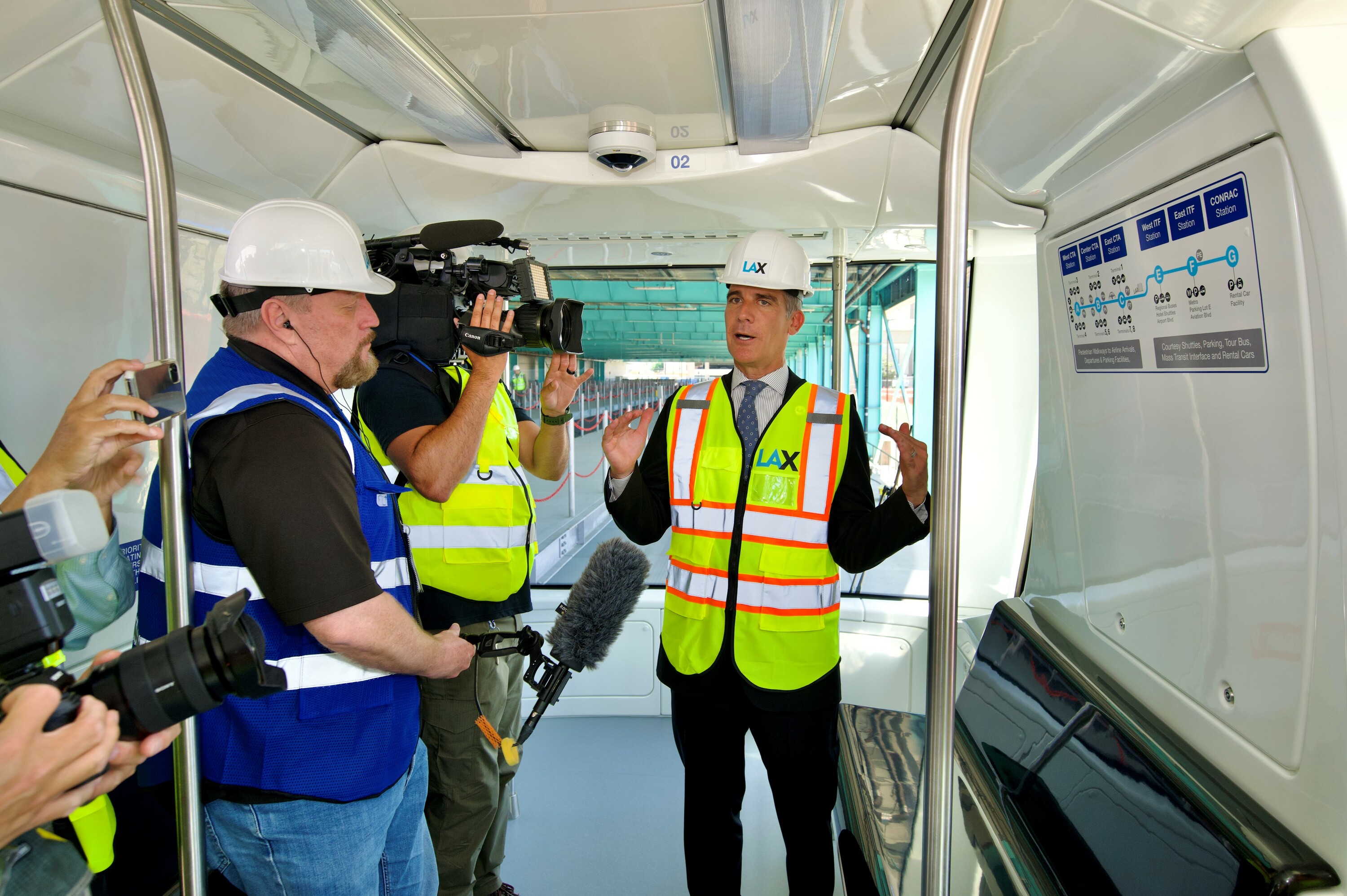 Expect it to take 10 minutes to get from one end of the system to the other, though it's likely your trip will be even shorter depending on where you're headed. There'll be three stations in the middle of the terminal area: one between terminals one and seven; another between two, five and six; and another near three, four and the Tom Bradley International Terminal (if you've ever taken the pedestrian bridges to the short-term parking garages, you have a general sense of the location). Then there are three stops just to the east: one at the massive parking garage that opened last fall, which—when the APM opens—will have drop-off and pick-up areas, too; another on Aviation Boulevard, where Metro's due-later-this-year K (Crenshaw) line will have a stop; and finally just across the street from there at a new building that'll consolidate rental car operators under one roof.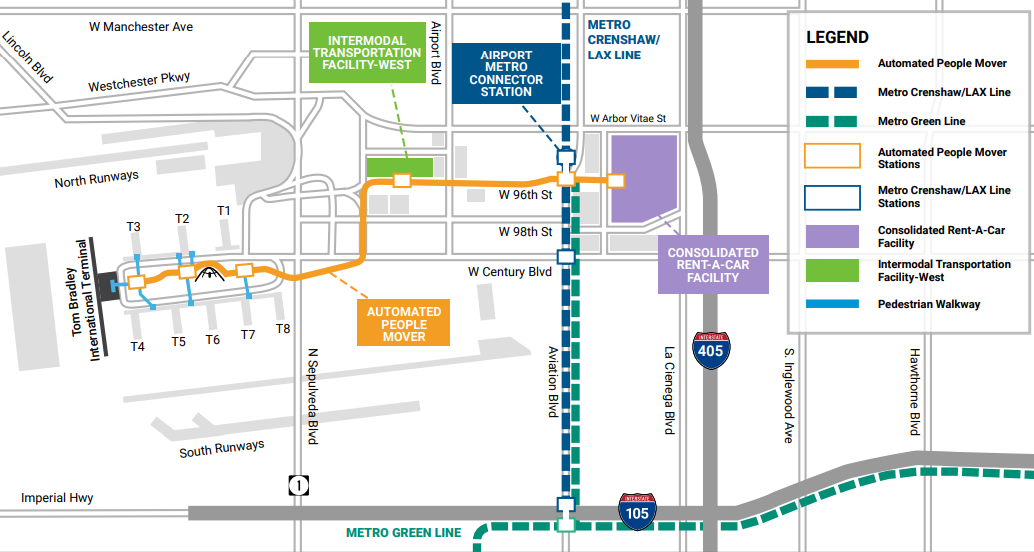 "The Automated People Mover will be so much more than another way to get to LAX—it's the piece of the puzzle that will curb the congestion that has been plaguing our airport for decades," said Mayor Eric Garcetti. "As we welcome the first car that will whisk travelers to renovated terminals, parking structures, Metro rail and a new rental car facility, it's clear that a completely reimagined LAX is on the horizon."
Until then, the first three APM cars to arrive (a fourth is on its way from the factory in Pittsburgh) are sitting at a maintenance and storage facility on 96th Street. Make sure to wave hi to them the next time you're cursing yourself for driving to LAX—and check out this video walkthrough below.