Few things fill us with the Halloween spirit like acres of spooky decor, and few things leave us craving alcoholic spirits like children running amok—which is why the Disneyland Resort's new creepy cocktails are exactly what the witch doctor ordered if you're headed to the Happiest Place on Earth now through early November.
Disneyland recently embraced cocktail culture by opening a cantina in its Star Wars leg of the park (and, of course, there's a bar in the exclusive Club 33), but to find monsters, ghosts and Oogie Boogie in boozy-liquid form, you're going to want to visit California Adventure. It's in this park, along with its surrounding hotels, where you can snag a few ghoulish concoctions tucked into corners and hidden from the main paths. There's a world of creepy, colorful, Halloween-inspired cocktails at the ready—you just have to know where to find them.
Carthay Circle is easily one of the classiest spots to hang around in either park, and its lone Halloween cocktail might just be the best of the bunch. The restaurant and bar's Old Hollywood setting is brooding and dark, a solid spot to sip the villainous Poison Apple-tini: a bright and shaken blend of apple whiskey, apple schnapps and cranberry juice with a light-up poison apple bobbing up and down in the martini glass. It's not overly saccharine, but it's also not as bitter as, say, an evil queen trying to kill you and lay claim to the title of Fairest of Them All.
Just across the plaza at Clarabelle's Hand-Scooped Ice Cream—California Adventure's main scoop shop—you'll find a few Halloween-inspired sundaes and other sweet treats such as, oh, an ice cream bar shaped like a vampiric Mickey Mouse. But if you want to imbibe, this is also the only spot in the park serving hard apple cider that's been poured into a caramel-drizzled cup and garnished with an equally–caramel-coated sphere of apple sorbet.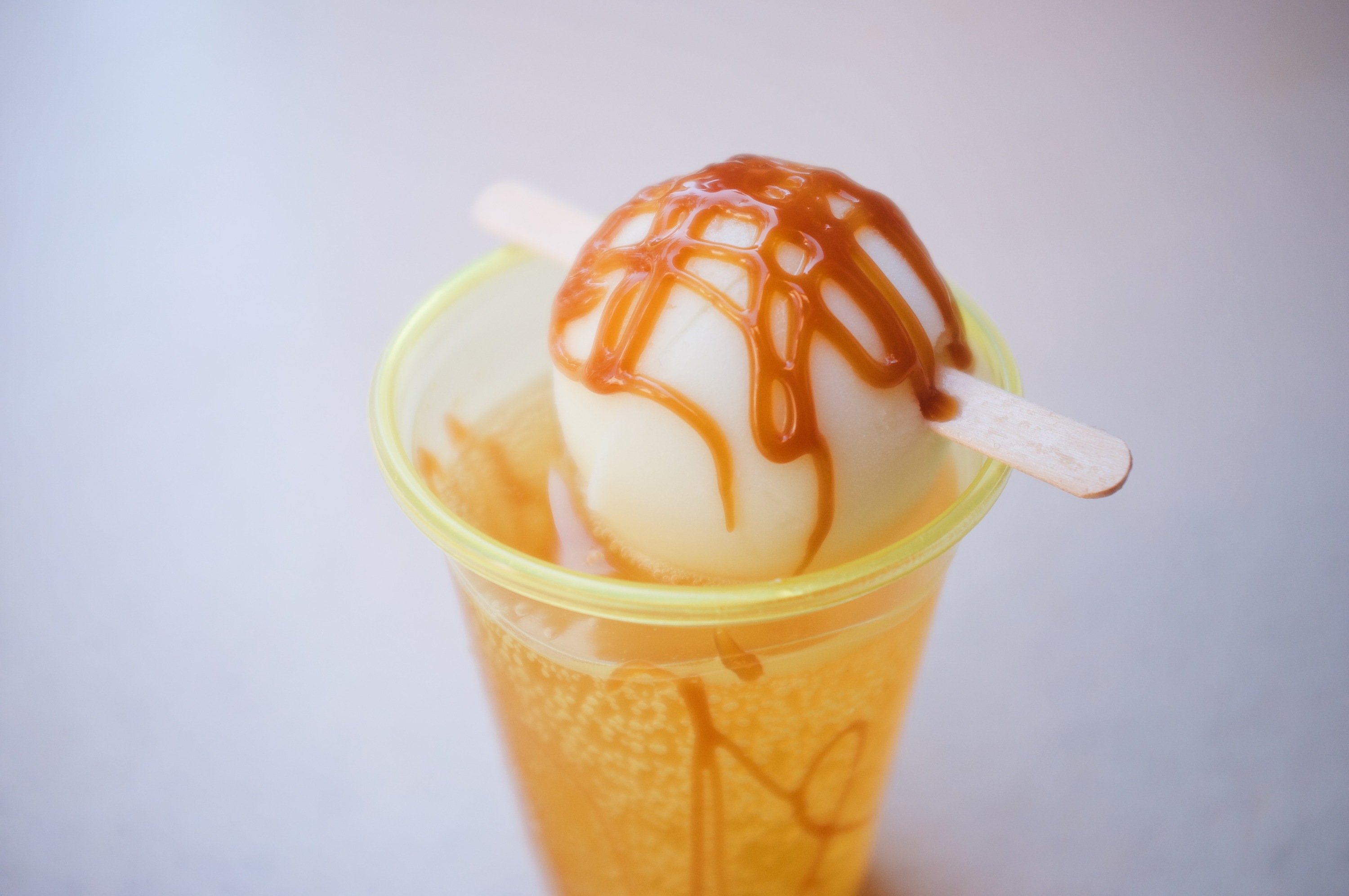 Make your way through California Adventure's Hollywood "backlot," toward the faux airplane hangar and Captain Marvel. When you've spotted the throng near the entrance to the Monsters, Inc. ride, you've reached your destination. No, these guests aren't gathering to catch sight of the one-eyeballed Mike and his blue and huggable friend Sully (though those monsters are pretty Halloween-appropriate)—they're waiting in line at the Hollywood Lounge, a little café kiosk that's overhauled its beer menu with seasonal brews such as pumpkin ale and hard cider. It's also where you can catch the widest selection of spooky cocktails.
There's the Howl-O-Ween concoction, where vodka mixes with Honest Abe apple pie cider; the glowing Supernatural Spirit, made with cotton candy vodka and cotton candy lemonade all garnished with an otherworldly tuft of cotton candy; and one of the biggest hits thus far, the Oogie Boogie-inspired Worms, Dice & Everything Nice, a tart Midori-limeade slushie bedecked with Oogie's own flashing dice and a few gummy worms for good measure.
If you're nearing the park's Bay Area-themed wharf, hunt down the Gourmet Coffee stand: This is where you can find the neon green Frog's Breath, a lime-and-coconut cocktail where the cup's been splattered with a spiral of raspberry syrup. It even gives you a head start on your Halloween sugar consumption, because this baby comes topped with a handful of orange and green candies.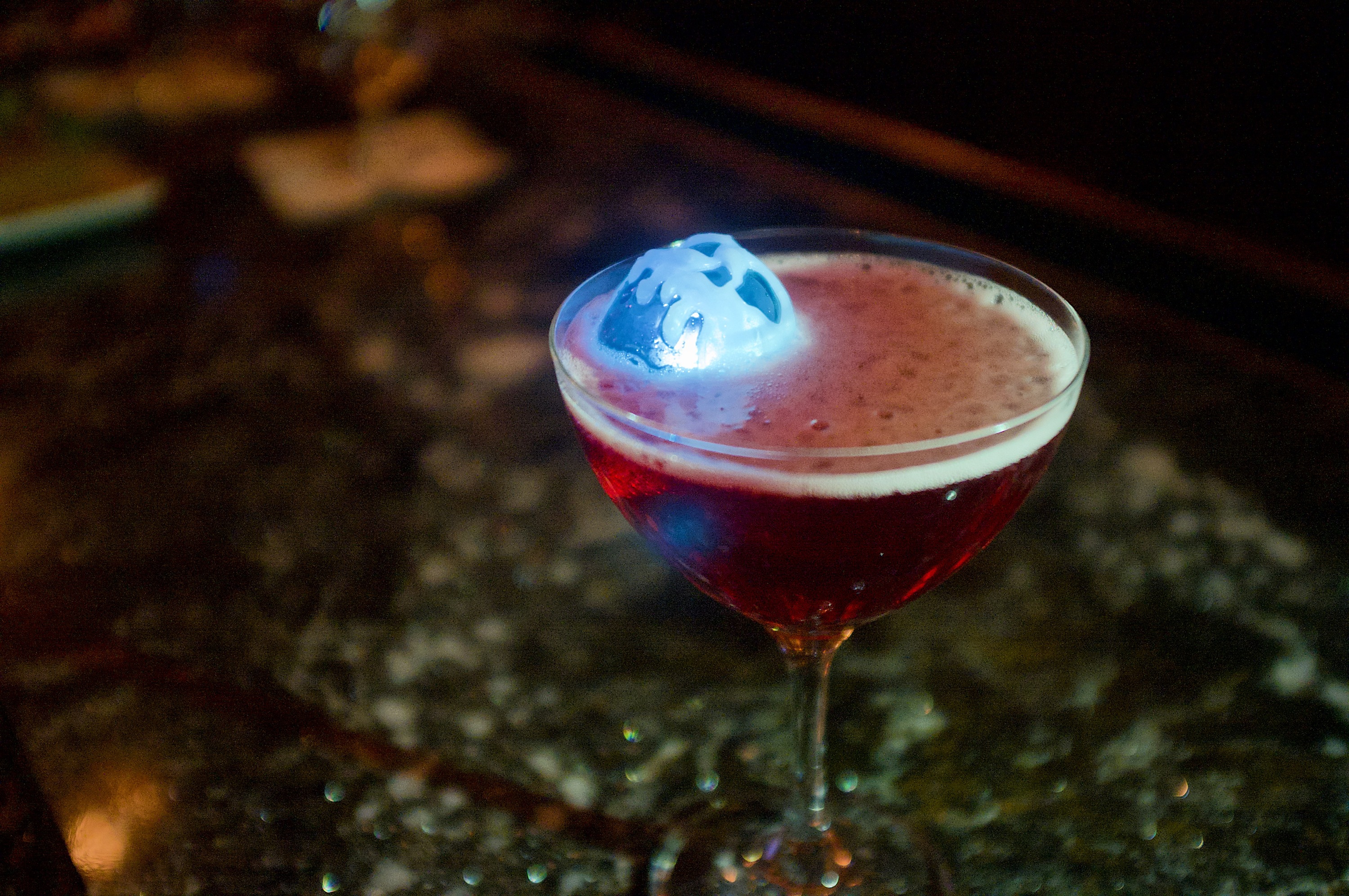 Leave the park and make your way to the Grand Californian Hotel's Holiday Cart for snacks to satisfy your sweet tooth: Disney-villain cookies, poison-apple cookies, Oogie Boogie rice crispy treats, pumpkin whoopie pies, caramel apple pound cake—you get the idea. Blending booze and baked goods is another seasonal find at the cart, the chocolate chip cookie shot glass, which comes filled with either orange liqueur, Irish cream liqueur, cinnamon liqueur, chocolate milk, regular milk or the very Halloween-ish cotton candy milk.
Finally, if your Halloween drinking tends to lean a little more tiki, the Paradise Pier Hotel's got a new Sea Witch concoction in three separate locations: Head to the PCH Grill, the beachy Surfside Lounge and the casual, outdoor Sand Bar to give in to the siren song of rum, blue curaçao, grenadine and Sprite.
Disneyland's Halloween menus run now through early November. You can find a list of the new food items here.