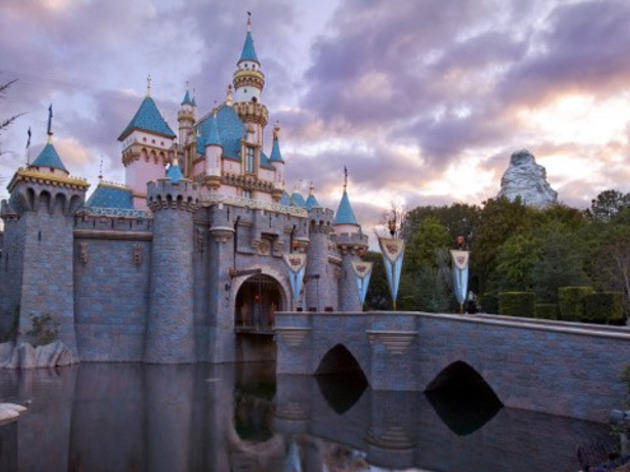 The longstanding Disneyland resort isn't just a set of theme parks: it's a spectacular piece of pop art that's as bright or as dark as you'd like it to be. Incorporating two parks—the 50-year-old, near-mythic Disneyland, plus the younger and less-celebrated Disney's California Adventure—the resort calls itself "The Happiest Place on Earth." And if you bring the right mood with you, it'll likely live up to its nickname.

Certainly, Disney does all it can to get you in the right mood. Disneyland isn't so much a park as its own separate world; there are even three Disney-operated hotels in the resort, so you need not have the illusion shattered at the end of the day. The hotels, though, do bring to attention the main drawback to spending time here: the sheer expense. You can save hundreds of dollars staying at one of the non-Disney hotels just outside the property, and you may need to do so in order to afford the steep prices of food, drink and admission. It's worth noting, though, that ticket prices drop if you visit for multiple days, recommended if you want to get a real feel for the place and enjoy all the rides.

Both parks boast dozens of dining spots, with cuisine ranging from burgers and pizza to pastas and seafood. Still, you may want to dine at Downtown Disney, a pedestrian-only avenue of nightclubs (including a House of Blues) and restaurants between the two parks. It's not that the food is that much better, but if you're going to be paying Disney's high prices, you might need a drink or two in order to soften the blow: liquor sales were banned from Disneyland by Walt himself, citing the undesirable 'carnie atmosphere' booze might have created, and alcohol remains banned from the park itself.

The other main demerit against Disneyland is the crowds: they can be overwhelming, particularly in summer and, unexpectedly, on Christmas Day. (Top tip: few visit on Super Bowl Sunday.) But the crowds can't be helped, and they're unlikely to improve: Disneyland is popular for a reason.

Disneyland
The original Magic Kingdom is packed with must-do attractions spread over seven 'lands,' all immaculately themed in every detail. Main Street USA embodies turn-of-the-19th-century America, while Frontierland takes on Westward expansion (the John Wayne version) and New Orleans Square is just like its namesake, only without the floods, the poverty and the booze. Adventureland offers thrills of the jungle variety; Tomorrowland is a kitschily charming look into the future; Critter Country is the wooded home of Winnie the Pooh and Brer Rabbit; and Fantasyland is where Disney's animated films come to life. As for the iconic mouse, you're most likely to find him scurrying about with his pals in Mickey's Toontown.

The secret of Disneyland's charm lies in its special history. Unlike the company's other parks, Disneyland was largely designed by Walt himself, and it's the only one in which he ever set foot. As a result, Disneyland is practically a biography of its creator's life, if you know where to look. Try reading the names in Main Street's upper-level windows; you'll find many of Disney's collaborators and artists listed. The Walt Disney Story features artifacts from Disney's entertainment career. And in Frontierland, you'll find the petrified tree Walt once gave his wife as an anniversary present.

But most people, of course, are here for the rides. Among the best are Space Mountain (located in Tomorrowland), a legitimately thrilling indoor rollercoaster ride through 'deep space'; the epic Indiana Jones Adventure (in Adventureland), based on the Spielberg adventure movies; Pirates of the Caribbean (in New Orleans Square), the basis for the hit Johnny Depp film franchise and one of the most detail-packed and atmospheric rides in the park; and the Matterhorn (in Fantasyland), a breakneck bobsled ride around and through a scaled-down replica of the Swiss peak.
Beyond that, there are dozens of carnival-style 'dark' rides, boat trips, rollercoasters, flume rides and Audio-Animatronics shows, many of them wonderfully charismatic and touchingly old-fashioned. If anything defines Disneyland, it's the human touch that's so obviously been lavished on many of its featured rides and attractions. Certainly, it's difficult to imagine Universal Studios retaining anything as charming as the It's a Small World boat ride (you'll be singing the theme song for weeks afterwards, whether you want to or not) or the fabulous Enchanted Tiki Room.

Disney's California Adventure
Located in a former car park, this decent little enterprise is no match for Disneyland in terms of size or attention to detail, but it does a decent job of celebrating the geography, culture and history of its namesake state. Also, unlike Disneyland, it serves alcohol, and has done so since opening day with little of Walt's feared carnie interference. In 2007, a $1.1-billion renovation of the park was begun, which led to a grand reopening in June 2012.

While DCA doesn't have anything as engrossing as Pirates of the Caribbean, it does feature some decent rides. The Twilight Zone Tower of Terror, a special effects-packed 'drop'-ride based on the classic TV show and housed in the Hollywood Land section of the park, is worth a look, as is Soarin' over California, a beautiful flight simulator located in the Condor Flats section, which pays homage to the state's aeronautical accomplishments in the 1940s-1960s. The highlight of the Paradise Pier section, meanwhile, is the California Screamin' rollercoaster, the tallest and fastest coaster ever built in a Disney park. Not every ride is suitable for kids of all ages, but very young children are welcome in A Bug's Land.
Venue name:
Disneyland Resort
Contact:
Address:
1313 S Disneyland Dr
Los Angeles


Opening hours:
Hours vary by day: call or check online for full details. Disneyland summer hours are usually 8am-midnight daily; winter usually Mon-Thu 9am-8pm, Fri & Sat 8am-midnight, Sun 9am-9pm. California Adventure summer hours are usually 10am-10pm daily; winter usually Mon-Thu 10am-8pm, Fri-Sun 10am-10pm.
Price:
$97–$135 one-day, one-park. Extra $50 for park hopper. Parking $20.
Do you own this business?
Pick a date
Please select two valid dates
The first date can't be after the second date
No events found for the selected dates
Oogie Boogie Bash

Well, well, well, what have we here? The Nightmare Before Christmas's bug-stuffed sack has taken over the Halloween duties at Disneyland, moving the theme park's annual after-hours, specially ticketed seasonal event across the way for the debut of Oogie...

Tuesday September 17 2019 - Thursday October 31 2019
Rating Breakdown
5 star:

5

4 star:

0

3 star:

0

2 star:

0

1 star:

0
Disneyland is just pure magic. Step into the park and it's clear why seemingly every theme park has been chasing after Disney for the last 60 years: there's just a sense of escape and enchantment unlike any other place. The crowds have gotten pretty intense in recent years, so definitely stick to the off-season. But even if you don't get on many rides, just strolling around Disneyland is an experience in itself.
I can honestly say I've never had a bad trip to Disneyland. I'm probably well in the minority there, but I'm always blown away by the impeccable attention to detail that covers every square inch of the park. From top to bottom it's designed to be a magical experience—and they do a fantastic job of delivering.
Disneyland can be the happiest place on Earth or the most stressful. Try going when it's slightly raining outside to get smaller crowds, although then some rides might not be open. Another way to deal with some of the stress is to head on over to California Adventure (so make sure you have a park hopper ticket). There will be smaller crowds in this park but also, they sell beer and wine!