Heads up! We're working hard to be accurate – but these are unusual times, so please always check before heading out.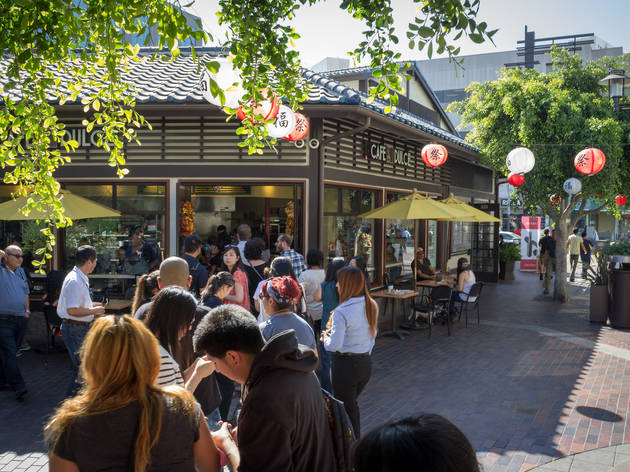 1/13
Photograph: Michael Juliano
While the Hello Kitty Hungry Hunt is spread across three areas of the city, the Downtown/Little Tokyo location is the real hub of this feline hunt. How can we tell? By the hoards of Hello Kitty fans that started filtering into Little Tokyo at 11am on the first day, wearing HK T-shirts, backpacks and paper crowns with those perfectly positioned little red bows. The lines were made up of grown men and women—children were in the minority here—and with each location only gifting 1,000 pins throughout the entire month, HK memorabilia was in high demand. We stood in line at Café Dulcé, but at 11:55 were promptly told that they had run out of donuts—five minutes before they had planned to start selling them. "Come back in a few hours," they said. The crowd sighed.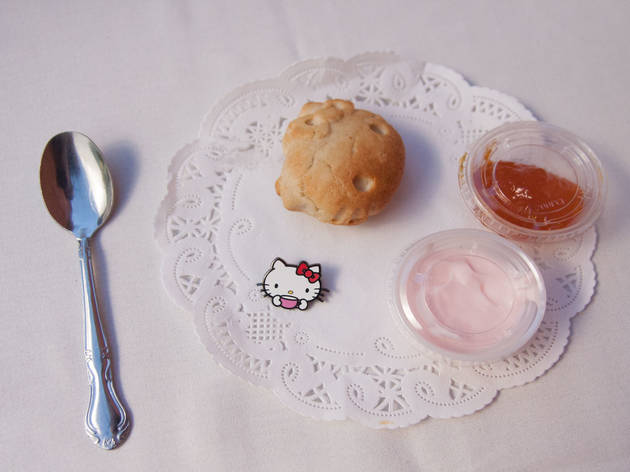 2/13
Photograph: Erin Kuschner
In the line at Chado Tea Room, styrofoam boxes were furiously being packed with scones imprinted with Kitty White's face, along with a Pepto-Bismol-pink yogurt spread and orange marmalade. There may have been one point when we thought to ourselves,"We're adults—what the hell are we doing?" But Chado Tea Room was filled with other grown-ass men and women doing the same thing: talking about their plan to conquer the hunt that day and collect as many pins as possible. It's clear to see that, while the first day may have drawn the largest crowds, the dedication to these HK collectibles will carry on throughout the month. Verdict: The scone is on the dry side and that yogurt dip should be avoided, but the marmalade jam makes for a nice spread. And just look at that scone's face. Adorable. Worth it? Meh.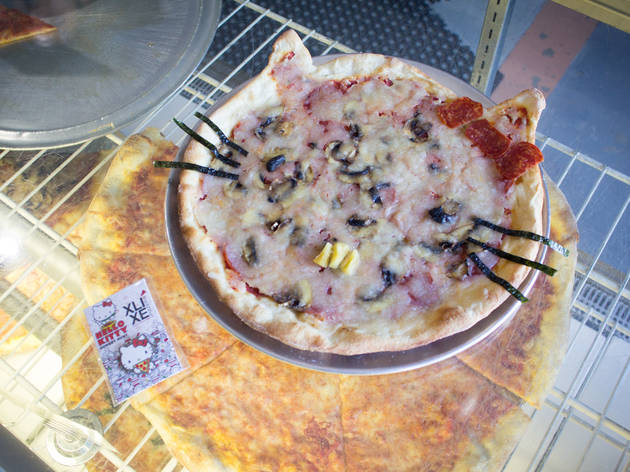 3/13
Photograph: Michael Juliano
We know: This $16 pizza looks like the roadkill-remnants of a beaver, not the precious mug of Kitty White. But don't blame it on Xlixe Pizzeria. After making this show pie earlier in the day, the shop was bombarded with pick-up orders being called in; by the time we arrived at noon, they had already stopped selling them for the day. "What do you mean they're sold out?" said a woman in front of us, crestfallen.  Sorry, ma'am. Your day to bite off a hunk of dough that looks like an ear will come. It'll come. Verdict: The pizza is topped with pineapples, olives, pepperoni and seaweed strips (for whiskers, naturally), which all sounds delicious on a pie—especially when it's piping hot. Worth it? Sure, give it a try.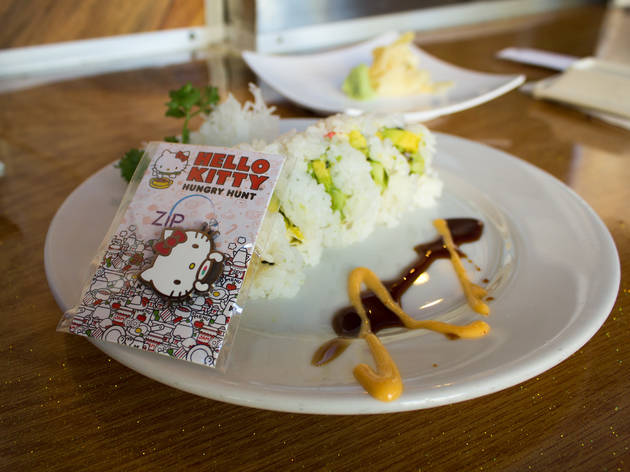 4/13
Photograph: Michael Juliano
Prepared to be turned away with another, "Sorry, we're out," we were pleasantly surprised when the line at Zip Sushi Izukaya consisted of two people in front of us. Perhaps being the only participating restaurant in Downtown's Arts District helped with the crowds. Whatever the reason, we got our sushi fairly fast...only to discover that there wasn't anything very Hello Kitty about it. Stuffed with crab, shrimp and avocado, it's essentially a California roll. Verdict: For $16.30, you'll get a mediocre sushi roll, a small bowl of miso soup and a pin. Worth it? Nah.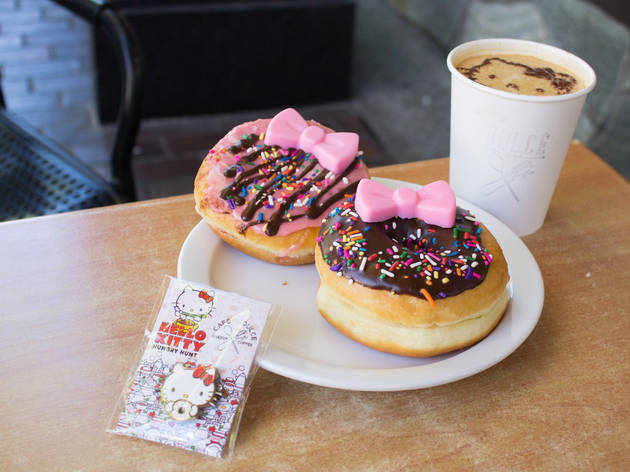 5/13
Photograph: Michael Juliano
Proof that patience is a virtue—and that if you promise more donuts, people will return—Café Dulcé made good on their word and started selling Hello Kitty donuts again. We asked one of the employees how his day was going. "It's just...are the other lines this long?" he said, exhausted. Whatever they were doing, it worked. Choose from either the cream-filled and chocolated-frosted donuts, or the strawberry-filled and strawberry-frosted ones, and you'll be glad you waited. Plus, the lattes are topped with a portrait of Kitty White. *Squeal* Verdict: Wait a couple days and then pick a morning to plunk down $8 for a donut, a latte and a pin (but get there early—the pins are rationed out each day but go fast). Topped with a chocolate bow, these donuts are a seriously good treat. Worth it? Absolutely.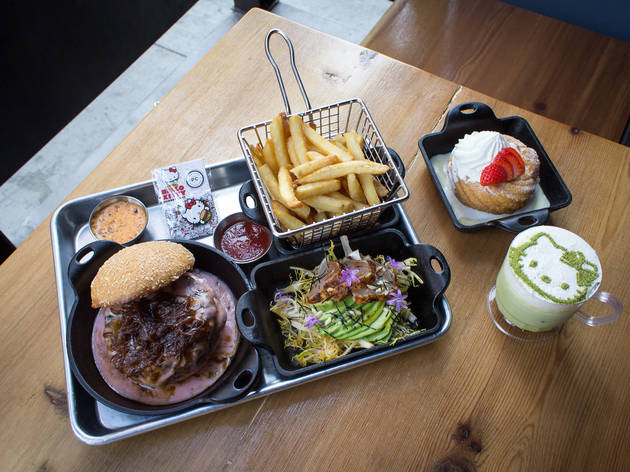 6/13
Photograph: Michael Juliano
While the other locations were furiously making donuts and sushi and pizza with ears, the new Plan Check Downtown was assembling an entire bento box of goodies: a burger with pink Gruyère, fries, a spicy tuna salad, and a strawberries and cream donut with vanilla ice cream. Oh yeah, and a green tea latte, dusted in matcha powder to form Kitty White's feline (She's a CAT, ok, she's a CAT. She has whiskers!) face. Verdict: The bento box is the most expensive of the participating venues—$34 for one person, $40 to share between two people (this option comes with a an extra latte and pin). But you're also getting a lot of food, and chef Ernesto Uchimura's burger is not something you want to miss. Worth it? Definitely.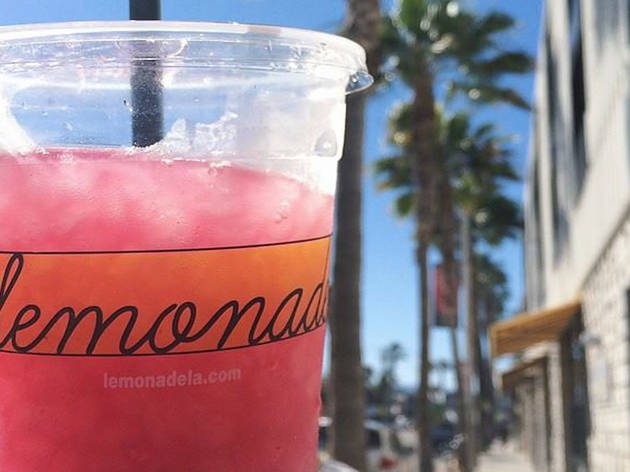 7/13
Photograph: Courtesy Lemonade
No, this isn't a photo of the real Hello Kitty lemonade from Lemonade. We wish we could tell you what their special Hello Kitty cherry lemonade tastes like, but they ran out before we could get there. A few fellow hunters told us that the drink is shockingly sweet, though Lemonade's beverages are sugar-heavy to begin with. As for the pin, you can find Kitty White holding a lemonade (yellow, not deep red like this special edition) with a slice of lemon inside. Verdict: Among all the beverages that you can get during this hunt—a strawberry smoothie, lattes adorned with the Hello Kitty logo—Lemonade's drink, for $5, sounds a bit dull. But after trekking around town in 80-degree weather, you might just need to cool off here. Worth it? Sure, if you have time and really want that cute little pin.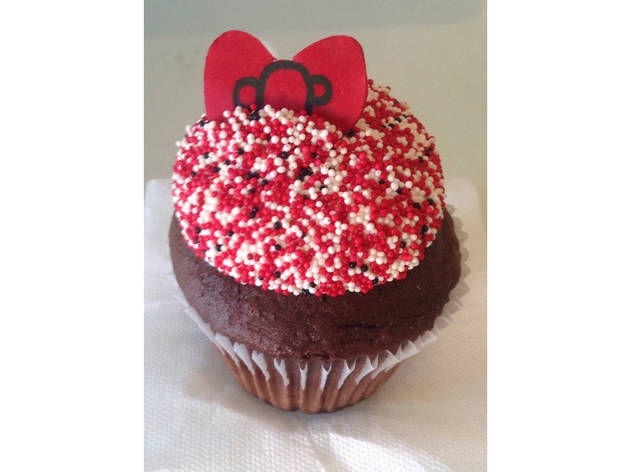 8/13
Photograph: Ramona Saviss
With only two people ahead of us, the Hello Kitty cupcake at Charm City Cakes West was well worth the trek to Melrose. (The longest wait at the shop all day was before opening, with only 10-15 people in line.) The cupcake itself is chocolate with vanilla buttercream, topped with white, red and brown sprinkles and a cutesy red bow; we could almost see Kitty White indulging in this treat herself. Verdict: At a little over $5 including the pin and tax, the price is a bit steep for one cupcake—but the thick buttercream tastes homemade and the cake itself has just the right amount of chocolate without making it overly sweet. Worth it? You bet—aren't sprinkles always worth it?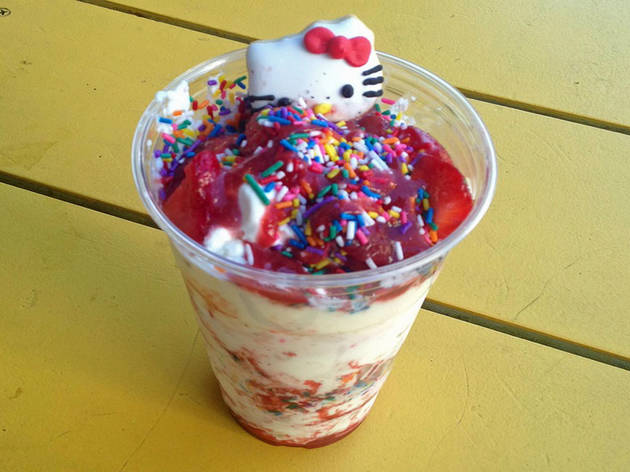 9/13
Photograph: Ramona Saviss
We walked into Dylan's Candy Bar and were immediately hit by a strong, sweet-smelling wall of sugar. The Hello Kitty sundae features three scoops of Birthday Cake ice cream layered with strawberry purée and topped with fresh strawberry slices, whipped cream and rainbow sprinkles—and the best part, a small HK sugar cookie (only one is given per order). A photo of the sundae next to the counter features a ceramic bowl, which is a bit deceiving as the only option here is getting it to-go in a tall, plastic cup. Verdict: At a whopping $15 (their regular sundaes here are $12), the messy dessert is a definite splurge (unless you're sharing it between 3-4 people, and even then it's still difficult to finish). We're not sure if Hello Kitty would get her paws dirty with this sundae, unless she was looking for a real sugar rush—this is one treat that needs a glass of milk or water to help wash it down. Worth it? Nope, unless you've got an insatiable sweet tooth (and even then it's a task).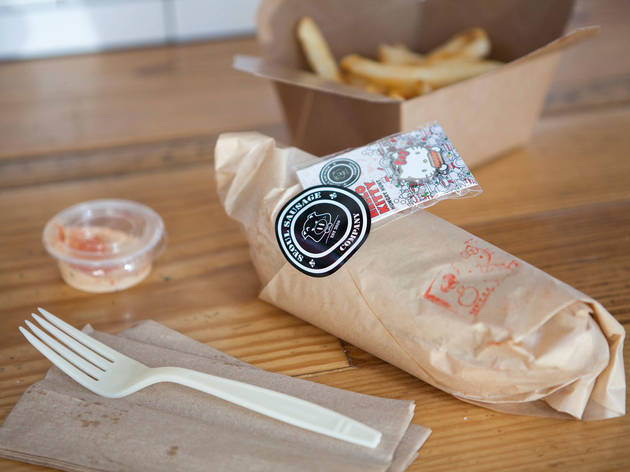 10/13
Photograph: Jakob N. Layman
Over on Sawtelle, the participating venues seemed to lack both the kitch factor and the overall excitement that could be found in Downtown/Little Tokyo and in the Beverly Grove neighborhood. At Seoul Sausage, we tried their $15 combo that included one of their usual sausages, fries and a pin featuring Hello Kitty holding a mustard-squiggled sausage (definitely a favorite among the pins). Verdict: If you like sausages, you should certainly stop by. The meat itself is spicy, plus the sriracha mayo gives it some extra heat, so hand over a little extra for a drink (though you could also come here with Lollicup's strawberry smoothie). Worth it? Yup, and you probably won't have to wait in a long line.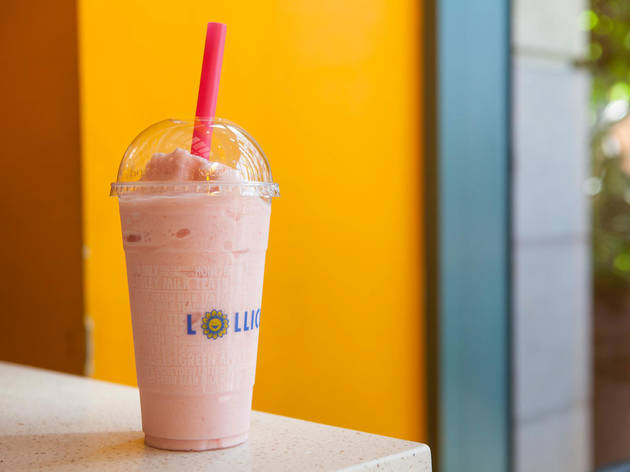 11/13
Photograph: Jakob N. Layman
If Lollicup's Hello Kitty drink looks familiar, it's because it is: The blended beverage is just their regular strawberry smoothie, with a pin handed over for good measure. It's a bit disappointing, considering they could have gone with boba or unique jellies (Rainbow jelly in strawberry milk? C'mon, Kitty White would drink that ish up). But it's pink, so... Verdict: A $5 smoothie that you could get any other time of the year seems anticlimactic. Worth it? Nah, we'd rather wait in line elsewhere.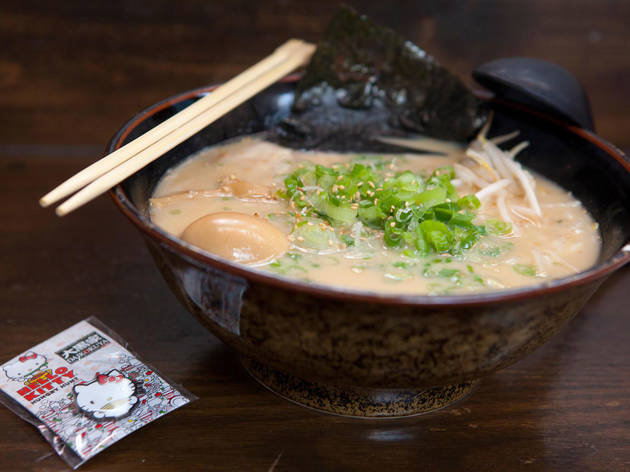 12/13
Photograph: Jakob N. Layman
Out of all the Sawtelle locations, Daikokuya sported the longest line. Our imaginations ran wild with what exactly "Hello Kitty Ramen" means—pink broth? bow-shaped noodles?—but it turns out that you can just order any of their ramen and then pay $3.50 extra to get a pin. Though the seaweed did have a cut-out of the Hello Kitty logo, which is an impressive feat given its delicate texture. Verdict: Daikokuya has solid ramen, and it's a plus that they let you pick whatever kind you want. Worth it? Most definitely. When is ramen not worth it?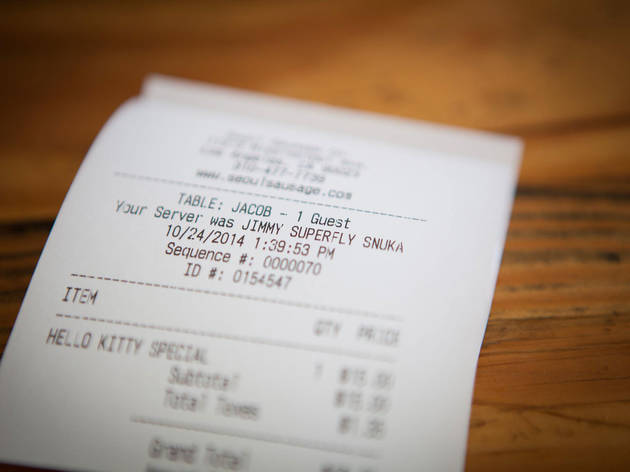 13/13
Photograph: Jakob N. Layman
Listen, guys. This hunt is going to be around for another month. There is absolutely no reason to do all of them in one day. Are you in it for the pins? Go early in the day, before they run out. But pace yourself. Enjoy the food. Appreciate the little things—like the face of Kitty White staring up at you from your latte, or a server named Jimmy Superfly Snuka. Happy 40th, Hello Kitty!
We tried everything in the Hello Kitty Hungry Hunt in one day
Well, almost everything. We got close. Here's what happened.
On Friday, the Hello Kitty Hungry Hunt began its nearly month-long celebration of Hello Kitty's 40th anniversary. The hunt, which takes place in the Downtown/Little Tokyo, Mid-City and Sawtelle neighborhoods, features 11 participating restaurants, each offering their own Hello Kitty-themed dish and a corresponding pin. We decided to tackle all 11 restaurants, coffee shops, and boba tea cafes in one day because, you know, research.
Apparently, you all had the same idea. LA's Hello Kitty fanatics came out in droves on the first day, forming massive lines, running from one restaurant to another amidst rumors of a pin-shortage, and buying up cat-faced pastries before the cafe had even intended to sell them. It was madness, simply madness. The hunt will continue every day—every.day.—until November 21, but that didn't stop the masses from wanting to ingest Hello Kitty's face in 11 different ways during a single afternoon.
We succeeded in trying all but two locations, and we're sure, once we've recovered from Kitty White overload, we'll make it to the remaining spots (because the pins, guys, the pins!). Check out our slideshow for all the featured dishes, and find out whether they're worth waiting in line for.
If standing in line for a scone in the shape of a cat doesn't appeal to you, there are a few other events celebrating this momentous anniversary: the Hello Kitty convention and art exhibition.
RECOMMENDED: How to buy tickets to the Hello Kitty show at the Japanese American National Museum
The Hungry Hunt at a glance