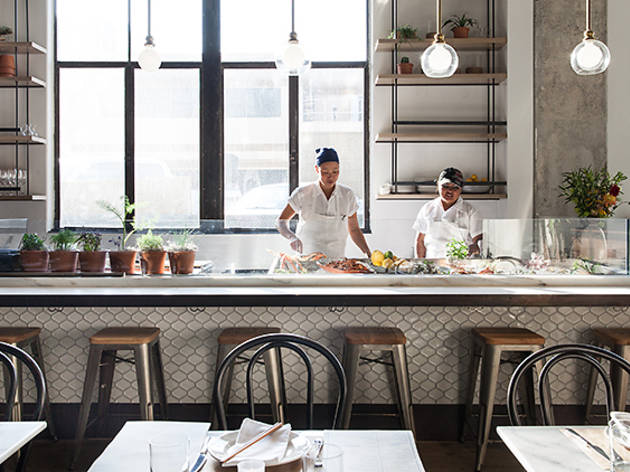 1/6
Photograph: Rick Poon
Cassia
2/6
Photograph: Rick Poon
Cassia
3/6
Photograph: Rick Poon
Cassia
4/6
Photograph: Rick Poon
Cassia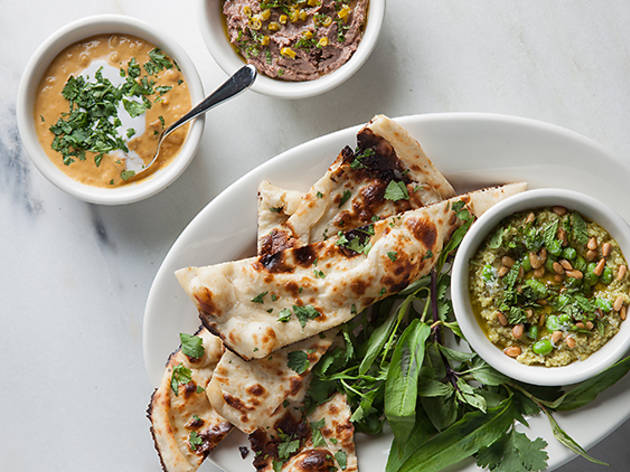 5/6
Photograph: Rick Poon
Clay oven bread with young soybean puree, Koda Farms chickpea curry and Vietnamese pate at Cassia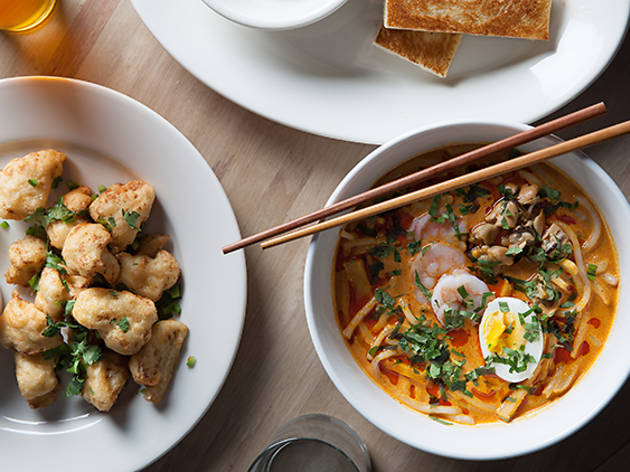 6/6
Photograph: Rick Poon
Fried cauliflower, laksa and kaya toast at Cassia
Time Out says
Cassia's beautiful mashup of French and Vietnamese cuisine is making waves in Santa Monica.
When Bryant and Kim Ng closed their popular restaurant Spice Table in 2013, fans mourned the loss of Little Tokyo's Southeast Asian star. The only consolation: a promise that a similar project, in conjunction with fellow husband-and-wife duo Zoe Nathan and Josh Loeb (Rustic Canyon), would be opening in Santa Monica. That project is Cassia, and man, was it worth the wait.
A beautiful mashup between French and Vietnamese cuisine, Cassia's menu—and space, with its birdcage light fixtures and marbled counter—embodies the best of both worlds. A charcuterie plate will call to you as strongly as spicy wontons or, even better, homemade tandoori bread with chickpea curry. The bowl of creamy curry (which we saw land on every table around us) uses coconut milk and cilantro for a sweet and tangy finish, and my friend and I were so enthralled that we tried to spoon the dip onto almost everything. The cereal scallops, too, are a fantastic (albeit curious) concept. If you like coconut shrimp, this dish is a close relative: plump mollusks are brushed with salted egg yolk and a hazelnut cereal mix, garnished with curry leaves and chiles, and exhibit a crunch factor as satisfying as a bowl of Kix.
Possibly the most obvious example of fusion at Cassia is the Vietnamese pot au feu, which seamlessly combines the properties of French stew and Vietnamese pho. The broth is an herbaceous thing, swimming with tender short rib and potatoes, cabbage and carrots, and a thick bone marrow that, while lacking in much actual marrow, contributed to the dish's hearty, earthy feel. We sopped up the chile-laden broth with some accompanying grilled bread—a momentary lapse from dipping into the coconut curry. Cassia also has a small rice and noodles section, and while the kon loh mee—egg noodles with Chinese broccoli, ground pork and pork belly char siu—wasn't our favorite pick of the night, it was certainly enjoyable, a meat-lover's dream with almost as much ground pork as noodles.
With Zoe Nathan as a partner, the desserts here are, of course, outstanding. Beignets and a lemon lime coconut tart represent the French side of the kitchen, but the winner for me is a Vietnamese coffee pudding. Looking remarkably like a freshly made cappuccino, the pudding's lighter-than-a-feather consistency is a marvel, and two small coconut shortbread cookies that arrive with it are prime dunking tools. As with the curry, the stew and the scallops, I couldn't help from scooping up every last bite.
Vitals
What to Eat: The chickpea curry with tandoori bread ($15). The cereal scallops ($18). The Vietnamese pot au feu ($38). The kon loh mee ($18). The Vietnamese coffee pudding ($10).
What to Drink: You could come to Cassia every night for two weeks to try a new cocktail and there would still be libations left to sip on. Divided into sections—Lighter & Apéritif, Citrus & Fruit and Stirred & Spirit Forward—the cocktails have a tropical slant to them, with ingredients like guava syrup, banana-infused gin and spiced jujube syrup. Island Mail Service is one such delight. Made with prosecco, Japanese whiskey, banana liqueur, guava syrup and lime, it's a light and airy drink that could be had while dreamily swinging in a hammock. A massive wine list is available as well, as are some fantastic beer options like Craftsman, Smog City and Mikkeller.
Where to Sit: Cassia's gorgeous dining room makes sitting anywhere inside a delight, whether you're perched at the bar or eating at a sleek wooden table in the lofty space. Large communal tables are available for groups, and there is an L-shaped outside patio for when you're looking to tuck into your pot au feu amidst a cool breeze.
Details
Address:
1314 7th St
Los Angeles
90401

Contact:
Opening hours:
Daily 5-11pm
Do you own this business?