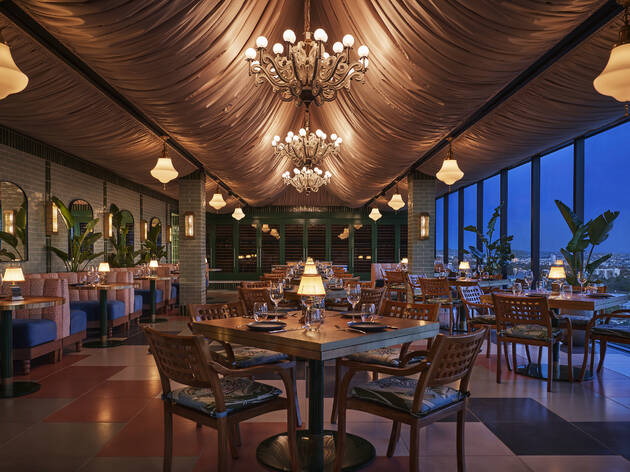 1/7
Photograph: Courtesy Christian Horan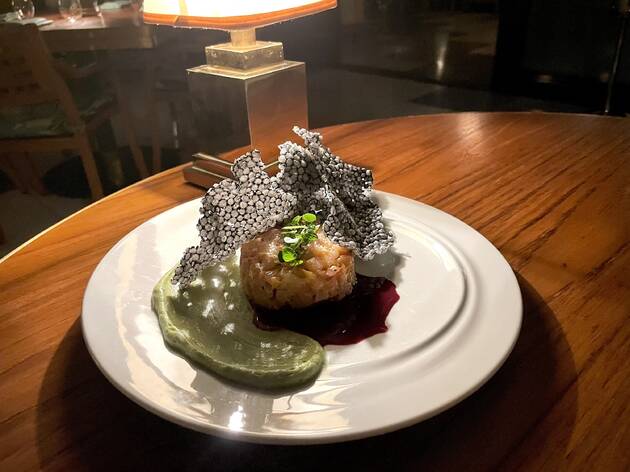 2/7
Photograph: Time Out/Patricia Kelly Yeo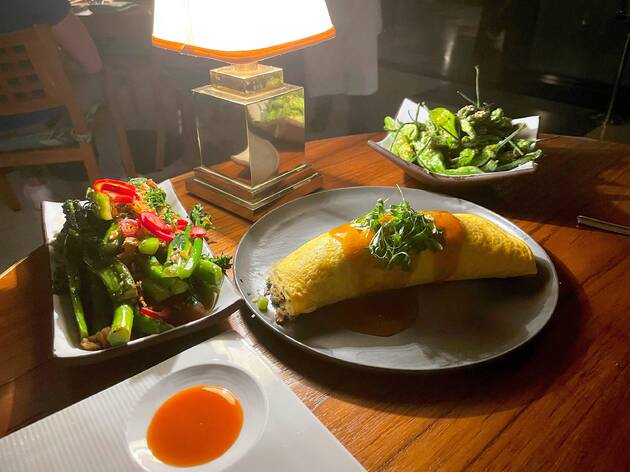 3/7
Photograph: Time Out/Patricia Kelly Yeo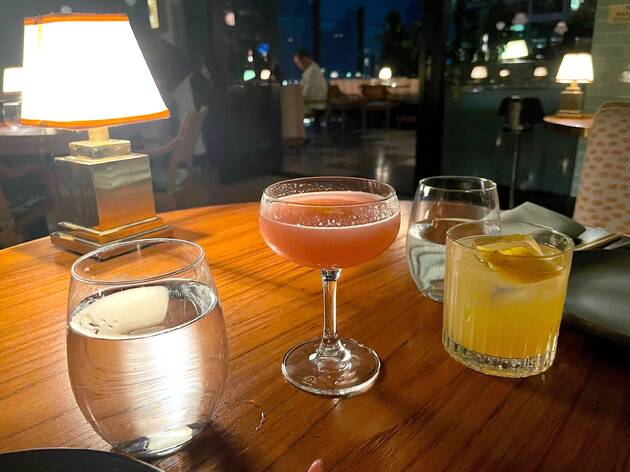 4/7
Photograph: Time Out/Patricia Kelly Yeo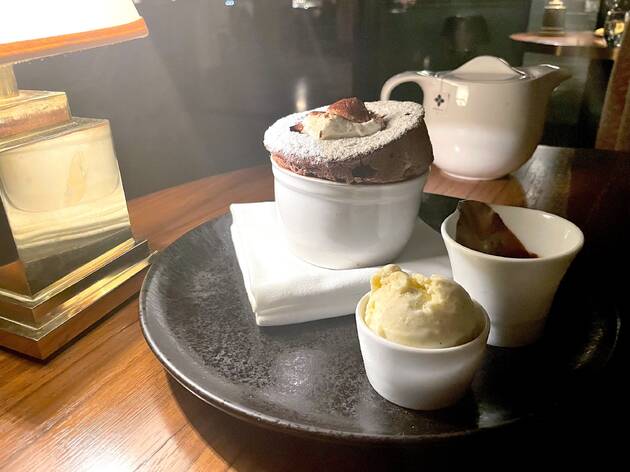 5/7
Photograph: Time Out/Patricia Kelly Yeo
6/7
Photograph: Time Out/Patricia Kelly Yeo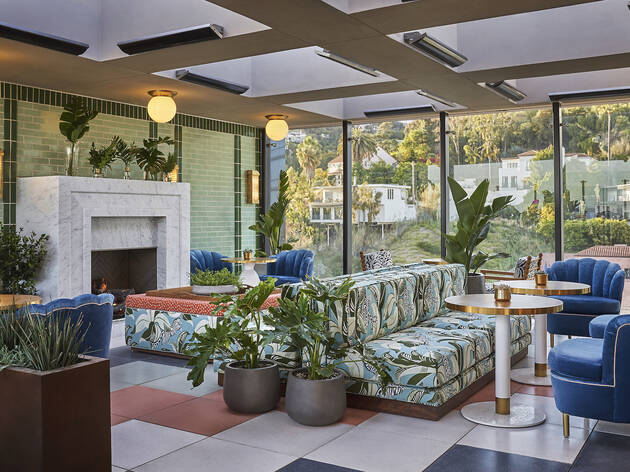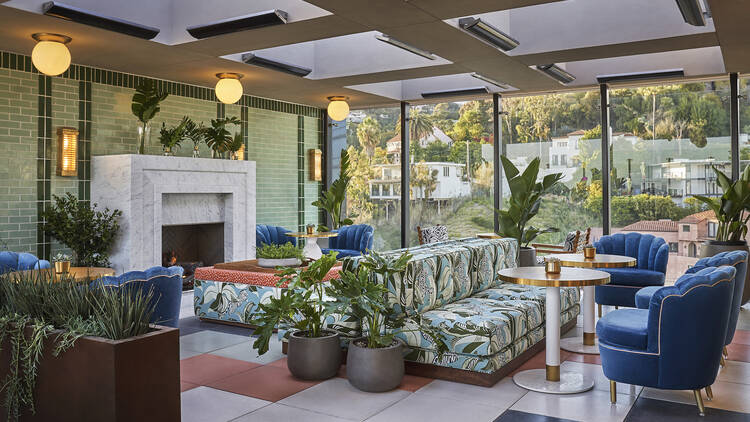 7/7
Photograph: Courtesy Christian Horan
Time Out says
With scenic views and flawlessly executed cuisine, Wolfgang Puck's Merois puts all other new upscale West Hollywood hotel restaurants to shame.
Located on the roof of the Pendry West Hollywood, Merois—pronounced "mehr-wha"— holds court alongside the hotel's pool and the Britely, a local members-only social club. Exit left from the elevator, and you'll quickly notice the indoor-outdoor eatery's glittering cityscape views, colorful, patterned furniture and luxurious, drape-lined chandelier lighting. Though other WeHo hotel restaurants might possess a similar winning combination of ritzy, ultra-chic interior design and breathtaking urban vistas (plus the glitzy patrons to match), only Wolfgang Puck's newest L.A. fine-dining endeavor strives to do more than just coast on its looks. Pairing aesthetics with actual substance, Merois demonstrates that later works in a longtime celebrity chef's oeuvre, even one as expansive and commercialized as Puck's, can still delight and outright impress seasoned diners.
Almost four decades after Spago first opened in 1982, one might think Puck's now widely imitated approach—seasonal California cuisine with French techniques and pan-Asian influences—would come off as stale and outdated, but that's not the case at Merois. Head chef Matt Dahlkemper and chef de cuisine Nicole Abisror, a longtime Spago and CUT kitchen veteran, keep the well-executed menu fresh and relevant with newer dishes like a crispy rice crab salad and stir-fried flat noodles with short rib. A beautifully plated hamachi tartare, eaten with pieces of squid ink-black rice crisp, may no longer be considered the culinary cutting-edge, but goddamn is it good.
While Merois offers a vegan-friendly vegetable sushi, excellent wok-seared broccolini and a few other plant-centric small plates, much of its menu skews towards seafood, game and thoughtfully sourced (and thus expensive) red meat. From its sushi, raw bar and bincho grilled skewer sections, be sure to skip the Snake River Farms filet, a single three-ounce skewer with a blindly unacceptable price-to-satiety ratio. Larger ticket items like the Shanghai lobster, grilled Mongolian lamb chops and a shareable Peking duck with black plum chutney might fit the bill for a big-ticket dinner, but Puck's more moderately priced take on Japanese omurice is just as delightful. Listed as crab fried rice, the dish combines fried long grain rice with garlic chives and chopped Peking duck, all snuggly wrapped into a pillow-soft, lightly glazed dashi omelette.
The overall flawless execution and general price-quality satisfaction continues towards the end of the night, when your attentive and knowledgeable server will likely point you towards Merois' most eye-catching dessert, the Spikey Lemon. A calamansi-flavored cake sphere filled with yuzu curd, the confectionary bombards you with citrus in the best way possible.
Dotted with edible gold and crunchy swirls of meringue, it's a special occasion show-stopper worth ordering each time you visit. More surprisingly, the restaurant's dark chocolate soufflé manages to upstage the granddaddy of all Los Angeles soufflés: the version offered by the Polo Lounge. However, those in the mood for a more typical Wolfgang Puck ultra-modern dessert might want to order the beautifully plated hazelnut dacquoise, which arrives at your table wrapped in a thin halo of chocolate.
In terms of service, overseen by Puck's son Byron, you'd be hard pressed to find a single complaint. All night, an affable, attentive and knowledgeable server and ever-present bussers will refill your water glasses, clear the table and generally justify the high cost of dining at Merois, which can easily stretch past $300 for two people if both order more than a single drink. While Puck's fine-dining formula may no longer feel novel in today's sea of L.A. restaurants hawking pan-Asian seasonal Californian cuisine, formulas exist for a reason: because they work.
The vibe: An ornate but relatively unfussy fine-dining atmosphere that caters to wide-ranging clientele: visiting hotel guests, the typical L.A. glitterati and diners hoping to size up Puck's latest culinary venture.
The food: Market-driven, high-end pan-Asian cuisine—the chef's usual, but kept fresh and relevant with aesthetically pleasing desserts and a blend of both mainstays and a few seasonal dishes.
The drink: Well-made (if not exactly memorable) cocktails and a luxury-priced list of wines by the glass and bottle. Sake is also available, but only by the bottle.
Time Out tip: Order two desserts, and make sure the Spikey Lemon is one of them.
Details
Best selling Time Out Offers