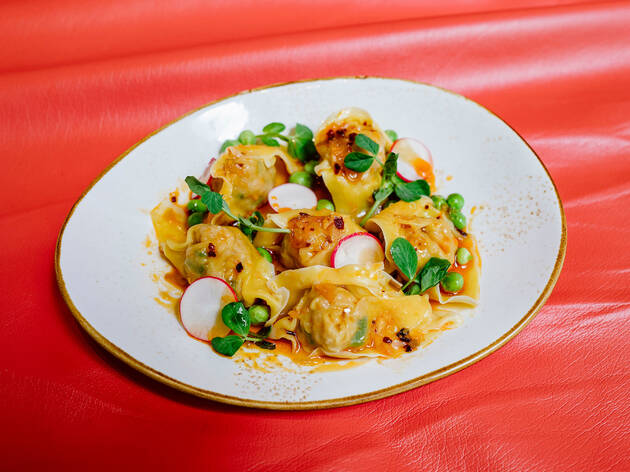 1/11
Photograph: Jesse Hsu
Wontons in chili oil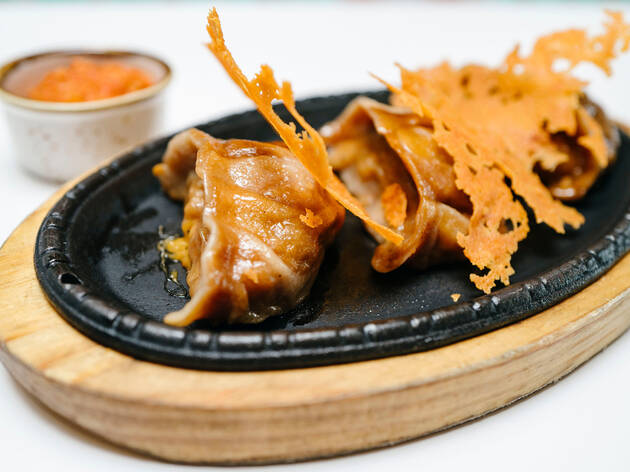 2/11
Photograph: Jesse Hsu
Jumbo Cheeseburger Potstickers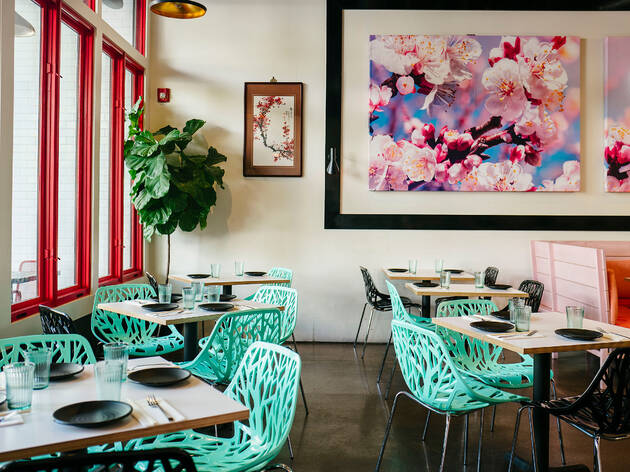 3/11
Photograph: Jesse Hsu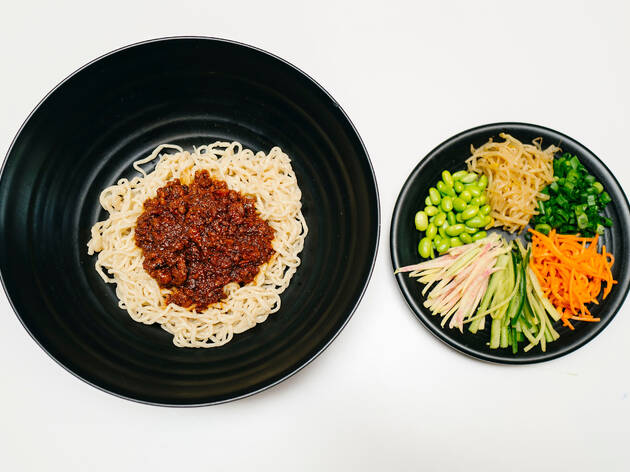 4/11
Photograph: Jesse Hsu
Beijing Zhajiang Mein hand-cut noodles with pork-belly ragu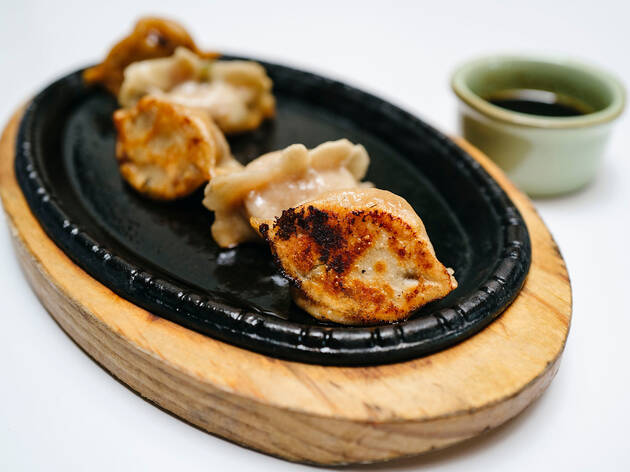 5/11
Photograph: Jesse Hsu
Sizzling pork potstickers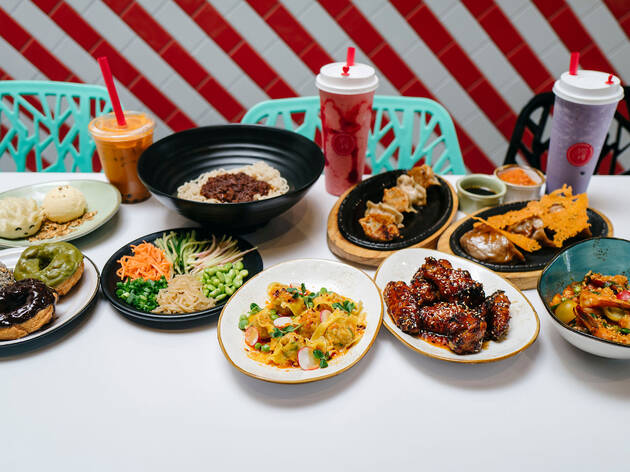 6/11
Photograph: Jesse Hsu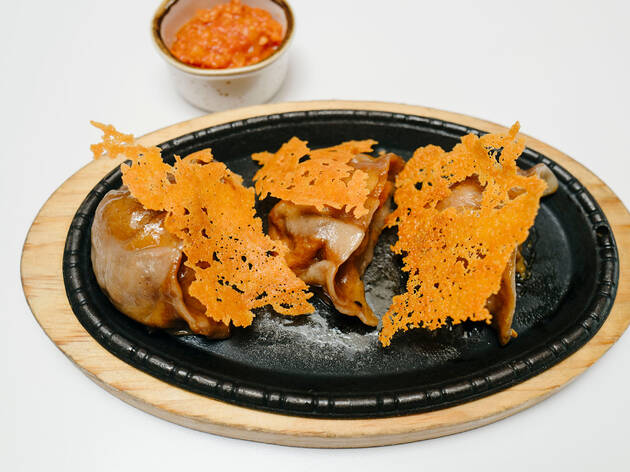 7/11
Photograph: Jesse Hsu
Jumbo Cheeseburger Potstickers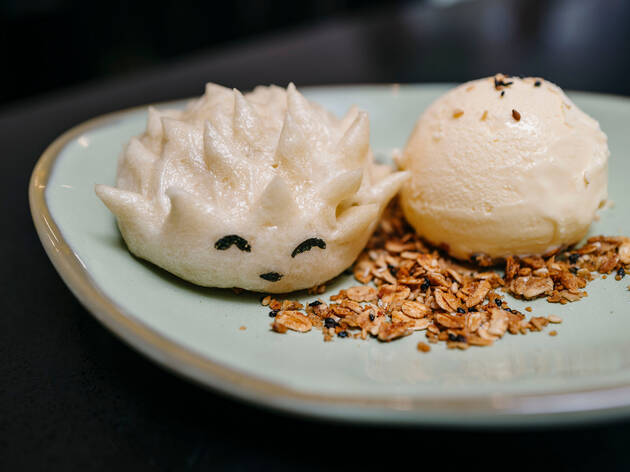 8/11
Photograph: Jesse Hsu
Hedgehog bao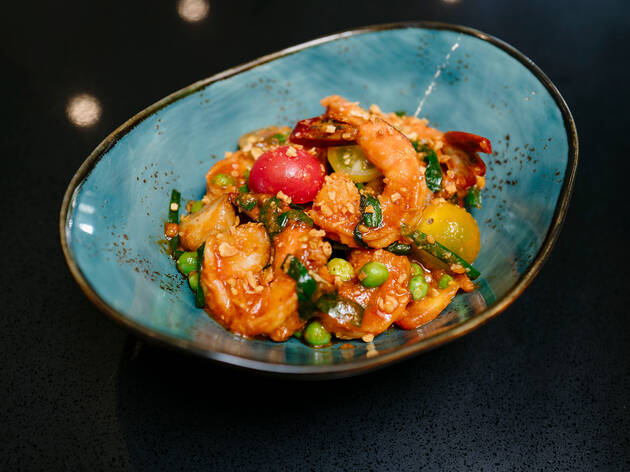 9/11
Photograph: Jesse Hsu
Garlic-and-tomato shrimp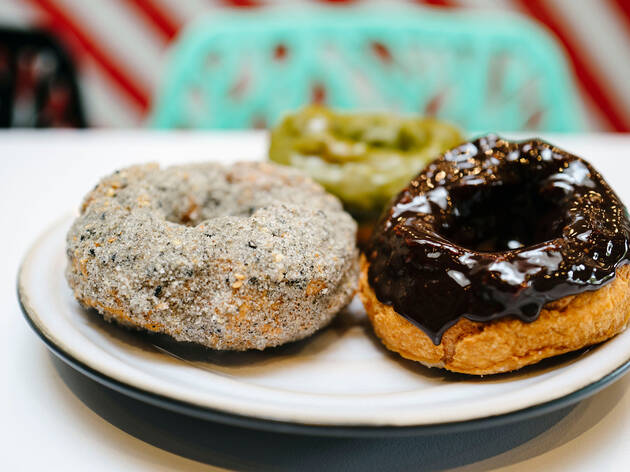 10/11
Photograph: Jesse Hsu
Mochi doughnuts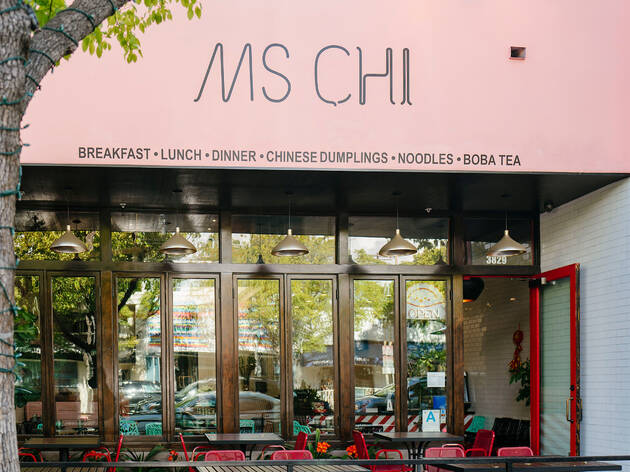 11/11
Photograph: Jesse Hsu
Time Out says
'Top Chef' alum Shirley Chung proves Instagram-bait like hedgehog bao and cheeseburger dumplings are more than eye candy.
Culver City's often struggled to support new restaurants, but the rather fun and casual new dumpling shop from Top Chef alum Shirley Chung could break that trend—and prove a long-term resident in an area of town I visit often.
Situated in the former location of a Korean BBQ spot, Hanjip, Chung's restaurant reimagined the space as an all-day café experience with brunch and lunch, plus a slightly more elevated dining experience in the evening: At dinner, Chung elongates the menu and further combines her Chinese upbringing with her Western fine-dining provenance to produce food that, on the whole, works very well indeed. The restaurant suffers from a mildly awkward and cramped design, and perhaps isn't somewhere you'd want to linger for a date—however it will, I'm sure, be a lunchtime hit with Culver's studio and medical crowds, and a very enjoyable place for supper before visits to the nearby cinemas and theaters.
The six sizzling pork potstickers ($10), also available during the day, came with a suitably toothsome dough that broke to reveal a well-seasoned filling, which benefited from the aniseed addition of fennel. Wontons in chili oil ($10) were also exemplary, particularly when combined with the crunch topping of white sesame seeds and the added sharpness of Sichuan pickled vegetables. The Labor Day Wings ($10)—an occasional special—were "sweet and tangy," as advertised, and provided enough sticky sauce to require a visit to the bathroom for a quick rinse down (and that's a good thing).
Some appetizers were less successful. On both visits, the four small triangles of made-to-order scallion pancake ($10) were dry and unappealing. And despite their Top Chef winning-dish accreditation, the Jumbo Cheeseburger Potstickers ($12) fell into my "one and done" category; it's the sort of dish that can wow in the heat of a TV culinary competition—as a veteran judge, trust me, I know—but in the cold light of day is seen as being more clever than successful. That said, the tomato-and-bacon jam that accompanies these dumplings is so good, I'd like to carry a bucket of it around with me in case of emergencies.
Of the main courses, the Garlic Tomato Shrimp ($18) and the Beijing Zhajiang Mian noodles ($18) received the most thumbs up. The shrimp received particular raves not just for the perfect cooking of the seafood, but also for the addition of whole soft cloves of confit garlic, while the Zhajiang Mian's hand-cut noodles came topped with superb braised pork from Pachamama Farm in Oregon, and got dressed at the at the table with seasonal garnishes of edamame, green onion and pickles. According to the menu, the crispy chicken ($18) "roam[ed] in the sun, just like the good old days." Unfortunately, they also roamed a little too long in the oven and came out dry enough for us to leave pieces on the plate at the end of our meal.
The hedgehog-shaped bao ($7) dessert raised a smile and a nod of approval from everyone, especially given all the work that obviously goes into shaping them. But it was the trio of mochi doughnuts ($3) that was most fought over, and so good that the restaurant could easily make a side business selling them by the bag to-go.
There are some kinks to iron out in the execution of a few dishes, but with its largely terrific food, friendly staff and casual vibe, Ms. Chi Café has the potential to be a welcome addition to an area of town that seems to punch below its weight when it comes to a sustainable restaurant scene.
VITALS
WHERE TO SIT
Given the casual nature of the restaurant and the rapidity with which the food arrives, the seating at Ms. Chi Café is not aimed to make you outstay your welcome. I'm not a fan of floating tables, so I always ask to be seated at the tables lining the wall, but if the weather permits, the tables on the patio are a great place to eat while amusedly watching stressed-out people in the "industry."
WHAT TO EAT
The house-made dumplings are definitely the way to begin your meal, and you could easily fashion a lighter meal out of a selection of those alone. However, you'd be doing yourself a disservice if you didn't add in an order of the garlic-and-tomato shrimp and the Beijing Zhajiang Mian noodles. And even if, like me, you don't have a sweet tooth, the mochi doughnuts are a must.
WHAT TO DRINK
The list of alcoholic drinks at Ms. Chi Café is short and sweet, with a handful of white and red wines—all available by the glass or bottle—plus a small selection of sake, cocktails, and a couple of beers on draft. More interesting, perhaps, is the selection of coffees, including a house-blend drip, and the boba, herbal and cheese teas along with fruit slushies.
Details
Address:
3829 Main St.
Culver City
90323

Price:
$$
Contact:
Opening hours:
Sun 10am-9pm, Tue-Thu 11am-9pm, Fri 11am-10pm, Sat 10am-10pm
Do you own this business?
Best selling Time Out Offers