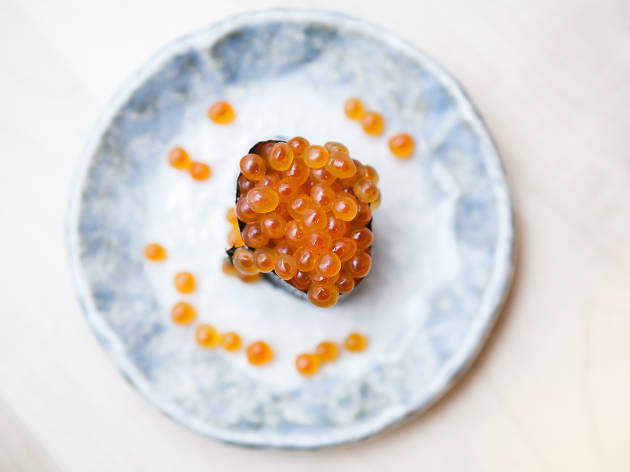 1/13
Photograph: Jakob N. Layman
Ikura (salmon roe) at Nozawa Bar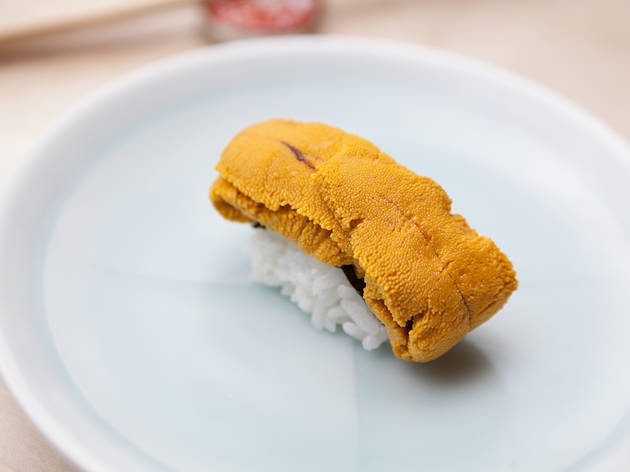 2/13
Photograph: Jakob N. Layman
Uni (sea urchin) at Nozawa Bar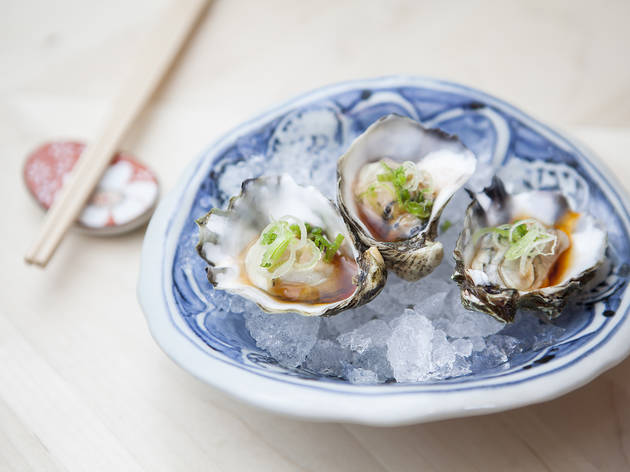 3/13
Photograph: Jakob N. Layman
Kumamoto oysters with ponzu vinaigrette at Nozawa Bar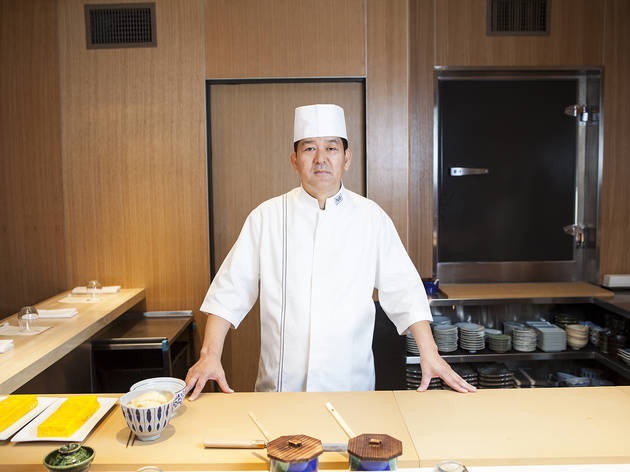 4/13
Photograph: Jakob N. Layman
Chef Osamu Fujita of Nozawa Bar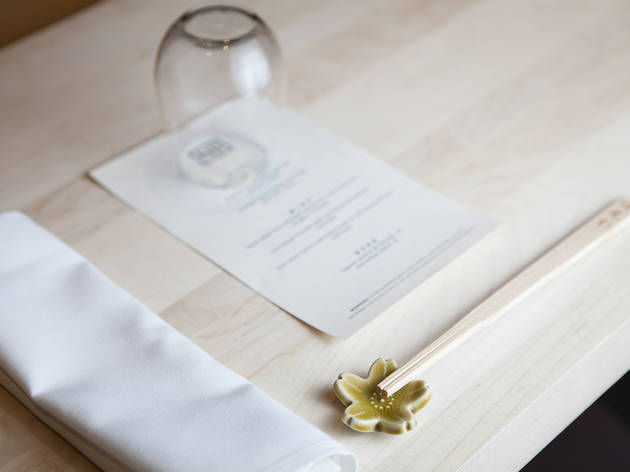 5/13
Photograph: Jakob N. Layman
Nozawa Bar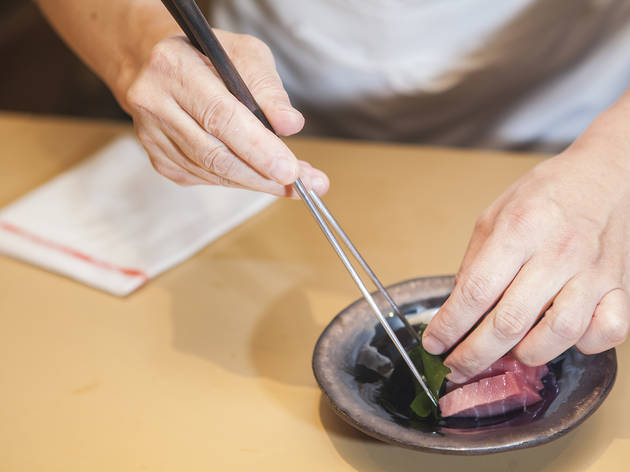 6/13
Photograph: Jakob N. Layman
Chef Osamu Fujita of Nozawa Bar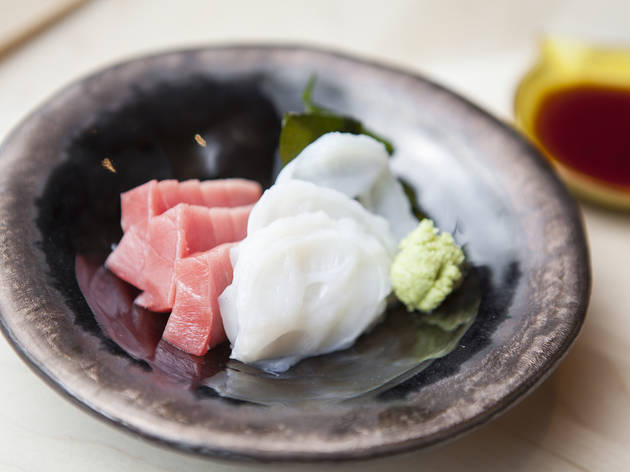 7/13
Photograph: Jakob N. Layman
Sashimi plate with chu-toro and octopus at Nozawa Bar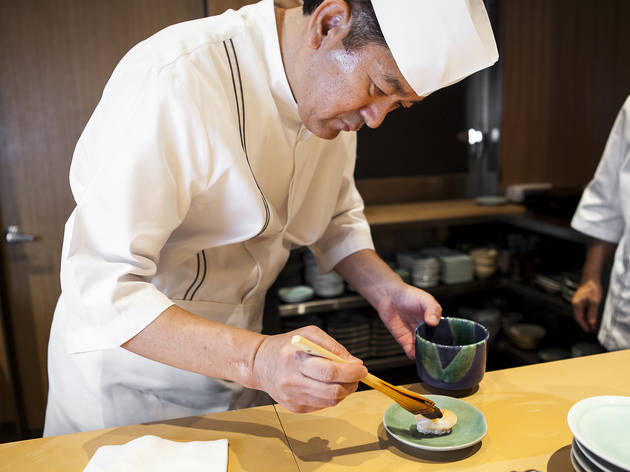 8/13
Photograph: Jakob N. Layman
Chef Osamu Fujita of Nozawa Bar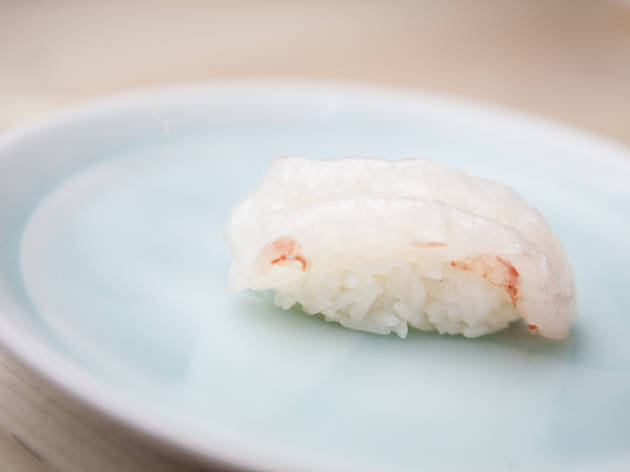 9/13
Photograph: Jakob N. Layman
Amaebi (spotted prawn) at Nozawa Bar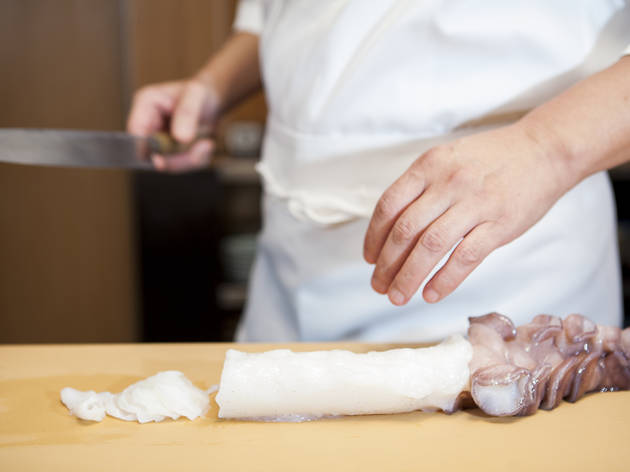 10/13
Photograph: Jakob N. Layman
Chef Osamu Fujita of Nozawa Bar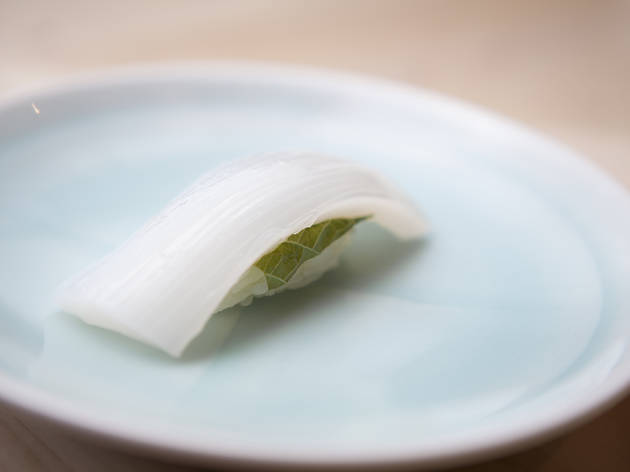 11/13
Photograph: Jakob N. Layman
Ika (squid) with shiso at Nozawa Bar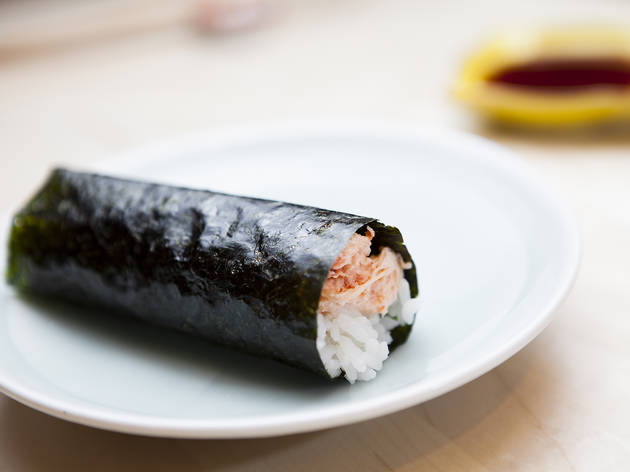 12/13
Photograph: Jakob N. Layman
Lobster hand roll at Nozawa Bar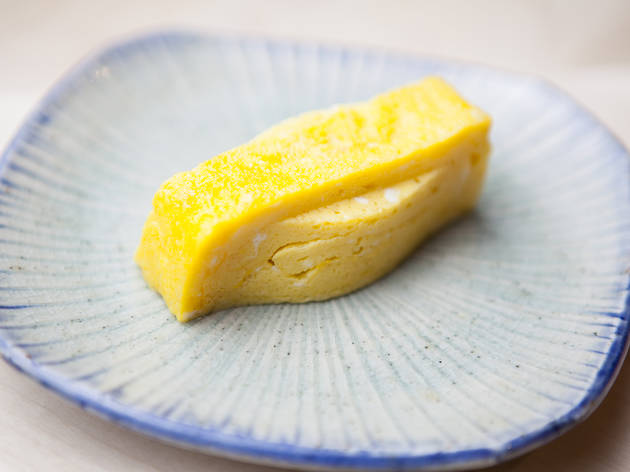 13/13
Photograph: Jakob N. Layman
Tamago at Nozawa Bar
Time Out says
While Nozawa cult followers mourned the loss of the infamous "sushi nazi" when Kazunori Nozawa's Studio City bar shuttered in early 2012, his name lives on at Nozawa Bar. The newest iteration of, and inside, Sugarfish resurrects the LA institution with a new zip code (90210) and swanky dinner format to match (reservation only, set $150 menu). While the chef is new—chef Osamu Fujita is behind the bar as executive chef with years of training with the 68-year old Nozawa—the elements are the same (omakase style, impeccably fresh fish served on warm, loosely packed rice). Nozawa's strict ways schooled Angelenos on proper sushi etiquette including the revelatory importance of rice that is—gasp—served warm. And 25 years later, LA diners are not only savvy to sushi faux pas, but also dream of their own sushi reveries. To that effect, Nozawa 2.0 has upped its game with only two seatings per night (6:30pm, 8pm), limited seating at a ten-seat bar and a whirlwind meal.
And what new tricks Nozawa has. Giant sticks of King crab and slabs of toro (in this case, chu) are preceded with nigiri of salmon roe that literally floweth over and super-sized portions of uni that boast five—count 'em, five—pieces into a luscious and decadent bite. The decadence continues with blue crab and King crab hand rolls, enormous rectangles of tamago (egg) stuffed with shiso and ume and rich ankimo (monkfish liver) dressed with miso and sesame seeds. It begs the question—Can you have too much of a good thing?
As one dish is followed by another immediately after, diners are rushed through the fast-paced meal packed with 19 to 20 dishes. Some unbalanced plates such as oysters with ponzu vinaigrette and crab and seaweed salad we could do without, while scallop with yuzu kosho, though delicious, is haphazardly placed in front of the diner. Then, there's the rice. Too-big chunks of fish teeter on an already crumbling wad of warm rice that sometimes falls apart on the plate or misses our gaping mouths. Some of these sloppy missteps are really unfortunate because the chef is working with such great product, making a pretty good value given the quality and quantity of food. And while the dinner is not refined and certainly not an evening at Jiro, it satisfies.
Vitals
What to eat: The set $150, omakase dinner includes 19 to 20 courses that change daily, depending on what's at market. Expect staples such as uni and amabei (spot prawn) from Santa Barbara, ikura (salmon roe) and sweet tamago stuffed with ume and shiso to end.
Where to sit: Past the bustling, lounge-y space of Sugarfish Beverly Hills, the hostess leads each 6pm and 8:30pm group of diners to the back room where, beyond a blue and white curtain, the minimalist, light wood bar sits ten around an L-shaped bar.
What to drink: There's a small menu of wine by the glass and bottle ($100-$240), sake ($30-$320) by the bottle and Kirin or Sapporo beer (both $8). Try white wine (when we visited, Sancerre) by the glass ($25) or top-shelf Kyokusen junmai daiginjo ($320) that's delicate, fruity and not too dry or sweet, pairing well with each dish from start to finish. The single server also offers a roasted green tea with dessert to end.
Conversation piece: After the hostess preps the group on the "house rules" (no cell phones, no photos of the space or the chef), nervous first-time diners sit down to a silent and hushed room. But as chef Fujita effortlessly cuts the fish, shapes the rice, plates each dish, he candidly and fluidly talks about what's being served—giant clam, spotted prawn, from Santa Barbara, from Hokkaido, no soy sauce, soy sauce is okay. He's less concerned with formal sushi decorum, asking "Everything okay?" or "Good?" as a diner dips the crab-filled hand roll into soy sauce and another slathers on the wasabi.
Details
Address:
212 N Canon Dr
Los Angeles
90210

Contact:
Opening hours:
Mon-Sat 6pm and 8:30pm seatings
Do you own this business?
Best selling Time Out Offers