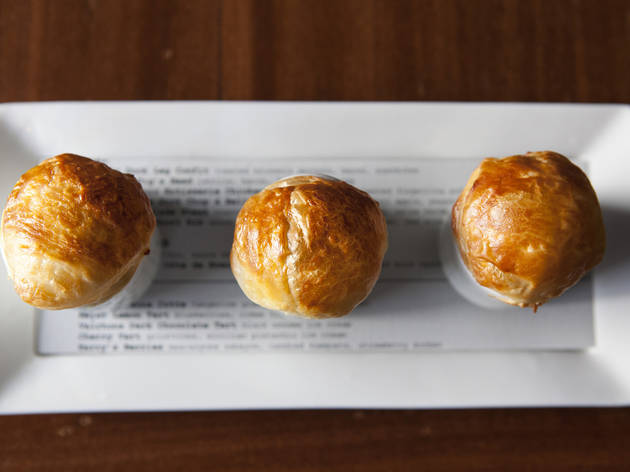 1/14
Photograph: Jakob N. Layman
Escargots en croute at République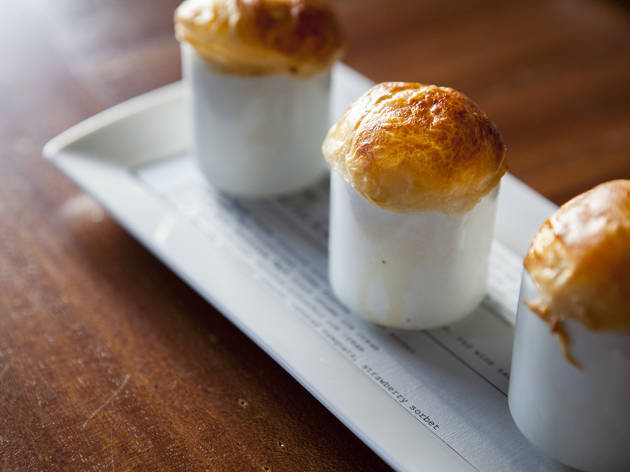 2/14
Photograph: Jakob N. Layman
Escargots en croute at République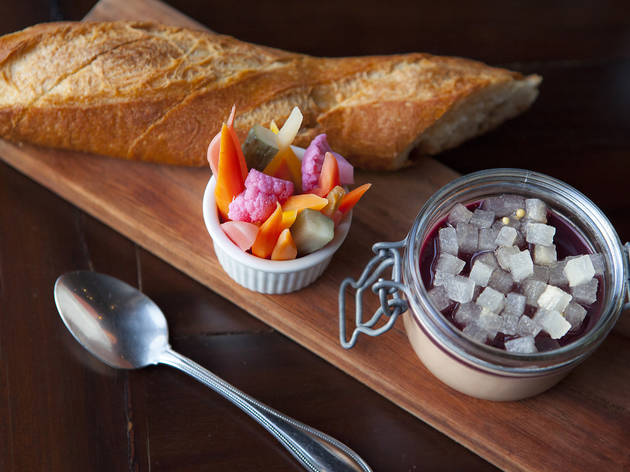 3/14
Photograph: Jakob N. Layman
Duck liver mousse at République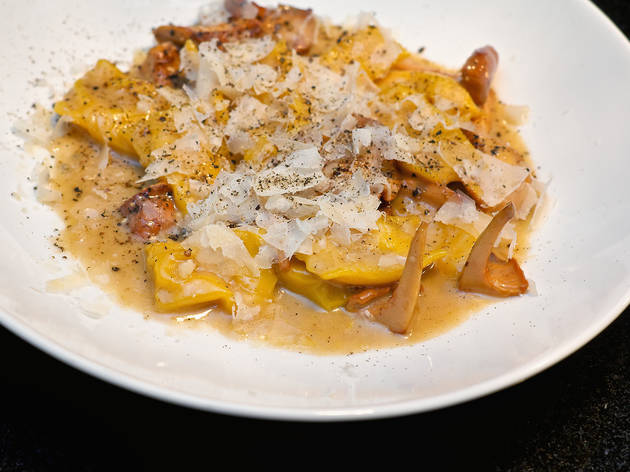 4/14
Photograph: Ryan Tanaka
Butternut squash agnolotti at République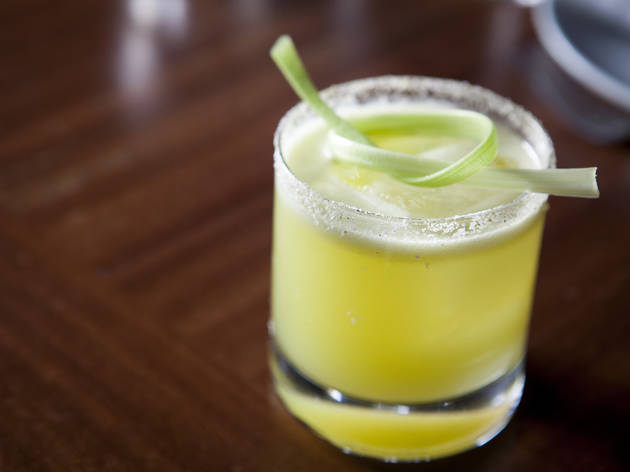 5/14
Photograph: Jakob N. Layman
Celery with serrano at République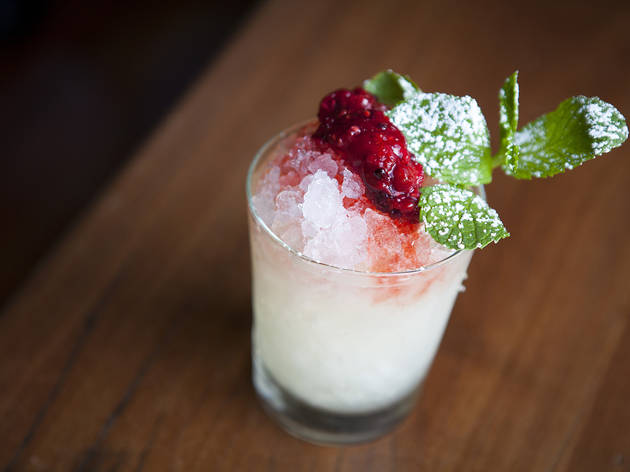 6/14
Photograph: Jakob N. Layman
Harry's Fix at République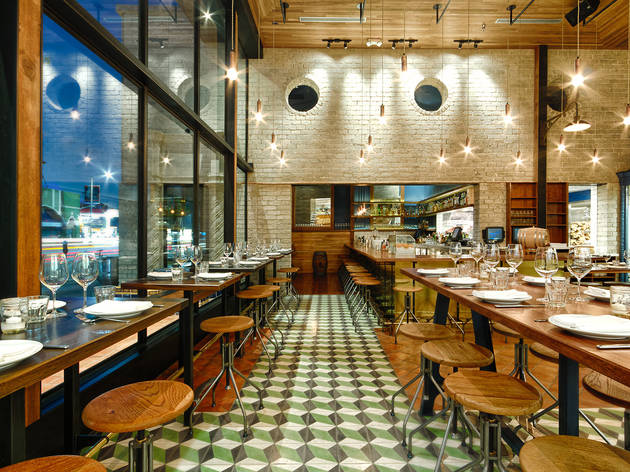 7/14
Photograph: Ryan Tanaka
République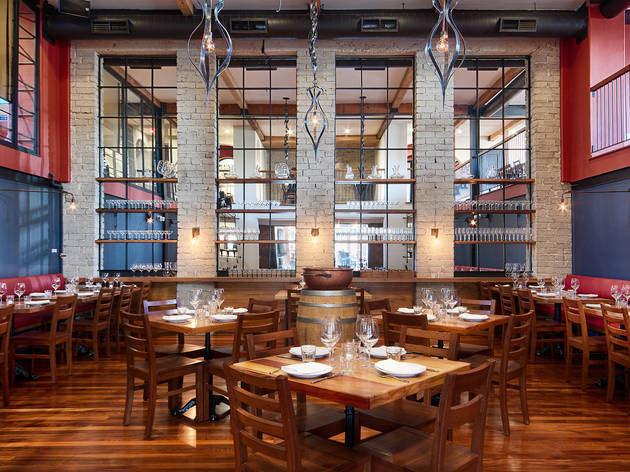 8/14
Photograph: Ryan Tanaka
République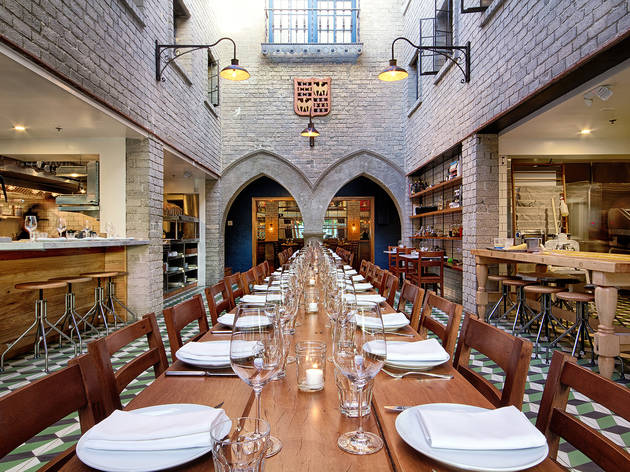 9/14
Photograph: Ryan Tanaka
République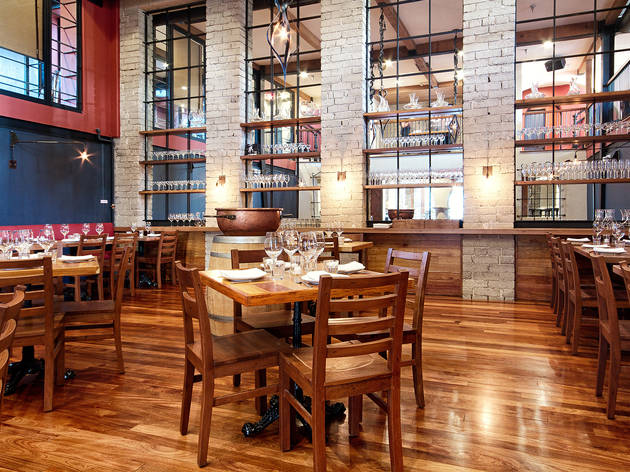 10/14
Photograph: Ryan Tanaka
République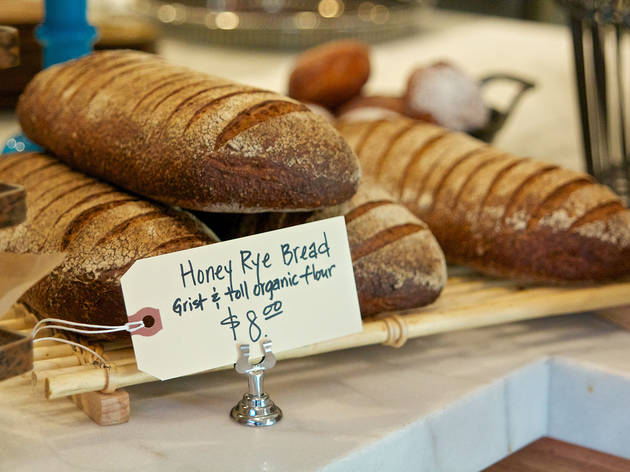 11/14
Photograph: Ryan Tanaka
République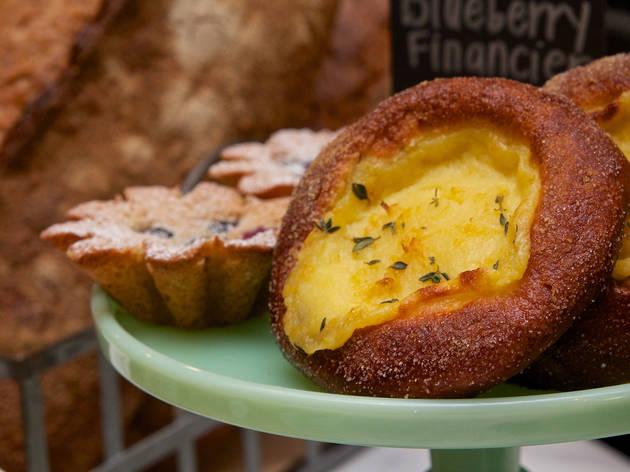 12/14
Photograph: Ryan Tanaka
République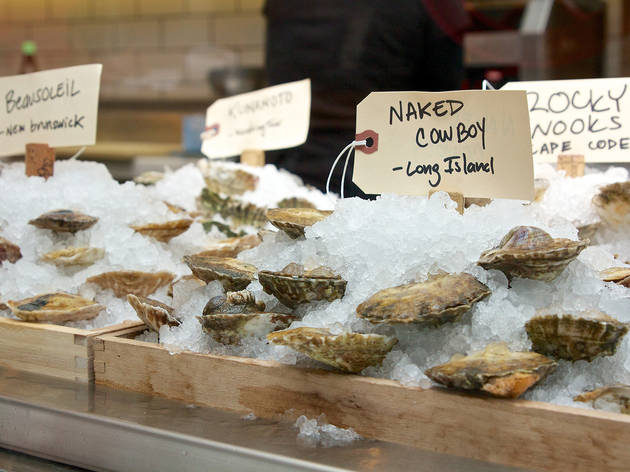 13/14
Photograph: Ryan Tanaka
République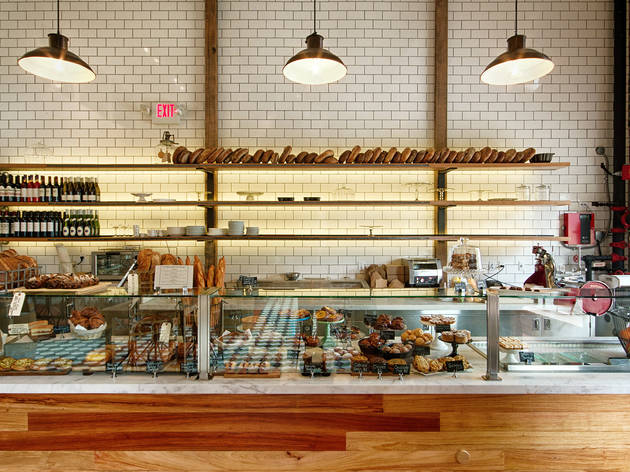 14/14
Photograph: Ryan Tanaka
République
Time Out says
A restaurant should not be defined by the previous inhabitants that haunt its kitchens, but it's hard to ignore the cultural significance that comes with La Brea Avenue's latest crowning achievement, République. Built in 1929, the building first served as Charlie Chaplin's office, then the birthplace of LA's beloved Campanile and, after Campanile shuttered, La Brea Bakery. Yet while history certainly plays a part—the importance of a quality bakery has been carried forward—République, which opened in November of last year and is headed by Walter and Margarita Manzke, is a refreshing addition to LA's French bistro scene.
Some preliminary advice: Should the phrase "Hold the bread, please" cross your mind, hold your tongue instead. Margarita's freshly baked breads and pastries are a large part of République's success, and there is a Bread & Butter section of the menu—as well as a Charcuterie and Cheese column—that best demonstrates her talents. A larger group would benefit from the charcuterie board, but dinner for two requires the duck liver mousse to start. When it arrived, our neighbor, dining with his elderly parents, leaned over and knowingly said, "You'll need to ask for more bread." And despite the loaf that arrived with the jar of mousse topped with pickled Asian pear, he was right: We asked for all the bread we could to scoop up the addictive, sweet puree (A more blunt description from my dinner companion: "This mousse is like crack."). To provide a savory balance: the escargot en Croûte, futher proof of the bakery's prowess. Garlic and butter coat each morsel of tender snail, buried in three flaky puff pastries that, when presented, elicited a "But who gets the third one?".
There are salads and vegetable sides, too, and a white salad served as a clean break after our rich starters. Here, acidity is executed with just the right balance, aided by a strong mix of endive, hazelnut oil, parmesan and fennel (and a heavy dose of lemon). At first bite, it seems like nothing special—or perhaps, nothing complicated—in that it is a dish which might be so easily recreated at home. But this is the beauty of Walter's cooking. République is serving, first and foremost, French cuisine reflective of the bistronomie movement, where quality ingredients and simplicity take center stage without sacrificing creativity. Nowhere is this more apparent than the selection of pastas, risottos, fish and meat that carry the menu like a rustic soliloquy. Pumpkin agnolotti, served with delicate hedgehog mushrooms, captured the tail end of winter with its rich, stick-to-your-bones sauce. There is duck leg confit and rotisserie chicken and mussels to choose from, and a prairie pork chop and belly, which arrives in a cast iron skillet with sautéed greens, grilled apple and parsnips. Full-flavored and expertly seasoned, the pork is yet another example of simplicity at its finest; the ingredients are represented in their natural state with little else needed.
République is open for breakfast, lunch and dinner, and so you can come in during the morning for a chocolate banana croissant, order salad from the bakery counter at lunch, or finish your dinner with one of Margarita's heavenly Meyer lemon tarts under vaulted ceilings amidst the din of dinner service. It is a space, essentially, that has achieved accessibility and comfort at any time, a quality that has nothing to do with its revered past.
What to Eat: The duck liver mousse ($11). The escargots en Croûte ($12). The white salad ($12). The pumpkin agnolotti ($18). The prairie prime pork chop and belly ($36).
What to Drink: Cocktails are broken up by "Aperitif," "Tradition" and "Market." Harry's Fix ($12) is a great way to ring in summer, and ideal for picky drinkers—you're allowed to pick your own spirit, which comes topped with a mass of berries and a sprig of mint. A solid wine menu and select beers round out the drink list.
Where to Sit: For casual group dinners, sit at one of République's communal tables. The conversations you'll have with a neighboring diner—"What are you eating?" "Is that any good?" "Are you kidding me with this dessert? You have to try this."—prove just as satisfying as the meal. For a romantic date, score a table upstairs, where it isn't as loud or distracting.
Conversation Piece: That 3% extra surcharge that comes with your bill? That's to pay the health-care insurance for each of République's employees. You'll talk about it with your dinner party and the diners sitting at your communal table. You'll agree that it doesn't seem altogether kosher. But you'll pay it anyway.
Details
Address:
624 S La Brea Ave
Los Angeles
90036

Contact:
Opening hours:
Sun-Thu 8am-4pm, 5:30-10pm; Fri, Sat 8am-4pm, 5:30-11pm
Do you own this business?
Average User Rating
4.8 / 5
Rating Breakdown
5 star:

5

4 star:

1

3 star:

0

2 star:

0

1 star:

0
The restaurant is quite large and has many dining areas. I was seated on the side where it was a very intimate area. The service was pretty on point as well. The waiter was available and attentive.
The menu from what I understand changes seasonally so that's great to see they put effort in really mixing it up here and there. The cuisine is mostly French which I love because I had recently just traveled to France not too long ago. We ordered the butternut squash pasta, oysters, half chicken, and brussels sprouts.
What keeps this review from a 5 star review are two things: price and portion sizes. Oysters are $4 /each! I've never seen that before and they showed up so small as well. They were good but not wow. If you're ordering pasta keep in mind it's a very small dish! For $20 pasta, you're getting the tiniest serving possible. Yes, I know it's French themed but even when I was France the portion sizes weren't that small. Because it was so little food, we ended up ordering the half chicken to make us full.
Even the chicken is pricey for $32 which as you can imagine should get you a whole chicken at least. It was beautifully cooked so I didn't have that much of an issue with this one compared to the others.
Brunch is decadent. The pastries are phenomenal. Dinner is extraordinary. And the interior design is just sublime. This is L.A. dining at its best, and while I wouldn't exactly call it affordable, it's pretty fair priced for the quality and top-notch experience.
I've never been disappointed with anything I've ordered at République, and I've been working my way through the menu for a while. The lunch burger is truly fantastic and the shakshuka is one of my favorites in LA. Be sure to try one (or two, or ten) or their exceptional pastries too.
I took clients here a couple of weeks ago and we all had the best time! Not only is the food out of this world, but the interior architecture is a conversation piece all on its own. The staff was very attentive and told us that the building used to be Charlie Chaplin's offices!