Heads up! We're working hard to be accurate – but these are unusual times, so please always check before heading out.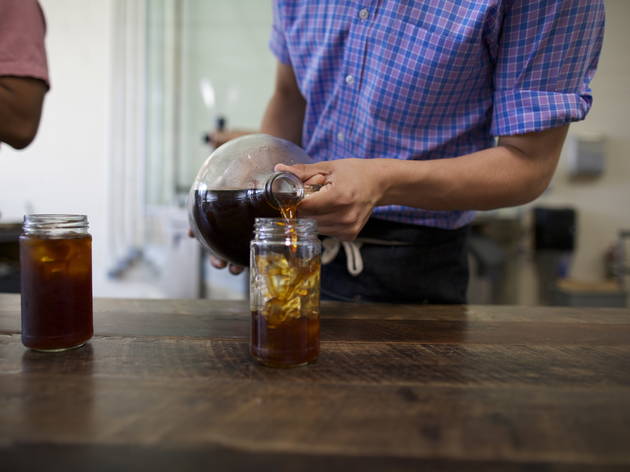 The best coffee shops in Culver City
This Westside nabe has seen a steady rise in seriously good coffee—we sipped on lattes and shots of espresso to find Culver City's best coffee shops
Out of all of LA's neighborhoods, Culver City might be the best to visit if you want to see the modern day coffee shop's evolution. The Conservatory for Coffee, Tea and Cocoa has been a haven for coffee lovers for more than a decade; for something a little more recent, stroll on over to Cognoscenti in the Culver City Arts District and you'll find one of LA's early pop-ups-turned-brick-and-mortars. Then there's Bar Nine, an ultra-modern space that was inspired by a challenge to reimagine the coffee shop experience. We went on a coffee binge in Culver City to find out just how seriously this nabe takes its joe.
RECOMMENDED: Best coffee shops in LA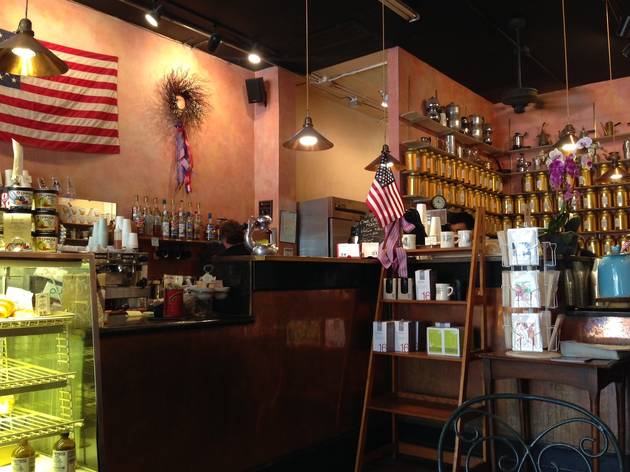 The Conservatory for Coffee, Tea and Cocoa is a haven for coffee lovers (and, clearly, tea and cocoa fans, too). These folks know their stuff. Ask any one of their friendly staff members to help you decide which beans to bring home, or which of their hundreds of teas to order, and you'll get an education that isn't intimidating or brusque. The business roasts all of its beans in-house and also fulfills online and wholesale orders. It's a popular spot for writers, moms and Sony employees, and you may see interns ordering a gaggle of coffees from a list on their iPhones, but there's a good chance there won't be a laptop in sight (it's a no Wi-Fi zone). It's a refreshing feeling to walk into a coffee shop and see people talking, reading books or writing with actual pens and paper—and it's something the Conservatory wants to, well, conserve.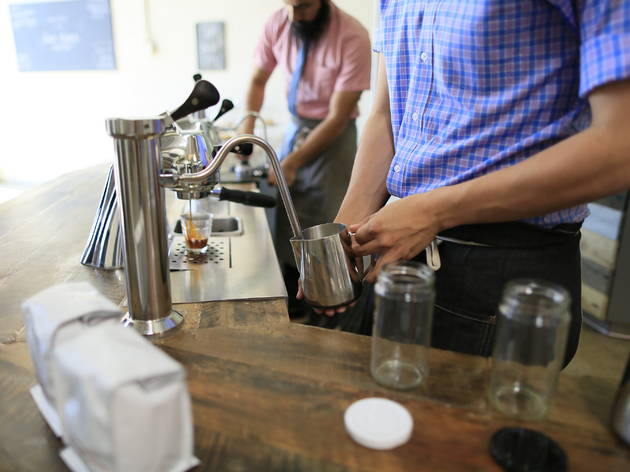 Before Bar Nine, there was the coffee bar installation at Transmission LA, the 2012 exhibition/festival curated by Mike D. of the Beastie Boys at the Geffen at MOCA. In addition to all the art, film, music and more in the show, there was also a challenge to Zayde Naquib and Rob McKinley to re-imagine the coffee shop experience. After that, Naquib was inspired to open a new coffee company with Jeremie Pitts, and now there is Bar Nine on Helms in Culver City—a wide open garage-y space sparsely decorated and intensely perfumed with roasting coffee. Your options are simple: espresso, espresso + milk, pour over or cold brew. The beans are expertly sourced and roasted: three single-origin coffees and one decaf. In the corner, you'll find a record player and stacks of vinyl; on the menu, there's delicious seasonal breakfast and lunch items. It's not exactly a "we're not in Kansas anymore" coffee shop, but it's not something we see often, either.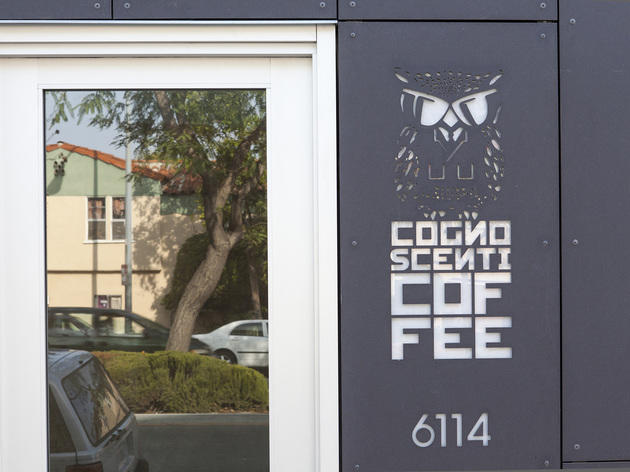 Yeekai Lim's Cognoscenti Coffee has found a second home—the first is housed inside Atwater Village's Proof Bakery—and a space all its own in Culver City's Arts District. Located in architect Clive Wilkinson's swanky new digs, the minimalist storefront feels more like someone's—your cool, design-freak friend, perhaps—home than coffee shop with a large, wood-countered island and round communal tables with limited seating that spills out onto the outdoor patio. Expect the same meticulous precision in espresso-based drinks and pour-over coffee from roasters like Phil and Sebastian, Counter Culture, Wrecking Ball and Ritual.