The best coffee shops in Westwood
Whether you're a UCLA student or a Westwood denizen, we found the best coffee shops in this hood for a latte, espresso or plain old cup of joe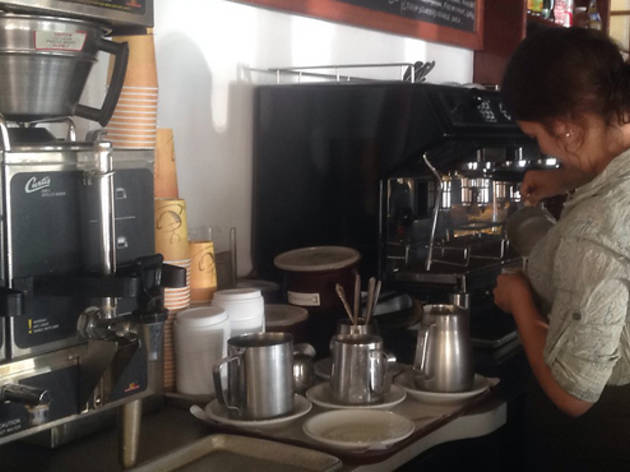 If there's one thing that every undergrad learns in college, it's how to drink coffee. And around UCLA, there are a few coffee nooks that are tops, ones that are perfect for a late night cram session or meeting up with a friend. Not a student? No matter—we know that a solid coffee shop is as necessary to your neighborhood as the nearest taco stand. Here, we've rounded up the best places in Westwood for a cold-brew, latte, espresso or whatever gets your heart palpitating.
RECOMMENDED: Best coffee shops in LA

Restaurants, Coffee shops
As with most coffee shops within a stone's throw from UCLA, you'll find plenty of Bruins hitting the books at Espresso Profeta. You'll also find a really amazing cup of coffee and a pleasant ivy-overgrown patio. Don't miss the Caffe Nico: a shot of espresso with orange and vanilla. There are usually a few pastries in the case, but we recommend ordering a toasted baguette and jam—simple, yet delicious. If you become a regular at Espresso Profeta, ask to be added in their client system—10 cups of coffee get you one for free. Wi-Fi is also free, but be warned: there are no outlets for extended laptop time.
Restaurants, Coffee shops
Part UCLA student study haven, part young couple crowd, this Westwood Village cafe standby serves all kinds of coffee, confections and pastries in a cozy atmosphere. We know, the pastries are really distracting, but the espresso menu is extensive. You'll find traditional offerings, plus frozen coffee drinks and smoothies too. But back to the pastries. Flakey butter croissants, decadent chocolate cheesecake and fruit tarts are baked from scratch daily. There's Wi-Fi too, and you're more likely to find a seat here than at any of the Village's other coffee shops. If you happen to be there at the end of the day, be extra courteous to the staff—they give away their surplus of fresh pastries (score!).