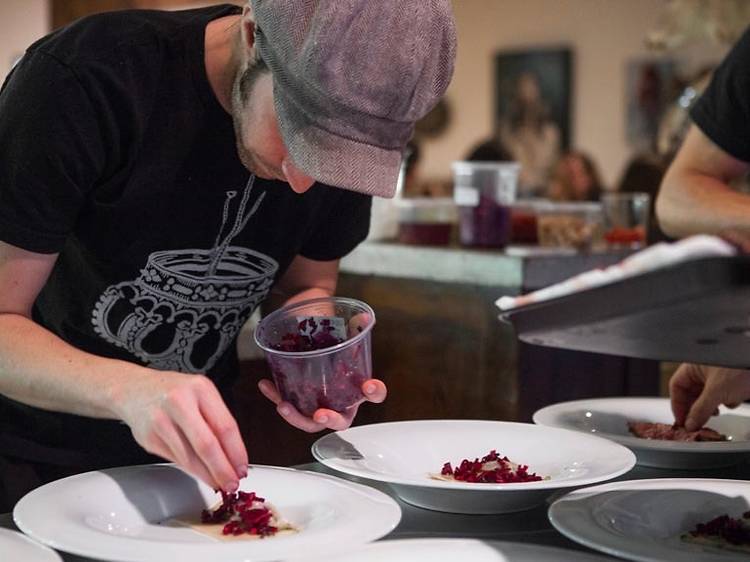 Chef Craig Thornton has created what is quite possibly the best dining experience in Los Angeles with Wolvesmouth, a pop-up dinner that blends world-class cuisine with artistic vision. The nine-course meal held in Thornton's home (attendees don't receive the address until they are confirmed for dinner) is an intimate affair, with 12-16 seats and a BYOB policy. Thornton uses his dishes to portray the violent, raw conditions of the wild, both in ingredient choices (there will almost always be rabbit on the menu) and visual effects (like taxidermy on the walls). Splatters of puréed pomegranates across a white plate might convey a spray of blood in the snow, but there are calmer, more inviting scenes, too, like a pool of snap pea juice mimicking a bed of moss, or shards of dehydrated pineapple that look like pristine icicles. Friendships may be formed at the communal table between revered bites, with everyone enthralled at the chance to be here.
Cost:
Donation based, though most diners pay $90 and up.
How to get in:
Submitting your name for a Wolvesmouth dinner does not guarantee entry; instead, there is a lottery system. To get started, sign up for the
mailing list
and wait to receive an email about the next dinner. You'll then need to submit your name, and won't find out if you've been selected until a few days before the event.