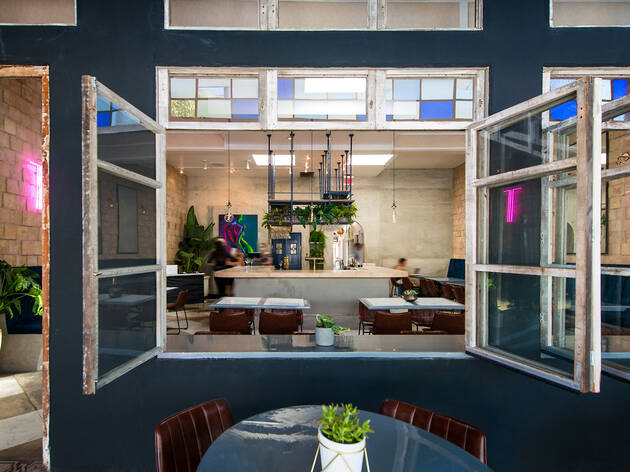 1/9
Photograph: Courtesy Jesús Bañuelos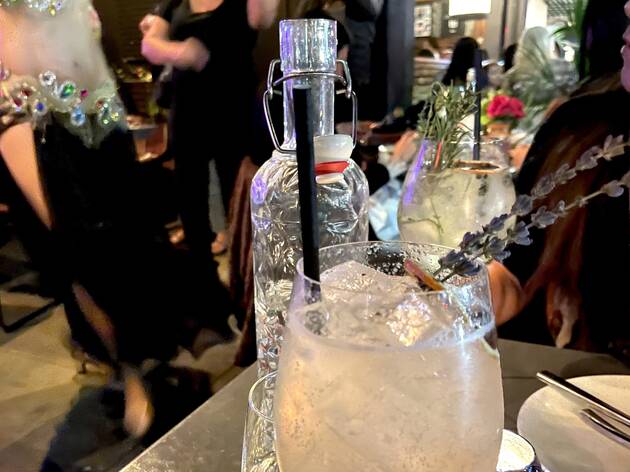 2/9
Photograph: Time Out/Patricia Kelly Yeo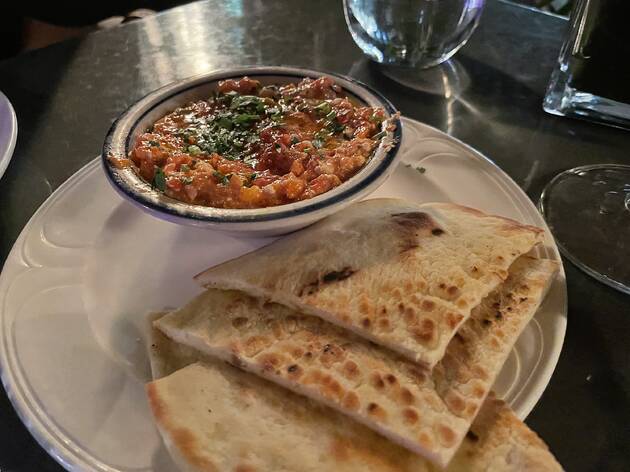 3/9
Photograph: Time Out/Patricia Kelly Yeo
Htipiti (red pepper dip) with pita bread at Theía.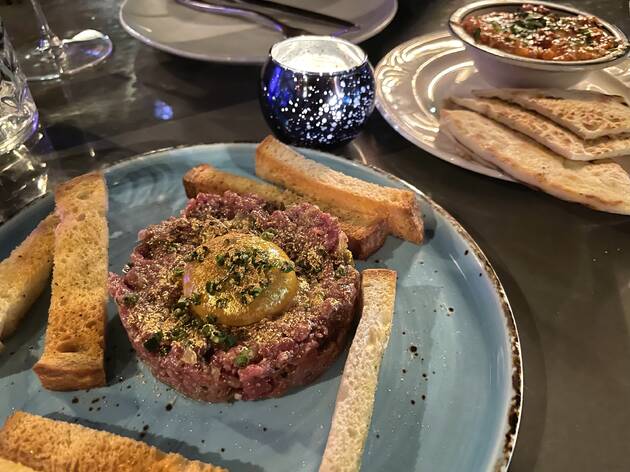 4/9
Photograph: Time Out/Patricia Kelly Yeo
Steak tartare at Theía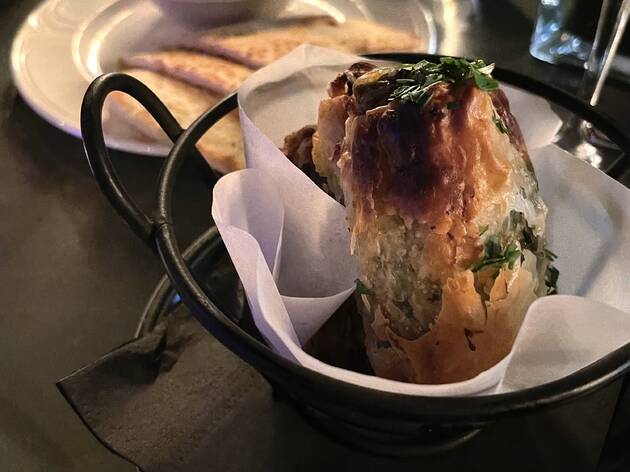 5/9
Photograph: Time Out/Patricia Kelly Yeo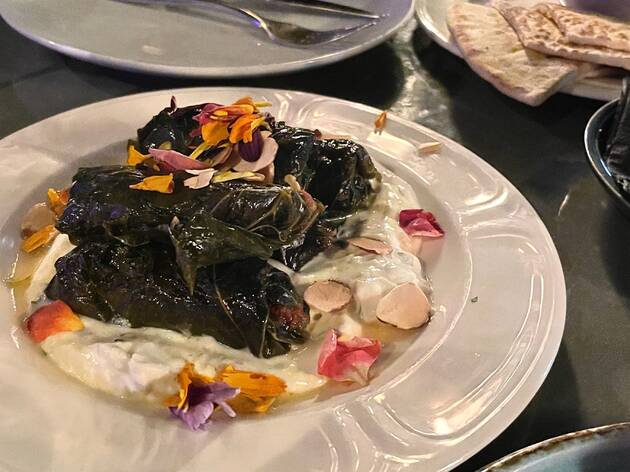 6/9
Photograph: Time Out/Patricia Kelly Yeo
Dolmas in yogurt sauce at Theía
7/9
Photograph: Time Out/Patricia Kelly Yeo
Lamb shank with mustard greens and lentils at Theía.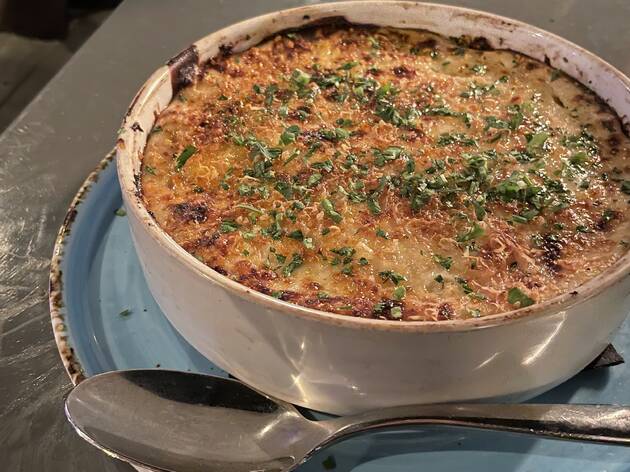 8/9
Photograph: Time Out/Patricia Kelly Yeo
Truffled eggplant moussaka at Theía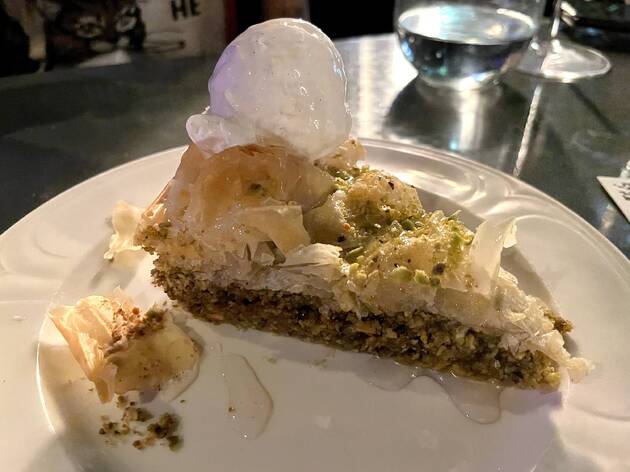 9/9
Photograph: Time Out/Patricia Kelly Yeo
Time Out says
Every night's a party at Theía, a tiny Greek restaurant on West 3rd Street with middling food and lively, club-like ambience inspired by Mykonos and St. Tropez.
When it came to Los Angeles nightlife in the summer of 2020, the only real game in town was a restaurant. Back then, staff members in brand-new PPE scoured to and fro, serving those willing to gather in public for a meal and the chance to be perceived. It was a time in the city when the edges of normalcy had cracked wide open, strained against the weight of the pandemic, worsening economic inequality and a nationwide racial reckoning. It was that same highly charged summer that marked the debut of Theía, a small West 3rd Street eatery offering modern Greek cuisine and the club-like atmosphere that some Angelenos crave: sparklers, popped champagne bottles and bejeweled belly dancers, all from the comfort of your seat.
Though other sceney L.A. restaurants spent that summer pulling double duty as ad hoc seated nightclubs, perhaps none did it better than Theía, whose twentysomething proprietor, Max Simon, told Food and Wine he once owned a club in Paris, drew inspiration for the restaurant from the European island party scene and views dining "as performance." From the beginning, the food at Theía, one of the city's few purely Greek restaurants, was beyond the point. The point was temporary distraction from the unraveling around us: a joyous, uproarious crowd, flowing cocktails and, ultimately, Theía's nightly show: dancers, whirling napkins and deeply engrossed diners clapping along to the music.
These days, amid seemingly indefinite uncertain times, Theía still offers those things. In line with its original ethos, the restaurant banks more on spectacle and nightlife-oriented ambience to entertain guests (there is, of course, bottle service), rather than the strength of its food. Plates of Greek staples are passable at best, in flavor and texture, and mediocre at worst. Even the glittery edible gold atop the steak tartare couldn't zhuzh up the dish's middling flavors in my eyes, and a fragrant truffled moussaka fell flat within a few forkfuls of eggplant and beef cloaked in mornay sauce. However, Theía's buttery spinach and feta spanakopita kept me satisfied through the end of my meal, during which a lone performer skillfully belly danced through the restaurant's cramped patio several times, the themed music cranked past an ear-splitting decibel level every time she passed through. By the end of the night, however, a surprisingly well-executed pistachio baklava had stolen the show.
While it's no longer the only game in town for a night out, the restaurant continues to draw groups of birthday girls dressed to the nines, a few couples on dates and even families of all ages. Those who pre-order the Moises's Surprise, named after head chef Moises Placencia, will find their entire table cleaned off and lined with wax paper in preparation for a dizzying smorgasbord of chocolate cake, whipped cream, ice cream and chocolate sauce. The food might not knock your socks off, but if you're looking for a nightclub-esque experience without the usual cheek-to-cheek proximity to strangers, this is it.
The vibe: Despite cramped quarters, Theía manages to channel the lively, youthful atmosphere of Mykonos and other European party destinations with moody pink interior lighting, loud music and belly dancing.
The food: Largely passable to mediocre Greek mezzes, appetizers and entrées. When it comes to individual mezzes, your mileage may vary widely.
The drink: So-so cocktails of average strength and bottle service meant for big nights out.
Time Out tip: Hoping to see Theía in full force? Make a dinner reservation for later in the night; diners with earlier bookings may not get the full live show experience.
Details
Address:
8048 W. 3rd St
Los Angeles
90048

Price:
$$$
Contact:
Opening hours:
Tues–Thurs 5–11pm; Fri, Sat 5pm–12am; Sun 5pm–10pm
Do you own this business?
Best selling Time Out Offers