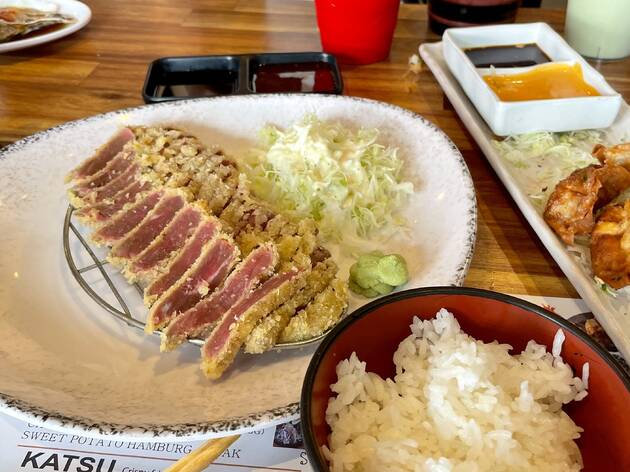 1/6
Photograph: Time Out/Patricia Kelly Yeo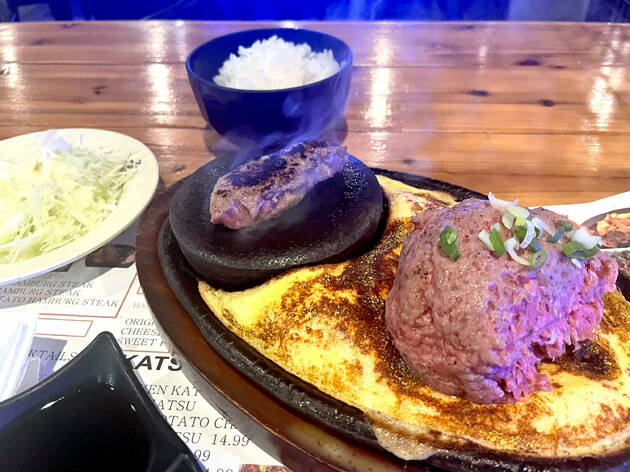 2/6
Photograph: Time Out/Patricia Kelly Yeo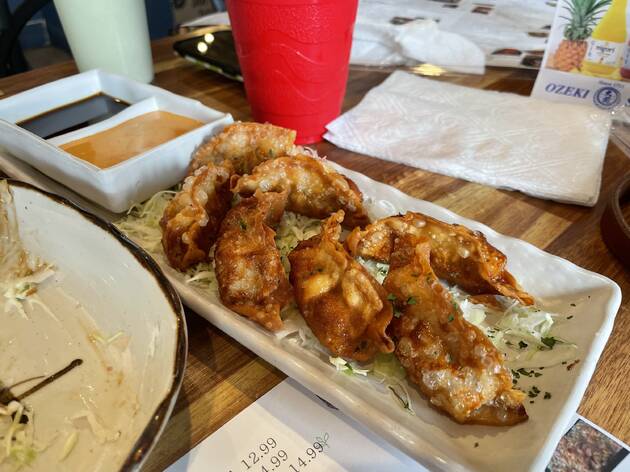 3/6
Photograph: Time Out/Patricia Kelly Yeo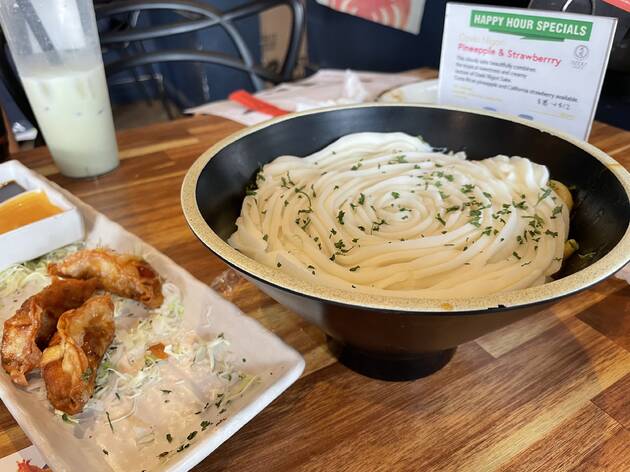 4/6
Photograph: Time Out/Patricia Kelly Yeo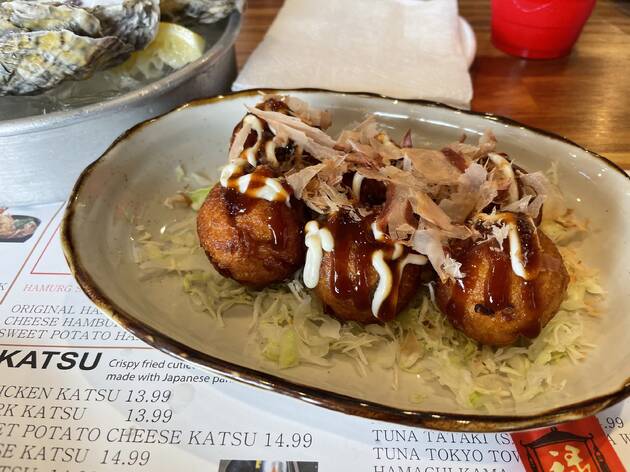 5/6
Photograph: Time Out/Patricia Kelly Yeo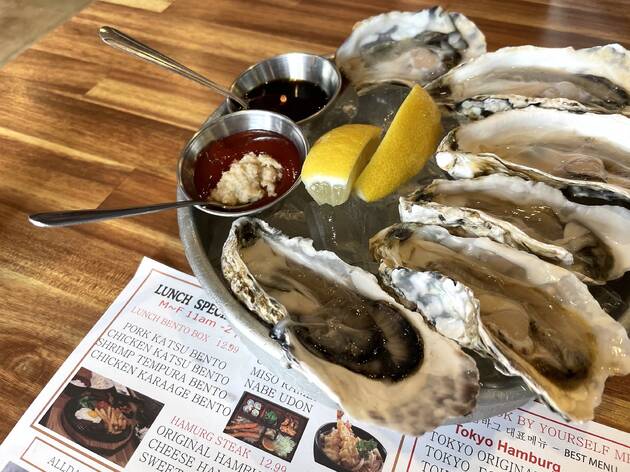 6/6
Photograph: Time Out/Patricia Kelly Yeo
Time Out says
A hidden neighborhood gem, Koreatown's Tokyo Hamburg offers all-day cheap oysters and drinks, sizzling hot stone dishes and plenty of Japanese comfort food.
In Los Angeles, the land of astronomically high rent, the fact that a Taiwanese boba shop and a Japanese yoshoku spot are conjoined twins should surprise me less than it actually does. Still, it's amusing to enter through Chun Feng Sugar in search of Tokyo Hamburg, a casual Koreatown eatery specializing in the Western-influenced branch of Japanese cuisine, whose origins date back to the late 19th century, when the country opened its ports to foreign trade. Hidden, like a speakeasy in plain sight, the restaurant also offers an array of customizable milk teas from its sibling shop, as well as dollar oysters (a downright rarity these days).
Open since 2016, Tokyo Hamburg has become catnip for Asian American foodies in search of #content, from the now cliché cheese pull executed using cheese katsu to the ASMR-like hiss of the rib-eye katsu on hot stone. In more than one Instagram post, you'll see diners teasing apart molten mozzarella threads with mouths agape in feigned wonder. I don't know what compels any of us to endlessly reproduce heavily staged self-portraits of consumption and leisure and post them online. I only know that Tokyo Hamburg's less picturesque namesake dish is the must-order item, arriving at your table as a slightly raw pink ball of high-quality ground meat and cooked by yourself on hot stone.
Performative awe-inducing menu items aside, the Tokyo hamburg is the restaurant's best, and simplest, entrée of all its various Japanese comfort foods. Each order is served with a pair of sauces, lightly dressed coleslaw and a bowl of warm rice. While the patty itself doesn't have much seasoning, each bite of freshly seared meat and rice is deeply cozy, filling and, when dipped in soy and sweet red chili, flavorful. The sizzle of juicy hamburger meat, of course, only adds to the dish's sensory pleasures. The more deluxe rib-eye katsu, delicious as that cut of beef can be, deprives you of the ability to smash hamburg meat on hot stone, a deeply satisfying tactile experience.
If you're the type of person to preview your meal ahead on social media, perhaps you've found Tokyo Hamburg posters lovingly gazing down at the restaurant's "cream" udon, one hand outstretched with a chopsticks' grasp of noodles unearthed from underneath fluted swirls of mashed potato. While delightful to look at, the cream udon—essentially a curry udon upgraded with potato topping—runs extremely mild (even bland) and slightly sweet.

Elsewhere on the menu you'll find izakaya fare available after 4pm, a more traditional hamburg-style Salisbury steak with demi-glace and plenty of crunchy appetizers in various delicious shades of light brown, including tempura, deep-fried gyoza and takoyaki. In addition to Chun Feng Sugar drinks, Tokyo Hamburg also offers steeply discounted beer, sake, soju and makgeolli (sparkling rice wine), with an "all day everyday" happy hour menu that includes the dollar oysters. You'll likely find the service efficient, casual and refreshingly to the point, meant for quicker workday lunches and weeknight dinners. With the inexpensive alcohol and drinking snacks involved, however, it's easy to see Tokyo Hamburg could also double as a fun pregame dinner spot for groups on their way to a longer night out in K-town.
The vibe: With an industrial interior full of Japanese decor and a small patio area painted with cherry blossoms and Daruma dolls, Tokyo Hamburg is informal, cute and bright.
The food: A meat-centric menu of inexpensive Japanese comfort food, including DIY hot stone plates, various katsu-fried things and plenty of shareable crunchy appetizers.
The drink: Steeply discounted Japanese beer (Sapporo or Kirin) and rice-based wine and spirits, as well as a full menu of milk teas from Chun Feng Sugar. You'll also find green tea, Ramune and a few other non-alcoholic drinks on the menu.
Time Out tip: Order your Tokyo hamburg with scrambled egg, which cooks right on the skillet as you cook the sizzling pieces of patty on hot stone.
Details
Address:
600 S New Hampshire Avenue
Los Angeles
90005

Price:
$$
Contact:
Opening hours:
Mon–Thurs 11am–10:30pm; Fri, Sat 11am–12am; Sun 12pm–12am
Do you own this business?
Best selling Time Out Offers