What to eat at Palisades Village
Your guide to the best restaurants, coffee shops and dessert spots in the Palisades' sprawling new mall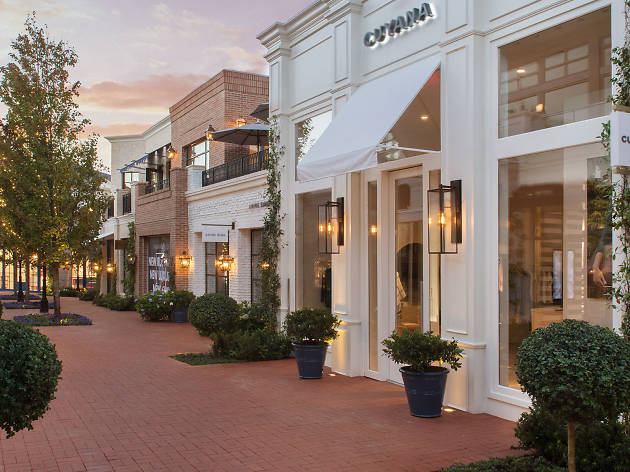 With more than 40 shops, restaurants, food carts, green spaces, pop-up activations and even a movie theater spread out across three acres along the Palisades' main drag, Rick Caruso's latest luxury mall can feel a tad overwhelming. At times, Palisades Village—the new project from the Grove and the Americana at Brand's designer—can even feel a bit like a maze, but the chicest one you've ever wandered through: The stores and concepts all fit together snugly through winding corridors and with facades all inspired by various main streets across the U.S. Here's our guide to the Palisades' massive newcomer, worth a visit for the food alone—between the British bistro, the artful sashimi, the gluten-free bakery, and the doughnuts from a James Beard Award-winning chef, we're betting it won't take much shopping to work up an appetite.
The best spots to grab a bite at Palisades Village
Blue Ribbon's latest sushi spot serves most of the staples you'll find in their other locations: A5 wagyu, maki, artful sashimi platters and addictive fried chicken, but at the Palisades location, you can also expect a new teppan section of the menu—for skewered-and-grilled meats and veggies—as well as Maine lobster sashimi and an entire section of the menu sourced from the Atlantic Ocean. This is also where you can find head sushi chef Hongki Lee whipping up unique creations. Enjoy it all in the stylish, wood-accented dining room or on the patio, though the best place is always right at the sushi bar, where you can watch Lee at work.
This London-meets-California brasserie puts U.K. classics on the table—we've got our eye on the English pea spread and the fish and chips—but they're made with L.A. sensibilities: The fish is all line-caught, the eggs cage-free, the meat sustainably-raised and the produce locally-sourced. There are even farmers' market berries in the Eton Mess, and afternoon tea, for those feeling posh. Husband-and-wife team Matt and Marissa Hermer even envisioned an ideal setting to match their cross-culture mish-mash: stately marble, wood and brass liven up with colorful velvet chairs and booths, plus plenty of California sunlight. Pip pip!
First came e. baldi, Edoardo Baldi's upscale Beverly Hills trattoria, and now comes its offspring, a casual all-day Italian café and bakery just off the main lawn of Palisades Village. Edo Little Bites is precisely the type of place you go for a cappuccino, or a scoop of pistachio gelato, or some potato gnocchi or some almond brioche—or, quite honestly, all of the above. Just be sure not to miss the baked sweet corn ravioli with truffle, Baldi's signature dish.
One of Seattle's cutest doughnut shops migrated south, settling comfortably in the Palisades with coffee and curd-stuffed sweets galore. General Porpoise is L.A.'s first concept from James Beard Award-winning chef Renee Erickson, and brings us rows and rows of sugar-coated yeast doughnuts freshly baked daily. The flavors rotate, but you can usually find a few of Erickson's classic fillings: vanilla custard, lemon curd, blueberry jam and hazelnut cream, among others. Enjoy with the coffee from Seattle and Carolinas roasters, for best results.
Blue Ribbon's first stab at the sports bar caps off one end of the Palisades Village complex, bringing flat-screen TVs, craft beers, cocktails and American comfort fare to the neighborhood. There's all-day breakfast, chicken wings, for-the-table fondue, a pasta of the day and stacks of onion rings, but the focus here is undeniably on the customizable ground-chuck burgers, which get pressed on the griddle for that perfect slight crust on the meat. Keep your eyes peeled for adult milkshakes, plus a cocktail menu organized by booziness.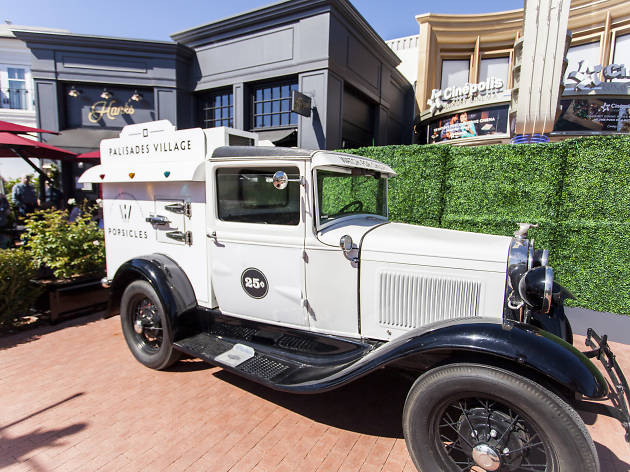 Photograph: Stephanie Breijo
An old-timey vendor calls for old-timey treats—and at old-timey prices. At select times, and if you're lucky, you can catch 25-cent popsicles sold out of the back of a gleaming white vintage motor car, which is parked just out front of the Bay Theatre (a renovated old-timey relic in and of itself).
Part all-day California bistro, part wine bar, Beverly Hills' Porta Via spawned a second location that's just as dedicated to the O.G.'s local-forward mantra, but with a few unique dishes of its own. (Don't worry—you can still snag that signature Grand Marnier French toast.) The Palisades' Porta Via stocks more than 150 bottles of wine, including a collection of classed-growth Bordeaux labels, all of which should suit that menu of seasonal salads, grilled-bread sandwiches, wild-caught fish, pastas and roasted meats just fine.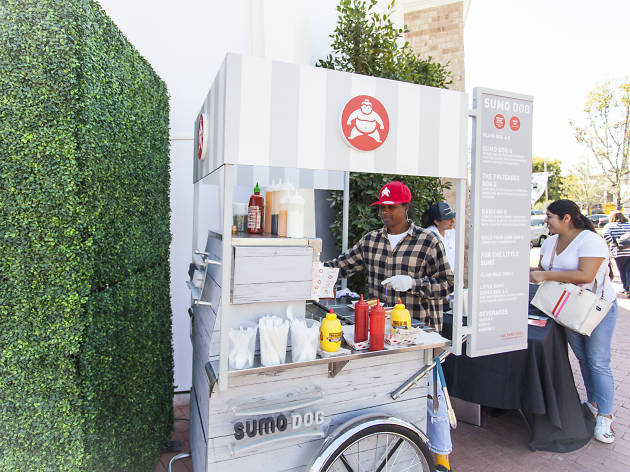 Photograph: Stephanie Breijo
There's no brick-and-mortar, but this cart's Sumo Dogs are just as flavorful and gourmet as the ones you'd find in their Santa Monica spot (or remember from their old K-town home). Find it across the path from the Bay Theatre, then order from the vendor, who'll put together a couple of the classics—such as the bánh mì dog—or a kids' menu version, or even the exclusive Palisades Dog, which comes with guacamole, tempura crunchies, mayo, cilantro, wasabi and pico de gallo. Think: a sidewalk hot-dog vendor, but all done up and serving flavor combos twice as creative.
This bakeshop offers some of L.A.'s most delicious and aesthetically pleasing cakes—and, if you can believe it, they're all gluten- and dairy-free. At the bakery's Palisades Village outpost, expect cakes and tarts whole or by the slice, and full of organic ingredients and house-made jams, creams and curds. Wash it all down with a full (and also dairy-free) espresso, coffee and matcha bar, and if you want to bring some of the cuteness home with you, you can even snag some of their vintage teacups and plates, and the official Sweet Laurel cookbook on your way out.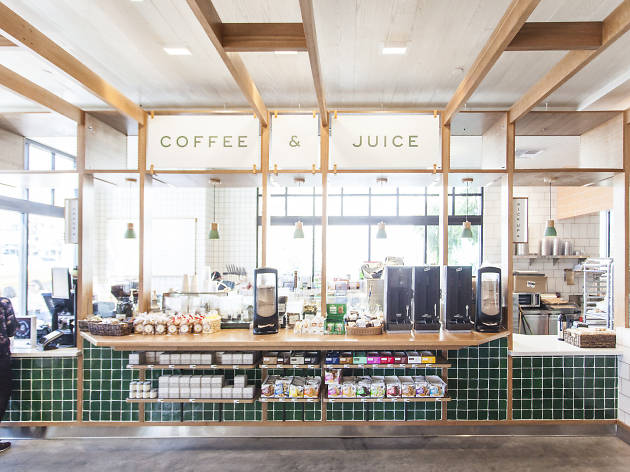 Photograph: Stephanie Breijo
It's set up like an upscale neighborhood market, sure, but in addition to the seafood case, the cuts of prime wagyu filet mignon, the local produce and artisanal pantry staples, Vintage Grocers also offers ready-made food—not to mention a full espresso bar with fresh-baked pastries. At the front of the market, find the coffee bar and a packed case of cheesecakes, cookies, croissants, macarons, bagels, baklava and more, but if you're looking for more substantial fare, head to the back for the deli: It's here you'll find grain bowls, pre-made sushi, tamales, Roman-style pizza, a salad bar and a hot-foods bar, plus soup and other grab-and-go fare.