Heads up! We're working hard to be accurate – but these are unusual times, so please always check before heading out.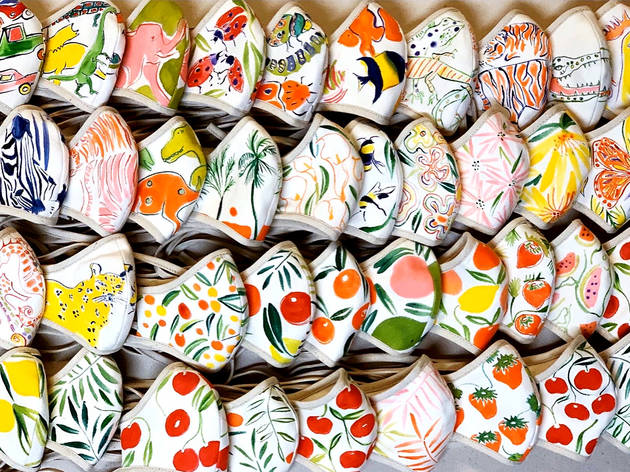 You can buy face masks from these Los Angeles brands
Looking for cloth face coverings? These L.A. boutiques and manufacturers have pivoted to face masks.
Let's face it: Here in Los Angeles, it could be months before much of life returns to something resembling normal. Whether required by law or just considered proper etiquette, we could be looking at needing to wear some sort of face covering for the near future when we're out and about.
So if you're going to be wearing a face mask for a while still, why not upgrade from your Coachella-worn bandana to something that's a bit more comfortable and maybe even slightly stylish? We've assembled a list of some of the garment manufacturers and boutiques—all of them based in Los Angeles—that are now shipping masks. In all cases, these are non-medical cloth masks (and thankfully for your wallet, they're reusable with a simple wash).
While there's been much, ahem, "debate" about masks, the CDC recommends cloth face coverings while in public, and both the city and county of Los Angeles have required them when out in public (as has the state). Even with a cloth mask, you should still be practicing physical distancing procedures (like keeping six feet away from others) and washing your hands. And as much as you may want to fidget with your mask, you should avoid touching your face as much as possible.
Order a face mask from one of these L.A. brands
View this post on Instagram
The colorful apron company repurposed its Vernon factory in late March to start producing cloth masks with an interior pocket that fits a filter. You can pick up a Wake Up and Fight mask online for $22; each purchase also donates one mask to a healthcare professional. Orders ship within one to three days.
View this post on Instagram
Available both painted (via artist collaborations) and plain, this kitchen apparel company's masks are all made from hemp and organic cotton. You can pick up a plain pair for $14 or an artist collaboration for around $23, with kids' sizes available for $12; expect only a one to two day turnaround on orders.
View this post on Instagram
One of our favorite Downtown boutiques has partnered with local food-inspired apparel company MEALS Clothing for these two-packs of upcycled cotton masks. You can order a plum and a cherry mask for $20, and 25% of the proceeds will go to CORE, which is providing free drive-through testing for high-risk individuals.
View this post on Instagram

One of two masks on the city-run L.A. Protects site to meet Kaiser Permanente's design specs, sustainable local line Reformation is selling packs of five masks for $25. Prints and colors vary per multi-pack (you can also choose to donate a five-pack to communites in need). If you want to pick out a particular design, Reformation is also selling some cute designs for $10 per mask.
View this post on Instagram
The second of the two featured L.A. Protects masks, this garment manufacturer is shipping two-packs of plain masks for $11.50 and five for $20 (with bulk orders available, as well). Expect the order to ship pretty quickly.
Wish your mask was also a piece of art? MOCA is selling masks with patterns designed by some of the museum's favorite artists: think Andy Warhol flowers, Barbara Kruger's red-and-white–lettered "better safe than sorry" print and Alex Israel's sunset-hued gradient, complete with an avocado pin. You can order invidial masks for $28 or all nine for $280. Just a heads up that, due to high demand, MOCA notes that shipping delays may occur.
The Miracle Mile museum has teamed up with the artist-aligned product company to sell masks (and bandanas, as well) inspired by LACMA's collection. You can pick up a trio of Elza Sunderland designs ($42) or pairs of the same design ($28); in both cases, you can choose between straps that go over the ears or over the head.
View this post on Instagram
Anyone who's buried their face in the Boyle Heights-based brand's luxe linens should know what to expect from these cotton masks, which run $25 for a pack of five. You can donate a set for the same price, too. Expect orders from Matteo to ship in three to five days.
View this post on Instagram
Dubbed "The Don't Spray It," these adjustable cotton-lined masks from Mother Denim are simply adorable. You'll find plain denim as well as floral patterns available for $24 each.
Unicorn enthusiasts Smoko have assembled a line of masks ($14 for a single mask) adorned with its supercute mascots, like smiley-faced boba cups and potatoes. Expect orders to ship in two to three weeks.
The sustainable Venice-based clothing line has used its L.A. factory to turn out three-packs of masks ($30) in floral prints and solid colors, plus kid-size five-packs ($30). You can also suggest an organization that you'd like them to donate masks to. Orders ship within 5–10 days.
View this post on Instagram
Subzero sells masks with all sorts of designs and slogans. But of particular note: They've teamed up with actor Justin Baldoni and his charity, the Wayfarer Foundation, for these "Be Love" masks. For each one sold, another will be distributed to a resident on Skid Row. Masks cost $19 each, with the option to add a filter for an extra $10.
This menswear company has two models of masks: A poly/rayon five-pack in black for $20, or a triple-layer cotton jersey one available in five-packs of black, navy or olive for $30. Expect them to ship in a day or two, or you can pick them up curbside at the shops in Venice, Silver Lake, Pacific Palisades, Century City or Hancock Park (though pickup stock may be a bit more limited).