Miss Piggy chats us up
The porcine princess dishes on her love of shopping, chocolate and, of course, Kermit the Frog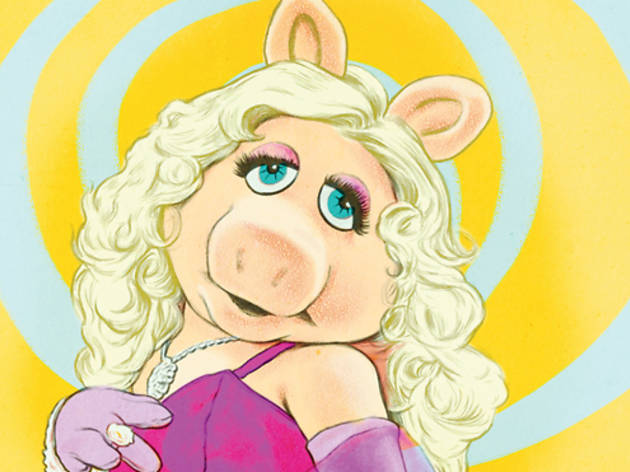 We chatted with Miss Piggy, the fashion icon known to hog love the spotlight, just in time for the Muppets Most Wanted premiere. The swine starlet talks about her love of shopping, dressing up "Kermie" and her guiltiest pleasure—chocolate.
RECOMMENDED: Interviews with Los Angeles tastemakers

Time Out: Have you ever worked in a shop?
Miss Piggy: If you've ever been shopping with moi, you know it's hard work. But I've never actually worked behind the counter. (Oh sure, I've jumped over the counter a few times to grab the final sale item, but I don't think that counts.)
Time Out: Are you extravagant?
Miss Piggy: I want what I want when I want it no matter what it costs as long as someone else is paying. Does that make moi extravagant? I think not. In fact, I'm so frugal I never ever bring my own money!
Time Out: What do you scrimp on?
Miss Piggy: Vegetables. Oh sure, they look pretty on the plate, but why fill up on that stuff when you know dessert is just a course or two away?
Time Out: Do you like a bargain?
Miss Piggy: Of course! I adore getting something fabulous for a fabulous price! There is something so satisfying about finding a bargain. It is the eternal quest, the hero's journey… It's like Lord of the Rings, but with a lot more rings and shoes and purses.
Time Out: Do you prefer to spend on products or experiences?
Miss Piggy: Very silly question. I prefer to buy products to wear to experiences, where people can look at moi and say, "Wow, I've had quite an experience seeing Miss Piggy, now I think I'll go see her new movie Muppets Most Wanted so she can buy more products to wear to more places." It's the circle of life, diva-style.
Time Out: Would you rather spend on body or home?
Miss Piggy: On body. My body. Ideally my mouth. Something sweet and rich and chocolatey. Say, when are you going to serve lunch around here?
Time Out: Is there anyone you'd like to give a makeover to?
Miss Piggy: I would never change anything about Kermie's physical appearance. He is perfect. But lets face it, his wardrobe needs work. I mean, he has a couple of suits, a tux, some white tie and tails… but most of the time he's walking around naked. (Not that there's anything wrong with that.) I'd love to get him some custom suits. Any color but green. Green is lovely, but just once I'd like to be able to wear something that doesn't have to go with green.
Time Out: If you could supermarket-sweep any store, which would you choose?
Miss Piggy: Vivienne Westwood's boutique [8320 Melrose Ave]. I simply adore her clothes, so much so that my dear friend Viv designed several beautiful outfits for Muppets Most Wanted—including one white number that looks suspiciously like a wedding gown.
Time Out: What is the buy that got away?
Miss Piggy: The last Cadbury bar at the London Heathrow airport. I had to wait until we landed to get chocolate. Excruciating!

Muppets Most Wanted opens Fri, March 21.