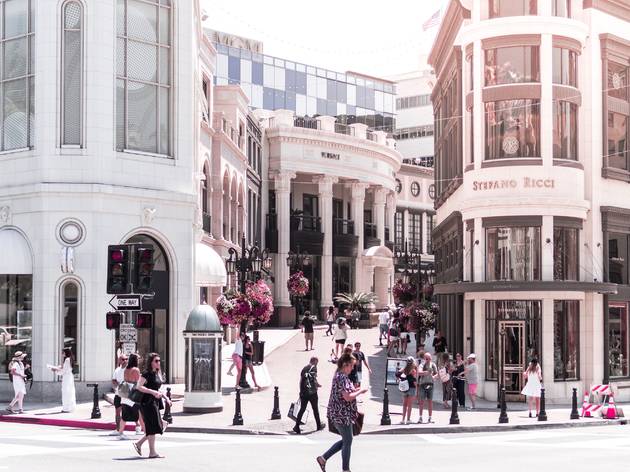 A guide to Rodeo Drive stores and attractions
Whether you're shopping or sightseeing, be sure to make a pit stop at these standout shops and attractions
Exploring one of L.A.'s most exclusive zip codes? Nestled between Wilshire Boulevard and Little Santa Monica Boulevard, the high-end shops lining the famed three-block stretch of Rodeo Drive read like a who's who of the fashion world. There's Gucci, Fendi, Louis Vuitton, Saint Laurent, Chanel—and almost any other global luxury brand you can think of. Whether you're looking to embark on a Julia Roberts-style shopping spree (more power to you), gawk at the window displays (and steep price tags) or walk off a meal from one of Beverly Hills' best restaurants, Rodeo Drive stores have something for everyone.
If you're looking for a good starting point, head to the famous shopping stretch's intersection with Wilshire Boulevard, smack dab in front of the landmark Beverly Wilshire Hotel (of Pretty Woman fame) and one of the best hotels in Beverly Hills. To help navigate your way through more than 100 stores of luxury retail, we've mapped out a few standout pit stops along the way.
Time Out tip: If you're visiting L.A. on Father's Day, don't miss the annual Rodeo Drive Concours d'Elegance, a free and open-to-the-public car show that showcases luxury new models and classic cars—all parked along Rodeo Drive. It's a spectacle that shouldn't be missed. Plus, those in town around the holidays can see the street aglow with a $1-million Baccarat chandelier installation.
Rodeo Drive stores and shopping landmarks worth visiting
Ready to wine and dine?
From steakhouses to sushi spots, Beverly Hills is rife with restaurants that are perfect for power lunches, birthdays and celebrations, as well as a couple places that won't break the bank. Check out our guide to the best Beverly Hills restaurants for meals that are worth their price tag, big or small.