A guide to Cupid's Undie Run in L.A.
Like to run around in your skivvies? Here's everything you need to know to participate in L.A.'s Cupid's Undie Run.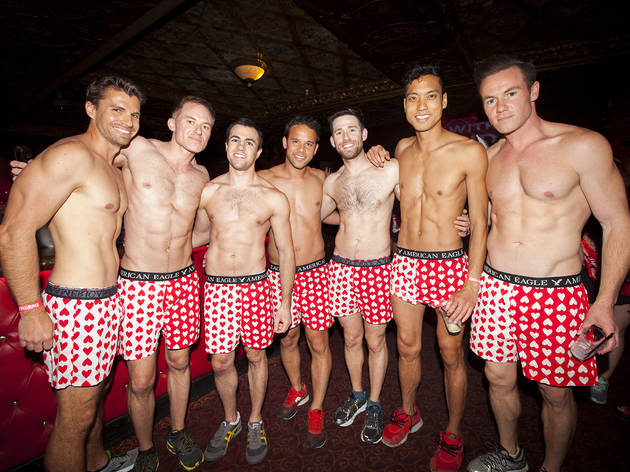 Who doesn't want to strip down to their undies on Valentine's Day weekend? Cupid's Undie Run encourages just that, just maybe not for the reasons you're usually used to. This Valentine's Day, skip the romantic restaurants and chocolate shops and spend your money on this fun event for a good cause—here's everything you need to know.
What is Cupid's Undie Run?
Cupid's Undie Run is part fun-run, part party with everyone dressing in their undies only. The event starts off with a party (yes, there's alcohol served, so all participants must be 21+), then there's a roughly one-mile run before ending with yet another round of partying.
When is it?
Cupid's Undie Run takes place every February around Valentine's Day. This year's event will take place on February 11, 2017 at noon.
Where does it take place?
Cupid's Undie Run takes place in cities across the nation. The event in Los Angeles is held at the Victorian in Santa Monica. The route for the run can be found here.
Do I have to wear underwear?
Not if you don't want to! While underwear is encouraged to keep with the name, and fun, of the event, it's definitely not mandatory.
How do I participate?
All participants must register for the run and be 21+. Registration is $30, and proceeds from the event benefit the Children's Tumor Foundation. To register, click here.
What does the registration fee include?
The first 6,000 registrants will receive a free T-shirt. Aside from that, you'll get access to both the pre and post parties which include a live DJ and dancing.
Cupid's Undie Run coverage
Looking for more ways to celebrate Valentine's Day?
Whether you're single and ready to mingle or you're looking for a romantic date idea, we've got you covered this Valentine's Day.