Heads up! We're working hard to be accurate – but these are unusual times, so please always check before heading out.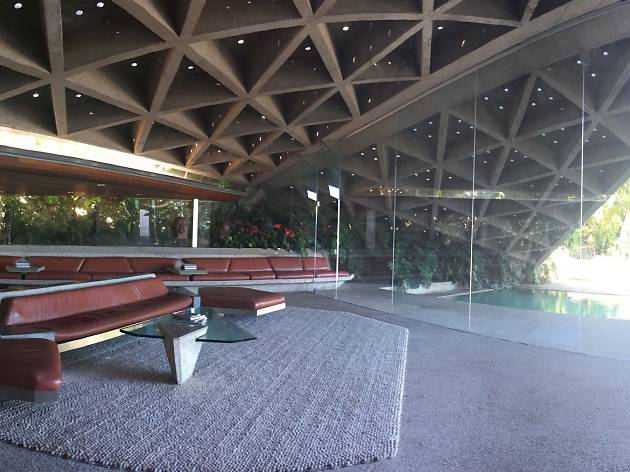 A guide to the Sheats-Goldstein Residence
The Sheats-Goldstein Residence is one of L.A.'s most well-known homes—and works of art. Here we get a rare peek inside.
When we think of the most impressive residences in L.A.—and there are plenty—the Sheats-Goldstein Residence is definitely among the top spots. You've seen it in commercials, music videos and, most famously, as Jackie Treehorn's home in The Big Lebowski, but there's more to the abode than what we've seen onscreen. Its current owner, entrepreneur James Goldstein, is eventually gifting the property to one of L.A.'s most essential museums, the Los Angeles County Museum of Art, but it remains a (mostly) private space today—which is why we feels so lucky to have been given a full-access tour of the property. Here is everything you need to know about the jaw-dropping design and architecture elements you'll find at the John Lautner–designed masterpiece and more.
Highlights of the Sheats-Goldstein Residence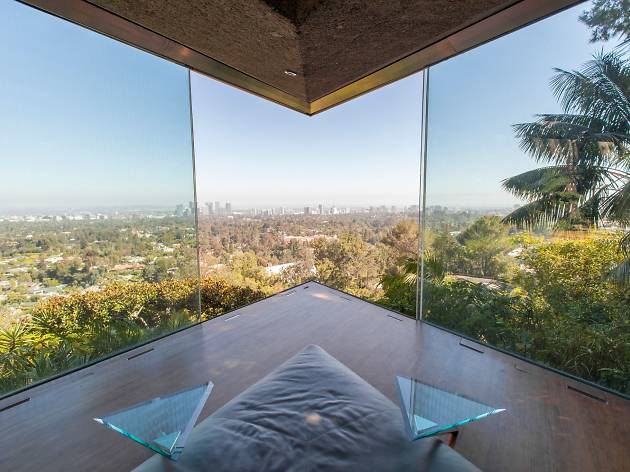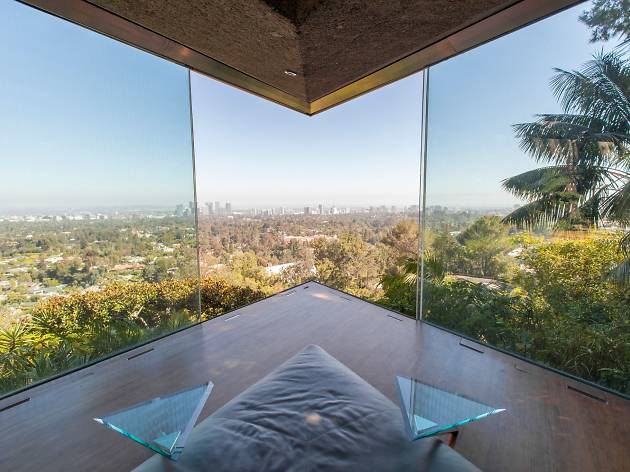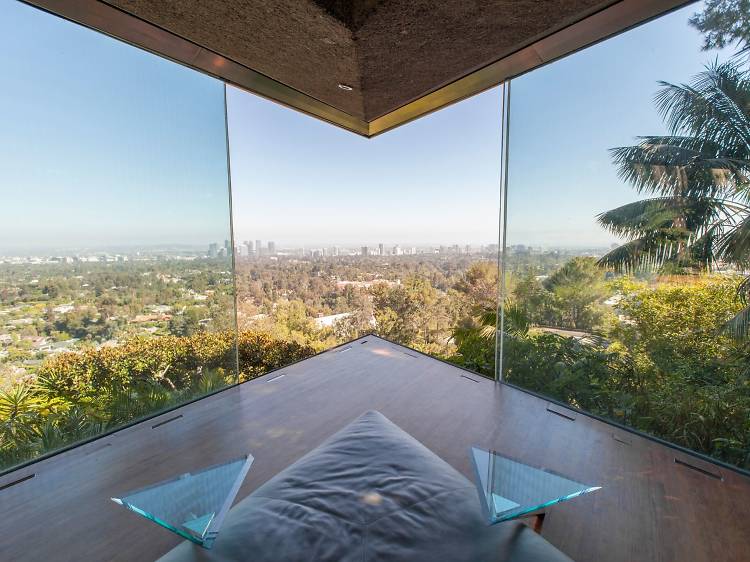 Photograph: Jakob N. Layman
The master bedroom's retracting glass walls
Much of the house has glass walls, but two of them in the front corner of the master bedroom retract completely, offering cool breezes and an incredible view of Downtown Los Angeles from a built-in daybed. The glass walls are a signature of Lautner's architectural style, blurring the lines between indoor and outdoor and opening the house to the property's lush landscape.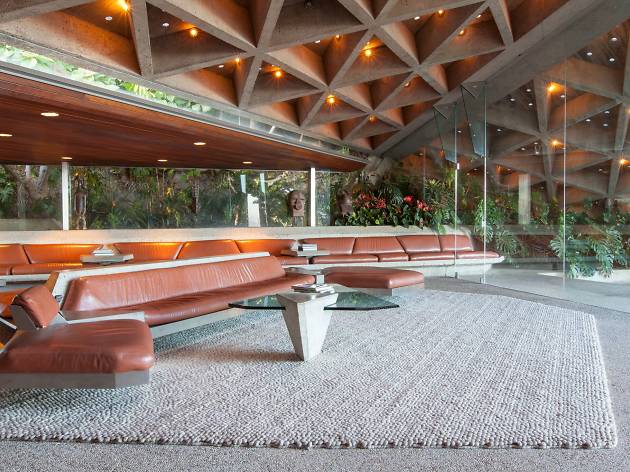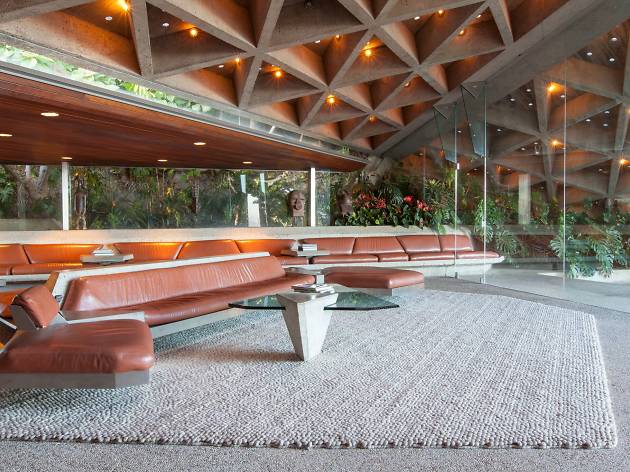 Photograph: Jakob N. Layman
A living room made of concrete (seriously)
Likely the most recognizable aspect of the house, the living room's couches, banquettes and dining room table are made of concrete and built into the ground, rendering them an unmovable (and iconic) part of the home's architecture.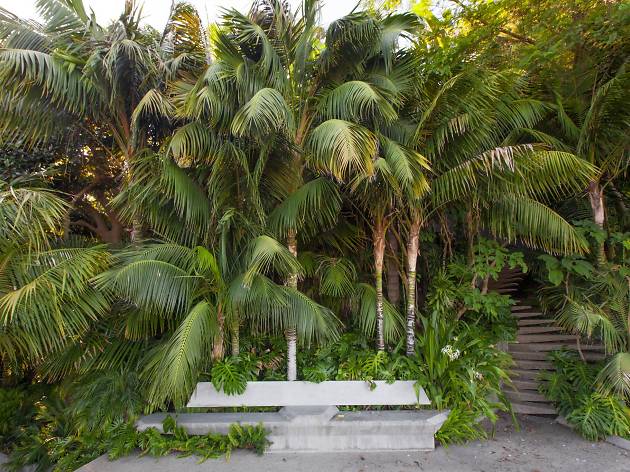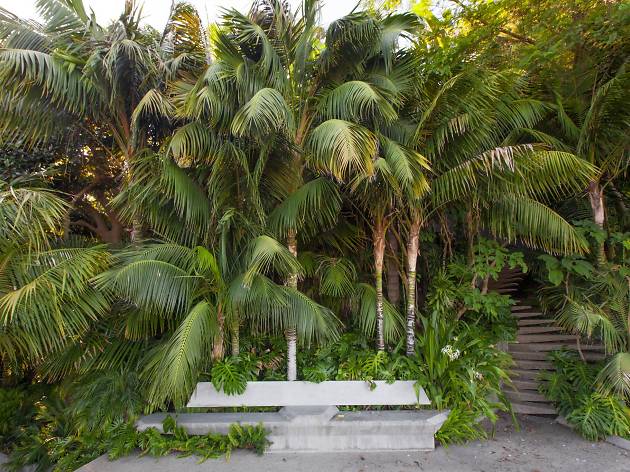 Photograph: Jakob N. Layman
Acres of tropical gardens
The house sits on four acres that have been transformed into a tropical oasis with countless palm trees, birds-of- paradise and more. Floating stairs lead down to a moss garden, which has one of the property's best views of the city. It takes 10 full-time gardeners to keep this landscape tame while still looking lush.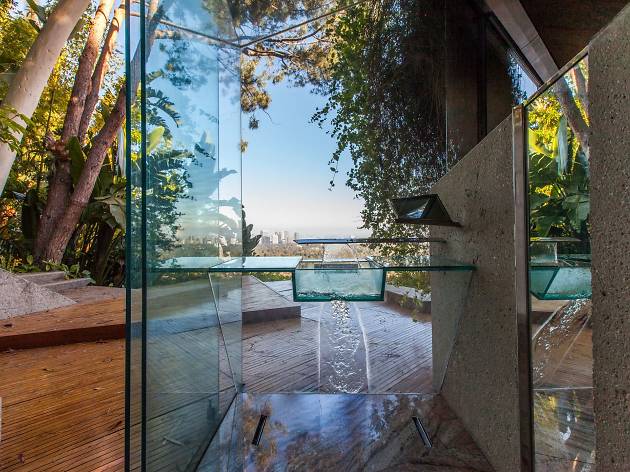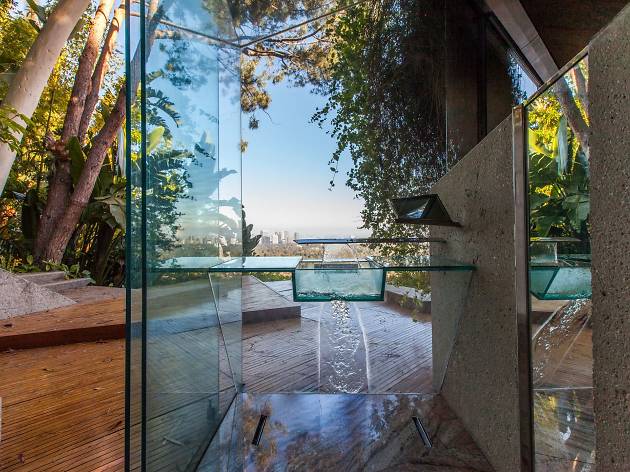 Photograph: Jakob N. Layman
A bathroom made of mirrors, and another of glass
With all four walls of this den bathroom covered in mirrors, plus a glass roof, the foliage from above reflects off every inch of the room to make it feel as though the toilet and sink are actually outside—just another of Lautner's many expertly executed techniques to bring the outdoors in. In the master bedroom, the bathroom's walls are made of glass, including the sink.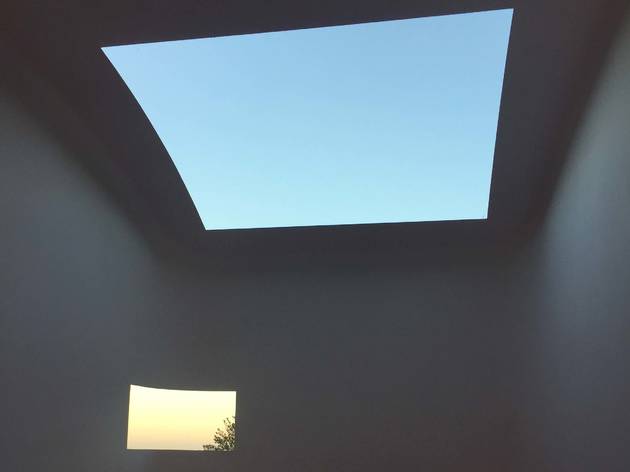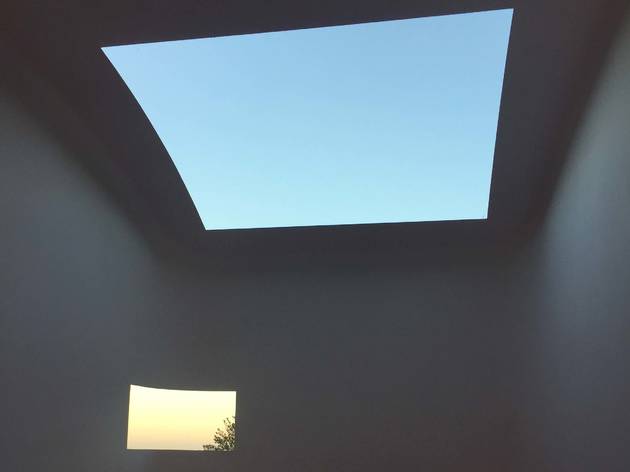 James Turrell's Above Horizon
Custom-made for the property, James Turrell's "Skyspace" piece Above Horizon is bathed in his signature, color-changing lighting; when the retractable roof is open, the room's lighting appears to also change the color of the stars above (seeing it in the day doesn't have the same effect on the sky). Guests enjoy this intimate Turrell experience on a comfortable daybed built into the concrete, as soothing (or sexy) music sets the mood.
More about the Sheats-Goldstein Residence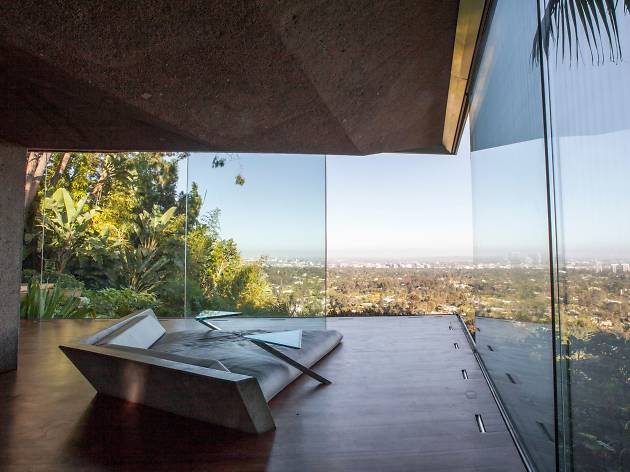 Photograph: Jakob N. Layman
The Sheats-Goldstein Residence was built between 1961 and 1963 by John Lautner for Helen and Paul Sheats.

James Goldstein bought the house in 1972.

The house originally had no walls, but Goldstein recommission Lautner to help transform the house into what it is today.

Lautner continued working on upgrades for the house until his death.

Goldstein is currently adding guest bungalows and a pool.

Have a small fortune lying around? Here is how much it costs to rent out the Sheats-Goldstein Residents:

Club James: $25,000, with a 250 guest capacity
Tennis court: $15,000, with a 300 guest capacity
Club & Tennis Court: $35,000
Club, House & Tennis Court: $45,000 (though use of the house requires extra approval

Valet and security are required and not included in these prices. There are likely additional costs as well.

Interested? Click here.
Local fashion aficionado and basketball superfan James Goldstein has promised LACMA his landmark mid-century home, designed by city-shaping architect John Lautner.