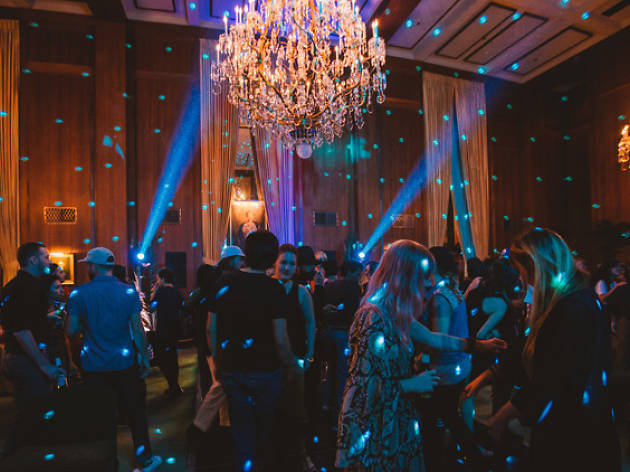 31 amazing things happening in LA this November
Step into Rain Room, hike to the Hollywood Sign and watch Ira Glass dance, plus more amazing things to do this November
THINGS TO DO
Nov 7-8
Best Friends NKLA Super Adoption; La Brea Tar Pits
Adopt your new best friend at this two-day, low-cost rescue event.
Nov 13-15
Pasadena Heritage Craftsman Weekend; Pasadena
Explore Pasadena's unparalleled collection of American Craftsman homes with a weekend of walking, bus, self-guided and drive-yourself tours.
Nov 14
The Grove Christmas; The Grove
Kick off the holiday season with this tree lighting ceremony, fireworks show and concert; Seth MacFarlane sings with a 55-piece orchestra and Meghan Trainor.
Nov 15
Hollywood Sign Summit; Griffith Observatory
Join local architecture, design and planning experts on this bucket list hike.
Nov 19
WE ♡ DTLA; Biltmore Building
Witness the unveiling of the 10 finalists for the redesign of Pershing Square.
Nov 20-29
LA Auto Show; Los Angeles Convention Center
Tokyo drift into the Convention Center for a 10-day expo with cars that would even make 007 drool.
Nov 21-22
Designer Con; Pasadena Convention Center
Find your inner child as more than 150 vendors and artists showcase toys, art, design and more.
Nov 27-Jan 3
LA Zoo Lights; Los Angeles Zoo
Stroll through the Griffith Park zoo grounds as the festive tradition returns with more lights and an exclusive cocktail party.
Find more things to do in our November 2015 events calendar.
FOOD & DRINK
Nov 1
Halloween Hangover Brunch; Taste on Melrose
Cure your Halloween hangover with a brunch filled with fried chicken, French toast and a Day of the Dead Shake—trust us, you'll need it.
Nov 7
Hard Core Cider Tour; Brookside Park
Take a break from beer with this traveling tour dedicated entirely to cider.
Nov 10
Cur-ATE Dinner Series; LACMA
Attend an intimate gallery tour followed by a German-inspired meal at LACMA's last iteration of Cur-ATE this year.
Until Nov 15
To Live and Dine in L.A.; Los Angeles Central Library
Delight in a collection of rare, first-edition menus from restaurants that have long since shuttered before this exhibition, too, goes away.
Nov 21
Art of Charcuterie; Café Pinot
Learn how to de-bone, marinate and prep charcuterie plates; this particular class focuses on a Kaese Krainerwurst with mustard.
ARTS & CULTURE
Nov 1-Mar 6
Rain Room; LACMA
Step into the rain without ever getting wet when this blockbuster installation opens at LACMA.
Nov 4-7
Kathy Griffin: Like a Boss; Mark Taper Forum
See Kathy Griffin bring her stand-up tour to the area for four nights of laughs.
Nov 6
Sleepless: The Music Center After Hours; Music Center
Spend a late night at the Music Center and watch as the beloved Downtown cultural space transforms into an interactive performance space.
Nov 7
Colburn Chamber Music Society with Special Guest Gary Hoffman; The Wallis
Listen to cellist Gary Hoffman join the Colburn Chamber Music Society in concert.
Nov 7
Three Acts, Two Dancers, One Radio Host; The Theatre at Ace Hotel
Attend an encore performance of this choreographed storytelling show with dancers Monica Bill Barnes and Anna Bass and public radio spirit animal Ira Glass.
Nov 11
Eugene Mirman; Largo
Watch the whimsical stand-up celebrate the release of his new album, I'm Sorry (You're Welcome).
FILM
Nov 5
Angels Flight Fundraiser; Million Dollar Theater
See the 1951 remake of the classic Fritz Lang crime thriller M, a version that just so happened to be filmed on Bunker Hill.
Nov 7
Thelma & Louise screening; Electric Dusk Drive-In
Watch these iconic babes go out in a blaze of glory from the comfort of your own, not-careening-down-a-cliff car.
Find more movies in our picks for this week's best film events.
MUSIC & NIGHTLIFE
Nov 1-30
Red Bull Sound Select 30 Days in LA ; Various locations
Catch cheap (or free!) live music events every single night this month, from up-and-comers like Mick Jenkins to heavy-hitters like Flume and TV On the Radio.
Nov 3
Fuzz; The Observatory
Check out Ty Segall's psych-infused stoner-rock band at the Observatory.
Nov 14
Outpost Festival; Downtown Santa Ana
Attend this one-day music fest, which combines indie tunes (Tijuana Panthers, Delta Spirit, Blonde Redhead), tasty beer, top-notch food trucks (Kogi BBQ, Poke Hut) and even a pop-up market from Atwater boutique Individual Medley.
Nov 22
Mr Little Jeans; El Rey
Find out what all the hype is about when this Norwegian songstress takes the stage to debut tracks from her electro-pop album Pocketknife.
Find more shows in our November 2015 concert calendar.
THEATER
Nov 5
Kristin Chenoweth; Walt Disney Concert Hall
Hear the multi-talented actress sing popular standards and Broadway tunes.
Nov 6-8
The Art of Falling; Ahmanson Theatre
Witness two acclaimed cultural institutions, the Second City and Hubbard Street Dance Chicago, join together for this comedy and contemporary dance show.
Nov 19-22
Elf; Fred Kavli Theatre
Watch Will Ferrell's hilarious character from the feature film come to life on stage.
Nov 20-December 19
Straight White Men; Kirk Douglas Theatre
Experience a unique Christmas story about a father and his three sons.
SHOPPING & STYLE
Nov 7
Eastside Handmade; Shopclass
Meet and support local artisans at this well-curated, indie pop-up market hosted by Shopclass.
Nov 14
California Made: A Holiday Market; Paper Pastries Atelier
Get a head start on your gift list shopping at this holiday fair complete with gift-wrapping, champagne and seasonal snacks.