Chinatown's best attractions and restaurants (map)
Explore the best of Chinatown with this map of the neighborhood's best restaurants, shops and things to do.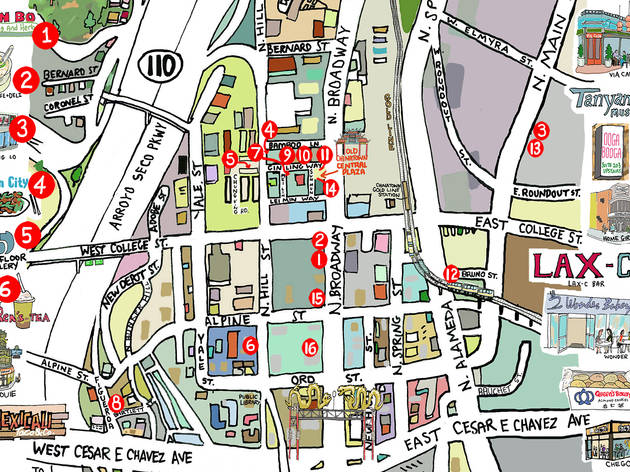 Find your way to the best spots in Chinatown with this map (we asked local artist Tom Lamb to illustrate it for us). Our favorite spots are all here.
RECOMMENDED: Chinatown neighborhood guide
The dusty, sweet smell of arid ginseng surges through your senses the second you enter this huge vault of dried herbs, exotic mushrooms and prized teas. Perfect one-stop shopping for the alt-medicine crowd, budding herbalist and Chinese traditionalist. And even if you don't know what to do with that deer antler albumin, fish floss or shark cartilage, you can score family-sized packs of dried goji berries at rock-bottom prices ($4.99), pickled fruits and an extensive collection of whole-leaf tea worthy of its own Dewey decimal system.
For anyone seeking Chinese food that's not as syrupy as a Southern breakfast, Chinatown has an abundance of dependable Vietnamese food. Despite its Italian-sounding signage, this no-frills café excels in an excellent filet mignon pho ($5.95) that nails all the clean flavors of the beef broth and its fresh, fragrant accessories. The result is a popular lunch for less than $10 that goes great with a glass of icy, sweet café sua da aka Vietnamese iced coffee ($2.95).
After getting a whiff of one of Chinatown's live fowl markets, you may need to force sweeter sensations into your mind. Adjacent to the restaurant supply megastore, LAX-C, you'll find Thong Lo, where a matronly soul named Mae Ting is hand-making Thai coconut custard tarts, taking her time over a circular griddle pocked with rounded curves like a cast-iron moonscape. Inhale deeply as she forges rice flour into the tiny treats known as khanom krok ($3 for a small bag)—rich and ethereal contenders for the best dessert in the 90012.
Though most shopkeepers may point you to Foo-Chow—its claim to fame is a close-up in Rush Hour—the food at Golden City across the street makes for a better attraction. Here, you'll find all that you probably came to Chinatown for in the first place—Peking duck ($12.50-$24), Kung Pao chicken ($5.95), lacquered vegetables, hot pot seafood ($9.75) and fried pork, all prepared at a level of execution that surpasses much of its surrounding competition.
Half art gallery, half boutique, this hybrid design store stocks merchandise from local artists on the first floor and runs an exhibition (that rotates every month or two) on the second. Walking through the gallery space, owner Robert Apodaca's background in architecture is prevalent through his eye for contemporary and edgy art and design pieces. The space is stocked with jewelry, accessories, furniture, home ware and unique hand-made objects. Browse for exclusive items made for Fifth Floor—such as a tree stump cat scratcher, Sewn Machine throw pillows and a Hug Machine chair (a handmade Windsor chair). Stand out pieces include ceramic crushed cups that look like trashed plastic cups and the chunky statement necklaces made by LA-based artists.
Jasmines, oolongs, greens, whites and blacks—the gang's gathered here in bulk at this bright and modern tea shop. Consider the colossal collection of dried leaves in one of the boba tea blends ($4.50), markedly different than the usual over-sweetened stuff with true herbal flavors, inspired varieties such as passion fruit and red bean and housemade tapioca pearls.
This city-wide favorite is favored for flame-kissed steak and small-batch salsas, along with high-quality ingredients delivered across the border from Baja's capital city. Clever and captivating regional recipes include the gluttonous, triple-meat and cheese Zuperman ($5), crunchy cachetada tostadas drizzled in gooey cheese and creamy, piquant chipotle aioli ($3.25), clay-pot broiled, wine-infused queso fundido ($6) and garlic-lashed Vampiro quesadilla($3.95) stuffed with with hand-chopped carne asada.
Fat, fresh goi cuon, chilly bowls of bun noodles and five filling options for banh mi make this bi-level cafe a refreshing destination for fans of Vietnamese cooking. The clean space, housed inside a prismatic, pagoda-roofed corner of Chinatown Central Plaza only adds to the appeal. The menu offers a mash-up of regional recipes offering a flip-side to pho—start with a salad of Manila clams and crispy rice crackers ($8) or rice flour crepe ($8) filled with shrimp and pork or vegetarian-friendly tofu and mushroom, then try the Hainan chicken ($7.50), spicy Szechuan shrimp ($8.75) or pad thai ($8), topped with crushed peanuts, red cabbage, jalapeño and lime. Beers from China, Japan, Laos, the Philippines and Cambodia help elevate the Pan-Asian panache.
Enter this music store decked out with guitars, namely Caraya Guitars, for a breath of fresh air from the neighboring shops in Old Chinatown's Central Plaza. Classical and electronic guitars hang from the walls among other instruments including banjos, drums, erhu, dulcimer, mandolins, classical and electric violins, ukuleles and Chinese instruments such as the Chinese Zither. Just a beginner? The shop offers pro guitar lessons by Stephen Jones, director of guitar studies at Pasadena City College ($24/two hours).
Show more