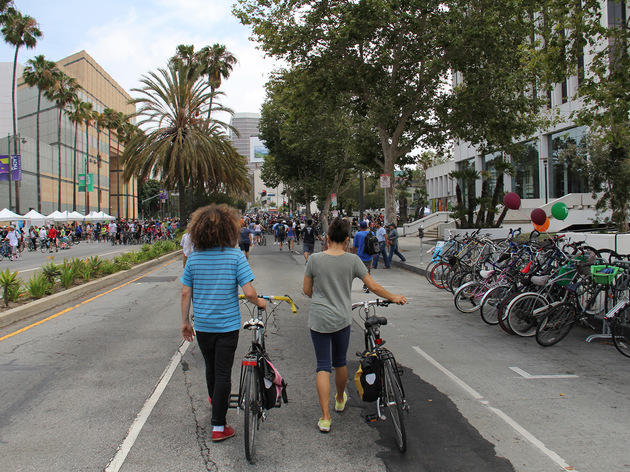 The term CicLAvia (Spanish for "bike way") can also be used to describe a temporary closing of L.A.'s streets. The event—inspired by the first Ciclovías in Bogotá, Colombia—welcomes bikes, tricycles, skateboards, strollers and smiles (sounds cheesy, but it's true) to ride a rotating cast of car-free routes. While most rides center around Downtown, past events have taken the event to Wilshire Boulevard, Venice and South L.A. Expect music, street performances and food trucks, as well as general whimsy and shenanigans. Shop owners and restaurants along the CicLAvia route will also open their doors. It goes without saying that you should bike or take the Metro to your desired spot along the route.
Various locations in L.A.

CicLAvia: Heart of the Foothills

Celebrate Earth Day with a San Gabriel Valley bike ride, pedaling through San Dimas, La Verne, Pomona and Claremont.
Rating Breakdown
5 star:

3

4 star:

0

3 star:

0

2 star:

0

1 star:

0
Our family enjoyed our second cicLAvia today! My wife, son and I took the train to the Union Station in DT LA. Amazing train station - so much soul! The train ride was so much fun filled with 100's of bikers from The OC!! We got off and started biking towards DT, the Mole (mole-a) festival sidetracked us at Olvera street for an amazing lunch...We continued biking with the masses towards City Hall. We pit stopped at the new Grand Park, they were jamming with great music in the park. The weather was amazing as usual and the diverse Angeleno energy made for a fun-filled family day!!!