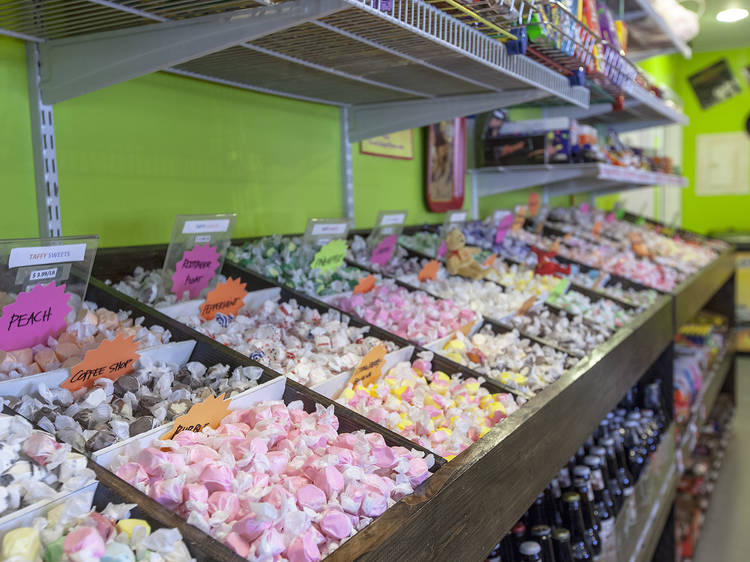 Photograph: Jakob N. Layman
Grab a table at Pat and Lorraine's, the diner that served gangsters played by Harvey Keitel and Steve Buscemi in the 1992 film Reservoir Dogs. Career waitresses pour bottomless mugs of coffee that steam alongside thick, fluffy omelets. Servings are anything but skimpy at Pat's, so prepare to get stuffed on a monstrous portion of bacon or one of their signature Mexican breakfasts.
After all that eating, you'll definitely need a walk, so leg it up the street to Old 55, a vintage furniture store that puts a modern spin on old-school desks, tables, mirrors and electronics. After browsing the best home furnishings from years past, head to Toros Pottery, a boutique gallery featuring pottery handmade by owner and proprietor, Toros Tngrian. Browsing the works on display here may inspire you to sign up for a class: Toros offers a variety of group pottery-making workshops that are open to the public ($110 for 3 hours).
Next, head to the Zweet Station, a specialty candy and soda store housed inside a former auto-body shop. Find virtually any Jones Soda flavor, Sprecher Root Beers, Mexican Pepsis and Cokes made with pure cane sugar, plus an obscure assortment of taffies, gums and chocolates available for the scooping. Feel free to hang out and enjoy a cup of coffee or surf the web with Zweet's free wi-fi network.