Overrated/Underrated LA
Hikes, burgers, neighborhoods—we call out some of the most overrated things in LA and offer an overlooked alternative for each
We've all been suckered in by hype—it's practically a currency here in LA. For every James Turrell retrospective or Ace Hotel that comes along and earns its praises, there's a cronut or churro ice cream sandwich that leaves people scratching their heads. It's hard to fess up to your favorite attractions and restaurants being overrated, so we've gone ahead and done that for you, along with some alternatives that don't get the attention they deserve. Check your LA bucket list and make sure they're on there.
Do you wholeheartedly agree or disagree with our choices? Let us know in the comments, and leave your own picks for LA's most overrated and underrated spots. Plus, be on the lookout for more selections with the upcoming launch of our regular Overrated/Underrated LA series.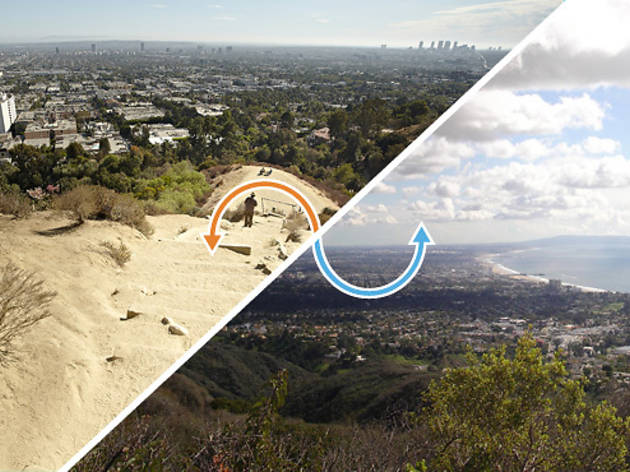 Photograph: Benny Haddad; Matthew Robinson
Hiking trail: Runyon Canyon / Temescal Canyon
We can't knock the sprawling view of LA from the centrally-located Runyon Canyon. But this dusty trail runs short on shade and long on a runway show of yoga pants and shirtless bros. If you're willing to give up a bit of the see-and-be-seen vibe, head farther west along the Santa Monica Mountains. The loop at Temescal Canyon winds through a densely wooded, well maintained trail with sweeping ocean views and a seasonal waterfall. It's a popular spot, but thankfully not popular enough to be plagued by dog shit and parking woes.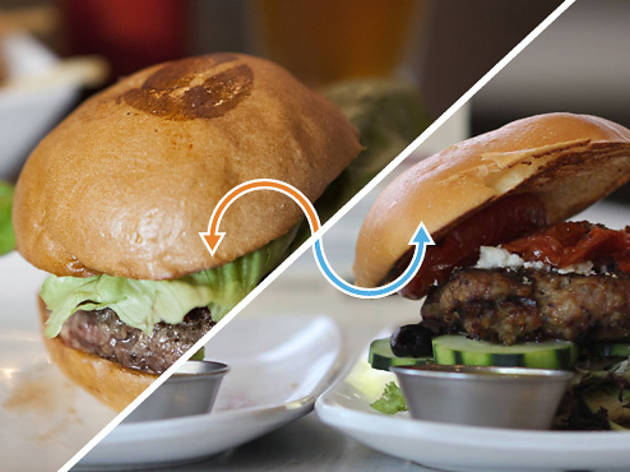 Photograph: Jakob N. Layman; Courtesy the Counter
Burger chain: Umami Burger / The Counter
We take pride in our burgers here, and especially in our homegrown chains. Umami has somehow become synonymous with the LA burger; yes, the earthy-sweet Truffle Burger is delicious, but $12 for a hockey puck-sized meal is disappointing, and the lack of fries on the side is rage-inducing. We'd gladly trade the overwrought menu and decor for an easygoing meal at the Counter, the Culver City-based build-your-own burger chain. From a cost perspective, you can customize a burger dressed to the nines with a side of sweet potato fries for the same price. And the most important part: it's just as good, dare we say even tastier.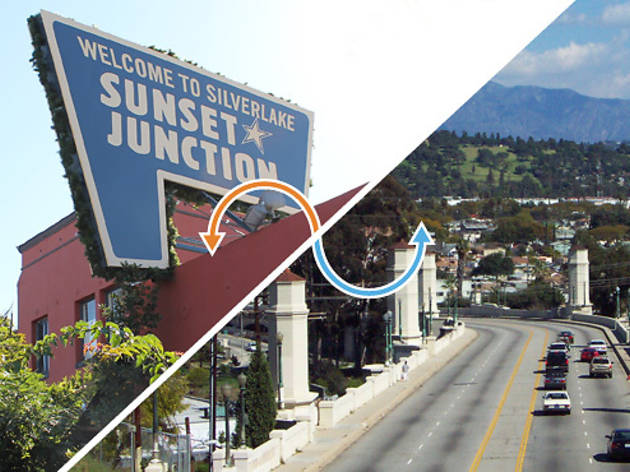 Photograph: Eleanor W.; Clinton Steeds
Neighborhood: Silver Lake / Atwater Village
Silver Lake
, we love your cozy restaurants, hillside reservoir and Tijuana-meets-Brooklyn charm. But let's face it: You're a cluster of cool havens without a true walkable heart—don't say Sunset Junction, which is essentially an
Intelligentsia
adorned with an Instagrammable welcome sign.
Atwater Village
might not have the same cultural cachet, but we welcome its down-to-earth, slightly industrial charm. The river-adjacent community isn't obnoxiously or prematurely "up-and-coming." Instead, you'll find an established supply of bakeries, bars and cafes along Glendale Boulevard—but it's also not so popular that it's unaffordable.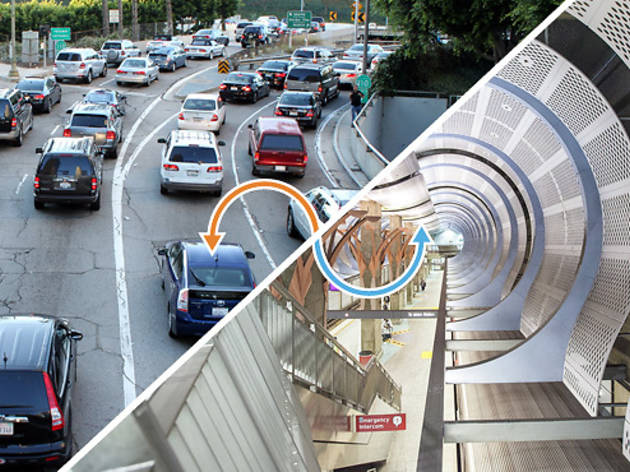 Photograph: Prayitno Hadinata; Jakob N. Layman
Transportation: Driving / Metro
Gas prices and pollution be damned: It's invigorating to go out for a joy ride along PCH or Mulholland. But the freedom of the open road is swiftly crushed by the special type of purgatory that exists on the 405, 101 and 10 during a seemingly endless rush hour. Why doesn't LA have public transit?! Well, we do—you've simply been ignoring it. Amidst the cries that LA's subway doesn't go anywhere, we have six lines that stretch from North Hollywood to Long Beach and Pasadena to Culver City. It's not a perfect system by any means—buses without dedicated lanes are still prone to gridlock—but it might keep your sanity a bit more in tact during rush hour. All of that for less than the cost of a Double-Double.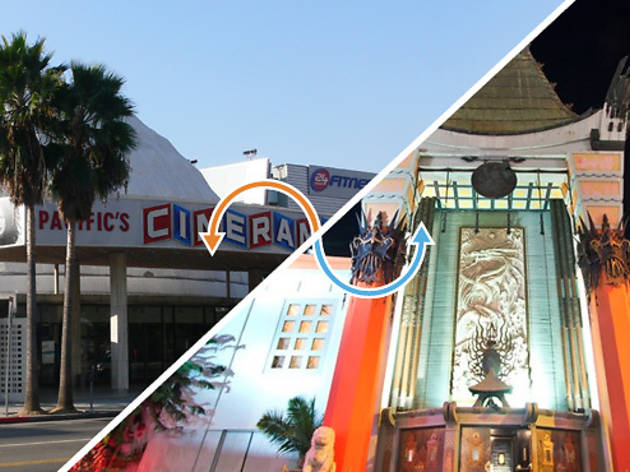 Photograph: Andreas Praefcke; Courtesy TCL
Movie theater: Arclight Cinerama Dome / Chinese Theatre
The Arclight's superb picture quality, assigned seating and absence of annoying ads (or teenagers) has spoiled the moviegoing experience forever. We can't say the same, unfortunately, about the Cinerama Dome. The historic structure's 146-degree screen is a historical gem, but rarely worth the price of admission. If you're going to go big (in price and screen size) look no further than the Chinese Theatre. Sure, Hollywood Boulevard is a steaming pile of garbage and the theater's cement courtyard is choked with tourists all hours of the day, but inside it's a different story—an ornate 1920s auditorium with nary a crowd and amazing audiovisual fidelity (especially after its recent IMAX conversion). You owe it to yourself to catch a big-budget spectacle screen at easily the most iconic movie theater in the world.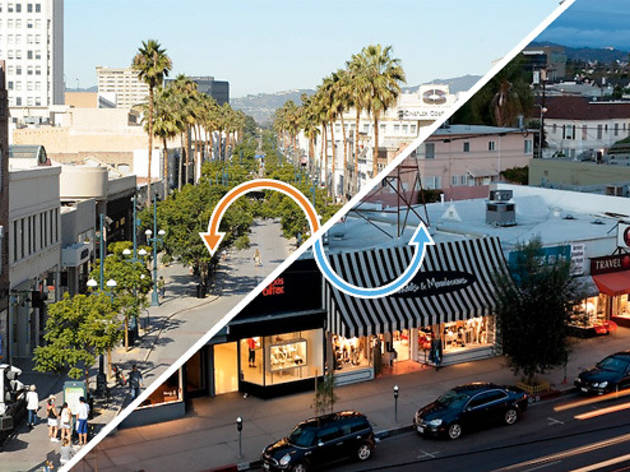 Photograph: Courtesy Downtown Santa Monica; The Orlando Hotel
City street: Third Street / 3rd Street
Not as dirty as the Venice Boardwalk but not as contrived as the Grove, the Third Street Promenade's pedestrian walkway is a pleasant, albeit congested, place to shop and eat in Santa Monica. But somehow we've let a few blocks of increasingly sanitized shopping mall commandeer "Third Street" from the rest of LA. Don't forget about the other Third Street, the easy-going Mid-City alternative to Melrose and Robertson. When you hear "Third Street," think the stretch of low-key eateries from the Beverly Center to the Farmers Market, farther east to the strip mall secrets of Koreatown and all the way to Downtown, with new school staples like EightyTwo and Wurstküche in the Arts District.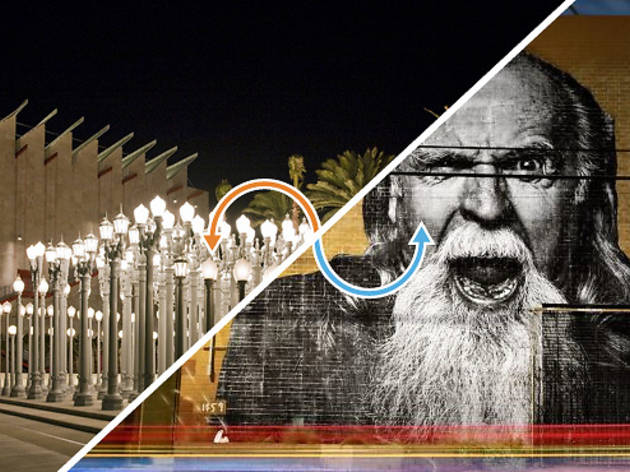 Photograph: Courtesy LACMA; JR
Public art: Urban Light / Murals
Chris Burden's Urban Light is a twinkly ode to LA's past, and the decades-old lamp posts that line the Wilshire entrance to LACMA have quickly become iconic. But the incessant cutesy posing between those poles has turned the sculpture into our version of "holding up" the Leaning Tower of Pisa. Meanwhile, there are stunning murals plastered all over Los Angeles just begging for some Instagram love. Take a trip to the Great Wall of Los Angeles along the Tujunga Wash or "Mural Mile" in Pacoima for larger than life artwork from everyday Angelenos, or walk through the Arts District or down La Brea for pieces from heavyweights like Shepard Fairey, JR, Invader, Retna and Kobra.
Photograph: Jakob N. Layman; Doah K.
Sandwich: The Godmother / "The Sandwich"
The parking lot chaos and and zigzagging line at Bay Cities in Santa Monica can be almost solely credited to a single Italian sandwich: the Godmother. It's easy to see the attraction here once you take a bite into that crackly, airy bread, the medley of cured meats, a soft slab of provolone and… mustard?! Pickles?! This is not an Italian sandwich. You could brave the wait to get the sandwich without "the works," or you could drive to Pasadena in less time than it would take to stand in line. At Roma Market, you'll find an old man, a meat slicer and a single sandwich available—dubbed "the sandwich"—that is literally just meat and cheese on a roll with an olive oil drizzle. It's simply perfect.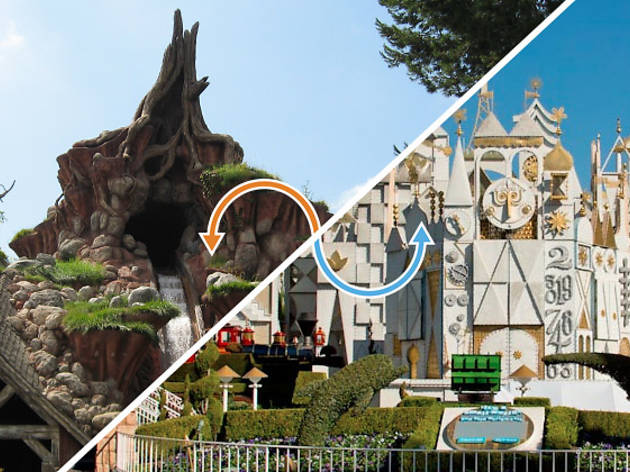 Photograph: Jonnyboyca; Leowang1995
Disneyland ride: Splash Mountain / it's a small world
Splash Mountain is still one of our favorite Disneyland rides; its cheerful critters are a reliable recipe for a Zip-a-Dee-Doo-Dah day. But no way are we waiting an hour in the midday sun to find half of the animatronics on lunch break and to somehow only have one side of our body drenched in musty water and regret. Stick us on another flume ride instead: "it's a small world." We know what you're thinking—that song!—but if you can't get past any disdain for that cheerful earworm then you're really missing out on one of the most delightful rides ever. A mid-century explosion of creativity, artistry and whimsy really makes this the happiest cruise that ever sailed.
Photograph: Jakob N. Layman; USACE
Concrete-lined body of water: Silver Lake Reservoir / LA River
We love the the view from the idyllic Silver Lake Meadow—other than the massive fence that separates it from the reservoir, of course. While residents pine for recreational beaches and imagine what neighboring Ivanhoe Reservoir would be like without 400,000 black plastic balls, we've moved on to the LA River. Unlike the reservoir, this body (okay, trickle) of water is open to the public for recreation during the summer, and with a potential $1.3 billion makeover, it's primed for greatness. Walk along its banks or head out on a kayak; it's alright, the water won't hurt you—actually, we're not scientists, so don't quote us on that.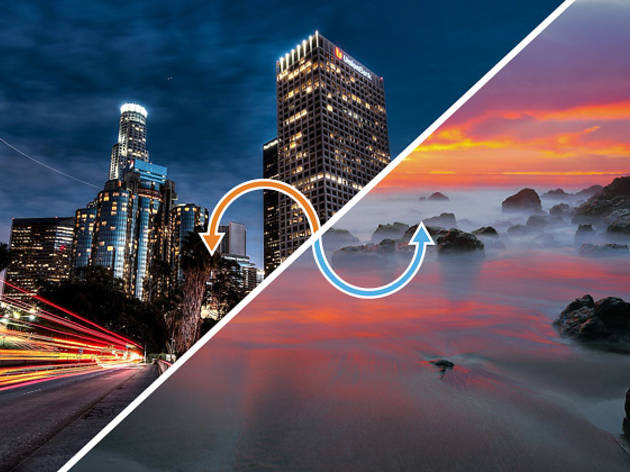 Photograph: Jeff Cleary; Pacheco
Photos: DTLA skyline / sunset
The Downtown LA skyline is sparse and stumpy, stuck somewhere between postmodernism and a pre-Blade Runner future. We always appreciate a fresh, illuminating view of the hypnotic city center, but you know what we don't need? More long exposures, overdone HDR and helicopter shots—the DTLA skyline just isn't that grand. On the other hand, we never get tired of photos of one of the city's (really the globe's) most mundane, inevitable phenomena. Social media may be saturated with stunning dusk shots, but we're all for not-so-gently nudging everyone about LA's beauty. Bonus points for a photo fronted by silhouetted palm trees or backed by snow-capped mountains.