Time Out LA's Mac & Cheese Smackdown 2015
We came, we saw, we conquered all the mac and cheese. Find out who won Time Out LA's inaugural Mac & Cheese Smackdown.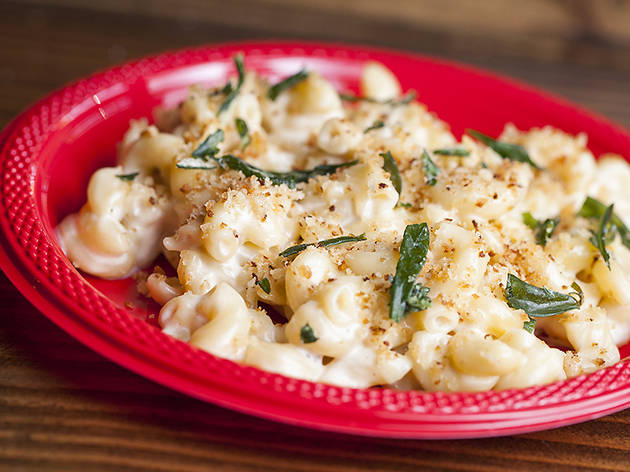 Whoever said too much cheese is a bad thing doesn't know our readers. On Sunday, December 6, more than 1,000 mac and cheese fans descended on LA River Studios for our first Mac & Cheese Smackdown, pitting nine restaurants against each other to battle it out for the championship title. We sipped on Angel City Brewery beer and Dark Horse wine, and dove into cheesy dishes from Horse Thief BBQ, Lemonade, Max City BBQ, mac-O-licious, Nick + Stef's Steakhouse, Estérel, Hyperion Public, The Hudson and POP Champagne & Dessert Bar. No two dishes were alike—while some contained BBQ pulled pork or jalapeño, others were topped with oyster mushrooms or bacon bits. When we needed a break from carb-loading, we headed to the photo booth—where chalk artist Ben DeHart had created a seriously impressive backdrop—or to the Best Friends Animal Society lounge (a portion of the event's proceeds went toward this fantastic organization).
To crown a winner, attendees were given tickets to vote for their favorite dish—it was a close race, but in the end Nick + Stef's Steakhouse pulled ahead with their orecchiette version, made with Gruyère, Comté, fontina and shallots (shout out to second runner-up, Horse Thief BBQ, and first runner-up, POP Champagne & Dessert Bar!). Congratulations to everyone who participated, and we'll see you at our next tasting event!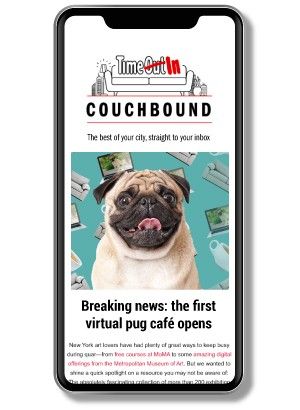 An email you'll actually love
Sign up to our Couchbound newsletter and bring the city to your sofa
Subscribe now
Check out our photos from the Mac & Cheese Smackdown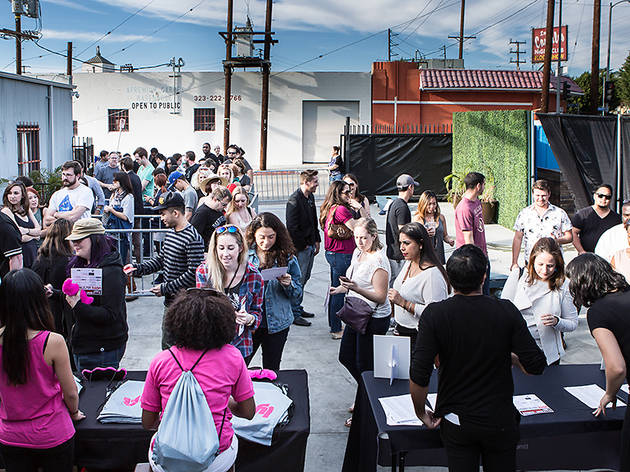 Photograph: Anthony Diep
Time Out Los Angeles Mac & Cheese Smackdown 2015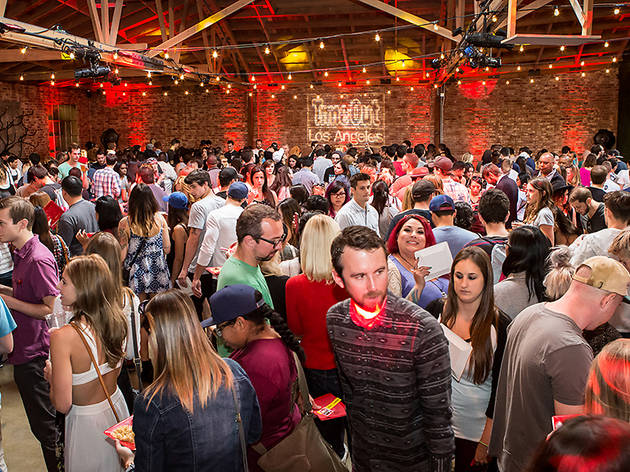 Photograph: Anthony Diep
Time Out Los Angeles Mac & Cheese Smackdown 2015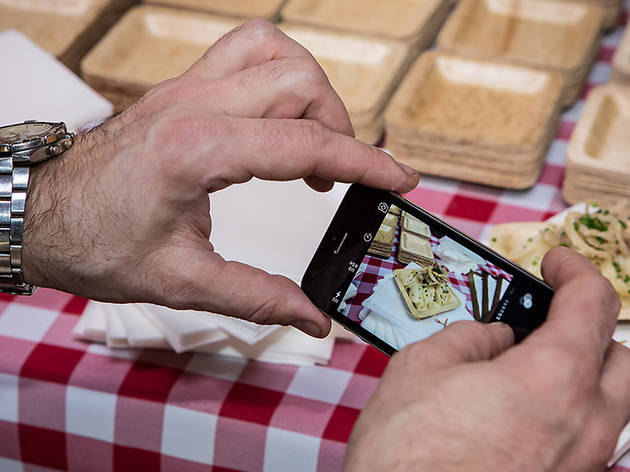 Photograph: Anthony Diep
Time Out Los Angeles Mac & Cheese Smackdown 2015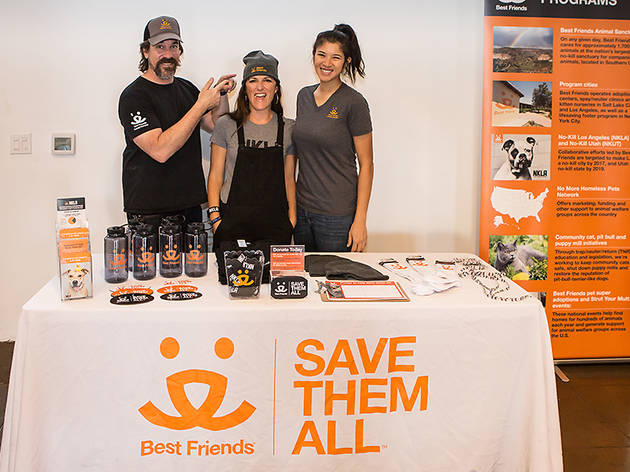 Photograph: Anthony Diep
Time Out Los Angeles Mac & Cheese Smackdown 2015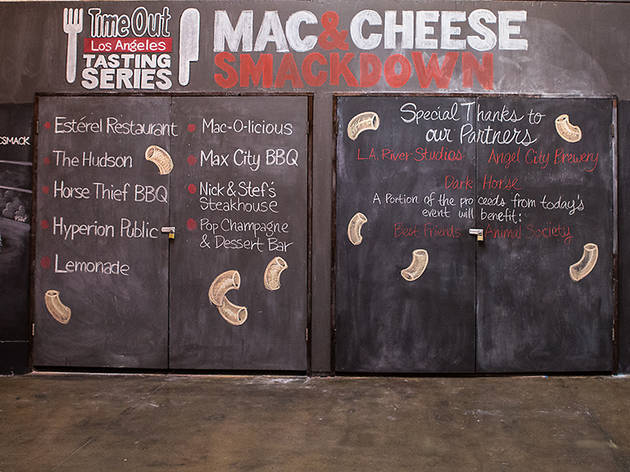 Photograph: Anthony Diep
Time Out Los Angeles Mac & Cheese Smackdown 2015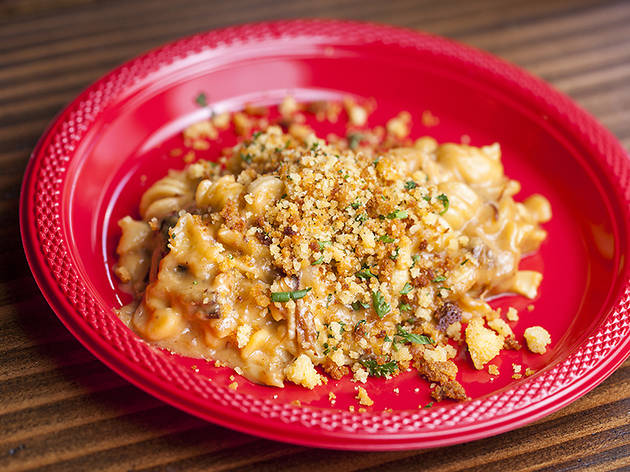 Photograph: Jakob N. Layman
Hyperion Public at Time Out Los Angeles Mac & Cheese Smackdown 2015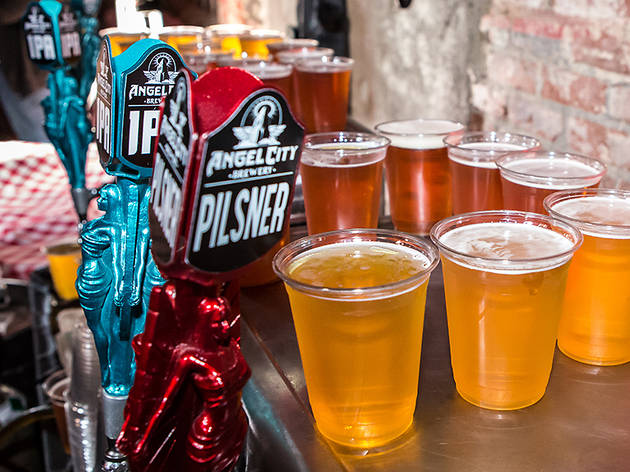 Photograph: Anthony Diep
Time Out Los Angeles Mac & Cheese Smackdown 2015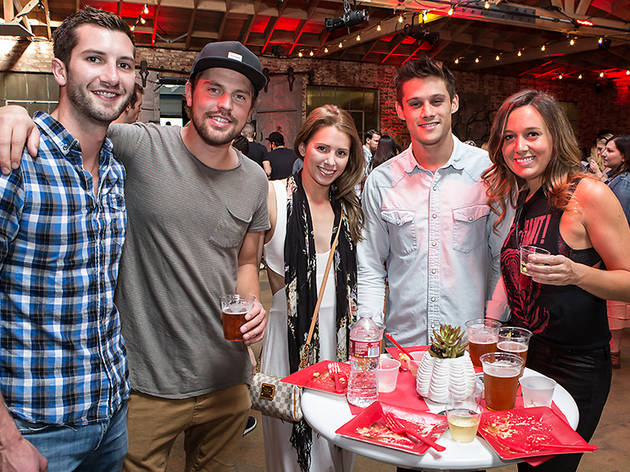 Photograph: Anthony Diep
Time Out Los Angeles Mac & Cheese Smackdown 2015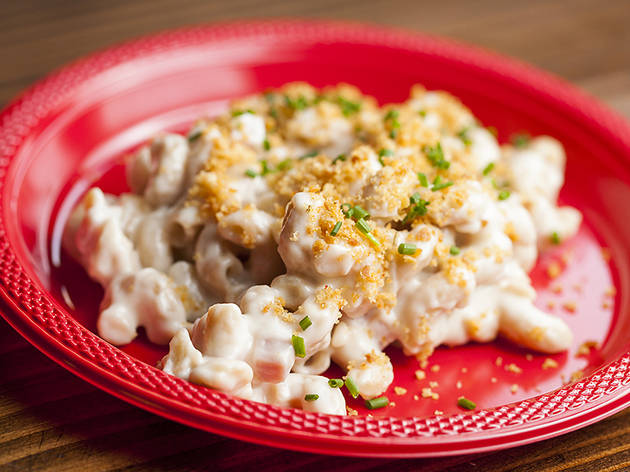 Photograph: Jakob N. Layman
Estérel Restaurant at Time Out Los Angeles Mac & Cheese Smackdown 2015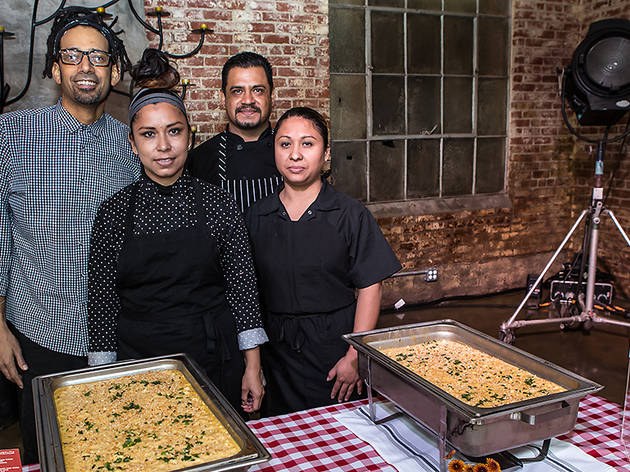 Photograph: Anthony Diep
Time Out Los Angeles Mac & Cheese Smackdown 2015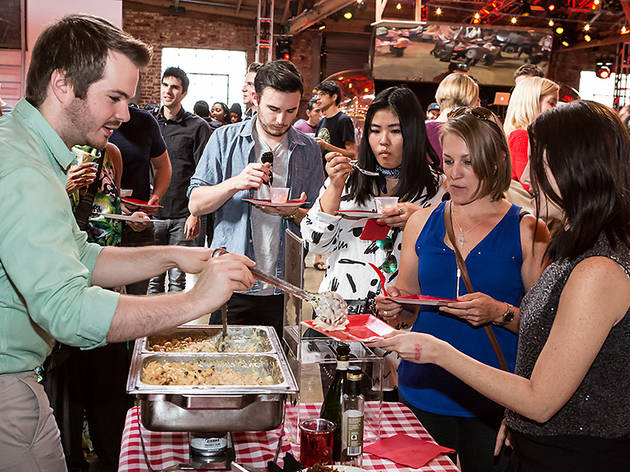 Photograph: Anthony Diep
Time Out Los Angeles Mac & Cheese Smackdown 2015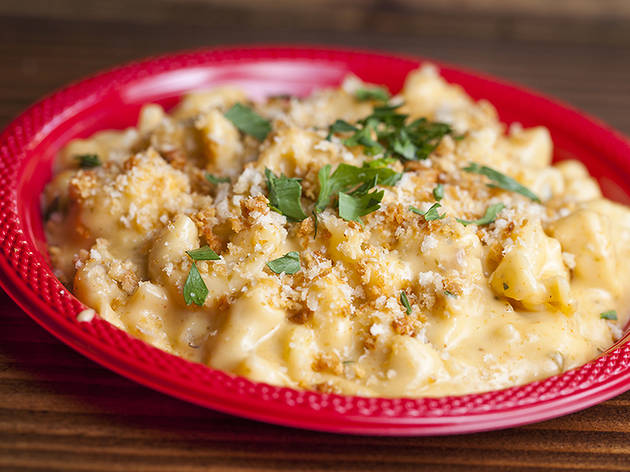 Photograph: Jakob N. Layman
The Hudson at Time Out Los Angeles Mac & Cheese Smackdown 2015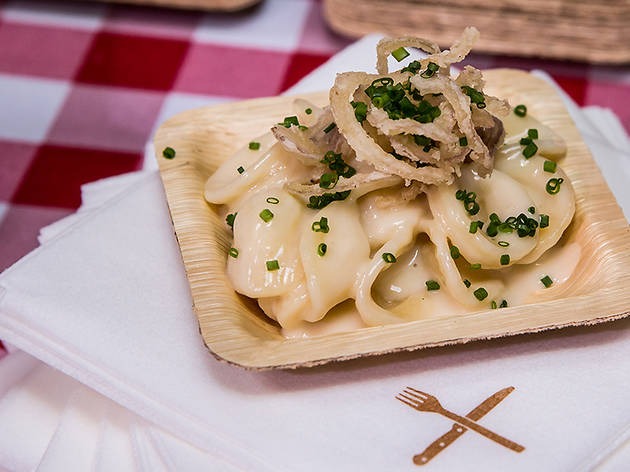 Photograph: Anthony Diep
Nick & Stef's Steakhouse at Time Out Los Angeles Mac & Cheese Smackdown 2015
Photograph: Anthony Diep
Time Out Los Angeles Mac & Cheese Smackdown 2015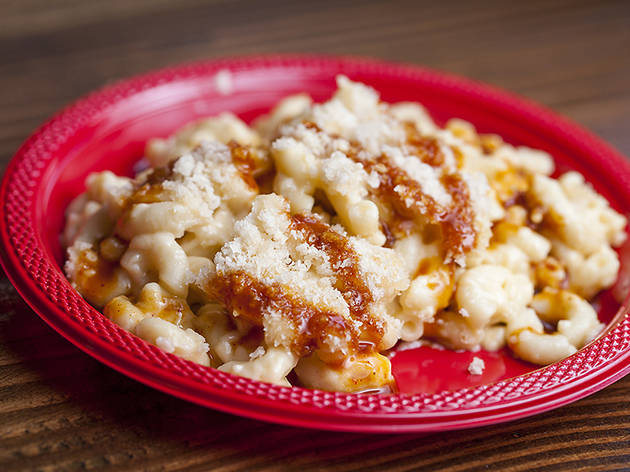 Photograph: Jakob N. Layman
Max City BBQ at Time Out Los Angeles Mac & Cheese Smackdown 2015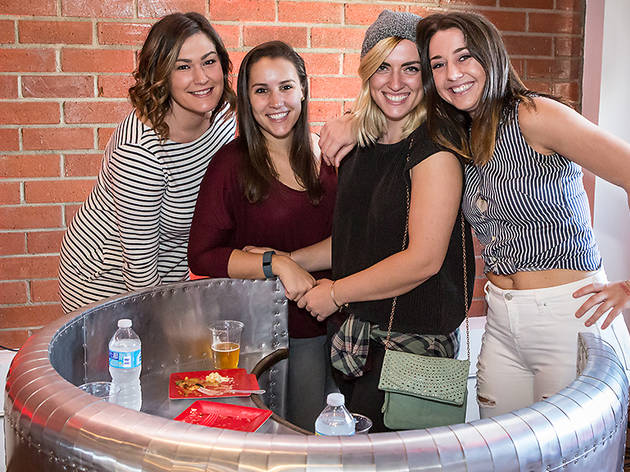 Photograph: Anthony Diep
Time Out Los Angeles Mac & Cheese Smackdown 2015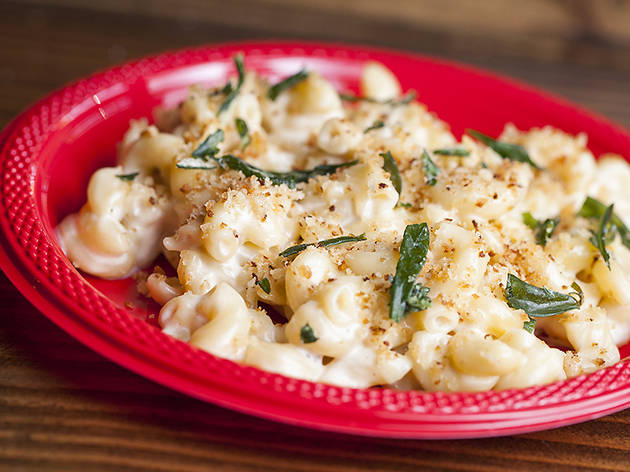 Photograph: Jakob N. Layman
Horse Thief BBQ at Time Out Los Angeles Mac & Cheese Smackdown 2015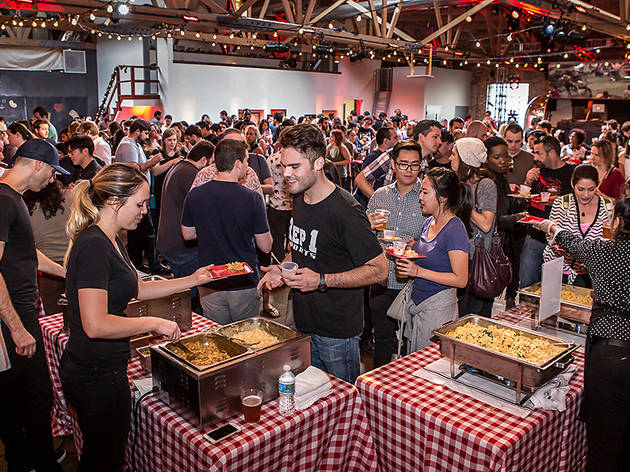 Photograph: Anthony Diep
Time Out Los Angeles Mac & Cheese Smackdown 2015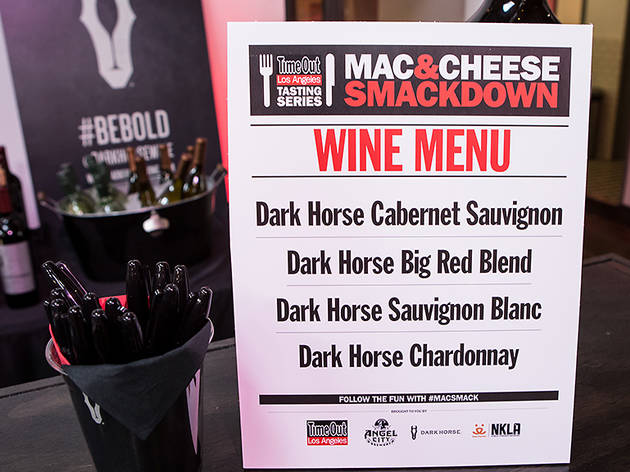 Photograph: Anthony Diep
Time Out Los Angeles Mac & Cheese Smackdown 2015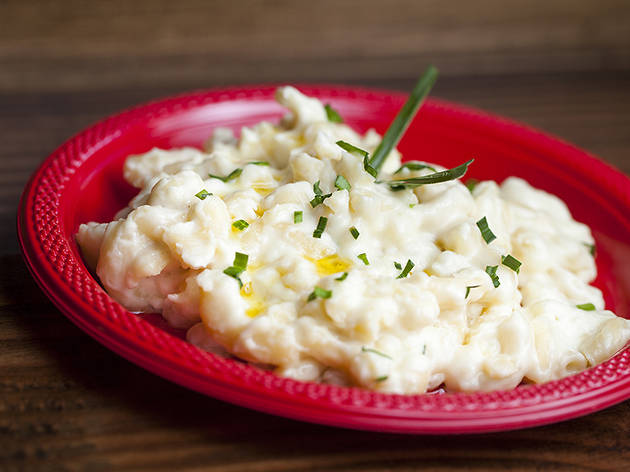 Photograph: Jakob N. Layman
Lemonade at Time Out Los Angeles Mac & Cheese Smackdown 2015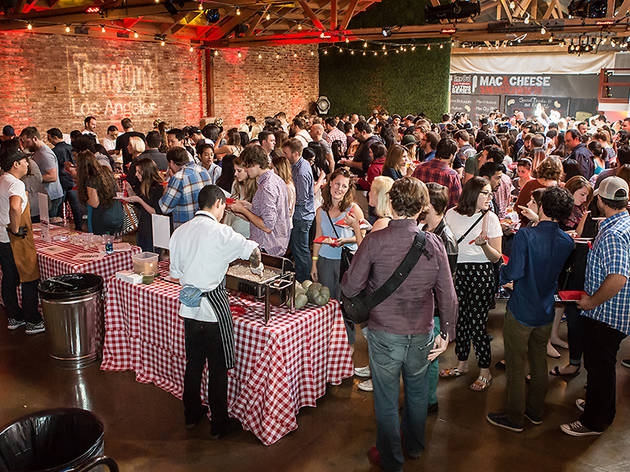 Photograph: Anthony Diep
Time Out Los Angeles Mac & Cheese Smackdown 2015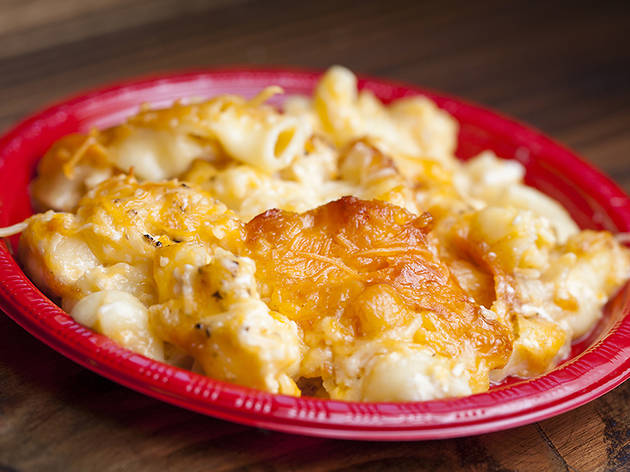 Photograph: Jakob N. Layman
Mac-O-licious at Time Out Los Angeles Mac & Cheese Smackdown 2015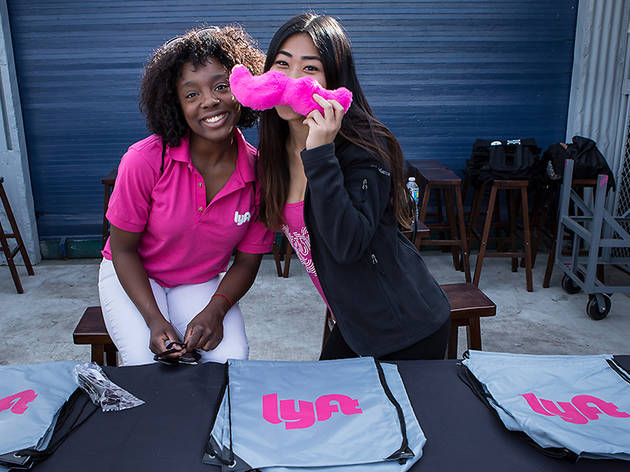 Photograph: Anthony Diep
Time Out Los Angeles Mac & Cheese Smackdown 2015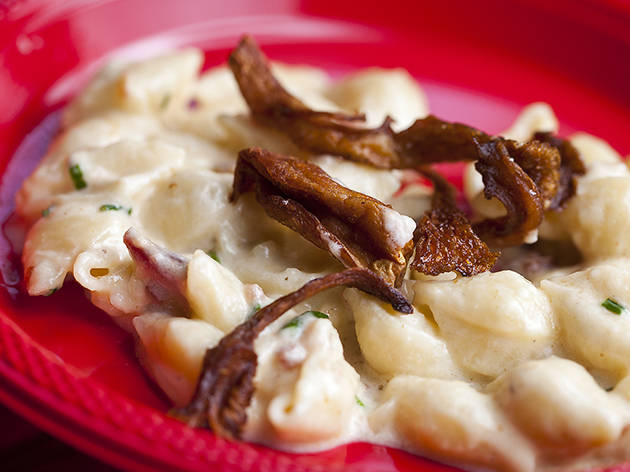 Photograph: Jakob N. Layman
POP Champagne & Dessert Bar at Time Out Los Angeles Mac & Cheese Smackdown 2015
Photograph: Anthony Diep
Time Out Los Angeles Mac & Cheese Smackdown 2015
Watch our video from this delicious event