Heads up! We're working hard to be accurate – but these are unusual times, so please always check before heading out.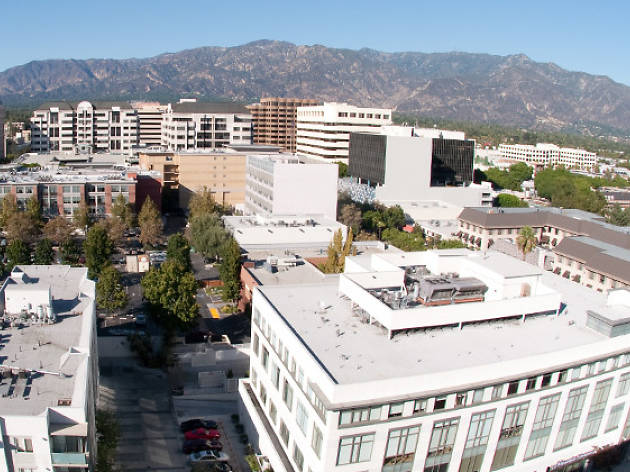 What to see and do along the CicLAvia Pasadena route
Restaurants, bars, shops and other landmarks along the 3.5-mile route
The 3.5-mile route of CicLAvia's latest installment may feel cozy compared to past courses, but, well, so is Pasadena. The pedestrian-friendly city is filled with walkable alleyways and plazas, a beautiful turn-of-the-century downtown and stunning views of the San Gabriel Mountains. As you walk or pedal your way through town, take the time to stop at these noteworthy things to see and do along the CicLAvia Pasadena route.
Looking for more Pasadena recommendations? Check out our favorite restaurants, bars and shops in our full Pasadena guide.
The CicLAvia Pasadena route
Click here for a larger view of the map.
Pssst, hang out with us at the Colorado hub (near Pasadena City College) and pick up one of our spoke cards with discounts on places like the Huntington Library, the Gamble House and the Terrace at the Langham.
Colorado Boulevard
This is historic Route 66, home of the Rose Parade and "The Little Old Lady from Pasadena." Colorado Boulevard runs through the heart of Pasadena and contains some of its most noteworthy architecture, shops and eateries. You'll find the most to do along this two-mile stretch of the route in Old Town, the Playhouse District and near Pasadena City College.



If you're hungry
If you're thirsty
• The Pie Hole
• Coolhaus
• Lunasia
• Europane
• Daisy Mint
• Kings Row
• Urth Caffe
• Lucky Baldwins



Cross street: Pasadena Avenue
Duck into Miller Alley on a trip to Old Pasadena and you'll come across this lovely brick courtyard, which hosts holiday festivals, outdoor movie screenings and concerts. You'll find upscale restaurants and the posh iPic complemented by casual eateries like Escuela Tacqueria and the build-your-own gelato pop shop Stick Station.
This food hall housed in a turn-of-the-century brick building is Pasadena's low-key answer to Grand Central Market. While you're there, snack on ice cream sandwiches from Coolhaus, order a slice of pie at the Pie Hole (sans those crazy Arts District waiting times), find a new cleanse at Pressed Juicery, peruse succulents from Gilly Flowers or smell loose leaf teas and spices at Le Souk. The hall is also attached to Old Town's Intelligentsia.
Before the resurgence of Old Pasadena, this outdoor shopping mall had a brief run as the city's shopping destination. Though some of its major retail spaces sit empty and its style is starting to feel dated (i.e. it's clearly not the Grove), it's still a great place to catch a movie at the Arclight or check out temporary artwork during the Pasadena Chalk Festival.
Just off Colorado Boulevard on El Molino Avenue, this historic theater's Spanish Colonial Courtyard anchors its namesake district. Stop by Zona Rosa Caffe for a cup of coffee or Monopole for a glass of wine. The plaza (and now its newly constructed neighbor) also hosts food trucks and music every Thursday night during the summer.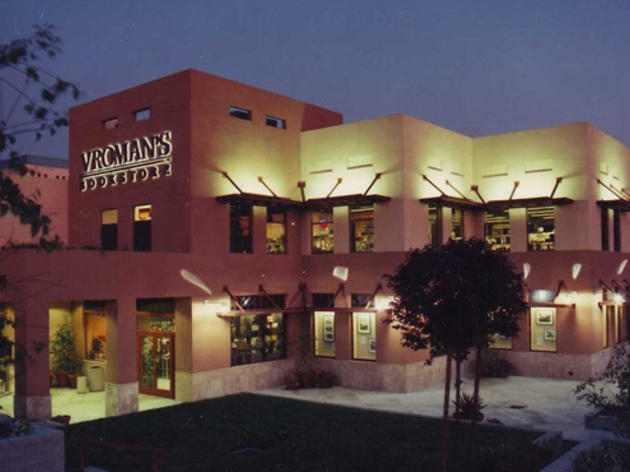 The largest independent bookshop in Southern California was founded over a century ago and is still going strong. The stock is excellent and the staff very helpful. Keep an eye out for the regular readings and the book signings.
This '20s take on a European arcade may have more stucco than its inspirations, but walk underneath its archway and you'll find a lush alleyway dotted with charming shops and restaurants like Yahaira's Cafe, Takuya and El Portal.
This independent shop has been building its collection of used books for over 20 years now. You'll find plenty of curiosities inside the store, as well as 50,000 others online.
Cross street: Bonnie Avenue (Colorado Hub)
Raymond Avenue
This lane of historic brick buildings cuts right through the middle of Old Pasadena with plenty of bars and restaurants. The most Metro-accessible part of the route, it runs from Memorial Park (and its namesake station) to Central Park (Del Mar station).



If you're hungry
If you're thirsty
• Slater's 50/50
• Amara Cafe
• Dog Haus
• The Blind Donkey
• Lucky Baldwin's
• Copa Vida
Cross street: Walnut Street (Memorial Park Hub)
This National Guard Armory turned art center hosts a wide range of creative classes and exhibitions. The bulk of the art classes are aimed at kids, but adults will also find a few programs—in particular letterpress.
Save those rolls of quarters for your laundry, because Neon Retro Arcade has flipped over 40 classic arcade cabinets to free play. You still have to pay for time, but the Pasadena arcade lets you buy unlimited credits for a couple of hours or an entire day. In addition, the space has a handful of pinball machines and contemporary home consoles.

Show your Time Out LA spoke card and receive 20% off hourly admission.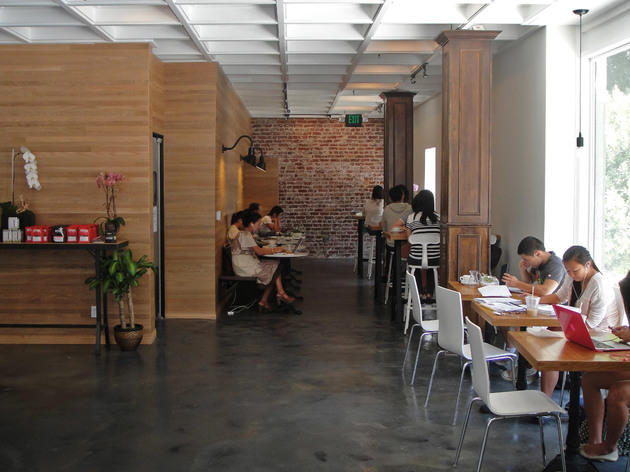 Old Pasadena has its humble share of boutique cafés, but Copa Vida guns for the entire gamut of coffee and tea experiences: A $2-a-cup honor bar during morning rush hour, traditional counter service, an upscale slow bar experience and live music on weekend nights.

Show your Time Out LA spoke card and receive 10% off
There are plenty of buildings that evoke old Hollywood glamor, but nothing conjures an air of Gilded Age mystery and elegance quite like this former hotel in Pasadena. The original building in the three-part complex was demolished in the '30s, but the more impressive Moorish-meets-Victorian central annex still stands behind a curtain of lush gardens.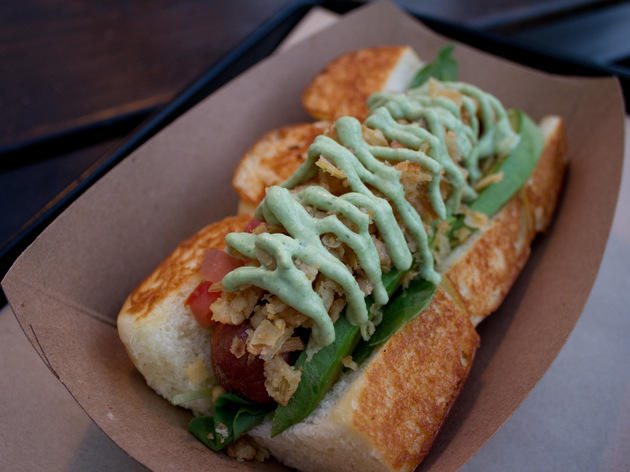 Grab a seat on the patio at this bar and hot dog joint, where the menu reads like a drunken cookbook of street dogs and Denny's breakfasts. Thankfully, the plump, flavorful hot dogs show more tact and restraint than their sloppy inspirations, thanks in part to the sweet, soft Hawaiian bread buns.

Show your Time Out LA spoke card and receive $1 beers (New Belgium Fat Tire or Shift only)


This Metro station may very well be the pinnacle of transit projects in LA: free parking below, condos above and light rail-adjacent restaurants at ground level. Stop by Sushi Kimagure, the Stone Company Store and, housed inside the historic Santa Fe Depot, La Grande Orange and the Luggage Room.
Cross street: Del Mar Boulevard (Old Pasadena Hub)
Lake Avenue
Once Pasadena's premiere shopping district, South Lake Avenue is now the city's financial center. Though chains are the majority here, you'll find a few quiet plazas and casual eateries along the tree-lined street—plus Gold Line access to the north.



If you're hungry
If you're thirsty
• Pokemix/Flour+Tea
• Celestino
• Abricott
• Tokyo Shabu Shabu
• Float
• SECO
• Tpumps
• Magnolia House



Cross street: Colorado Boulevard
Why is there an English courtyard in the middle of Pasadena? Who knows, but we're not about to complain about having a Lemonade in the neighborhood. An ivy-covered cottage from 1912 (now a Williams-Sonoma) anchors the area, with a fire pit and fountain in the middle. Hit up SECO—and soon Sugarfish—for dinner and drinks, or head across Shoppers Lane to the Counter and Green Street Restaurant.
If you're in the market for uncomplicated but superbly prepared Sicilian food served in an elegant setting, Celestino would like to make your acquaintance.

Show your Time Out LA spoke card and receive a complimentary dessert with the purchase of any entree
One of two British-influenced plazas on South Lake, Burlington Arcade is a nearly spot-on facsimile of its namesake shopping center in London. It's a sleepy shopping arcade, but that quiet is part of its charm. Though Contessa Chocolate Collection and nicknack shop Tiny Universe are typically closed on Sundays, make sure to stop at the fantastic sandwich, coffee and ice cream shop Float.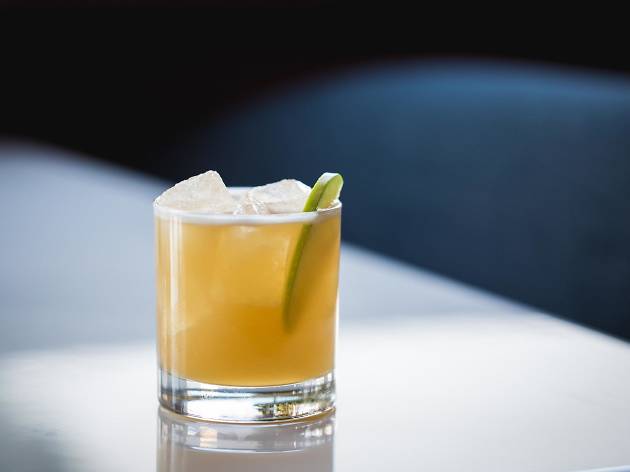 Craft cocktails don't always have to be password protected and sipped in the dark. Instead, sometimes great drinks are found in a bright and breezy century-old house.

Show your Time Out LA spoke card and receive 15% off the total bill
Cross street: San Pasqual Street (South Lake Hub)