Where to buy Christmas trees in Los Angeles
We've picked the best places to buy Christmas trees in Los Angeles, from living trees to farms to choose and cut
As the Thanksgiving food coma starts to wear off, you're inevitably faced with figuring out where to buy Christmas trees in Los Angeles. Even if you only have space for a little tabletop tree, there are plenty of options: real or fake? Pre-cut or cut your own? Tinsel or tons of tinsel? After you've scoped out some Christmas lights and holiday markets for inspiration and have bought some new ornaments, start decorating with a tree from one of these places, including real, fake and live trees, along with Christmas tree farms where you can cut your own.
RECOMMENDED: See more ways to celebrate Christmas in Los Angeles.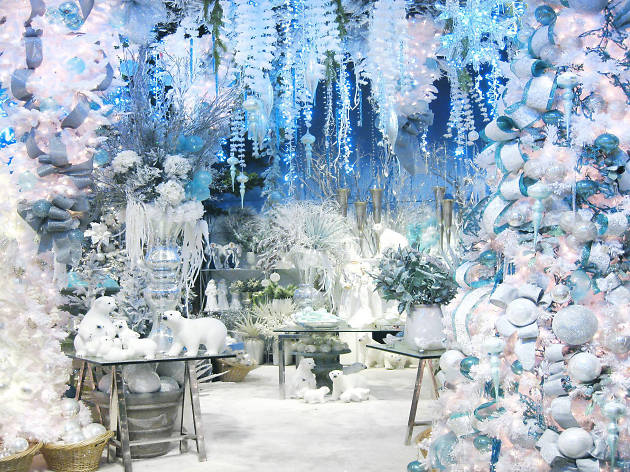 Photograph: Courtesy Aldik Home
Aldik Home specializes in all things silk: silk ornaments, silk flowers, silk wreaths and, yes, silk trees. From spruce to pine and fir to flocked, there's a gorgeous silk tree for everyone in this Van Nuys warehouse. Some tower at 12 feet while others barely hit 3, but all of them are Neuman Trees that are equipped with a "Brilliant Lighting System"—strands of twinkling lights that are so entwined with the tree you can barely see the wires. Prices range from $45 to $2,000.

Location: 7651 Sepulveda Blvd, Van Nuys
Hours: Mon–Sat 9am–9pm, Sun 10am–6pm
Phone: 818-988-5970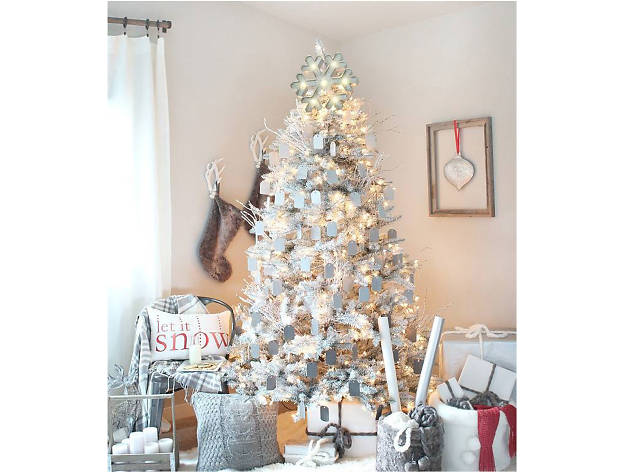 Photograph: Courtesy Michaels
Available both in store and online, artificial trees come in a swath of colors (white, green and even purple) and sizes at Michaels. Slim Vermont firs, pre-lit Eastern pines and unlit Jack pines are among the myriad of convincing Christmas trees that'll turn your home into a winter wonderland. It doesn't hurt that the rest of the store is filled with ornaments, wreaths, tinsel and other holiday decor to personalize your tree.

Various locations and hours. Use Store Finder to locate the Michaels closest to you.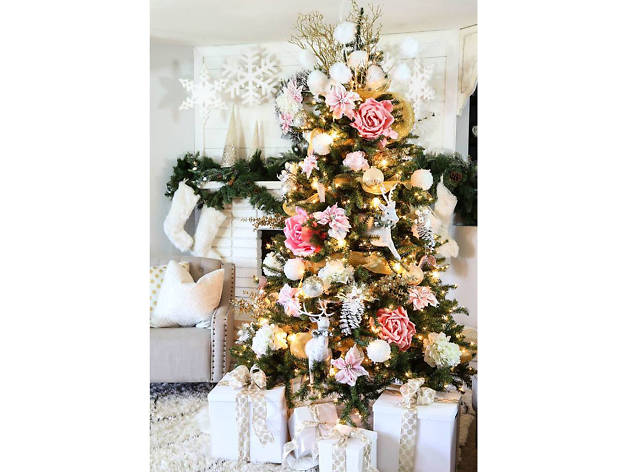 Photograph: Courtesy Michaels
Located in Downtown's Flower District, Moskatels is actually a division of Michaels, carrying some of the arts and crafts store's products while also selling items from other distributors. Ranging from $100 to $1,000, the selection of Christmas trees here includes undecorated pines and flocked trees, as well as a range of colors—white, green and even black. Most are pre-lit, but if you need to buy some Christmas lights, well, Moskatels has that, too.

Location: 733 San Julian St, Downtown Los Angeles
Hours: Mon–Sat 6am-5pm; Sun 9am–5pm
Phone: 213-689-4590
We know you usually reserve trips to Home Depot for emergency plungers and patio furniture, but there are plenty of artificial trees in various sizes and shapes for additional perusing. Pre-lit or bare, the trees range from $15 (desk decorations) to almost-$500 beauties decked in holiday lights galore. They also vary pre-cut trees if that's more your thing. Available for pick-up or delivery.

Various locations and hours. Use Store Finder to locate the Home Depot closest to you.
Photograph: Courtesy Stats Floral
Throughout most of the year, Stats Floral Supply is a decorative floral and craft store, selling things you'd most likely find at camp during macrame hour. But come holiday time, wreaths, trees and ornaments fill the space. Stats briefly closed their doors in early 2016 after decades in business, but they've since reopened a slightly downscaled shop. They still offer an interesting selection of pre-lit Christmas trees, from pink pencil pines (seriously, it's a pink tree) to upside-down pine trees. The best part: they're already strung up with lights, so there's no need to curse at home as you untangle your own string of bulbs.

Location: 120 S Raymond Ave, Pasadena
Hours: Daily 10am–6pm
Phone: 626-795-9308

Photograph: Courtesy Target
You know how you usually go into Target with a strict budget of $25 and wind up spending $125? Set aside some extra Target dough for a Christmas tree this year—the ubiquitous catch-all store offers a massive selection of artificial trees for the choosing. The vast majority are pre-lit, with a few un-lit and outdoor trees thrown into the mix. Virginia pines, Philips Balsam firs, Wintergreen firs and flocked Kodiak spruces populate the collection. Order online for pick up or delivery, and throw in a couple of wreaths while you're at it—you knew you were going to spend more than you'd planned on anyway.

Various locations and hours. Use Store Finder to locate the Target closest to you.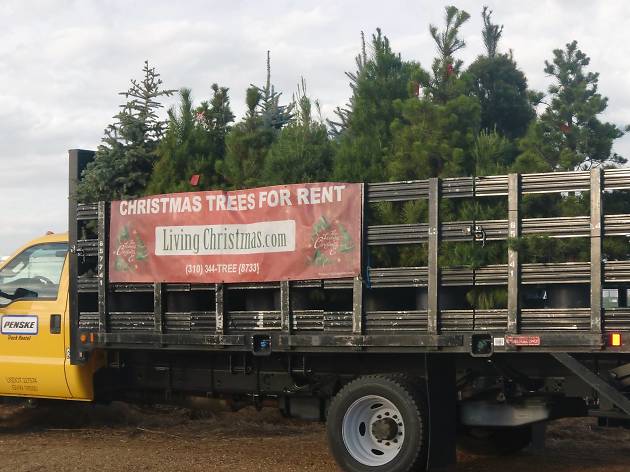 Photograph: Courtesy the Living Christmas Co
This Christmas tree rental website makes it super easy to foster a living tree through the holidays. Just enter your zip code to see a list of available tree types and prices in your area, pick a winner and request a delivery date and time. You can also buy LED lights, ornaments and stocking stuffers, or donate a tree to a family in need. We love Living Christmas Co's reminder: "The trees do best when they are given a name and sang to regularly."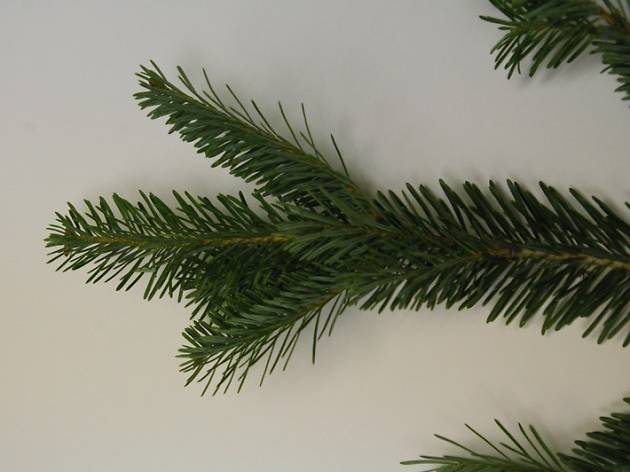 Photograph: Courtesy Armstrong Garden Centers
You can't rent a tree here, but you're welcome to purchase a live fir for holiday use. Online orders begin the day after Thanksgiving, and if your chosen tree is over $500, delivery is free (otherwise it'll cost you $50). Once the holidays are over you can plant your little guy, keep him potted for next year or donate him to a local farm or garden.

Location: 5816 San Fernando Rd, Glendale
Hours: Mon–Sun 8:30am–5pm
Phone: 818-243-4227

Location: 352 E Glenarm St, Pasadena
Hours: Mon–Sun 8am–5pm
Phone: 626-799-7139

Location: 3226 Wilshire Blvd, Santa Monica
Hours: Mon–Sun 8am–5pm
Phone: 310-829-6766

For a full list of locations and hours, check the AGC website.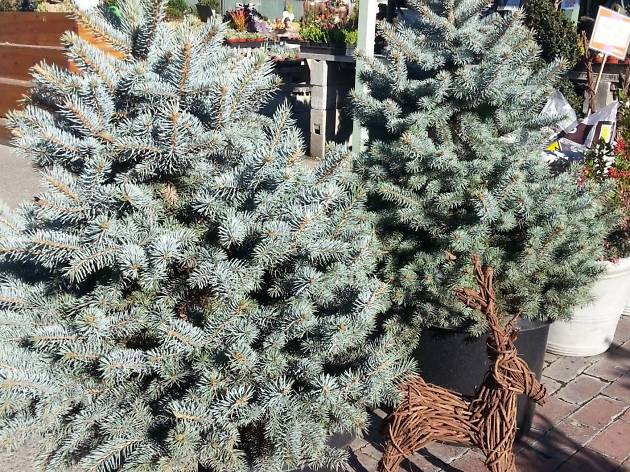 Photograph: Courtesy Marina Del Rey Garden Center
Marina del Rey Garden Center
Marina del Rey Garden Center also offers live Christmas trees for sale, though theirs are a bit smaller—anywhere from 2 to 4 feet. Their options are limited to Alberta and Colorado Spruce, and you'll need to go in to pick up your tree—no online ordering—but that's the fun part anyway.

Location: 13198 Mindanao Way, Marina Del Rey
Hours: Mon–Sun 8am–5pm
Phone: 310-823-5956