Your Perfect LA Weekend: September 18-20
We curate an LA weekend itinerary of the city's best concerts, culture and cuisine, each week, just for you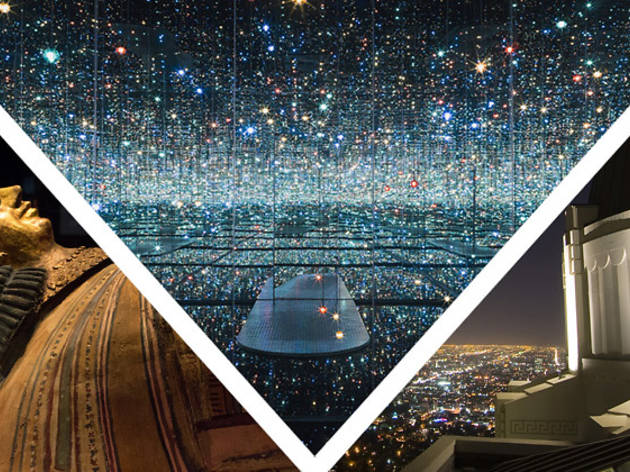 Meat-lovers, you're going to want a reservation for Salted Live's bacon-based dinner tonight. Chef Adam Gertler of Dog Haus and Elana Horwich (Meal and a Spiel) will be leading classes on how to make pastrami bacon, scallops with Pancetta and much more atop a Hollywood rooftop with cocktails from Greenbar.

It feels way too early to be talking about Halloween events, but nonetheless Halloween Horror Nights kicks off at Universal Studios tonight. This year's new additions include experiences based on Halloween, This is the End and Guillermo del Toro's upcoming Crimson Peak. Go tonight and you'll save $26 off peak prices.

If you're looking for a spooky evening that's a bit more cultural, make your way to the Natural History Museum for the late-night debut of Mummies: New Secrets from the Tombs. The museum will stay open until midnight to show off its new exhibition, complete with Middle Eastern and Peruvian dances and crafts as well as live music, craft cocktails and food trucks.

Speaking of late nights, make your way Downtown around midnight for Sleepless: The Music Center After Hours. Watch as the cultural institution transforms into an interactive performance space with live music, pillow case silkscreening, dancing in the Founders Room and more. Though RSVPs are closed out for the free event, a limited number of walk-up spots will be available.
Stop in for a mind-altering experience at the fourth annual
LA Psych Fest
, a two-day affair that kicks off today at DTLA's
Regent Theater
. The Budos Band headline a stable of explosive psychedelic bands; dance the weekend away or indulge yourself at the tattoo and food booths.
Alternatively, celebrate the burgeoning podcast scene during the fourth annual
LA Podcast Festival
. The fest spreads live broadcasts and meet-and-greets across three days. Today's highlights include
The Indoor Kids
,
WTF with Marc Maron
,
Spontaneanation
and a special stand-up show.
It doesn't matter what you think about his politics, we can all agree that
Mayor Garcetti is a superb Instagram photographer
. Photographer Gary Leonard has noticed, too, and he's showcasing the mayor's sharpshooting eye with the
#Mayor_of_Instagram gallery show
at Take My Picture (109 W 9th St). The show opens today with a reception from 4 to 7pm.
Make your way over to
Raleigh Studios Hollywod
for more cider, craft beer and gourmet morsels than you can imagine. Sip your way through over 100 selections of artisanal food and drink at the evening session of
LA Cider Fest
.
Clear your head with a bit of stargazing at
Griffith Observatory
for this month's
Public Star Party
. Admire the moon and constellations—marine layer permitting—through the Observatory's 12-inch telescope or one of the hundreds of other savvy star enthusiasts' personal scopes; we're sure they'd be happy to share if you ask nicely.
A new museum arrives Downtown with today's
opening of the Broad
. The contemporary art museum is kind of a big deal and absolutely worth a visit. Advance reservations are sold out, but a limited number of free same-day tickets will be available.
If shuffling around an art museum isn't your thing, then stretch on the field at
Dodger Stadium
instead. Take part in a class during
Yoga Day at Dodger Stadium
. Tickets for the post-game session include admission to the afternoon matchup against the Pirates, with tickets starting at only $39.
Wrap up your weekend back at the Regent Theater for a set from
Destroyer and Frog Eyes
. Expect to see Destroyer's Dan Bejar mine all sorts of '80s nostalgia in his set, while offbeat openers Frog Eyes will provide some Canadian indie rock.