As restaurants in Miami prepare to close their dining rooms again, the pressure is on to ramp up efforts for takeout and delivery. Most places introduced some sort of to-go option at the height of the lockdown—from fine-dining options to meal kits and family meals to-go. But some have stood out to us for their ingenuity and creativity in the presentation and delivery method. Below, a few of our favorites to consider for your next special meal at home.
If you look up plating in the dictionary, chances are you'll see a photo of Diego Oka's ceviche under its definition. The Peruvian chef knows how to make things look as good as they taste—and he's taking the same approach with takeout. La Mar's to-go orders are packed in sturdy, boxes, wrapped in a colorful ribbon and marked with your name and a timestamp of when it was cooked and packed. Inside, you'll find a coursed menu and a link to a Spotify playlist to help recreate the dine-in experience at home.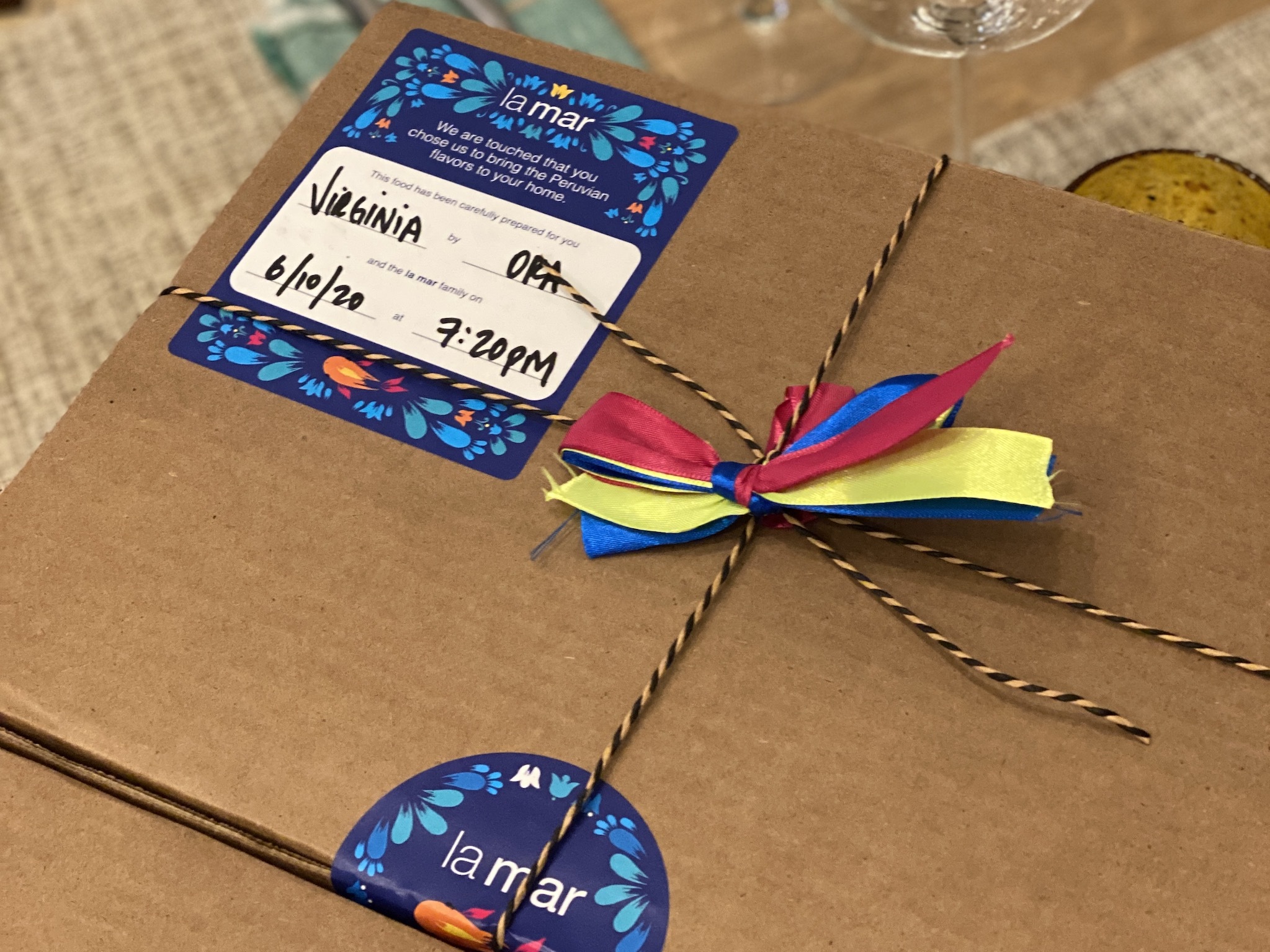 There are a lot of parts to a sushi dinner but PokeOG manages to fit them all neatly in a single recyclable box. These Instagrammable packages range in price from $21 to $38 depending on ingredients and preparations—think sashimi, rolls and edamame. For instance, the $32 Roll it Up includes an assortment of salmon, tuna, hamachi and crab (both in pieces and as maki) plus edamame. Each box comes with a selection of sauces, a paintbrush should you want to get creative with your application and a set of chopsticks. Curbside pickup at the Downtown location and delivery via Postmates and UberEats are available.
We touted the Brickell restaurant's takeout as one of the best fine-dining meals to-go. The food is excellent and so is the handpainted, burlap tote in which you'll receive it. Each one is decorated by a member of LPM's staff and unique to the artist, so chances are you won't see the same bag twice. Plus, both lunch or dinner comes with a Spotify playlist of the cheerful French tunes you'll hear at the restaurant. Queue the mix and prepare to be transported to the south of France.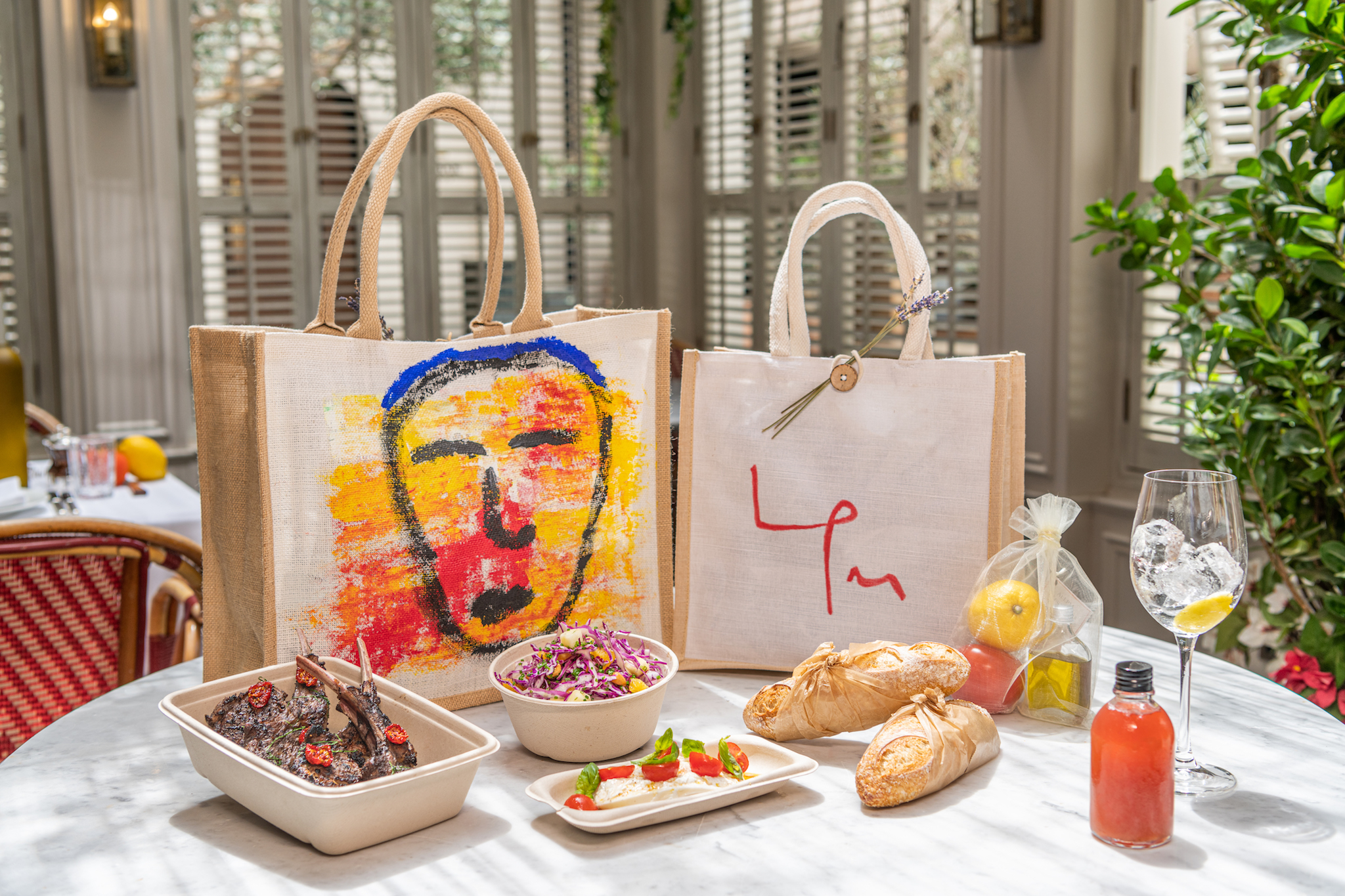 The Coral Gables restaurant launched an in-house delivery program that reminds me of our days waiting for the ice cream truck. Though instead of popsicles, Talavera at Home brings you a Mexican spread that's pre-baked and chilled for ultimate freshness. Once you've placed your order and received your delivery time, a big, branded refrigerated truck that plays music will pull up to your home and a fully suited, cheerful staff member will handover everything you need to make and assemble a restaurant-quality meal at home in 10 minutes or less.
Throw a New England-style seafood boil for the family with Fiola's Sea Home bucket deal, available all summer long. From potatoes to snow crab to andouille sausage and shrimp, all of the ingredients and spices you need to cook the dish arrive packed in a large tin that doubles as your cooking vessel. The $192 bucket ($212 if you add lobster) serves four and is available for curbside pickup and delivery.
The bento box is a longstanding Japanese tradition, but it's not one you'll see at most fine-dining restaurants. Makoto changes that with its recently introduced bento box—a literal box that's available for takeout and delivery daily from noon to 4pm. The lunchtime option is $20 and includes a miso soup starter, a side of wasabi rice and the choice of entrée: ponzu salmon with crispy Brussels, a sushi roll (spicy tuna and California) and chicken robata. It's about the most affordable way to visit the Bal Harbour Shops.
Social distancing on a boat? Feasting with the fam? Yardbird's fried chicken mainstay has you covered with grab-and-go boxes of its famous bird with all the fixin's you need to enjoy a Southern-style meal at home. Easier to carry than a bucket, Yardbird's packages come with sides and the option for drinks, like rosé and bourbon. Yardbird also offers a BBQ and bourbon box filled with smoked goodies perfect for folks who live in apartments where barbecuing may not be allowed. Prices hover around the $100 mark and feed six to eight people. All orders can be placed online for pickup and delivery.
Have your social media accounts been flooded with images of couples picnicking, social distancing over cheese boards and champagne? Join them with help from Bellini at Mr. C. The Coconut Grove restaurant is selling beautiful gourmet baskets filled with everything you need to prop yourself on a patch of grass and enjoy the sunshine with a cold glass of vino and assorted charcuterie. The baskets are $135 for the below aperitive option, though the restaurant sells others, including one filled with ingredients to make pasta. Delivery and curbside pickup are available.
If you're missing the omakase experience, know you're not the only one. Fortunately, Wynwood sushi restaurant Omakai is packing up the chef's-choice sushi meal for diners to enjoy at home. The elegant black box has partitions for each portion of the meal, and includes sauces in individual containers, a wet nap and chopsticks. The best part? On the inside of the box are printed instructions telling you exactly what to eat and in what order, plus how to dress each piece as though a chef had rolled it up before you and placed it on your plate. There are three options to choose from (Lite, $24; Oma, $32; Deluxe, $48) and takeout and delivery (within a 5-mile radius are available.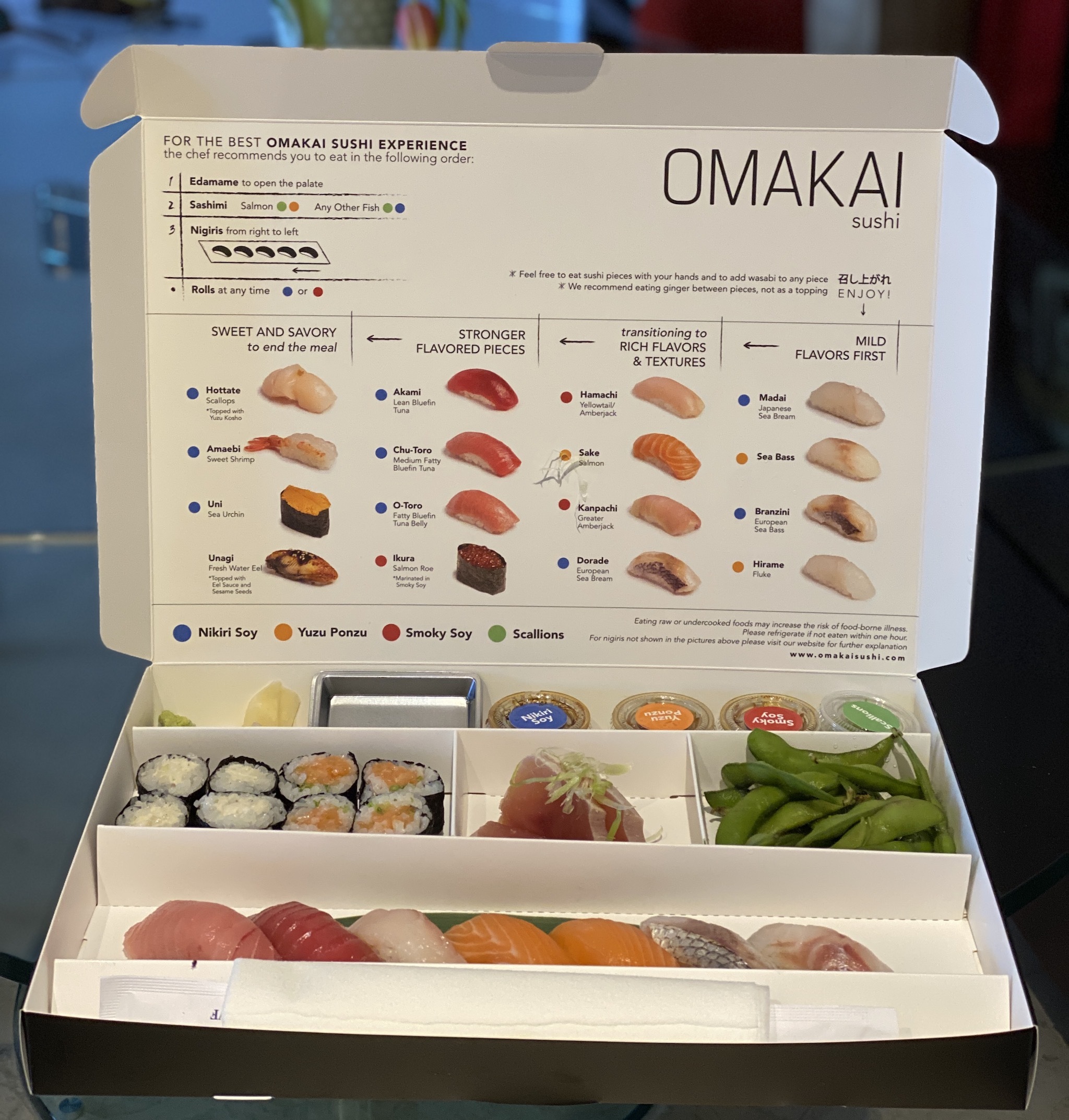 Editor's note: An earlier version of this article included Byblos, which has since closed.
Most popular on Time Out
–Instagram sensation Old Greg's Pizza is finally opening its pop-up
–City of Miami will shut down businesses for up to 30 days if they violate its reopening guidelines
–Perricone's Marketplace is finally reopening