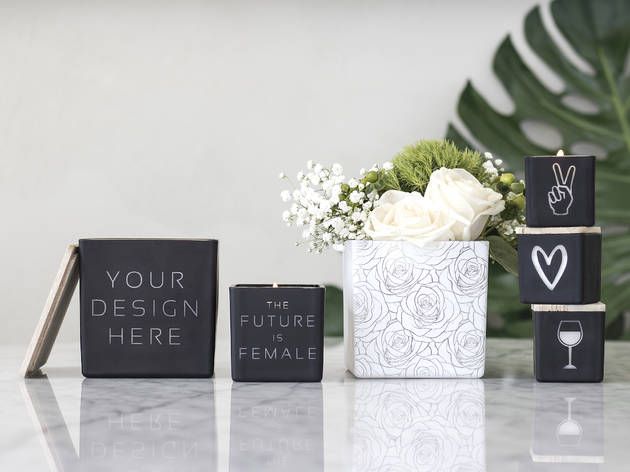 The best Miami-made gifts to support local this holiday season
Find something for everyone on your list and help small businesses with our guide to the best locally made gifts of 2020
Before you cue up the shopping apps and make a plan for Black Friday, consider supporting Miami's small business community this holiday season. Independent vendors need our backing more than ever, and lending a hand is as simple as buying a trendy mask chain for someone on your list. It's a small ask when you consider the lot of talented Miami makers we have at our fingertips, from the people hand-pouring candles and arranging stunning bouquets to the jewelry designers hustling from home. This gift guide only skims the surface of all the great locally made stuff that's just waiting to be discovered and brought home. So whether you shop from our picks or venture out to find your own, make small businesses the focus of all your holiday shopping needs.
RECOMMENDED: Love Local: Time Out Miami celebrates local shops, food and culture
Best locally made gifts to buy in Miami
From a trendy style to a lockdown hobby to a bonafide wardrobe staple, tie-dye has proven that it's here to stay. These hand-dyed sweatpants from Live & Let Dye are an easy way to add a pop of color to your outfit or liven up your boring loungewear look. Pre-shrunk and pill-resistant, these old-school sweatpants will quickly become everyone's favorite WFH must-have. $75
Gelareh Mizrahi first made us fall for vinyl Thank You Bodega bags and micro-mini satchels and now she's made us fans of the handsfree crossbody phone strap. It's tough to beat the convenience of this whimsical gift, whether you're the type of person who leaves their phone behind everywhere or just someone who needs their cell handy. According to the site, these colorful, heart-shaped enamel beads are heavier than previous iterations and therefore provide the calming effect of a weighted blanket. Could there be a more appropriate accessory for 2020? Maybe the matching mask chain, but that's still a close second. $125
From streaming services and meal deliveries to audiobooks, subscriptions rule our daily lives. But none of those automated plans will spark as much joy as the dried flowers you'll get delivered from House of Lilac every season. The shop's most popular deal only comes around a few times a year and it's back for the holidays. Available as a bundle of two or four, the subscription allows you to give seasonal arrangements to someone special for 20-percent less than the normal retail price. The best part? They arrive styled and ready to zhuzh up any home with little to no effort. Starting at $88
Spending more time at home has led many of us to invest in things to make our space look and smell better. If there's someone like that on your list, look no further than a custom candle from Taja. The Wynwood shop sells hand-poured creations whose scent and design you can fully customize down to what's engraved on the wooden top. Starting at $55
Living in Miami, you can never have too many swimsuits. While the rest of the country might appreciate a new sweater or scarf for the holidays, your Miami pal would rather have a new set from the locally designed swimwear company. Noa Kai is intended for the modern explorer so expect plenty of jungle-inspired prints as well as easy-to-style basics that will take you from beach to brunch to bonfire. Various prices
The latest in the STEL collection of skin-saving accessories, the No Wrinkles Desert hat is a rugged spin on its beachy predecessor made from raffia sea straw fibers that block out the sun. It's lightweight and fits most sizes, and has an adjustable neck strap to make sure nothing goes flying away during one of our many windy days. $55
A favorite of stylists and celebrities alike, JLani is a Miami-based, Black-owned jewelry line known for its bold, gold designs—think chunky necklaces, Cuban-link ankle bracelets and oversized rings. Personalization is available across a number of pieces but we're fans of the newly launched block-font custom nameplates made of stainless steel plated in 14k yellow gold, a combination that's nearly indestructible and holds up to sweat, sun and even a day on the beach. $150
Photograph: Courtesy Wynwood Walls
8. The Ultimate Street Art Coloring Book from Wynwood Walls
Here's a gift that captures the essence of Miami's unique street art district and provides hours of entertainment. The limited-edition hardcover coloring book features murals by legendary international artists, including Kenny Scharf, Kashink, Vexta and so many more. Get it for yourself, for your kids and anyone else looking to lose themselves coloring between the lines. $36
A sweatshirt you can wear in Miami but also bring with you on the ski trip you're planning for next spring? Yes, please. Peace Love World's super-soft french terry pullovers have a high-low hem and an inspiring affirmation embroidered along the neckline. It's literally feel-good fashion and it's all designed in the 305. Make it a set when you add the pants for an extra $50. $48.50
Dogs—the unsung heroes of 2020. They've kept us company, embarrassed us on Zoom calls and were generally caring and supportive while the world was imploding. Show your appreciation for your furry pal with a bag (or two) of homemade treats from Pup & Pantry. They're soft, chewy and made with all-natural ingredients that are safe enough for humans to eat. You won't find preservatives, artificial flavors or wheat in these puppies either. Choose from a range of flavors like the tropical-inspired Coco for Coconut or the Everything "El Bagel" for the dog who's always trying to steal your breakfast. Local pickup, delivery and shipping are also available. $12
Master the kitchen with help from some of the city's top toques, whose recipes you'll find only in Miami Cooks. Written by local food journalist Sara Liss, the book celebrates our unique culinary culture with 75 recipes by 35 of the city's leading chefs and mixologists—from La Mar's Diego Oka and Ariete's Michael Beltran to Leku's Mikel Goikolea, and many others. $25
Treat the epicurean in your life to a trio of housemade, Cuban-inspired hot sauces from the home of Miami's best Cubano. Sanguich de Miami's two-year anniversary gift set includes a Havana Green (an earthy cachucha pepper with onions), Ajo Ardiente (a fiery scotch bonnet pepper with garlic) and a Guava Brava (double-punch of sweetness and heat made of Carolina reaper and guava). $25
Local artist, designer and photographer Beth Rhodes (you might recognize her handiwork from places like Boia De and El Bagel) launched her very own online specialty shop where in addition to finding cute trinkets and hand-drawn cards you can also purchase several of her paintings and prints. She's got some featuring famous folks like Picasso and Basquiat while others portray Miami motifs, like a cheeky old woman enjoying the extra breeze. Various prices
For better or worse, the hottest accessory of 2020 is a mask chain. It's the thing that keeps our face coverings readily available and away from our germy hands and purses. And, like anything you buy to complement an outfit, they're available in a myriad of styles and colors. Miami Mask Chain recently expanded into masks should you need something else to make your new chain pop. Various prices
Find more locally made wares at these Miami specialty shops
This digital marketplace brings together the best of Miami's independent vendors, making it easy to shop local from home. Vecino's, which means 'neighbor' in Spanish, frequently adds new vendors to the site so keep an eye out for fresh merch.
From keychains and artwork to upcycled housewares, digital specialty shop Gifty GANG GANG sells the giftable items you won't find anywhere else. Stumped on what to get someone? You're bound to find something they'll love here.